'A race to the bottom': What's the story behind bad CGI?
In the wake of a string of visual effects disasters, such as 'Cats', 'The Call of the Wild' and 'Dolittle', Bessie Yuill investigates the highly skilled, over-worked life of a VFX artist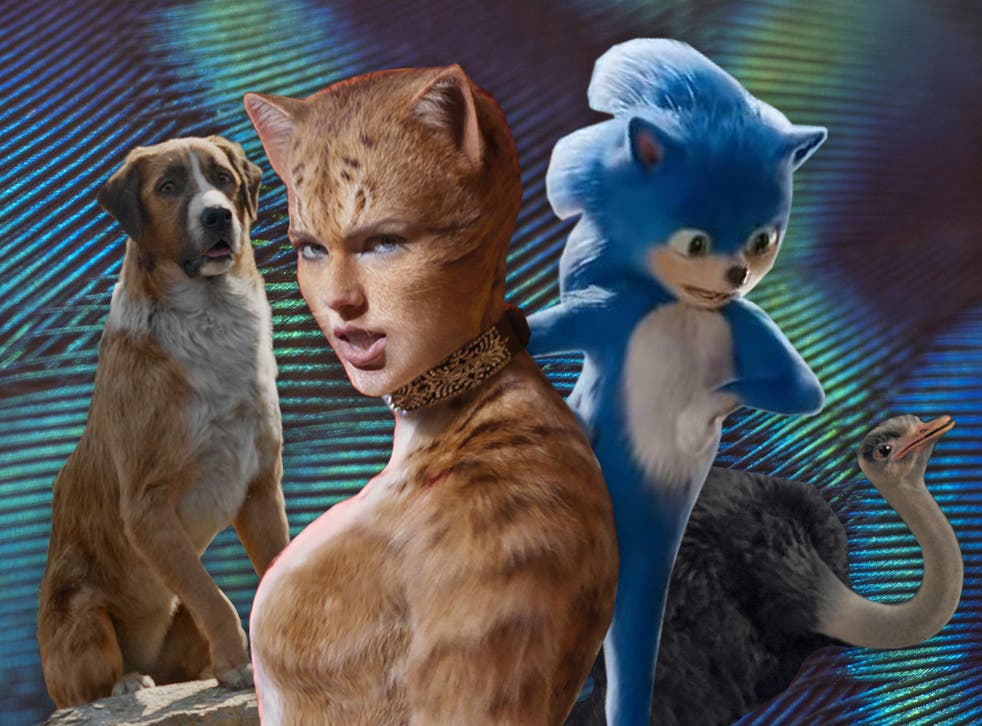 When The Call of the Wild opened last week, there was a degree of bafflement around its CGI dogs. This publication called the film "refreshing", but pointed out the "glossy vacant eyes" of its canine lead. Following Lady and the Tramp, The Lion King, and Dolittle, this is the latest in a string of films fronted by digital animals. With this much experience and a significant budget from Disney, how can a film's CGI still under-deliver?
Cats was one of the most talked-about disasters of 2019 – especially in terms of its visual effects. Tom Hooper's movie musical was rushed into cinemas with dubiously attached tails, Judi Dench's visible wedding ring, and unsettling "digital fur technology". Critics across the globe rushed to point out the errors, which only made the film feel more like a bizarre collective hallucination.
Rebel Wilson and James Corden even appeared at the Oscars in full costume, claiming that nobody knew the importance of good special effects more than them. The Visual Effects Society didn't find the joke particularly funny.
"The best visual effects in the world will not compensate for a story told badly," a statement from the VES read. "Our artists, technicians, and innovators deserve respect for their remarkable contributions to filmed entertainment, and should not be presented as the all-too-convenient scapegoat in service for a laugh."
Even successes don't necessarily mean acknowledgment or security for the VFX artists behind them, though. Sonic the Hedgehog had the highest ever box office opening for a video game movie this past week, with fans heaving sighs of relief at the speedy character's new design.
The 27 worst film sequels of all time

Show all 27
When the first trailer was released in April, Sonic's eerily human teeth and unsettlingly muscular legs prompted a merciless Twitter backlash. Director Jeff Fowler promised to make drastic changes to the CGI design, creating the hashtag #gottafixfast, and the film's release was pushed back. Fowler tweeted in May, "Taking a little more time to make Sonic just right. #novfxartistswereharmedinthemakingofthismovie."
Behind the scenes, however, animators at Moving Picture Company Vancouver were reportedly working 17-hour days and weekends to get the redesign done in time. And then, on 12 December, the studio division announced that it was closing. Around 80 employees, who had also worked on The Lion King and The Call of the Wild, were left jobless, as the company allegedly cited tax incentives elsewhere as the reason.
A pattern seems to emerge here. When something in the design goes wrong, creating a furry Lovecraftian horror who repulses the human eye, all the blame lands on the VFX. And when something goes right (like Sonic's cuddlier redesign) the team sees no reward, not even job security. Even Rhythm & Hues, the team that won an Oscar for Life of Pi, was forced to file for bankruptcy after the film came out.
Joe Pavlo, Chair of the Animation and VFX Union branch at BECTU, has worked in visual effects for decades. Those who work in post production are "much more vulnerable than almost any other industry", he tells me. "No one has job security, not even the higher-ups. No one knows where they're working next year, or three months from now. The industry is in a race to the bottom – everything has to be done quicker and cheaper than the last project. And we're treated as a disposable short-term workforce."
Access unlimited streaming of movies and TV shows with Amazon Prime Video Sign up now for a 30-day free trial
Sign up
As for what he thinks is behind sloppy CGI and bad working conditions, he says that visual effects are "kind of late to the party as far as the history of the film industry. When I started in London 25 years ago, we were just a bunch of nerds who came out of nowhere with a can-do spirit as outsiders. So we were taken advantage of. Fast forward to today and VFX are the film industry. You can make films without them, but you can't make a billion dollars.
"But it's still a Wild West," he continues. "Every other department has been established for 100 years, and we're still finding our feet. Our industry is dramatically evolving every year, too – we do things as an afterthought today that would have taken an A-list team a week to do 10 years ago. Computers are faster and more sophisticated, we have a lot more experience and expertise. But that comes with sloppy work practices – we don't have a union like all the other departments."
Reportedly, under half of the VFX workforce in London are unionised, and it may be as low as 10 or 20 per cent in other parts of the world. So when Tony Stark's costume design hasn't been finished in time for shooting Avengers: Endgame, it's much easier to ask post-production to work slightly longer to create a CGI suit than to physically make a real costume.
The infamous "crunch" which animators have blamed for rushed work like Cats is a reference to "crunch time" – the period before a film's release where artists have to work staggering amounts of overtime in order to get a job done before the money runs out. The instability of the VFX industry, and the inconsistency of the work it produces, may be due to these tight schedules.
"Unpaid excessive overtime is the default," Pavlo says. "Some places are better than others. But generally speaking, when you get a contract somewhere big in London like ILM, the first thing you get is an overtime waiver. At the minute, EU rules limit how much overtime employers can ask for, so workers have to waive their own rights before they begin. These companies plan for unpaid overtime in their spreadsheets before they even start a project."
A survey commissioned by The Film and TV Charity recently found that 90 per cent of the UK film industry had faced mental health issues, which can't have been helped by those long hours. VFX professionals in particular talked about social isolation, alcohol and drug dependency.
"Numerous studies show mental and physical health declines after working a 50-hour week," Pavlo says. "If you could get hold of 100 animators, and asked them how often they work 50 hours, they would say every week."
In the wake of Sonic, studios seem to have decided that last-minute adjustments are worth it, regardless of how hard VFX teams have to work.
"I can't remember another time there's been a reset, but it was incredibly smart of everyone involved to listen to the fans and give them what they want," Chris Aronson, Paramount's president of domestic distribution, told Variety after Sonic opened at the top of the weekend box office. "The consumer always determines what is right and what is wrong. They made their voices clear, and we listened."
Demands may therefore be on the verge of increasing. Shows like Game of Thrones and His Dark Materials have raised the standard of what TV can look like, so the TV industry will probably ask more from VFX studios in the future, too.
When I ask Pavlo what the way forward is for VFX, his reply is firm. "Organising the workforce. Unions are the only thing that will benefit employees and employers, and prevent this kind of race to the bottom."
Spend on film and high-end television production in the UK in 2019 was the highest ever recorded, increasing by 16 per cent to £3.62bn, according to figures from the British Film Institute.
It seems like the only sustainable way for this growing British film industry to avoid "crunch" is to create better working environments for the VFX artists involved. Otherwise, the uncanny valley will be home to a lot more cats, dogs and hedgehogs – whether or not they go fast.
Join our new commenting forum
Join thought-provoking conversations, follow other Independent readers and see their replies