Barry Keoghan interview: 'I want three Oscars in three different categories'
The 'Dunkirk' and 'Killing of a Sacred Deer' actor sat down with The Independent to tell the incredible story of how he went from growing up in foster care to becoming 'Hollywood's next big thing'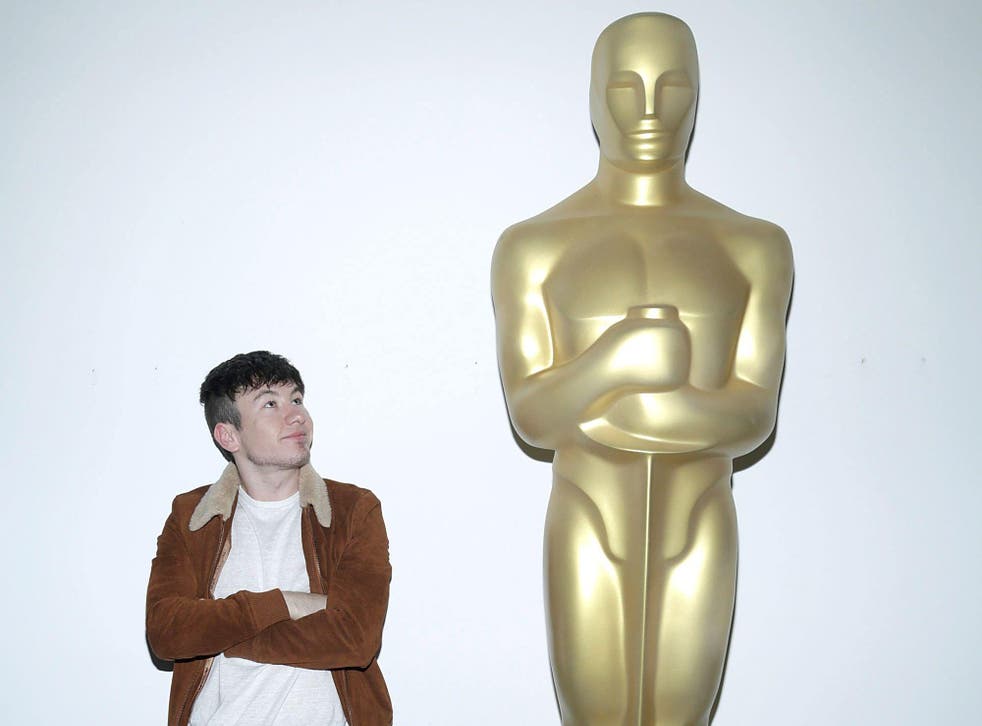 You may not recognise Barry Keoghan's name right now but, soon enough, you will.
Earlier this year, the 25-year-old appeared in Christopher Nolan's Dunkirk, playing an innocent boy alongside Cillian Murphy and Mark Rylance. On the opposite end of the spectrum, Keoghan plays the terrifying antagonist in Yorgos Lanthimo's thriller The Killing of a Sacred Deer.
Both projects have received critical claim across the board, garnering potential Oscar chat. No wonder, then, that The Hollywood Reporter ran a profile on the Irish actor, dubbing him 'Hollywood's Next Big Thing'.
"Will they ever give me some work if I'm the talk of Hollywood? F**king hell," Keoghan says. "That's all a bonus all of that. The rewards, I won't ever complain about. The recognition."
On a white sofa in a London hotel room, the actor is midway through the promotional tour for Sacred Deer. The film screened at the London Film Festival the day before, and was rapturously received by the audience.
"I was curious to see how London would take it," he says with a thick Irish accent. "It's shown at TIFF [Toronto International Film Festival] and Cannes where it's a very select audience. In London, it's the general public. It seemed to go down very well, which is good."
As hinted by the sheer number of festivals the movie has already premiered at – including events in New Zealand, Australia, Germany, and Spain – Keoghan has become well travelled ("My time zone is all over the place," he adds). As a result, he's been to glamorous parties, walked red carpets, and met personal heroes such as Tom Hardy. For someone in their early 20s, it's a dream come true. But the world has not always been so kind.
Keoghan's story reads something like a Charles Dickens novel. Born in 1992 in Dublin, his mother died when he was very young. At 12-years-old, after spending time in various foster homes, Keoghan was taken in by his grandmother.
With her support, the aspirational teenager was able to land small roles in independent Irish films, developing a confident showreel that's still available online. Keoghan's first big break came in 2013, coming to national attention after playing cat killer Wayne in Irish television series, Love/Hate. From there, the floodgates began to open, landing a role in the Michael Fassbender-starring film Trespass Against Us.
"I don't say I wish I had a different background," he says. "I'm not happy how it went, but I don't like to dwell. I like to talk about it, to let people know where I've come from and how far I've got. Because I could have gone down this path, where I was like 'fuck the world, everyone's against me, I've had this happen to me'. But I didn't. I took it on the chin and am now proving that you can become one of the biggest names out there even coming from a foster home."
Access unlimited streaming of movies and TV shows with Amazon Prime Video Sign up now for a 30-day free trial
Sign up
Having struggled in the past, Keoghan has a certain edge many other actors don't have. "It's given me ammunition," he says, "Experiences to draw upon." Being able to draw on that pain has allowed Keoghan to hold his own working with some of the best actors and directors of the moment. For Sacred Deer ("It's a fucking weird movie," he admits), the actor took on a particularly twisted character, one who manipulates a mother and father played by Nicole Kidman and Colin Farrell.
"One day you're talking with Tom Hardy, the next day you have Nicole Kidman kissing your feet," he jokes, talking about filming a particularly haunting scene from the film. "I never thought I'd be able to say that in my lifetime, Nicole Kidman kissing my feet. It's mad."
Despite shooting an intimate scene with an Oscar-winning actress, Keoghan has managed to stay relatively well grounded, something he puts down to friends and family.
"I have two separate lives," he explains. "After this, I'll go home for two days before we go to LA and New York. When you go home – and I'm going back to my granny's – you go back to your real life. You go back to buttering your own bread. You have to be able to see the difference. That's why I don't live in LA. First of all, I don't have the money. But second, I want to stay grounded, to be surrounded by real people, to have my head on my shoulders instead of losing track of reality."
That doesn't necessarily mean the contrast between home and Hollywood life comes easy. Some people, Keoghan says, have changed, acquaintances no longer knowing how to speak to him due to the success. "These are people who you would sit in their house a few years ago, just drinking," he says. "There's suddenly a barrier there." Finding time to himself has also proven very difficult.
27 films to look out for in the first half of 2018

Show all 27
One person who has never changed, though, is Keoghan's grandmother. "She doesn't have a clue but I love that," he says. "She's super proud. All of our friends are super proud. My auntie is super proud. Just everyone. But they don't treat me any different, your own family never do. They just say 'I seen you on the news' and move on."
So they should be proud. With Sacred Deer and Dunkirk playing around the world this year, Keoghan has upcoming roles alongside Hugo Weaving in Black 47 and Evan Peters, Blake Jenner, and Ann Dowd in American Animals. Hopefully, he says, the roles will show the world his range. And yet, even with a phenomenal IMDB page, Keoghan doesn't feel accomplished.
"People ask if I'm happy," he says. "I am, but I'm always wanting to get better. I'm always wanting to do the impossible. Like Colin McGregor, winning two belts in two different divisions, I want to win three Oscars in three different categories. It's that attitude of: I won't ever settle with what I've done. I'll never go 'that's me, I've done great there'. I can always do better."
Perhaps there's something in the Irish blood? "Funny you say that. McGregor lives not far from where I'm from, just 10 minutes down the road. He's a big inspiration for me. That attitude has really influenced me, in this acting game. That he tweeted in 2014: 'Two belts and a share in the UFC.' Two years later, he retweeted that. That's the power of vision. The drive. The not settling for getting one but wanting more."
Both their stories are inspirational. "That's what I hope. That's why I share my story. Because I didn't really talk about it when I was a kid. I'd get upset. But I've grown. I'm able to share my stories – I'll never share all of them, because no-one ever does – but hopefully some kid sees that. Maybe he wants to be a football player. Maybe they'll go, 'Barry came from that, I can do that.'"
Our time together has quickly come to an end. With one last question, I ask what the future holds for this Irish fighter. "One, two, three," he says, pointing while saying each number. "I want to produce. I want to direct. I want to be my own camera man. I want my own boxing club. I have it all written down. I want to do everything."
'The Killing of a Sacred Deer' is in cinemas now
Register for free to continue reading
Registration is a free and easy way to support our truly independent journalism
By registering, you will also enjoy limited access to Premium articles, exclusive newsletters, commenting, and virtual events with our leading journalists
Already have an account? sign in
Register for free to continue reading
Registration is a free and easy way to support our truly independent journalism
By registering, you will also enjoy limited access to Premium articles, exclusive newsletters, commenting, and virtual events with our leading journalists
Already have an account? sign in
Join our new commenting forum
Join thought-provoking conversations, follow other Independent readers and see their replies