'Based on a true story' It's the most overused tagline in cinema at the moment, but can we really believe it?
Marketing a film as being 'based on a true story' makes it seem far more dramatic or affecting. But do they really reflect actual events, or is it just a promotional ploy?
Matilda Battersby
Saturday 20 October 2012 03:08 Comments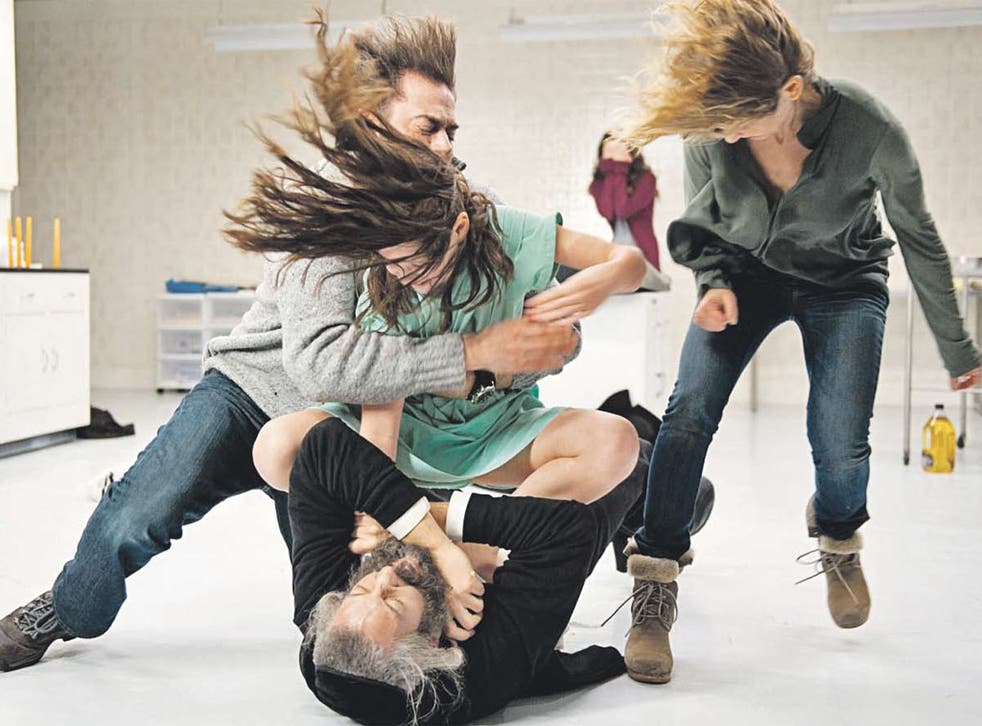 "Then a hand, like, crawls out of her mouth," I overhear a teenager eagerly telling her companion on the bus. "The kid's totally possessed and stabs her father with a fork." "I'm not watching that!" the other says, sounding terrified. "You have to," says her friend. "It's a true story."
They are discussing The Possession, the latest horror film to bear the tagline: "Based on a true story." We know that Hollywood is fantasy-land. Most of us have come to the distressing conclusion that people don't look quite as shiny and attractive in the face of disaster, depression and, er, possession, as they do in the movies.
We know that studios play fast and loose with history, with biography and with appearances. So when something is billed as "true" or, more ambiguously, "inspired by" a true story, should we believe them? And is there any legal basis upon which such truths can be vouched for?
The BFI London Film Festival has just played host to a slew of new movies "based on true events". They range from the horrifying Compliance (featuring torture copying CCTV footage from a real incident of abuse that took place in Kentucky in 2004), to the heart-warming The Sessions (more carefully prefixed "inspired by real events", about a disabled man on a quest to lose his virginity). Other examples include Ben Affleck's Argo, Cristian Mungiu's Beyond the Hills and Hyde Park on Hudson starring Bill Murray and Laura Linney.
But why, when we go to the cinema to escape real life, are studios so keen to pitch films as real? For dramatic effect, of course. We are suckers for suggestion, and the minute the PR men and women tell us it is true, the fear (in the case of horror) becomes greater, the empathy (in the case of a weepy) becomes stronger and what I like to term the "aww factor" (see sentimental tales such as The Blind Side) becomes more intense.
The Possession is an example of why we shouldn't believe any of it. The film is a "retelling" of The Dibbuk Box, a book by Jason Haxton, the curator of a medical museum in Missouri who bought a wooden cabinet with Hebrew carvings off eBay, only for his staff to be terrorised by the box which he claims is possessed by a Jewish spirit.
"Retelling" is Hollywood speak for cutting out the boring, unmarketable bits and inserting hot chicks/cute children/heroic action. Thus the The Possession is very different from Haxton's story. It centres around a 12-year-old girl who becomes cursed after buying the dibbuk box at a yard sale and quite clearly takes its cue from The Exorcist, another film with an equally spurious claim to the truth.
William Peter Blatty's novel, The Exorcist, and his subsequent Oscar-winning screenplay directed by William Friedkin, was based on a 1949 newspaper article he'd read about a 14-year-old boy in Cottage City, Maryland who'd undergone an exorcism. The Exorcist was presented as "inspired by a true story" but Blatty based the whole thing on one newspaper article – the details of which have since been called into question by an investigative reporter. He later told The Washington Post: "The Exorcist is not the 1949 case. The latter gave me the idea, nothing more. Everything is made up."
There is little legal need to curtail creative use of the truth so long as you are not offending anyone. Christos Michaels, a partner at media law firm Lee & Thompson LLP, says: "If a film is 'inspired by a true story' then it tends to be the case that it's just a concept for the idea rather than a factual account. In terms of characters such a film would generally not try and portray anyone from the real story. But if it's 'based on a true story' you are often representing real people and therefore clearances may be required. There are different laws in different countries about this," Michaels says.
Access unlimited streaming of movies and TV shows with Amazon Prime Video Sign up now for a 30-day free trial
Sign up
The producer will have a "vetting" process done by a media lawyer to secure what is called "errors and omissions" insurance in case someone brings a claim against the producer, the project's distributor or the screenwriter.
But if a film's veracity is impossible to stand-up? If the supposed tale-teller is dead, or the claim has dubious roots, passed from person to person like Chinese whispers? There's nothing to stop you tagging it "based on a true story" or "inspired by real events".
Truth might even secure a more favourable release certificate. The British Board of Film Classification "takes into account the degree of fantasy in the film and level of connection to the real world" when it decides what rating to award. This means that if there is a "truth" argument, films may be rated lower and therefore attract a bigger audience.
Films are always going to give a skewed perspective because they are made by people with their own agendas. Even one of the more balanced examples, Argo, has been accused of unfairly minimising the Canadian Government's role in helping the six Americans they were sheltering during the Iranian revolution to escape.
Part of the problem is that artistic license allows for insidious half-truths that can be difficult to detect. The increased use of "found footage" (handheld, documentary style), such as in End of Watch and Sinister, is another means of tricking the watcher into the assumed authenticity of the story. It works brilliantly in horror films, as has been shown by the success of the Paranormal Activity franchise, the fourth instalment of which is out this month.
It is often the most unbelievable plotlines that carry claims of truth. With real life this exciting, why bother with fiction? And do we really care if it's a lie if it is a good movie? I suspect not. But it is a crass means for filmmakers to ensure we suspend our disbelief. I feel sorry for the teenagers on the bus who fell for it.
Register for free to continue reading
Registration is a free and easy way to support our truly independent journalism
By registering, you will also enjoy limited access to Premium articles, exclusive newsletters, commenting, and virtual events with our leading journalists
Already have an account? sign in
Join our new commenting forum
Join thought-provoking conversations, follow other Independent readers and see their replies