State of the Arts
Bella Thorne has directed a porn film – but is it 'visionary art' or just another masturbatory aid?
Most porn is dreadful, writes our arts columnist Fiona Sturges, so perhaps we should applaud Thorne's efforts to elevate it into something with artistic worth
Wednesday 16 October 2019 16:24 Comments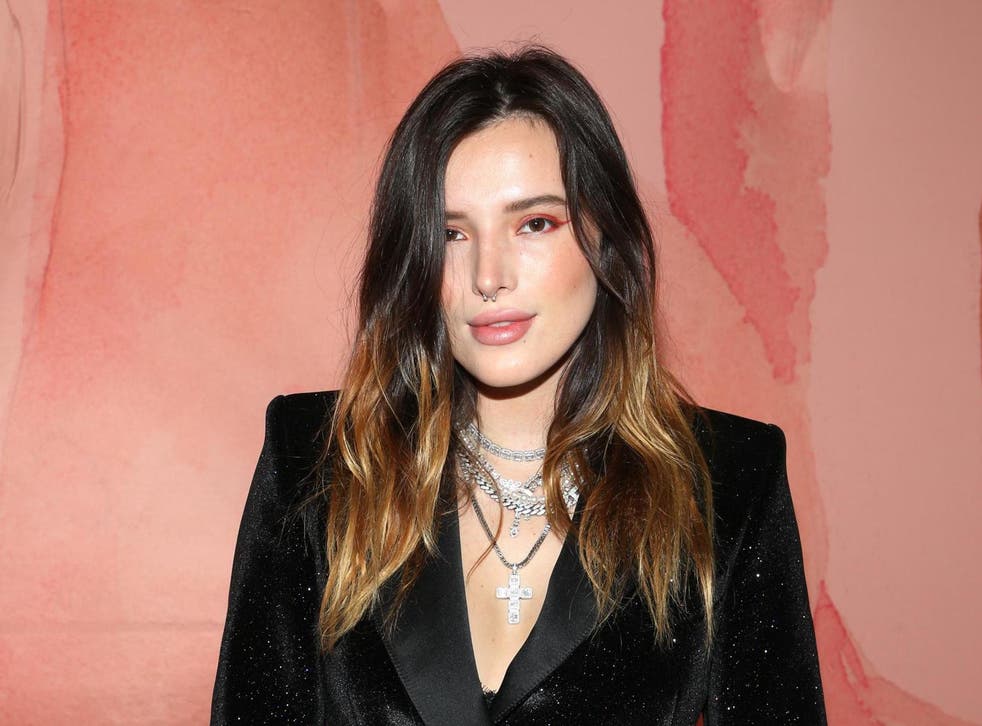 There are all sorts of reasons why porn is dreadful. The treatment of women as walking orifices. The hairless, Barbie-like bodies. The focus on male pleasure. The am-dram storylines that nearly always involve a babysitter. There will always be exceptions of course ­­– online porn caters to all tastes and niches ­– but it's fair to say that its aspirations are limited. Unless, of course, it's art.
The intersection between art and pornography has sustained film and visual arts for decades. Put explicit sexual imagery in a gallery and it becomes a thing of aesthetic and intellectual import – think Fiona Banner's Turner Prize-nominated Arsewoman in Wonderland from 2002, comprising a transcript of a sex movie in big pink letters across an advertising billboard; Cosey Fanni Tutti's Prostitution exhibition at the ICA which prompted walkouts, scandalised headlines and a debate in parliament; and pretty much anything by Jeff Koons. Similarly, when a noted film director such as Pasolini, Bertolucci, Bigas Luna or Gaspar Noé drops some hardcore humping into their arthouse masterwork, it becomes a thought-provoking reflection on physical relationships ­– or that, at least, is the thinking.
But what happens when instead of bringing pornography into the arts space you invite art into the porn zone? This week, the former Disney star Bella Thorne won a Pornhub award for her directorial debut, Her & Him, a 30-minute film featuring porn actors Abella Danger (Her) and Small Hands (Him), which is currently available to premium Pornhub subscribers. While Thorne described the film as "beautiful visionary art", the Pornhub vice president Corey Price hailed it as "a modernistic, sexually explicit Romeo and Juliet-like depiction of two star-crossed lovers who have unbridled sexual longing for one another".
Because I like to go the extra mile for this column, I have watched Her & Him. Let's just say that the word "visionary" seems a stretch. I'm also not clear where Shakespeare's great romantic tragedy fits into two twentysomethings waving knives around and banging each other senseless in an apartment strewn with pop art knick-knacks, but the eye sees what the eye sees. Then again, in presenting a relationship in which the lines between love and loathing, tenderness and brutality are blurred, Her & Him is perhaps unusual in the annals of pornography in its attempts to show the power struggles than can occur within a physical relationship. And perhaps we should be thankful that, in this case, the woman isn't merely a body to be screwed. Thorne's vision attempts to show what happens when a woman's desire takes precedence over a man's.
The 10 best sex scenes in film

Show all 10
Can we call it art? By definition, art involves the application of human imagination and skill, and is celebrated for its emotional power. But in real life, it's more complicated than that – just ask Marcel Duchamp or Carl "pile of bricks" Andre. According to Oscar Wilde, art is "an intense form of individualism", though I prefer Brian Eno's definition, that "art is everything you don't have to do" – the things that we create not merely to survive but to enhance our lives. Eno even listed some examples – "symphonies, perfume, sports cars, graffiti, needlepoints, monuments, tattoos, slang, Ming vases, doodles, poodles, apple strudels" – though, unhelpfully, he didn't mention porn.
Clearly, we don't need pornography to survive. But there are ideological and moral questions around money, manipulation and titillation that underpin whether it can be judged as anything more meaningful than a masturbatory aid. Real-life images of non-consensual sex and child pornography isn't art – it's evidence of a crime. Meanwhile, porn that degrades its participants can scarcely be considered anything other than cruel and exploitative.
An orgy filmed and put online with the sole purpose of getting viewers off hardly counts as artistic endeavour. However, put a video of an orgy in a gallery or an independent cinema, perhaps with some sex and gender theory thrown in, and you might argue that it becomes something else entirely. The historical shag-fests depicted by classical painters such as Poussin and Claude Lorrain continue to be viewed as high art. Context and intention is everything.
In discussing his 1989 exhibition Made in Heaven, the artist Jeff Koons said his intention was both to provoke discussion about acceptable expressions of sexuality and get viewers hot and horny. He saw no reason why you can't do both things at once. Clearly, the line between art and porn is a fuzzy one.
In aesthetic terms, of course, porn is mostly terrible, so perhaps we should applaud Thorne's efforts to elevate it into something with artistic worth. Whether she has succeeded remains a matter of debate, though. Art, much like sexual desire, is in the eye of the beholder.
Register for free to continue reading
Registration is a free and easy way to support our truly independent journalism
By registering, you will also enjoy limited access to Premium articles, exclusive newsletters, commenting, and virtual events with our leading journalists
Already have an account? sign in
Join our new commenting forum
Join thought-provoking conversations, follow other Independent readers and see their replies