the saturday interview
Ben Mendelsohn: 'If I could end up like a Harry Dean Stanton or John Hurt, I'll be thrilled'
The star of Animal Kingdom and Bloodline talks to Laura Barton about character acting, why his new film is 'beautiful', not remembering his nights out with Kylie, and his love of Melvyn Bragg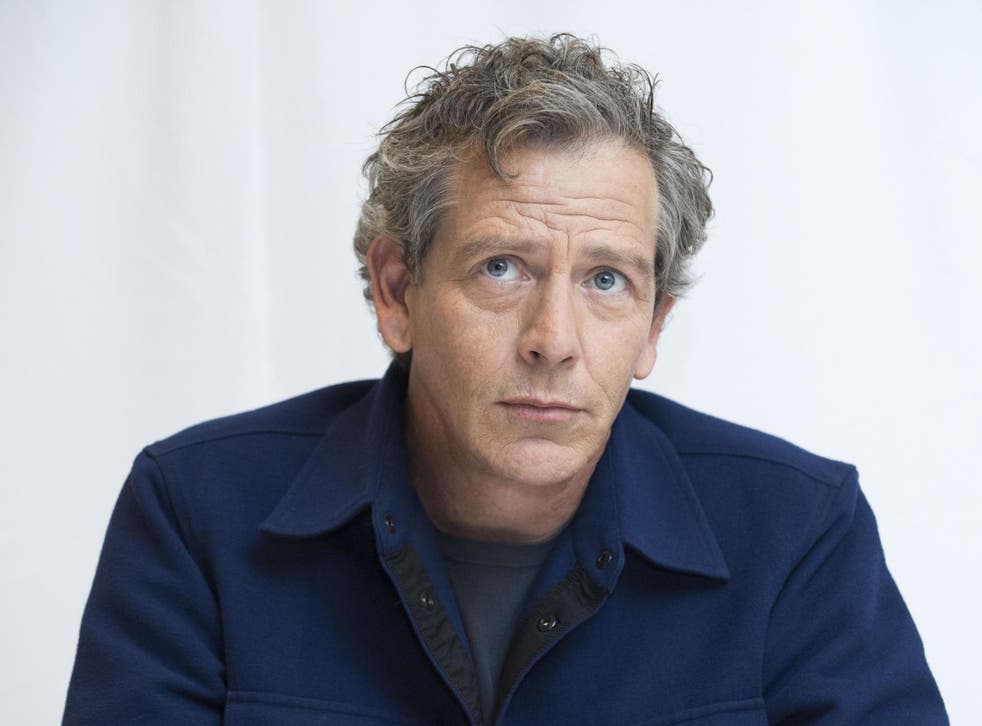 Somewhere in Malibu, the actor Ben Mendelsohn is watching the mid-morning heat rise. "It's getting pretty warm over here," he says down the line. "It's very, very sunny." Mendelsohn is spending this hot California day fielding calls from international press, speaking with a kind of zeal about his latest project: Babyteeth, a small, fierce movie made in his native Australia. "It is," he says, "something delightfully special."
An adaptation of London-based, Australian writer Rita Kalnejais's 2012 play, Babyteeth is the coming-of-age story of a young woman who may never get any older. Milla, played with an unbolted intensity by Eliza Scanlen, has cancer, and life in her Sydney suburb is now measured out in schoolwork, violin lessons, and strong medication. Then one day she encounters Moses: a small-time drug dealer with no fixed abode, all charm and misshapen haircut and blurry edges. She is immediately bewitched.
Mendelsohn plays Henry, Milla's psychiatrist father, who, with his wife Anna, played by the remarkable Essie Davis, is attempting to navigate both the impending loss of his daughter and the implications of her unlikely first love. Already medicating his wife, he takes to supplying Moses with pharmaceuticals in an effort to sweeten him into sticking around. "This," Anna notes, as they watch Milla and Moses cavort in the backyard, "is the worst possible parenting I could imagine."
Mendelsohn did not see Kalnejais's play when it first ran at Belvoir St Theatre in Sydney. "But my Australian agent had been at me for some time to read it," he says. "And after significant pestering I did, and I understood why she felt so strongly about it. I said two words: it's beautiful. And she said, 'That's the only time you've said that about anything.'"
It was not so much the poignancy of the story that struck him – one might note that the lovestruck terminally ill young woman has been a successful movie trope from 1970's Love Story through to 2014's The Fault in Our Stars. But in the case of Babyteeth, it was "the crafting of the characters, the exchanges," Mendelsohn says. "They're beautiful messed-up people that Rita brings to life."
Henry specifically appealed as "a great example of a man with assumptions, and with strengths that he wouldn't be aware of", he says. "I think Henry's greatest strength is that he's a more or less benign presence." But he was also drawn to the cast. "I mean Essie is one of the great performers of our generation," he says. Davis has an Olivier win and a Tony nomination for her stage work, but will also be known to film and TV aficionados for starring roles in The Babadook and The Slap. "She's capable of extraordinary work. I've wanted to work with her for decades."
Mendelsohn had also clocked Scanlen's talent as she moved from television soap opera Home and Away to big-screen turns in Sharp Objects and Little Women. "Eliza, the stuff she's done, she came out of the gate very, very strongly," he says. "And then Toby [Wallace, who plays Moses] I didn't know at all. And Toby, in some ways, he was the most likely to step in doo-doo, an actor playing a character like Moses would be tempted to go to all sorts of spectacular effect acting. And he dodged it all – he dodged every pitfall with that character. And he's a wonderful young man."
The director Shannon Murphy meanwhile "exceeded my wildest expectations", he says. "Shannon is so much better a director than I dared dream. I love what she did with the film, I love that she's got this active, brilliant mind with this emotional, sensitive imagination – her gifts have really been in her inventiveness and her imagination. You know, only a woman could've made a film like this."
This heaping of praise – on Kalnejais and Murphy, and Davis and Scanlen and Wallace – appears genuine, but nonetheless a diversion. As he talks, Mendelsohn seems determined that we should look anywhere but directly at him. Press him on the experience of playing Henry, for instance, and the briefest of answers is quickly re-routed: "But in truth it's a story about those two young lovers," he says, steering the conversation back to the electricity between Scanlen and Wallace. His tone is engaged but easy, as if today we might simply have happened to find ourselves sitting on adjacent bar stools; companionable for the brief time we have together.
Access unlimited streaming of movies and TV shows with Amazon Prime Video Sign up now for a 30-day free trial
Sign up
Mendelsohn's career has long appeared to rely on similar tactics; he has the rare ability to slip past the limelight in favour of convincingly inhabiting a character. He mines the supporting roles, the villains, the half-seen and ne'er-do-wells, and seemed to strike upon this rich seam early: after a youthful stint on Australian television, most notably in The Henderson Kids alongside Kylie Minogue, he gained attention in another coming-of-age movie, 1987's The Year My Voice Broke, for which his supporting role as a kind of Moses character – a school rugby player and petty thief sent to juvenile detention, won him an Australian Film Institute award.
The roles since have gathered pace: smaller parts in Terrence Malick's The New World and Baz Luhrmann's Australia, were followed in 2010 by a much-lauded performance as a criminal on the run in the feted Australian film Animal Kingdom. Then there was a prison inmate in Starred Up, and Ryan Gosling's bank robber cohort in The Place Beyond the Pines. Along the way he has not been averse to a blockbuster – he played a billionaire socialite in The Dark Knight Rises in 2012, the mutant Talos the Untamed in last year's Captain Marvel and Spider-Man: Far From Home, and Orson Krennic in the Star Wars franchise Rogue One. There have been television stints too: his role as the black sheep of the Rayburn family in the Netflix thriller Bloodline scored him an Emmy. This year, for HBO's crime drama The Outsider, he finally seemed to switch allegiance, playing police detective Ralph Anderson, investigating a grisly murder in Georgia.
For all the acclaim, awards and admiration, Mendelsohn's has been a steady ascent over the course of nearly four decades. "What I was aware of, when I was young, was that the cake could rise too quickly, and never rise again," he says now. "That was a concern of mine." Might he concede, at the age of 51, that the cake is now safely baked? "Umm," he says slowly. "Yeah. I think I've probably transferred into being part of the regular furniture, if you like, of performance. And you know, if I could end up like a Harry Dean Stanton or John Hurt I'll be thrilled. I've got to get a couple of runs on the board to match dear old Mr Hurt." He laughs. "But that was always the dream. To be one of those ones."
For quite some time, perhaps the better part of a decade, Mendelsohn stopped watching his own work. "I've done 40 or 50 films, and I've probably seen 30 of them," he says. "I mean I haven't seen Animal Kingdom." It was more a matter of craft than disdain for the work he was doing. "It just occurred to me that it's only very recently that actors have had the ability to watch themselves," he explains. "All throughout history, no actor had seen himself – they would hone what they were doing with an audience. So I knew you didn't need to watch yourself in order to get better, and I hoped to get better by not watching myself. And I think it probably worked for a time."
But he has seen Babyteeth. "I don't know if you know this, but of the films I've made that I have seen, this is my favourite. Because it's an incredibly feminine, muscular film. When Eliza goes out to the nightclub, that's one of my favourite scenes of any film ever." He watched that scene, he said, and he remembered his own first nights out as a teenager, hitting the town with the cast of The Henderson Kids. "I can remember the excitement, but the details of what and where… those are in the mists and the sands of time." There is a smile to his voice. "But I do remember being a fish out of water and loving it." Has he stayed a fish out of water? He laughs. "Yeah. In a lot of ways I have. But I don't go out to nightclubs much anymore."
These days Mendelsohn's tastes are more sedate. He is divorced, has two daughters, a penchant for video games, and, unfeasibly, Melvyn Bragg's Radio 4 series In Our Time. "Oh absolutely, absolutely," he says when asked about his enthusiasm for Bragg. "I love listening to Melvyn! In fact I've just got one of his audiobooks – The Adventure of English. I think he's one of the great national treasures."
He falls quiet for a moment. "I'm just looking In Our Time up on my podcast feed…" he explains. "In the summer they always do these repeats" He sounds frustrated. "Gilgamesh was the last one! Then Kant's Categorical Imperative. Oh yeah, I do worship at the shrine of Melvyn." The publicist joins the line, tells us our interview time is up. Mendelsohn laughs, sounding hot and far away and rather pleased that the conversation should've landed here, on a subject other than himself. "Well," he says, "I'm very happy to end it with Melvyn."
Babyteeth is released in cinemas on 14 August
Join our new commenting forum
Join thought-provoking conversations, follow other Independent readers and see their replies