Ben Stiller: 'Doing comedy is scary'
Ben Stiller may be the king of the gross-out movie but he couldn't tell a joke if you paid him, he confides to Lesley O'Toole
Ben Stiller: 'Doing comedy is scary'

Show all 2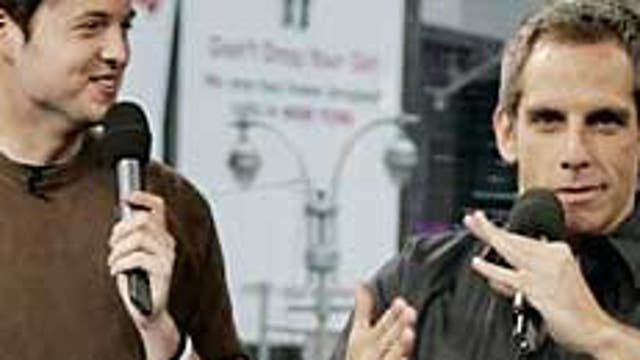 In an industry where nothing much is certain and much more is nebulous, the success of Ben Stiller's films - they have collectively grossed $1.38bn (£700m) worldwide to date - is as close as Hollywood gets to a sure thing. Yet the actor who has made the gross-out humour phenomenon his own - his signature role, in 1998's There's Something About Mary, involved an excruciating contretemps between his penis and trouser-zip - is taking a risk in his new movie by for once not pushing the bad-taste envelope. Instead, Stiller is making a belated entry into the family-movie arena with Night at the Museum, a move prompted in large part by fatherhood (Ella, four, and Quinlin, 18 months, with his wife, the actress Christine Taylor).
"This is definitely kind of new for me, the family-movie thing," announces Stiller, who is friendly, unassuming, and not at all representative of the brash, larger than life, characters he has memorably inhabited in the likes of Zoolander, Dodgeball, Meet the Parents and its sequel Meet the Fockers.
"I got into doing this one and even [the animated hit] Madagascar before that because you start to become very aware of what your children can watch. And you appreciate family movies much more because you want to be able to enjoy films with them. There just aren't that many live-action movies that families can go to all together."
Stiller signed on as one of Madagascar's coterie of "voice talent" before his elder child was conceived: "Yeah, those films are like four-year projects, so I had to get in there early." He knew a family was part of his future game plan, in the same way he knew a career in comedy was probably preordained given his classic comic lineage. His parents - Jerry Stiller and Anne Meara - are revered actors whose comic double act Stiller and Meara (focusing largely on the couple's ethnic differences) was a long-running staple of US television's famed Ed Sullivan Show. Stiller is Jewish, Meara was born an Irish Catholic but converted before her marriage. "So I have the Irish Catholic guilt and the Jewish guilt," deadpans Stiller, whose older sister Amy is also an actress.
Night at the Museum features Stiller as an inept security guard who accidentally unleashes an ancient curse that turns New York's famed Museum of Natural History into a chaotic, warring sum of its suddenly living exhibits. Tyrannosaurus rex, Attila the Hun, Christopher Columbus, Mayans and Roman gladiators pillage the halls of the museum which, even before production, held a special place in Stiller's heart.
"I grew up three or four blocks from it and used to go there all the time as a kid. When you have young kids it's definitely the museum you want to go to because it's just special. When I used to cut school, that was where I went." So he was always something of a rebel? "Yeah, I know, right? That tells you what kind of kid I was. Super-cool."
Stiller is cool enough to have sent himself up in a toe-curling turn as megalomaniac director on Extras last year. "I just said 'yes' to Ricky [Gervais] and Extras because he's so talented, and then the script arrived and I actually freaked out when I read it. I just thought, 'Oh, this is really out there'. And then when I saw it, well, it was just 'Oh. My. God.', but my wife said it was funny and then a couple of other people said it was funny. That to me was a really good lesson. And at the end of the day if Ricky Gervais thought it was funny then I was fine with it."
He sent himself up in deliciously similar vein on Larry David's Curb Your Enthusiasm. "They're not that true," he says. "I hope to God not. But they are about aspects of your personality and that's what's fun. We all have different aspects of our personality within us and the cool thing about shows like those is to be able to say, 'Well, I'm going to play the part of Ben Stiller as this guy'. I'd never do what I did on Extras but there must be some aspect of my personality that's like that, in the same way that I have an aspect of my personality that might volunteer to help lepers in India but I've never actually done it. It's a yin and yang thing. There is the shadow side."
Cuddly family-friendly comic Stiller is not, however, sticking around for long. "Yeah, that's over. The next film I'm doing is another R-rated one [The Heartbreak Kid, directed by those behind There's Something About Mary, the Farrelly Brothers]. It's not that I didn't think, 'Oh shit, wait a minute, I'll have to deal with this later'. I did. And even more about other kids coming up to my kids saying, 'Well, your dad did this...' And they'll be like, 'Ugh, that's Dad'. When that happens we'll have to sit down and talk about it."
Interestingly, his motivation is that long-quoted by Hollywood women: paucity of shelf-life. "At a certain point as an actor you get older and you're just not right for those kinds of parts any more. I think this is that period of time for me but I'm 41 now. Time goes on. I'm not going to be doing those movies forever. I mean, I hope I won't be doing them when I'm 50."
Money may well be a factor, given that Stiller's salaries have soared since his reported $3m (£1.6m) payday for There's Something About Mary. Does he feel he and fellow A-listers are overpaid? "I don't think so. Studios don't pay out of the kindness of their heart. It's all an equation to them. That's all. At the end of the day there is only one Tom Cruise and it might be that whoever is paying the stars goes, 'Well, we don't necessarily feel we need to pay that much.' But I think it was wrong for Sumner Redstone to go after Tom like that [the head of Paramount Pictures recently castigated Cruise in the press]. It was out of leftfield. For the most part, Hollywood will stop paying the stars when it stops making sense to them to pay the stars. And they don't pay anybody a cent over what it's worth to them. It's not like you see these studios losing money."
Stiller admits he is far less self-obsessed and consumed by business transactions these days thanks to the combined effect of marriage, parenthood and, more recently, turning 40. "I didn't buy a Porsche or run a marathon or do any crazy, mid-life thing. I just think 40 is an overall assessment of where you're at and makes you really cognisant of your own mortality and the things you want to do in life, which affects your choices and everything really. I think it's good to feel that. The big thing I felt was, 'Wow, what happened? How did I get here so quickly?' And, of course, life seems to go by quicker and quicker the older you get."
In person, Stiller is not fall-about funny, and not only because his reflective pondering does not particularly lend itself to quick wit. "I really admire funny people but that's just not me. I'm pretty low-key. And I've never felt that need to go into a room and make people laugh. I couldn't even tell a joke if you paid me. Really. I can't ever remember a joke and I can't even take the pressure of someone having to tell me one. I worry that I'll laugh at the wrong thing or miss the punch line. And if it's one of those jokes with a set-up, I really worry that I won't get it at all."
If Stiller is changing personally, then so too, he surmises, is the face of film comedy. "We're certainly going back to seeing more R-rated comedies. Ron Howard was saying recently that back in the early Seventies and Eighties, any comedy you made had to be R-rated. You had to be able to take those chances. After There's Something About Mary there was a whole spate of that again, and again after The 40-Year-Old Virgin. Hollywood has always been very reactive: 'Well, this is a big hit, now we're all going to try and find a way to emulate that'." So a series of Borat rip-offs must be next? "That movie is already changing everything in terms of what people see in a comedy because it's so cutting-edge, and it's taking his reality stuff that he does so well but adding a story. Sacha Baron Cohen takes so many chances and he's so committed. It's really enlightening, too, in terms of what it shows about character."
Stiller got his start when a short film spoof of the Tom Cruise-Paul Newman film The Color of Money found its way to the office of Lorne Michaels, the producer of America's legendary TV sketch-comedy programme Saturday Night Live. Michaels not only bought the film to air on the programme but signed up Stiller as a cast member. He stayed for a year before leaving to star in and produce his own show, the progressive-for-its-time Ben Stiller Show, which had short-lived runs on two American networks. Next year he will return to the TV arena to direct a pilot for his wife (best-known as Marcia in the Brady Bunch films).
"It's very much her show, but I'll make an appearance in the pilot and I'll direct it. It's based loosely on our life. She won't have kids in it but she is married to me and her mother lives in the house right next door to us, which is true."
If most grown men would be skittish at least at even the prospect of their mother-in-law living next door, Stiller appears ingenuous as he extols the arrangement's virtues.
"No, it's really good, honestly. It's a built-in support system for our kids. The houses are literally next to each other so we have some privacy but yet she's there. She's been a great grandmother and she and I get along really well. But yes, of course there is humour to be got out of that. It will have a slightly broader reality to it in the show."
Stiller has otherwise put his directing career on hold. His last outing the other side of the camera was 2001's Zoolander, in which he played a self-absorbed male model of his own creation. Since he also writes, is Stiller something of a modern-day Woody Allen? He reddens with embarrassment at the suggestion.
"Not at all. I think he's a unique, genius, talent. I love writing and directing and really do want to do more but I don't feel like I'm trying to model myself after him. But I love him and film-makers like him - Albert Brooks, Mel Brooks, Christopher Guest."
He would love to direct again and reprise the little-seen-of-late serious actor in him. "Drama doesn't scare me. Not at all. I've done a few dramas and had very good experiences doing them. I think comedy is much scarier. When you're trying to be funny, people are either going to laugh or they're not."
Which is exactly the conundrum occupying most of his waking life. "I'd say being funny at home has actually become my main job. If you want to get points with your daughter, you've got to entertain her, play with her and get her to laugh. That's harder than anything really because there's no script for it, only shamelessness."
'Night at the Museum' opens on 26 December
Join our new commenting forum
Join thought-provoking conversations, follow other Independent readers and see their replies