Benicio del Toro interview: 'Trump's Mexico border wall won't change a thing'
The actor on returning to 'Sicario', the Kevin Spacey allegations and that Scarlett Johansson urban legend
Jacob Stolworthy
Monday 02 July 2018 14:28 Comments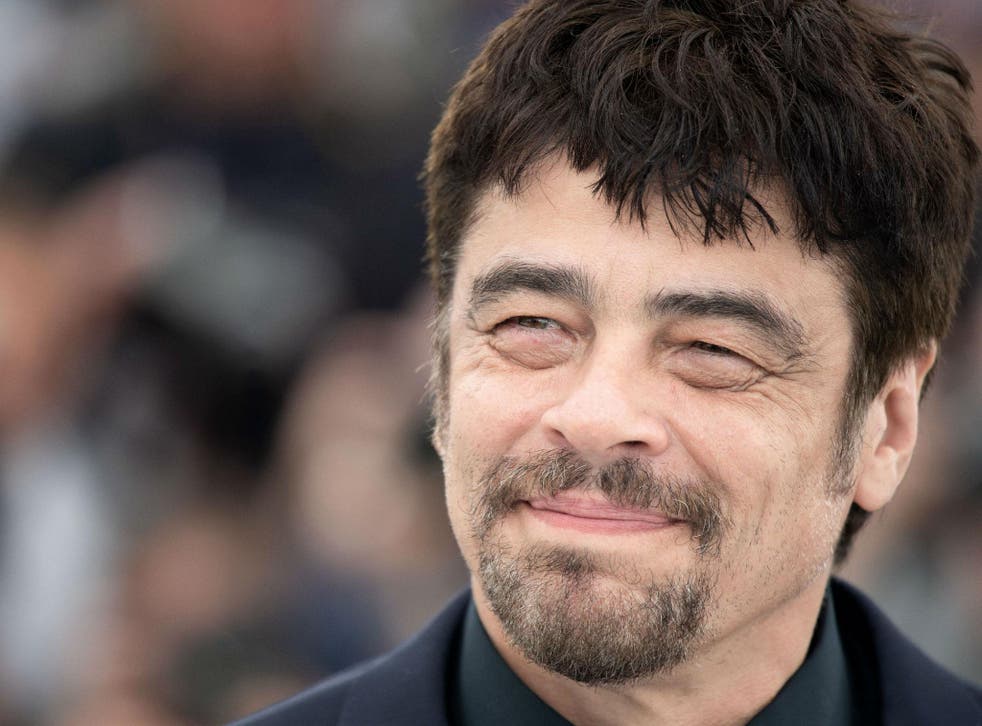 Benicio del Toro is generally not one for reprising film roles, which makes his appearance in Sicario 2: Soldado all the more alluring.
Del Toro returns as Alejandro Gillick, the assassin first presented in Denis Villeneuve's 2015 thriller co-starring Emily Blunt and Josh Brolin.
Initially presented as a ruthless killing machine, the character was propelled onwards by his thirst for revenge over the death of his wife and daughter at the hands of a cartel leader. He was the standout in a film comprised of many.
Soldado, from Italian filmmaker Stefano Sollima, provides a surprising spin on a once merciless character – a reversal precipitated by the introduction of a young character he's tasked with abducting in order to pit two rival cartels against each other. Del Toro found his character "psychologically rehabilitated" in a way he never expected when filming Sicario back in 2014.
"It was a difficult arc to tackle," del Toro admits. "I feel like when you get a character that is so convincing in one way, how can he go 180?"
He attributes the film's success to the script, written by returning screenwriter Taylor Sheridan, whose directorial debut, Wind River, was released in 2017.
"Look at the fact that, as part of the covert operation, he has to kidnap the daughter of a drug cartel – an innocent girl [played by Isabela Moner] about the same age as his own daughter was when she was kidnapped and killed. He's putting the girl through the same experience that she went through – he's now acting like the thugs that he despises."
Sicario 2 Soldado trailer released
To say any more is to venture into spoiler territory but suffice to say this mirroring of events has a serious effect on Gillick. Its consequence – which steers the film in unexpected directions – is the one thing which separates Soldado from its predecessor. But does del Toro feel like the character's evolution was organic?
"I do. I believe this guy could go 180." He pauses. "I hope people get it."
Del Toro has long established himself as the face of cartel films – the equivalent to what James Cagney represented for prohibition films ("Look at me, ma, I'm on top of the world!" he grins, referencing the actor's performance in 1949 noir classic White Heat). We list them: Traffic (2000), Escobar: Paradise Lost (2014) and, of course, Sicario plus its sequel.
Access unlimited streaming of movies and TV shows with Amazon Prime Video Sign up now for a 30-day free trial
Sign up
The same locations crossover from film to film with several notable scenes taking place on the US-Mexico border. But, if the desires of president Donald Trump are realised, a wall will at some stage be built between these two nations. Could a future Sicario sequel see this structure providing obstacles for its characters as well as the refugees seeking asylum? And if so, how would it affect the film's representation of the ongoing war against drugs?
"I don't think the wall will change anything," the Puerto Rican actor says. "That's not one of the solutions. It wouldn't change the war on drugs. It's not going to take away the violence. The vast consumption is in the States so it's not gonna change. As long as these subjects are there, movies like this will exist. I don't think the wall's gonna change anything."
He praises the "cartel" genre, a subject that, once he gets started on, there's no breaking his flow.
"You can start with The French Connection (1971) – or even before; maybe Easy Rider (1969). Then you go to Scarface (1983). I've been in a couple of them. Licence to Kill [del Toro played the Bond series' youngest henchman to date in the 1989 film aged just 22] – that movie took place with the drug cartel. Now there are TV shows too. It's become what gangster movies were," he says, like a proud patron.
25 new films to look out for in 2018 that aren't sequels

Show all 25
The actor's career hasn't just been limited to these films. Quite the contrary, in fact. His memorable roles in Fear and Loathing in Las Vegas (1998), Snatch (2000) and Sin City (2005) wouldn't have been possible without the success of 1995 crime mystery The Usual Suspects which handed him his big break as the garbled-speaking Fred Fenster.
In recent months, however, the film's legacy has been darkened by the allegations of sexual assault filed against both its star, Kevin Spacey, and director, Bryan Singer. It's a subject which makes del Toro morose, but one he's willing to comment on.
"It's sad about the victims, number one, and sad about Kevin Spacey," he says. "But the victims come first. I don't care how talented you are. I'm sorry."
He ascertains that it hasn't muddied his personal experience working on the film and hopes that people can overlook the accusations when it comes to enjoying the end product: "I think it's people's choice if they don't want to watch it 'cause of what happened. It's too bad for all of us that participated in the film. I understand it – I don't know if I agree with it."
Next up, he'll star in Escape at Dannemora, an eight-part miniseries based on the true story of a 2015 prison break which spawned a massive manhunt for two convicted murderers played by del Toro and Paul Dano. The news gathered heat after becoming apparent they were aided in their escape by a married female prison employee (Patricia Arquette) with whom they were both sexually involved. All eight episodes will be directed by Ben Stiller. Then there are the potential future Marvel Cinematic Universe appearances as the kooky Collector who was suspiciously killed off-screen in superhero smorgasbord Avengers: Infinity War.
Before our brief chat winds to a close, there's just one small case to deal with: that of the long-standing urban legend involving himself and Scarlett Johansson having sex in a lift at LA hotel Chateau Marmont during an Oscars after-party. He jumps to his feet, beaming: "Believe it all, man," he exclaims. "It's true – it's all true."
Sicario 2: Soldado is in cinemas now.
Register for free to continue reading
Registration is a free and easy way to support our truly independent journalism
By registering, you will also enjoy limited access to Premium articles, exclusive newsletters, commenting, and virtual events with our leading journalists
Already have an account? sign in
Join our new commenting forum
Join thought-provoking conversations, follow other Independent readers and see their replies