Berlin Syndrome: Cate Shortland on her new film, female obsession and her own trauma
The Australian director's psychological thriller stars Teresa Palmer as an Australian backpacker whose holiday romance holds her captive in a Berlin apartment 
Nick Hasted
Thursday 08 June 2017 15:40 Comments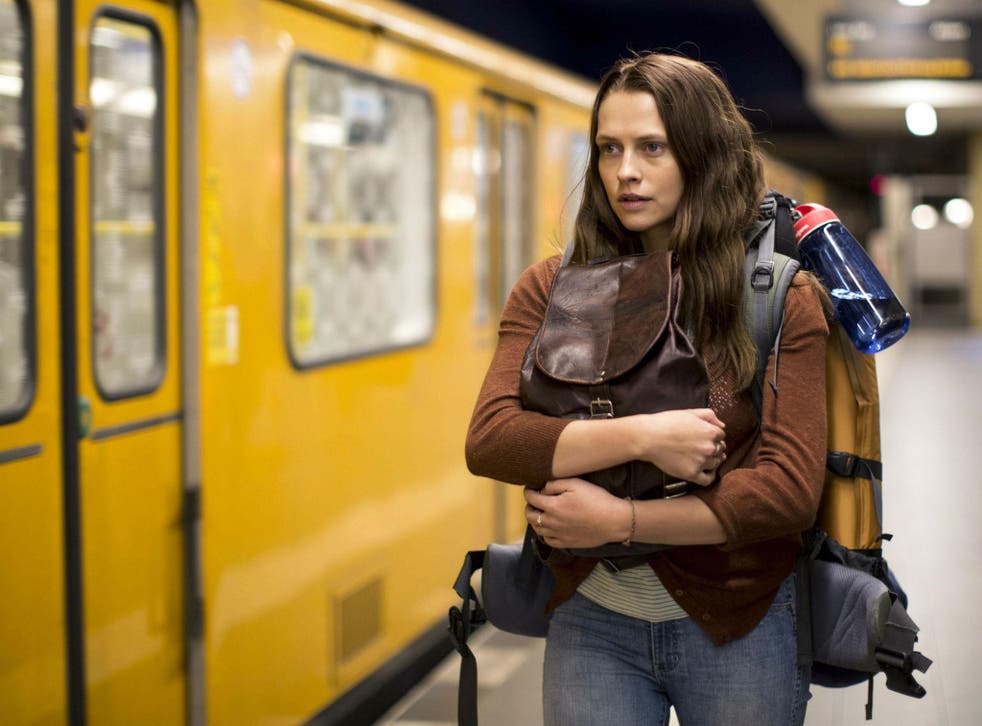 The Australian director Cate Shortland's films are charged with a heady erotic heat, and ripe with sensual imagery. They also put their young women through the wringer, boldly exploring extremes of female experience.
This is certainly true in Berlin Syndrome, in which Clare (Teresa Palmer) is Shortland's latest unlucky heroine. She's a typical Australian backpacker in Europe, dawdling around the cultural sights of Berlin, till she meets a charming teacher, Andi (Max Riemelt). Her dreamy attraction to him leads to a one-night stand. Except that the next morning, he leaves her locked in. The potential physical risk that lurks every time a woman goes home with a man has leapt up and grabbed her.
"Yeah, I think about this a lot," Shortland says. "What happens is a mixture of truth, and how we fantasise about sex, and how we sexualise violence. Clare's not after this vanilla experience, when she goes home with him. She kind of knows there's something not right. But she continues. And that's not victim-blaming. It's more getting into why women are socialised to eroticise that.
"We thought about fairy tales when we were shooting. And a lot of them, like Sleeping Beauty, or Rapunzel, or Beauty and the Beast, eroticise a very immobilised, trapped heroine. So we grow up with these stories, and somehow they're in us. In a way, it's outside politics. It's so ancient. It's Neanderthal. You kind of want an intellectual, sensitive, funny big bad wolf!" she laughs. "It's really crazy. But it's a fantasy. And the reality of what she goes home with is terrible."
Clare is left trapped in an abandoned apartment complex in the former East Berlin which is like a modern ogre's castle. She struggles to be free, then gives in to her inevitable death, then fights again. But Shortland lets the hazy, narcotic attraction Clare first felt for Andi stubbornly linger.
"People talk about Berlin Syndrome as part-thriller," Shortland says. "But for me, it was about a relationship. So I looked at this incredible attraction. And that didn't disappear once she was trapped by him. And when we researched other women who have been captured for long periods of time, or are in domestic violence situations with men, often these women are still having sex. So it was interesting for me to blur those lines, and to experience what it is to be attracted and repulsed by somebody at the same time. The erotic element continues, even though it shouldn't."
The hurricane whirl of Clare's psyche shows after she instigates sex with her captor. "I love the look on Teresa's face just after that," Shortland says. "She looks so old. But everybody who has sex knows that often when you're engaged in it it's transformative, you're not in the space you're in. So for that time she can escape her situation, and not think, and just feel."
Shortland's debut, Somersault (2004), gave Abbie Cornish her breakthrough role, as a teenager who flees her Canberra home after being discovered in bed with her mother's boyfriend. Alone in a snowy mountain resort which Shortland colours a glistening aquamarine, she heedlessly offers sex as her only, uncontrolled adolescent currency, almost finding love with Sam Worthington's brooding, sexually confused jock.
After Somersault swept the AFI awards (Australia's Bafta equivalent), Shortland followed up with Lore (2012), Australia's nomination to the Oscars that year. Another young actress, Saskia Rosendahl, plays the eponymous teenage anti-heroine here, leading her siblings across Germany in 1945. Too young not to be a Nazi, but sexually blooming, her first erotic encounter is with an apparent Jew.
Access unlimited streaming of movies and TV shows with Amazon Prime Video Sign up now for a 30-day free trial
Sign up
Shortland says she hadn't meant to make "another film about a young woman and her sexuality" after Lore, and is now writing something very different. But the theme had deep personal roots.
"My childhood, and my teenage years, were quite traumatising," she says. "So I think I was trying to make sense of my family, and where I grew up, and who I was as a person. But I feel I'm more at peace with that now."
Elements of this difficult autobiography can be glimpsed in Somersault. "I have got two sisters," Shortland explains. "And my father was brought up in an orphanage. So he brought us up as if we were in a very strict, high Church of England children's home. One of my sisters left home at 14, because the strain of it was so intense, she couldn't do it any more.
"My other sister and I stayed. I've been making sense of that, and getting over that, and also forgiving and loving my father. For all his flaws he's the most kind and beautiful and generous person, and he didn't know what he was doing. And I've got two adopted kids, we adopted our son when he was 11. He has been a street-child, so he has his own trauma. So it's been quite good for me to see that these things happen to us, but we don't necessarily have to be them."
The lack of censorious judgement in Shortland's films, the way she enthusiastically follows her female characters as they dive into terrible depths, comes from such difficult knowledge. "I think most people have a lot of beauty, and good. But we also have the capacity to be monsters. And I love looking at that in my work. There's always multiple personalities in all of us. And how do we rise up? How do we be better, and get on with it, and not sit around and dwell in this mud?
"A friend of mine who's a journalist in her sixties said, 'When you look back at your life, how do you retain that open heart that you had in your early twenties?' And that's also what the film's really about. We travel and we want all these experiences, and we have these beautiful open hearts, and these things happen to us and it sort of shuts down. And how do we keep that heart open?"
Shortland's women suffer and struggle in ways you never see in Hollywood. But they don't give up. Clare in Berlin Syndrome is sheepishly callow, before her capture hot-houses new, mature strengths. "Most of my characters have a hard time," Shortland laughs. "But I don't want to tell stories which are just black and dark and upsetting. I want people to leave the cinemas feeling there is a way out. That there is a way of connecting to other people, or to themselves. I don't want to make something that's just nihilist. I want to connect to people."
The latest young actress to benefit from a Shortland baptism of fire, Teresa Palmer, is on the verge of real stardom, after taking the lead in the hit horror film Lights Out, the thankless role of Andrew Garfield's girlfriend in Mel Gibson's war film Hacksaw Ridge, and appearing in Terrence Malick's Knight of Cups.
"She's just a trooper, who was breast-feeding whole time we were shooting," Shortland says admiringly. "Teresa came in with a really big personality. She's physically really active and large and her arms never stop moving, she's always laughing." But Palmer brought her own pain to the role. "She's had her own trauma, because her mother's had mental illness since Teresa was baby, and Teresa brought her mother up, basically. So Teresa is a coper. But what happened was we had to stop all that, and stop the pretending that everything's OK, and go to a quiet, hibernation state, that's filled with trepidation and not false confidence. Women have this thing that they have to be a certain way, and I just took that out. I didn't want it, I wasn't interested."
As much as anything, Berlin Syndrome is a horror film perversion of the young Australian's rite of passage to Europe. "We look to Europe as so much better than us Neanderthal bush-pigs," Shortland agrees. "We go there to become cultured and better, and learn to speak and how to look at a piece of art. That's a persistent view, unfortunately."
The way this goes wrong for Clare isn't all bad. "She has this idea that she's going to get off the plane and take photographs, and be an intellectual. And then she meets this person, and like myself or other women I've spoken to, that intellectual side goes out the window, and this obsession takes over. I'm actually watching Jill Solloway's I Love Dick at the moment, and it's so great seeing that female obsession. The power and pull of wanting to see this person, and be in this person's presence, and sex takes over everything. She just wants to be with him. She wants to be encompassed by him, she wants to be consumed by him. That's her dream. And then it becomes this terrible nightmare."
It returns to something Sam Worthington's character says about Abbie Cornish's in Somersault: that he can't get her off of his skin.
"Yeah, yeah," Shortland enthuses. "We all want to climb inside the other person, and just lose ourselves in that passionate love."
'Berlin Syndrome' is out on 9 June
Register for free to continue reading
Registration is a free and easy way to support our truly independent journalism
By registering, you will also enjoy limited access to Premium articles, exclusive newsletters, commenting, and virtual events with our leading journalists
Already have an account? sign in
Join our new commenting forum
Join thought-provoking conversations, follow other Independent readers and see their replies