Remembrance Day: The 10 best First World War films
Including the work of Michael Haneke, Peter Weir, Jean-Pierre Jeunet, and Charlie Chaplin 
Thursday 08 November 2018 13:33
comments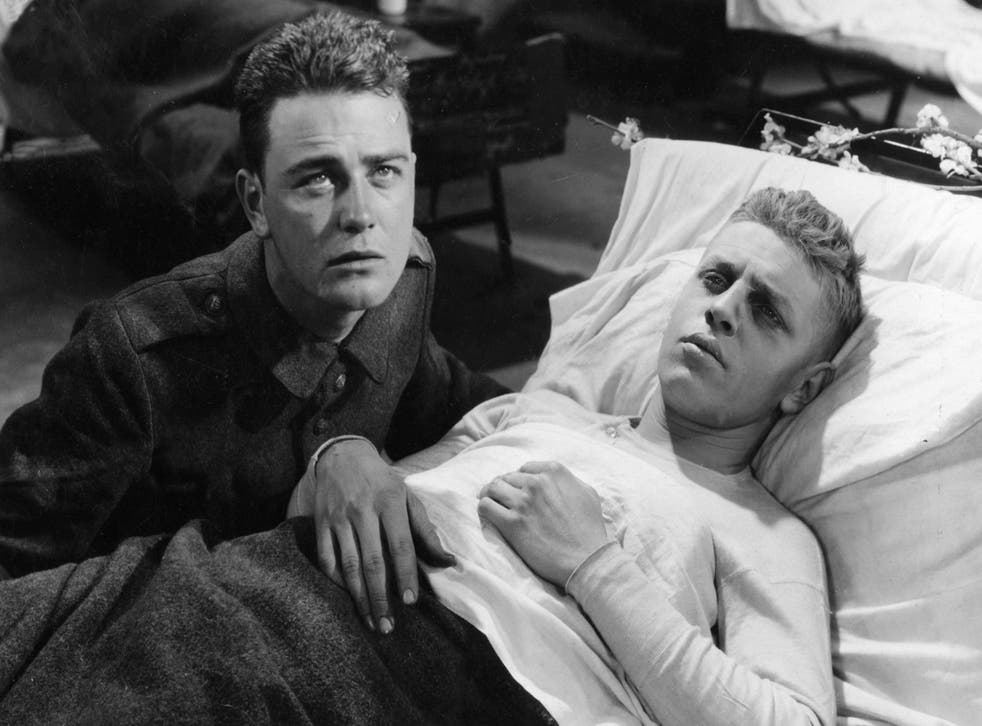 There is a seemingly inexhaustible supply of Second World War films. In the past few years alone, we've had Christopher Nolan's epic ensemble drama Dunkirk, Mike Newell's The Guernsey Literary and Potato Peel Pie Society, and Mel Gibson's Hacksaw Ridge. But what about the great war films about the Great War?
As The Guardian points out, Wikipedia's compilation of First World War cinema lists just over 130 films; there are 10 times more about its 1939 successor. Perhaps the lack of easy moral clarity, and the gruelling but often inert nature of trench warfare, just doesn't appeal to Hollywood as much as an indisputable triumph against evil. But those who have waded into the quagmire of the "war to end all wars" have created some masterpieces.
As we reach the 100th anniversary of the end of the First World War, here are some of the best examples of Great War-themed cinema.
All Quiet on the Western Front trailer
A Very Long Engagement (2004)
At once a romance, a war film and a detective drama, Jean-Pierre Jeunet's A Very Long Engagement follows Audrey Tautou's Mathilde as she attempts to find her fiancé, who was among five men sentenced to death for attempting to self-inflict injuries that would have them removed from the front line.
Jeunet is best known for the almost unpalatably whimsical Amélie (in which Tautou also stars), yet this, its follow-up, is a very different beast – stylish but unflinching, and with depictions of trench warfare that film critic Philip French deemed to be "among the most terrifying and viscerally affecting ever filmed". Alexandra Pollard
Gallipoli (1981)
Australia lost eight and a half thousand men in the bloody and ultimately futile Gallipoli Campaign against the Ottoman Turks during the First World War. The battle to take the peninsula by British Empire forces raged throughout 1915.
The great Australian director Peter Weir, who had already made Picnic at Hanging Rock (1975) and would go on to make Witness (1985) and The Truman Show (1998), captured an elegiac image of life before the recruits found themselves in hellish conditions in the Middle Eastern theatre. It's a devastating portrayal of lost innocence, with a strong performance from a young Mel Gibson. The battle scenes are gruelling and painful. Chris Harvey
The best films of 2018 (so far)

Show all 17
White Ribbon (2009)
Michael Haneke's enigmatic parable about "the roots of evil" took more than ten years to come to fruition, with more than 7,000 children being seen for the film's central roles – but in the end, the Funny Games director's meticulousness was worth it. The film is set in the fictitious German village of Eichwald – a village which, even before it is torn apart by the outbreak of war, is beleaguered by unexplained acts of violence. Mysterious and deeply unsettling, Haneke's masterpiece resists easy interpretation, and is all the more affecting for it. AP
La Grande Guerra (1959)
This bitter satire of the First World War, in which a comically bumbling duo – played by Vittorio Gassman and Alberto Sordi – reluctantly sign up to fight, won the Golden Lion at the 1959 Venice Film Festival, despite an initial campaign to ban it. Director Mario Monicelli's film may at first appear comedic in tone, but tackles, full-on, the grim horrors of the trenches. It examines the darkness of innocent citizens being sucked into the brutality of a war which killed 650,000 in Italy – and was one of the few Italian films to do so. Elisa Bray
Access unlimited streaming of movies and TV shows with Amazon Prime Video Sign up now for a 30-day free trial
Sign up
All Quiet on the Western Front (1930)
Russian-born Lewis Milestone made a bold attempt to adapt Erich Maria Remarque's superb novel about the physical and mental duress of German soldiers in the trenches of First World War into a Hollywood epic. Its sensitive, anti-war narrative helped it win both Best Picture and Best Director Oscars. Banned in Nazi Germany (where it was considered anti-German) and in Australia, Italy, France and Austria, it remains the definitive First World War movie. CH
Paths of Glory (1957)
Director Stanley Kubrick, fresh from the narratively experimental flop The Killing, applied a straightforward treatment to this tale of a failed First World War attack on the Germans. Kirk Douglas gives an infallible performance as the officer who refuses to let another man be court-martialed after the attack. Although the auteur's later work contains increasingly visceral scenes, Paths of Glory is often restrained, with multiple scenes based in boardroom settings.
When Kubrick lets loose, it's all the more enthralling, with one iconic tracking shot through no man's land particularly unforgettable. Jack Shepherd
The Grand Illusion (1937)
La Grande Illusion may not be Jean Renoir's masterpiece, but it's certainly one of the most subtle – and beautifully-crafted – anti-war films in existence. By uniting soldiers from warring nations in one base – a prisoner of war camp – Renoir highlighted the futility of war: when they're away from the battlefield, it's their humanity that shines through regardless of their background
Renoir should know: he was a pilot in the First World War. Three years later, the Nazis would ban the film after invading France. Jacob Stolworthy
William A Wellman's gallant and sentimental tale set the standard for how we depict the battles of the skies. The winner of the very first Academy Award for Best Picture in 1929, the film follows two rival pilots, Jack (Charles "Buddy" Rogers) and David (Richard Arlen), who put their differences aside and become heroes while fighting in France. The original "it girl", Clara Bow, is also on hand to provide the film's star power. Clarisse Loughrey
Lawrence of Arabia (1962)
David Lean's depiction of British Army colonel TE Lawrence's experiences as a military advisor in Arabia during the First World War won seven Academy Awards in 1963, including Best Picture and Best Director. The 6ft 2in Peter O'Toole memorably portrayed the 5ft 5in Lawrence as a heroic figure, while the historical accuracy of the 1917 Attack on Aqaba leaves much to be desired, but the film remains a widescreen epic unlike anything else in cinema. CH
Shoulder Arms (1918)
A testament to Charlie Chaplin's ability to find comedy and humanity in the bleakest of circumstances, later put to such famous use in The Great Dictator (1940), Shoulder Arms managed to capture the reality of the trenches while still providing comfort to a world trying to process its horrors. The film stars Chaplin as a hapless recruit to the "awkward squad", although the majority of the movie is revealed to be a dream sequence. CL
Support free-thinking journalism and attend Independent events
Join our new commenting forum
Join thought-provoking conversations, follow other Independent readers and see their replies