Big Hero 6: Disney's Japanese superheroes
Disney's latest movie is an anime-inspired Marvel adaptation set in the fictional San Fransokyo. Tim Walker meets the brains behind it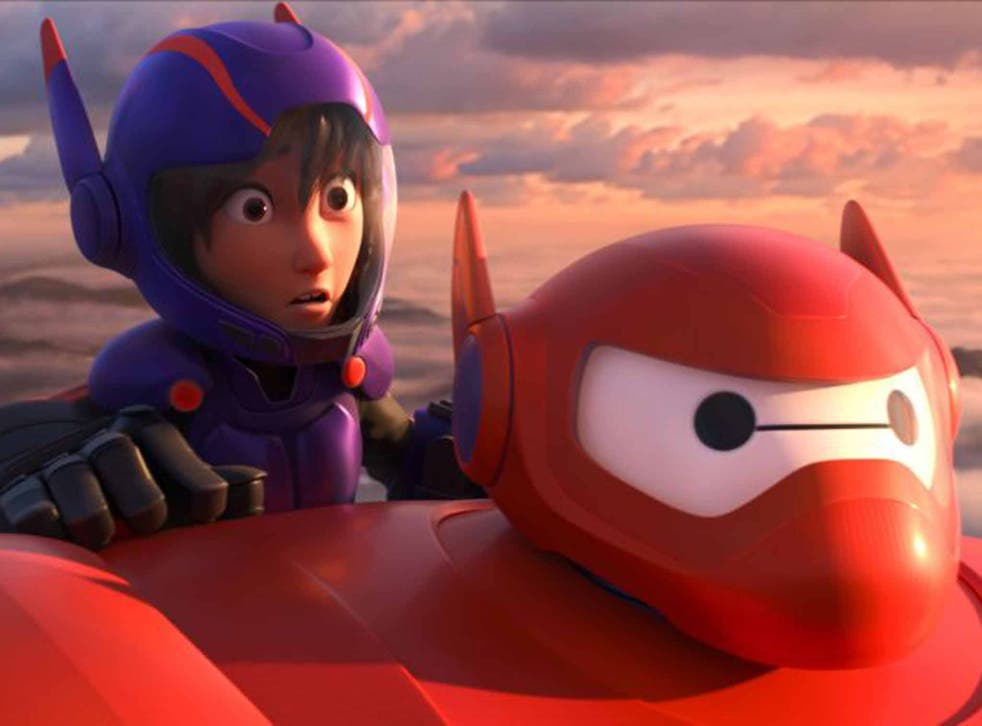 Sometimes it seems as if every studio in Hollywood is making superhero movies. If their recently announced schedules are to be believed, then Marvel, Warner Bros, Sony and Fox will collectively release more than 20 such blockbusters before the end of the decade. But the latest player in the superhero game nonetheless comes as a surprise: Disney Animation's latest feature, Big Hero 6, out in the US this week and the UK early next year, is based on a comic book.
The new film marks the first creative collaboration between the companies that created Mickey Mouse and the Hulk, though they have been under the same corporate umbrella since 2009, when Disney acquired Marvel Studios for approximately $4bn (£2.5bn) – which turned out to be an exceedingly wise investment.
Big Hero 6 was inspired by an obscure Marvel title about a team of Japanese superheroes, but differs so much from the source material that it barely qualifies as an adaptation. As screenwriter Robert Baird explains: "It's inspired by the comic book, but we made it our own. We wanted to make this a Disney superhero movie, so we hope that it's uniquely that. We think there's no other studio that could have put out this particular superhero movie."
The film centres on the relationship between Hiro, a gifted teenage inventor, and Baymax, a companion robot created by Hiro's older brother. When a masked villain terrorises their city, the two band together with four more unlikely young heroes to form the six-strong crime-fighting team of the title. Meanwhile, a touching friendship grows between the boy and his robot sidekick. It has the action of a Marvel movie, but with the heart and humour of a potential Disney classic.
In pictures: Big Hero 6

Show all 4
For Don Hall, the film's director, the news that Disney had acquired Marvel was thrilling. A lifelong reader of comic books, at the time he was working on the studio's 2011 version of Winnie the Pooh. But he quickly started researching Marvel's rich back catalogue. "On my lunch hours during Winnie the Pooh I made a list of what Marvel comics I'd liked as a kid," Hall says.
"I supplemented that list by going online, where I found something like 5,000 Marvel characters. That's how I came across Big Hero 6. It's a title that shows up here and there throughout the Marvel universe. But there were only ever 13 issues total, which is very few. I thought the title was bitchin', and it was a Japanese superhero team, which was double-bitchin'. It struck me as being a love letter to Japanese pop culture."
Perhaps unsurprisingly, Disney's ranks are filled with fanboys, men and women who grew up loving comic books. Hall says that as word got around that he was developing an animated feature based on a Marvel title, staffers he had never met would approach him and demand to work on the film. His co-director, Chris Williams, says: "People often get into animation because they spent a lot of their childhood in their bedrooms writing stories, drawing, watching science-fiction movies and the rest of it. So when Don started talking about doing a superhero movie with Japanese anime influences, that struck a chord with a lot of the artists here."
Big Hero 6 takes place in the fictional city of San Fransokyo, a mash-up of San Francisco and Tokyo, where the Golden Gate Bridge has been modified to incorporate the shapes of a torii, or traditional Japanese gateway. Semi-futuristic and smothered in neon, San Fransokyo resembles a more appealing version of the dystopian, Asian-inflected Los Angeles of Ridley Scott's Blade Runner.
Disney's film is a hybrid of genres and styles. The scene in which Baymax first flies through the city wearing a red, armoured suit built for him by Hiro carries loud echoes of a similar sequence from the original Iron Man (2008), the movie that launched Marvel Studios and unleashed the current spate of superhero blockbusters.
Access unlimited streaming of movies and TV shows with Amazon Prime Video Sign up now for a 30-day free trial
Sign up
The film-makers also harbour a shared affection for the work of the legendary Japanese animator Hayao Miyazaki. No coincidence, then, that in silhouette Hiro and Baymax could almost be mistaken for Satsuki and Totoro, the young girl and kindly forest spirit of Miyazaki's My Neighbour Totoro (1988). "There's something very powerful and intimate about the relationship between Satsuki and Totoro, and we were influenced by that," Williams says. "Totoro and Baymax have similar traits: they're quiet, girthy, but with a sense of goodness, selflessness and warmth."
Williams, who was born in 1971, suggests he and Hall are from the first generation of Americans exposed to contemporary Japanese culture. "My first exposure to anime as a kid was Battle of the Planets, the redubbed version of a popular Japanese animated series [Science Ninja Team Gatchaman]," he says. "Later, we would pass around rare video cassettes of anime movies like Akira, so we would get these little windows onto what was happening in Japanese pop culture."
The expected success of Big Hero 6, which has so far received nothing but rave reviews in the US, is further proof that Disney Animation has undergone a renaissance led by its current chief creative officer, John Lasseter. From the mid-1990s to the mid-2000s, the studio lost ground creatively and at the box office to rivals Pixar and Dreamworks. But in 2006 Lasseter, a former Disney animator who had gone on to direct Toy Story and run Pixar, returned to stage a turnaround.
With Ed Catmull, president of Disney Animation, Lasseter established a "story trust" of directors who regularly consult on each other's projects, a system that had yielded unarguable results at Pixar. He re-launched the studio's short film scheme to generate innovation and encourage young directors. He even altered the interior design, tearing out several offices at the Disney HQ to create a leisure area with a coffee bar known as the Caffeine Patch, where people on breaks are encouraged to exchange ideas.
Big Hero 6 producer Roy Conli has been at Disney for more than 20 years, and witnessed the studio in its pomp around the time of The Lion King (1994), followed by that long, steady decline. "It became very executive-driven," Conli explains. "What John brought back to the studio was making it film-maker-driven. We had always looked at Pixar and said, 'Son of a gun, those guys are good!' But where Jon and Ed were brilliant was that they didn't try to make us into another Pixar. Jon had been here before Pixar, and he understood what this place was and what he wanted it to be."
The results? A string of hits, including 2010's Tangled, a modern version of "Rapunzel"; Wreck-It Ralph (2012), a smart, loveable take on the world of videogames; and last year's fairy-tale mega-hit, Frozen. Next on Disney Animation's slate is Zootopia, a crime caper set in a city populated by animals, followed by Moana, the story of a South Pacific teenager who sets sail across the ocean in search of a mythical island. Both are scheduled for release in 2016.
Meanwhile, Disney's big tent now covers not only Disney Animation, Pixar and Marvel, but Lucasfilm, which the studio acquired in 2012 for another $4bn. Is there any chance of Disney Animation tackling a Star Wars story next? "It'll come down to a director having an idea," Conli says. "John believes that if the film-makers have a great idea for a sequel, we'll do it. And if someone came up with a really good Star Wars idea, they could run that by him, too."
'Big Hero 6' is released on 30 January
Join our new commenting forum
Join thought-provoking conversations, follow other Independent readers and see their replies