Bill and Ted's Excellent Anniversary: How two guitar-wielding airheads conquered comedy 30 years ago
Ed Power looks back at the pathologically silly, and surprisingly influential, cult comedy that introduced Keanu Reeves to the world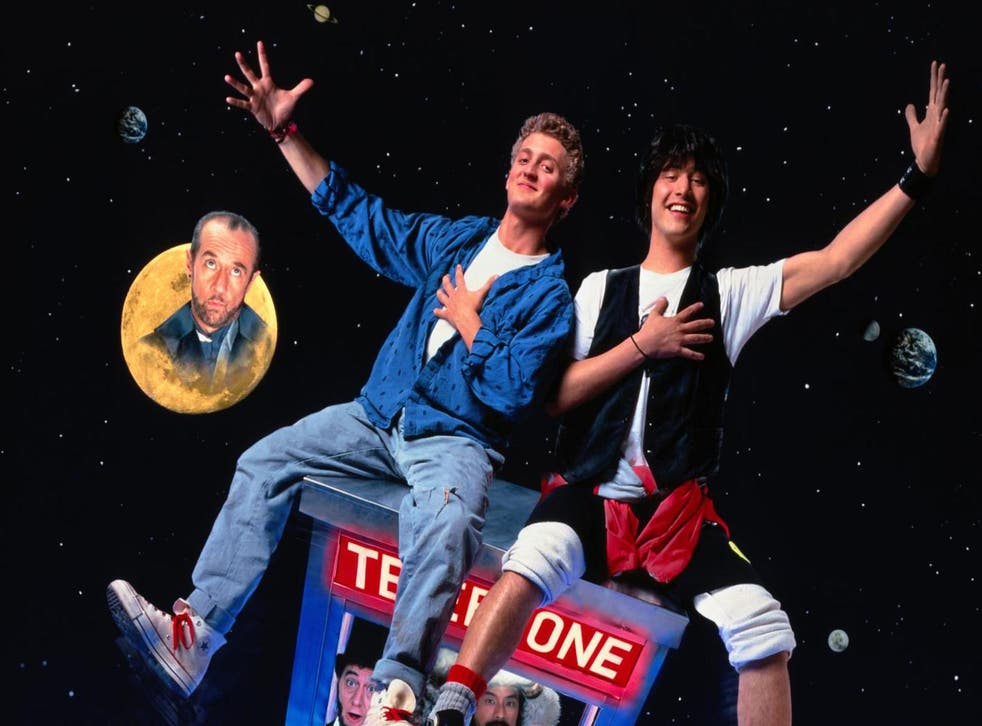 There are movies that in hindsight were always destined for greatness. And then there is Bill and Ted's Excellent Adventure, a time-travel comedy and celebration of lovable goofing / improvised air guitar that to this day feels like a miracle of happenstance. Bill and Ted is so strange that it shouldn't really exist, let alone bask in ever-lasting acclaim. Yet, on its 30th anniversary this month, it is absolutely beloved.
"It is a weird movie – it could just as easily could have been a disaster," was how star Alex Winter (Bill) looked back on the 1989 comedy about two high-school rejects who hopscotch across the centuries collecting historical figures such as Napoleon, Freud and Socrates (pronounced So-krates obviously) in a desperate attempt to graduate from their history class.
"It's about idiot savants, leaning on the idiot bit," agreed Chris Matheson, Bill and Ted's co-writer. "I remember thinking that this movie is either going to do nothing or people are going to discover and love it," added its director Stephen Herek, interviewed for behind-the-scenes film The Most Triumphant Making of Documentary.
Three decades since William S Preston Esquire (Winter) and Ted "Theodore" Logan (Keanu Reeves) first hatched their scheme to ace their history exam by bringing Napoleon and company to class, Bill and Ted remains a joyous anomaly. The humour is pathologically silly, the performances broader than one of the surf boards Reeves would subsequently pose beside in Point Break. And scenes in which Bill and Ted travel by phone-booth along the time-lines – rendered as CGI phone cables – are creaky even for a low-budget action-comedy in 1989.
Nonetheless, it is universally acclaimed. Surprisingly influential, too. Bill and Ted's exaggerated surfer dude speak – every second word is "woaaah", "bogus" or "bodacious" – clearly impacted on Michael Myer's higher profile, far less funny Wayne's World (though Myers original Saturday Night Live sketch actually predated Bill and Ted by two years). And, of course, it introduced audiences to Keanu Reeves, who gave us the matinee idol as an eternally confused puppy.
Yet it speaks to Bill and Ted's stature that it is remembered for much more than spawning the cult of Keanu. The tale of two knuckled-headed best pals from San Dimas California is an affecting portrayal of male friendship. Along with Back to the Future, it is also one of the few examples of the Eighties Time Travel Movie craze (see also: Peggy Sue Got Married, The Philadelphia Experiment, Star Trek IV, Biggles, Warlock etc) that has weathered the decades and remains watchable today.
Bill and Ted furthermore carried in its veins some of the calculated wackiness of Monty Python – as well it might given Python set designer Roy Forge Smith (Monty Python and the Holy Grail) was hired to oversee the production specifically because of his experience with Cleese, Idle and co. It would inspire a 1991 sequel, a cartoon, a TV series (the brainchild of Joel Surnow, who would go on to create 24) and overseen by future Game of Thrones director David Nutter. And it's about to enjoy an unlikely comeback, with Winter and Reeves returning for a third entry in the series, Bill and Ted Face the Music, to be directed by Galaxy Quest's Dean Parisot.
It has also spawned its share of apocryphal myths. The most enduring is that Bill and Ted writers Matheson and Ed Solomon cast Reeves and Winter on the spot upon overhearing them clowning around in a fast-food queue in Los Angeles.
Bill and Ted was actually years in the plotting. Solomon and Matheson – son of I Am Legend and Incredible Shrinking Man author Richard Matheson – had created the characters during their time on the LA improv circuit. They were inspired by the well-meaning dunderheads they'd encountered in the surfer communities of Venice Beach and Malibu – amiable lunks who communicated in a stream of bodacious consciousness.
Access unlimited streaming of movies and TV shows with Amazon Prime Video Sign up now for a 30-day free trial
Sign up
"We were just trying to make ourselves laugh and make each other laugh," was how Solomon remember the sketches, which involved the pair asking questions of the audience and answering as Bill and Ted.
But the initial plan was that the film would also be a dark meditation on historical strife, with Bill and Ted travelling back in time and accidentally causing all the major disasters of world history.
"Through sheer bumbling, [they] were responsible for everything bad that ever happened to mankind, including the Plague, world wars, the Titanic," Matheson told Starlog magazine. "The implications of that were a little dark, however – such as the Holocaust – but we got a big kick out of sending them back into history. We were going to write a sketch film, with this as one of the skits, but my dad said, 'That sounds like a whole movie.' And he was right!"
Having sensibly decided against milking the Titanic/Holocaust etc for chuckles, Matheson and Solomon talked their way into a meeting at Warner Brothers where they pitched their slimmed-down, less bleak Bill and Ted. Though still in their late 20s, the writers were fast-building a name in Hollywood as comedy's next big things. They'd both written for the Gary Shandling Show, and Solomon, while still in high school, had contributed scripts to sitcom Laverne and Shirley.
However, Warner got cold feet when Matheson and Solomon requested a $10 million budget. Enter venerable producer Dino De Laurentiis, who had a reputation for bringing to fruition projects other studios had run shy of.
Films to watch before you die

Show all 35
With de Laurentiis on board, Matheson and Solomon's first hire was director Herek, who'd been behind the 1986 cult horror Critters. Auditions for the two leads, meanwhile, seemed to attract half the young actors in Los Angeles. Initially nobody seemed to really understand the characters – which were far more than cruel spoofs – and Matheson and Solomon despaired of ever finding their Bill and Ted. Then a floppy-haired recent arrival from Toronto walked in the door.
"Keanu was the guy," said Herek. "We saw him and totally fell in love."
Best of all, everyone agreed, Reeves wasn't even trying to be funny. "It was the way he would approach a line," said the director. "After he said something, he'd have this quizzical look on this face."
Reeves, who initially thought he had been cast as Bill, identified with the unlikely heroes' sweetness and innocence. He would have his struggles later on – finding it difficult, especially, to maintain Ted's wacky energy levels during the long shoot. At auditions, however, it was clear that he had responded, at an almost subconscious level, to the duo's guilelessness.
"I love the heart of that film," he would later say. "I love the characters. Alex and I had a great time making that picture. There is such a wonderful heart and beauty to those guys and how they want to play, the bodaciousness that they have going at the same time."
With Reeves on aboard, everything else fell into place. He and Winter had met at auditions and struck up an instant chemistry. Both had arrived on motorbikes and shared a goofball sense of humour. The only problem is they were far too self-possessed to play characters as written in the script as high school nerds and the butt of cooler kids' jokes.
"We actually had a scene that was even shot, with Bill and Ted walking past a group of popular kids who hate them," recalled Solomon. "Once you cast Alex and Keanu, who look like pretty cool guys, that was hard to believe."
The other challenge was finding Bill and Ted's time travelling mentor Rufus. Iconic rockers Clarence Clemons (the E-Street Band), Fee Waybill (The Tubes) and Martha Davis (The Motels) had agreed to cameo as the Three Supreme Beings of the Future, whose utopian society is built upon the tenets of Bill and Ted's rock band Wyld Stallyns.
But who would portray their initiator into the universe of hard-rocking time-travel? The initial plan had been for a heavyweight star, with Sean Connery top of their wish-list. When he said "no", Matheson and Solomon turned to legendary stand-up George Carlin. He was a newcomer to acting, though his understated Rufus would prove one of the best things about the final movie.
With the budget slashed to $8 million, Herek had to cut corners wherever possible. The ancient Greek and medieval segments were filmed in Rome with an Italian crew who didn't understand a word of the script but laughed throughout (Herek decided this was probably a good sign).
Roughly half of the film was set in the present day, as Bill and Ted return to San Dimas with their historical icons – including a Joan of Arc portrayed by ex Go-Gos singer Jane Wiedlin. Yet LA was far too expensive to film in. So the crew decamped to Arizona, which, with its endless strip-malls, was a convincing stand-in for suburban California. Raging Waters theme park, in Phoenix, in particular, proved an invaluable location and the backdrop to Napoleon's introduction to recreational splashing about.
"We couldn't even close the waterpark for when Napoleon hits the waterslides," said Solomon. "Anything in that scene in closeup was extras we paid for, but anyone in the distance was a paying waterpark customer."
Yet the true headaches would begin only after shooting was completed. Unbeknown to the Bill and Ted crew, De Laurentiis was sliding towards bankruptcy. The first inclination Herek had that something might by amiss was when, during a meeting with executives, bailiffs trooped in and started removing office furniture.
"We thought we were going straight to video tape," he remembered. "Then I thought we couldn't even put it out on video tape. That it would not make one penny."
Then came a miracle. At test screenings audiences were reported to have laughed themselves to a stand-still. Many of these previews were at malls. Was it possible a Monty Python-inspired movie about time travelling heavy metal fans might have mainstream legs?
This was extraordinary. Executives at De Laurentiis had fretted Bill and Ted's airhead speak would be indecipherable to the public. But people not only understood it, they loved it. And rather than go straight to video, Bill and Ted would become the subject of a bidding war among distributors, going on to make $44 million in the US alone.
Support free-thinking journalism and attend Independent events
Critics were divided. Variety gushed over Reeves' "beguilingly blank face and loose-limbed, happy-go-lucky physical vocabulary". However, The New York Times' Vincent Canby dismissed Bill and Ted, most bogusly, as "painfully inept". In the LA Times, Chris Willman shared that opinion, flinching from the "unabashed glorification of dumbness for dumbness".
Yet over the years the true genius of this "unabashed glorification of dumbness for dumbness" came to be more widely appreciated. In 2010, San Dimas celebrated its 50th anniversary of incorporation as a city with the slogan "San Dimas, 1960-2010 – An Excellent Adventure". And Rolling Stone would in 2013 rank the film at number eight in its "Best Stoner Movies of All Time" list. The magazine singled out the transcendental dimness of Reeves's character. "As he and his buddy go traveling through time, the blankness all over his face made people marvel at his subtle acting. Maybe it wasn't acting? Whoa!"
"I was in Austin the weekend the movie opened and walked into a diner to get change, and the whole place went crazy," Alex Winter would remember. "It's been like that for 30 years now. I get it every day, from all ages. Maybe it's because Bill and Ted are written completely without cynicism."
Register for free to continue reading
Registration is a free and easy way to support our truly independent journalism
By registering, you will also enjoy limited access to Premium articles, exclusive newsletters, commenting, and virtual events with our leading journalists
Already have an account? sign in
Register for free to continue reading
Registration is a free and easy way to support our truly independent journalism
By registering, you will also enjoy limited access to Premium articles, exclusive newsletters, commenting, and virtual events with our leading journalists
Already have an account? sign in
Join our new commenting forum
Join thought-provoking conversations, follow other Independent readers and see their replies