Bill Murray interview: Caught in the eye of the Murricane
Bill Murray is the greatest of Hollywood eccentrics. James Mottram finds him on satisfyingly droll form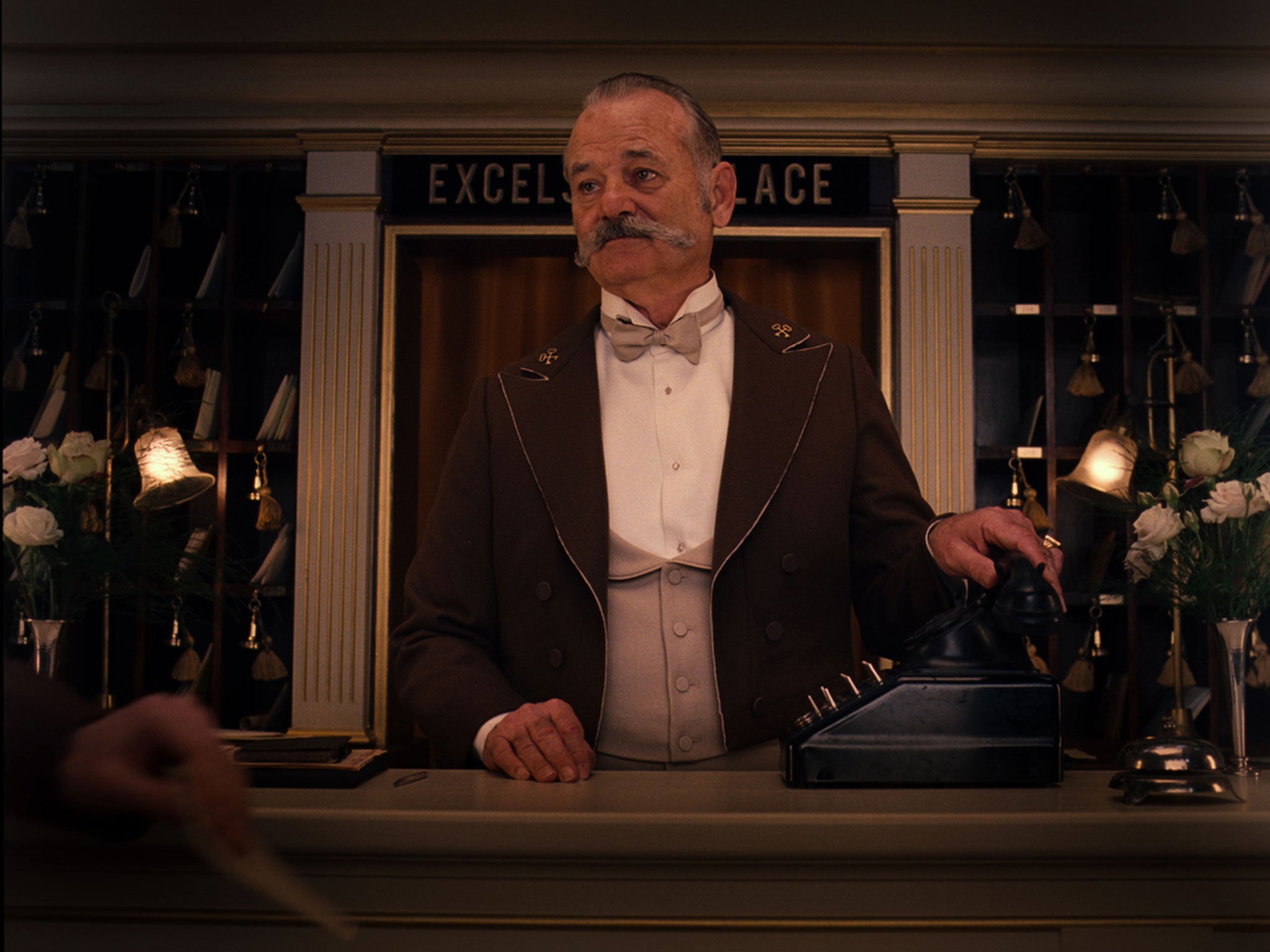 Bill Murray is missing. The 63-year-old actor has, very politely, walked out of the press junket for Wes Anderson's new movie, The Grand Budapest Hotel, which opened the Berlin Film Festival the night before we meet. "He said he'd be back," says the rather helpless-looking PR. Interview or not, this is almost what you'd hope for from everyone's favourite Hollywood eccentric. Think of the career-making, anti-authoritarian persona he developed in Eighties films such as Stripes and Ghostbusters. Or the way he took time out of Hollywood, after the failure of his 1984 Somerset Maugham adaptation The Razor's Edge, to study philosophy and history at the Sorbonne.
An hour later, he returns. Turns out he was asked to meet prospective international distributors for Rock the Kasbah, a new film he's hoping to shoot with director Barry Levinson. "I've never done anything like that before. I had to go and... stare! It was weird." However, the producers clearly knew what they were doing; even motionless, Murray's crumpled face is a comic boon.
This "Murricane", as one wag has dubbed his whirlwind Berlin trip, has also seen him promoting George Clooney's just-released Second World War yarn The Monuments Men, playing an architect called upon to help protect valuable art from the Nazis. Scoring a Clooney movie isn't bad for an actor who famously doesn't have an agent or a publicist. So, how does that work? "It's working pretty well," he replies, his desert-dry delivery kicking in. "Look at me - I'm rich and famous."
Actually, if you want Murray in your movie, you leave a message on his answering machine; he may or may not get back to you. "He's very mysterious," says Wes Anderson, who's directed him in seven of his eight features, beginning with 1998's Rushmore, when he played the weary businessman who befriends Jason Schwartzman's precocious school-kid. "We've made really good movies," Murray beams of their collaborations. "Really good movies."
Talk turns to The Grand Budapest Hotel, unquestionably Anderson's best since 2001's The Royal Tenenbaums. "When I first read the script, I went 'Holy cow, this is crazy!'" says Murray. An interwar farce set around a hotel in a fictional Eastern European republic, TGBH is led by Ralph Fiennes's flamboyant concierge, who goes on an increasingly fraught comic adventure after the death of a patron. Murray is Monsieur Ivan, a fellow concierge who helps Fiennes's character out in his hour of need.
It's not the biggest role he's ever played for Anderson, but Murray will pitch up for him whether it's a leading part (the titular oceanographer in The Life Aquatic with Steve Zissou) or a cameo (as in The Darjeeling Limited). "He sees nuggets of gold in life that other people just walk by," says Murray, who understandably has a lot of love for the director: after all, Rushmore revitalised a career that, with the notable exception of Groundhog Day, had been flagging through the Nineties.
Suddenly, Murray found himself with a new indie cachet and in demand with the likes of Jim Jarmusch and Sofia Coppola, who directed Murray to the only Oscar nomination of his career in 2003's Lost In Translation. He lost out to Sean Penn, but gained so much more, and his new career adventurousness stretched to playing himself in Zombieland, in one of cinema's all-time great cameos. 
Such adventurousness is why he won't commit to a much-touted third Ghostbusters movie. "We made the first Ghostbusters. It was one of the great entertainments of all time," he explains. "Then we made a second one [in 1989]. It was ... OK. Right? So what are we going to do? Rush to make a third one?" He cites The Godfather Part III as an example of a belated sequel that flopped. "I find that you don't really lose by saying 'no' in showbusiness."
Born in a Chicago suburb, as one of nine children in an Irish Catholic family, Murray has been bucking the system since he was young. Kicked out of both the Boy Scouts and Little League, he attended an all-boys Jesuit school but ignored his teachers. "They were teaching all this stuff, and I knew all this stuff. I was bored, really bored in grade school. And so, I was always in trouble," he says.
Access unlimited streaming of movies and TV shows with Amazon Prime Video
Sign up now for a 30-day free trial
Sign up
Access unlimited streaming of movies and TV shows with Amazon Prime Video
Sign up now for a 30-day free trial
Sign up
It was the perfect calling. "I'm a loudmouth. I'm kind of a clown," he says, traits that came from a childhood spent amusing his mother, Lucille, a mail-room clerk, and his father, Edward, a lumber salesman who died when Murray was 17. "In order to get any attention from [my] parents, you had to demonstrate a little bit. So that's sort of what my personality is. It's not what my essence is. Who I really am is something a little deeper than that."
Indeed, beneath the deadpan smile lurks a tumultuous personal life, and two failed marriages. In 1981, he married Margaret, who gave him two sons, divorcing 15 years later after an affair with costume designer Jennifer Butler, who became his second wife in 1997. He had a further four sons with Butler, although they divorced acrimoniously in 2008.
Since then, he's moved into New York's Greenwich Village, and the work-rate has increased. Next up, he'll be seen as a curmudgeonly war veteran in indie-comedy St. Vincent de Van Nuys, alongside Naomi Watts, and in the new, as-yet-untitled Cameron Crowe movie. Still, even after 40 years in showbiz, Murray admits it's not as easy as he makes it look. "It's hard to be an artist," he says. "It's hard to be anything. It's hard to be."
Join our commenting forum
Join thought-provoking conversations, follow other Independent readers and see their replies