Blade Runner 2049's Ana de Armas interview: 'Moving to Hollywood was a good exercise for my ego'
'I think it's a very special movie, very emotional'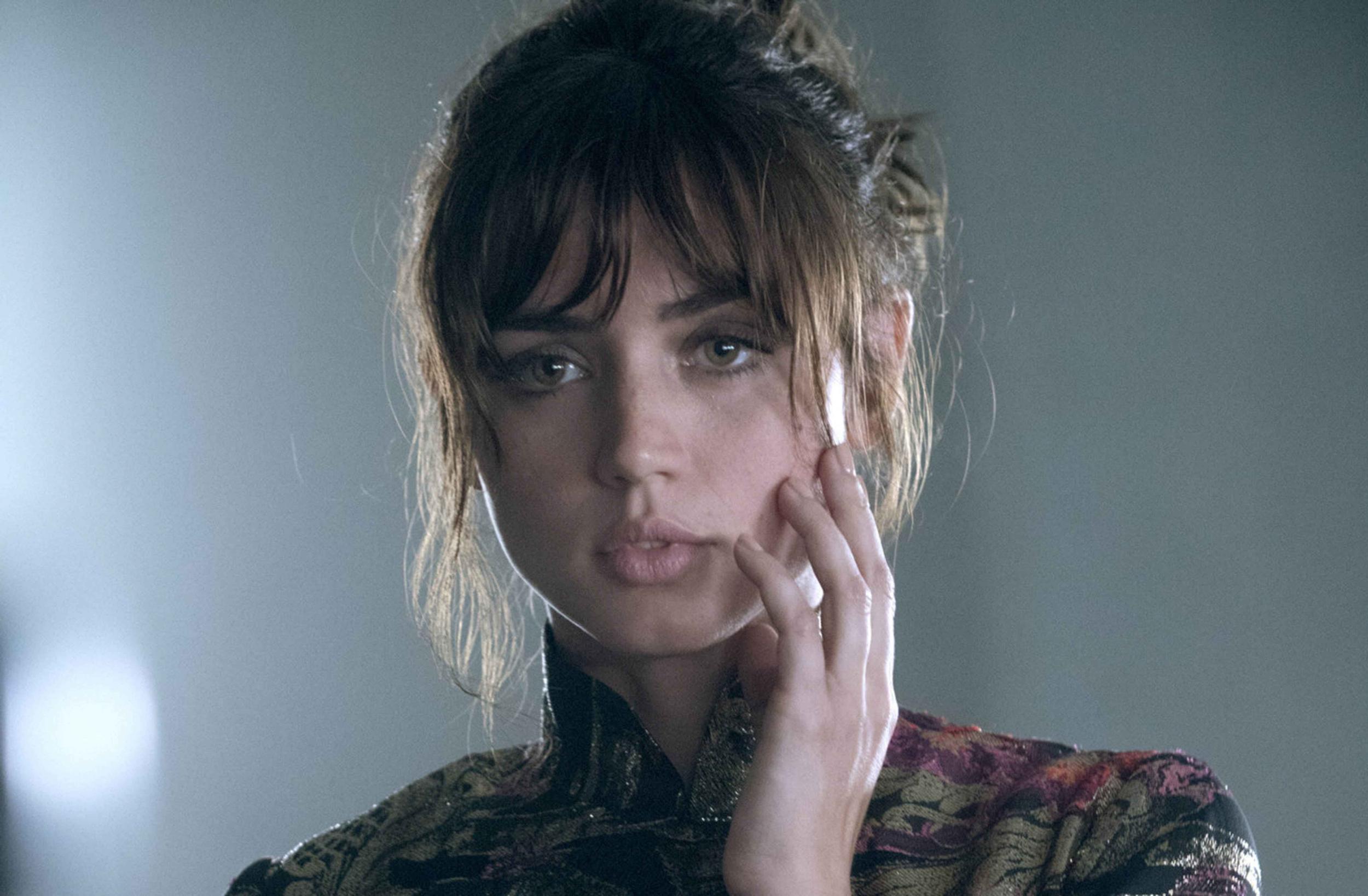 Chances are you've seen Ana de Armas around. While not a household name across the UK, the Cuban actor's picture has been on billboards around the country promoting the upcoming Blade Runner 2049.
Starring alongside Ryan Gosling, Harrison Ford and Jared Leto, the sci-fi blockbuster will no doubt shoot Armas into the spotlight where – thanks to a great performance – she'll likely remain.
Two weeks before Denis Villeneuve's astounding sequel reached cinemas, The Independent sat down with the actor to discuss Blade Runner, moving to Hollywood, and dealing with new found fame. Read the full Q&A below.
Note: Journalists were only offered 20 minutes of footage before the interview to prevent discussion about plot spoilers.
The footage we saw looks great. Have you seen a final cut?
Yes. I think it's a very special movie, very emotional. When I saw it, it took 20 minutes with a box of Kleenex to process everything. It's an almost three-hour poem.
Everyone's being so secretive, it's quite surreal. I'm not sure what we can actually talk about!
It's very hard for us too. This experience has been so intense and, in my case, there's been so much to learn. The process of building this character has been so exciting. I wish I could talk about it because we're not really giving justice to the film.
On set were you burning scripts after every take?
We never even had scripts. It was always on computers.
This is probably the biggest project you've been part of. Was that intimidating or exciting?
Both. It was intimidating and exciting at the same time. When I auditioned, I didn't know about the script, story, or character. There was no information about anything. I just knew I wanted to be part of this and I've always wanted to work with Denis [Villeneuve], Ryan [Gosling], Jared [Leto], and Harrison [Ford]. Of course, it was also intimidating because you have five months ahead that requires discipline, focus, and can be emotionally exhausting. You want to deliver what you're expected to and at the same level as everyone else. It took time to get used to but was really inspiring.
It sounds like quite a male-dominated set.
I don't think so as there were quite a lot of women in the film. They're all strong characters. If you see any of Denis' movies, you know he has strong female characters. That's more important in his movies, very strong women. While Ryan and Harrison are a very big part, there are women who also have large roles. They're the little stones between the big ones, the links between the big events. We present different women and different aspects of women.
How do you feel about your career going forward? Blade Runner will no doubt shoot you to a new level of fame.
Access unlimited streaming of movies and TV shows with Amazon Prime Video
Sign up now for a 30-day free trial
Sign up
Access unlimited streaming of movies and TV shows with Amazon Prime Video
Sign up now for a 30-day free trial
Sign up
In a way, that's what we all want as actors. You want that level of exposure so you're closer to getting involved in better projects. It's part of the game and comes with the job. I don't think much about it but we'll see what happens. I don't want to create expectations about my career and life.
When I was researching beforehand, one of the top articles when Googling your name was the Daily Mail reporting what you were wearing one day. That seems like a very heightened reality to step into.
I'm used to it. Back in Spain, I worked in a TV show – a very famous TV show [El Internado] – for three years. Once you've worked in TV you really understand what it means to be famous, to be recognised by every single person on the street. I went through that when I was 18 to 21, so it's not something that's new. Now it's a different story but it's something you try to deal with the best possible way.
How do you stay grounded?
Because I have a great family and group of friends. They are what really matter to me. That's where I spend most of my time and energy. When you have a solid base to go back to, because you might be all over the place, to connect, that's what makes sense. Kind of like in the movie…
Films to get excited about in 2017
Show all 13
How has your experience in Hollywood compared to Spain?
It's very different. It was a new beginning for me. When you get to Hollywood you have to start from zero, whatever you've done before. When I got there three years ago, I didn't speak English. It was a good exercise for my ego. After having a career in Spain for eight years, I went back to being anonymous again, having to prove myself to the industry and myself, to prove I was capable of acting in a different language. It was a good challenge and I can't complain. It's been a constant battle because it's difficult even for American actresses to get roles. Imagine being Latina whose English isn't that good. But I've been working with great people and haven't really stopped. I've been growing and taking little steps to get here. It's an ongoing process. At least I'm going forward and not stopping.
Do you think it would have been easier as a man in Hollywood?
There are more roles for men, it's that simple. You have more chances of getting a part because that's what they write. The thing is to convince people that a part not written for a Latina woman – or maybe not even written for a woman at all – is a female part. You convince them you can do it. We're all dealing with it.
Do you think Hollywood is moving on?
It's moving a little bit. But not yet.
What do you see yourself doing in the future?
I have no idea! I definitely want to keep acting, that's for sure. At some point I would like to start creating my own things. If people don't write the scripts I like then I will do my own. I feel like I'm still at the beginning of my career even though I started at 14 and I've really done a lot.
Which actors' footsteps would you aspire to follow in?
There are so many great actresses out there. Obviously, someone like Cate Blanchett, or Kate Winslet. The classic is Meryl Streep, although no one can compare. Penelope Cruz is another great inspiration. And more!
'Blade Runner 2049' opens in UK cinemas on 6 October
Join our commenting forum
Join thought-provoking conversations, follow other Independent readers and see their replies