Bradley Cooper: 'There's been plenty of rejection'
He's served his time on the bit-part circuit – but now it seems that The Hangover is heralding a new dawn for Bradley Cooper
Friday 08 January 2010 01:00 GMT
Comments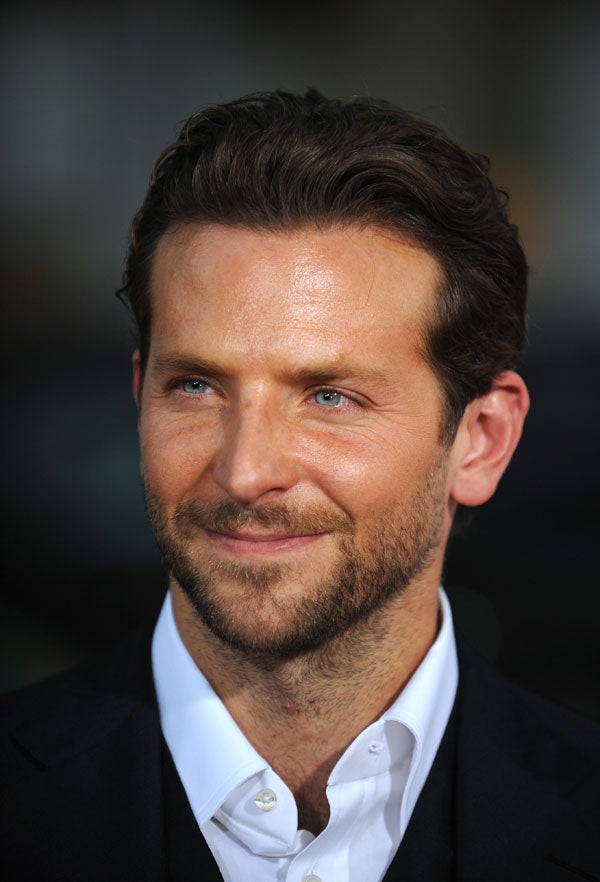 Bradley Cooper has that hungry look in his eye; that of an actor who knows his time has come even if he can't quite admit it yet. "I'm so used to working just to work," he says, "and taking whatever comes." Like most actors, he's also highly superstitious. "I remember the first year I acted, I did five bits on TV shows. I called all my friends to watch, and each one, they cut all my stuff out! So after that, I thought, 'I'm never going to say anything'." Still, after ten years of such thankless toil in the industry – taking small roles in Nip/Tuck and Alias along the way – all that's about to change.
No question, the last 12 months have been a breakout time for the 34-year-old Cooper. Featuring in the Jim Carrey movie Yes Man and romantic drivel He's Just Not That into You, he is the de facto star of The Hangover, now hitting DVD after becoming the most profitable R-rated comedy in Hollywood history. Made for just $35m, this smart story of four guys on an out-of-control stag party in Las Vegas took $459m around the world. "That's testament to Warner Brothers," enthuses Cooper. "They marketed the shit out of this movie! They didn't have to. It wasn't like it cost a lot to make. There were no big stars at all."
While that's true, Cooper now looks like one of Hollywood's brightest prospects. With three films due by March, he is then set to appear in one of the most-anticipated remakes in years – The A-Team. Based on the 1980s television show about a quartet of Vietnam veterans on the run from the military, those of a certain age will probably already have been wallowing in nostalgia at the thought of Mr. T as the bling-tastic B A Baracus and George Peppard as the cigar-chomping Hannibal. "I'm amazed at how popular it is," says Cooper. "All across the United States, someone asks me about The A-Team!"
Naturally, the story has been updated – so now the four ex-soldiers have returned from the Iraq war. Liam Neeson is Hannibal, mixed martial arts fighter Quinton "Rampage" Jackson takes on the role of B A and District 9 star Sharlto Copley will be the unhinged helicopter pilot "Howling Mad" Murdock. Which leaves Cooper as Templeton "Faceman" Peck, the handsome devil of the gang originally played by Dirk Benedict. Given, with his five-day stubble and dirty-blonde locks, Cooper is not so shabby in the looks department, I wonder if he'd ever been compared to Benedict. "No!" he cries. "Me and Liam, we're like the ugly versions of those two guys. It's true if you think about it."
With the story revolving around the pursuit of the A-Team by a female US army general (Jessica Biel), who just happens to be a former flame of the Faceman, Cooper promises this will be a "grittier version" of the original TV series. "Joe Carnahan is directing it," he explains. "His film Narc definitely made a huge impact in the industry. Tom Cruise got a hold of it, and loved it and championed it. Then he made Smokin' Aces, which I found visually to be tremendous. He's really got a great eye. He'll make a really interesting, gritty film. And Liam Neeson as Hannibal will be incredible."
Cooper's casting as a ladies' man comes after a year of rumours linking him to just about every eligible lady in Hollywood. After splitting from his actress wife, Jennifer Esposito, in 2007, after just ten months of marriage, he became a darling of the US tabloids when he was spied on a date with Jennifer Aniston. But rather echoing the sentiment of the film they starred in together, He's Just Not That into You, he then reputedly ditched her for Renée Zellweger, leaving Aniston feeling "screwed over" according to Us magazine.
Cooper met the Bridget Jones star on Case 39, a long-delayed thriller about an idealistic social worker fighting to save a young girl that is finally receiving a belated release in the UK in March. "It's good," says Cooper. "It's actually good." He sounds convinced, at least, even if the studio evidently isn't. Does it bother him when films get shelved? "Less and less the older I get. I'm used to it. The basic objective is to enjoy the experience while I'm doing it and everything after that is out of my control." So was the experience good here? "Very much so. I got to know Renée, who I really like very much," he replies, looking a little sheepish. The couple have reportedly just bought a $4m house together in the Hollywood hills.
Before Case 39, Cooper will be seen in the title role of All About Steve, a nutty Sandra Bullock comedy in which she plays an eccentric crossword puzzle addict who becomes convinced that a CNN cameraman is her true love. "I shot that movie three years ago. I'll look like a little baby when it comes out," says Cooper. After trotting out the usual hyperbole about working with Bullock – "amazing", "incredible", "wonderful" all spew from his mouth – he tells me that it's where he first worked with Ken Jeong, who plays a naked – and very angry – gangster who accosts Cooper's character in The Hangover. "I never would've thought that three months later I'd have his naked genitals flapping around my neck."
Completing his glut of films this year is Valentine's Day, a Los Angeles-set ensemble about a series of couples whose lives interweave over one particular 14 February. Starring alongside all manner of Hollywood stars, from Julia Roberts to Anne Hathaway and Jennifer Garner, Cooper plays a gay man dating a closeted pro football player. Having played a camp gay counsellor in his screen debut, the 2001 comedy Wet Hot American Summer, the actor's sexuality has frequently been questioned. Not that he cares, recalling a time he and a friend, the Broadway star Victor Garber, turned up to an event together. "People thought we were dating. It was all over the internet. It was the first time I read a rumour like that about me, and I just thought it was fantastic."
Access unlimited streaming of movies and TV shows with Amazon Prime Video
Sign up now for a 30-day free trial
Sign up
Access unlimited streaming of movies and TV shows with Amazon Prime Video
Sign up now for a 30-day free trial
Sign up
The Philadelphia-born Cooper wasn't always so confident in himself. By his own admission, he hardly stood out in his early years. "I wasn't the smartest person in school, I wasn't the coolest kid. I really didn't have anything going on." A sports jock, he most certainly was not, though he was intrigued by them. "I was fascinated by those guys because they were so obviously arseholes and didn't hide that fact," he recalls. "But they somehow had this power, that the rules of the universe didn't apply to them."
At least then, Cooper wasn't quite the alpha male type, despite being the son of a stockbroker who worked for Merrill Lynch. Did he ever consider following suit? "No, but I always wanted to play a stockbroker in a movie. That's when I knew that I wanted to be an actor. I always wanted to play roles rather than actually do them. I always wanted to be an actor ever since I was a kid," he says. So how did he know? "It wasn't even a question. I just knew. People would say, 'What do you want to be, Bradley?' and I'd always reply, 'I want to be an actor'."
Not that it came easily. While undertaking a degree in English at Georgetown University, he shied away from doing theatre. "I don't think I ever stepped foot onstage. I was so scared of talking in front of people." After graduating, Cooper applied for a Masters at the Actors Studio at the New School University in New York and got accepted. "I think they let a lot of people in," he smiles. His early forays into professional acting – the ones that didn't hit the cutting-room floor – were hardly auspicious, initially becoming the host of the Lonely Planet series Treks in a Wild World. As he puts it, "There's been plenty of that rejection and hopes that aren't fulfilled."
But after he followed Wet Hot American Summer with a role in Marc Evans' thriller My Little Eye, he went on to gain the role of Will Tippin in Alias and gradually began to establish himself, notably featuring alongside Vince Vaughn and Owen Wilson in the hit 2005 comedy Wedding Crashers. He even finally got over his stage fright, acting with his Valentine's Day co-star Julia Roberts on Broadway in Three Days of Rain. "For me, it's a hundred times harder than acting in film or television," he says. "It's so much anxiety. When I did Three Days of Rain, I lost 17lbs in rehearsal."
Worse was to come. By 2007, when Cooper shot a number of movies, including All About Steve, He's Just Not That into You and Yes Man all at the same time, as well as several episodes of the popular show Nip/Tuck, he admits he was facing burnout. "I felt like, 'I've got to not do anything. Going from movie set to movie set, I'm not really living. I don't know what I'm bringing to roles anymore. I really do feel like I want to live'." Since then, he's deliberately slowed his work-rate down – just shooting The Hangover in 2008 and The A-Team and Valentine's Day last year.
At least in the case of The Hangover, it worked. After years of playing the best friend to the leading man, in films like Failure to Launch, he finally got to play the best friend who's really the leading man. Following a particularly wild bachelor night in Vegas that involves strippers, babies and Mike Tyson's pet tiger, his character, Phil, spends the film looking for the groom that he's lost just one night before he's due to get married. His own drunken antics sound almost as entertaining. "There was always one moment in the night where I would go, 'It's time to get naked!'" he grins. "And it was usually in the wintertime, when I'd want to run out in the snow."
With the film snagging a recent Golden Globe nod for Best Film in the Musical/Comedy section, inevitably there's a sequel in the works. "Even if it's not a good script, I'd do it!" Cooper enthuses. "When you have an experience like this with people you get along with, it's a rarity. So if someone says 'Do you want to spend three months doing it again?' In a heartbeat!" He points out that he even spent Christmas last year with Zach Galifianakis (the film's other breakout star, who played geeky brother-in-law Alan) on his farm. "We've become very close. It's a very intimate thing you go through, shooting a movie. You find out whether you really like somebody, or you very much dislike somebody pretty fast. It's like doing a sport together."
Evidently a team player, Cooper also recently completed a Hughes Brothers-directed short for the anthology New York, I Love You – the follow up to Paris, je t'aime – in which he and Drea de Matteo play two people on the way to their second date. All in all, it seems The A-Team star is ready for the A-list. But does he feel like he's on the cusp of greatness? "I have no idea," he shrugs. "If you have delusions of grandeur, then you're really screwed. I try to just take it day by day. Who knows what will happen tomorrow?"
The Hangover is available on Blu-Ray and DVD. All About Steve opens on 15 January, Valentine's Day on 12 February and Case 39 on 5 March. The A-Team will be released in the summer
Join our commenting forum
Join thought-provoking conversations, follow other Independent readers and see their replies