interview
The Florida Project's Bria Vinaite: 'People assume I'm this trashy motel girl, but I know that I can do more'
Raw, spellbinding and determined to not disappear, the young actor talks to Adam White about her new movie, 'Balance, Not Symmetry', feelings of worth and her exciting second act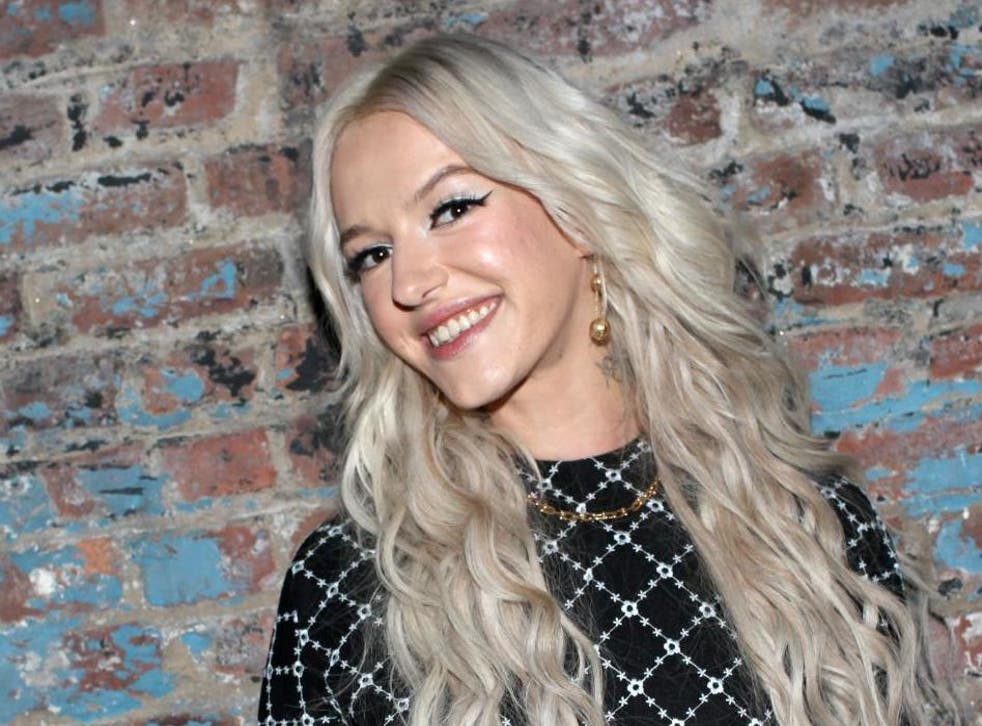 The waiter bringing Bria Vinaite her drink will serve no one else like her today. The 26-year-old is an actor, writer, former Instagram personality and, to arthouse fans, the bittersweet heart of the Oscar-nominated drama The Florida Project, the film that propelled her from internet hustler to movie star in 2017. But to the waiter and the well-heeled guests looking disapprovingly at her in the courtyard of a luxury London hotel, she is a dazzling impostor – inhaling and exhaling from a vape, her hair ice-blonde and her body wrapped in a pink corset dress that exposes many tattoos and an intimidating metal piercing in her breastbone.
"Everyone always looks at me wild," she says, "like I'm the bitch with the tattoos and they're like, why is she here? It's interesting, I definitely feel like I've had to learn who the f**k I am. And be like, 'I deserve to be here just as much as all these other people.' Like f**k what anybody thinks at the end of the day."
She throws up her arms grandly, like Gloria Swanson in Sunset Boulevard or at least the kind of woman who has spent more than a little time with the fiercest of drag queens. "Three years later, honey, and I'm still here," she boasts. "You can't get rid of me!"
Born in Lithuania but raised in Brooklyn from the age of six, Vinaite persevered through a rough adolescence and bounced between a number of short, odd jobs before finding a home on Instagram, selling hats and scarves decorated in marijuana leaves. It was there, in 2016, that she was discovered by filmmaker Sean Baker, who had been struggling to cast the role of Halley, a single mother living with her young daughter Moonee (a remarkable Brooklynn Prince) in a Florida motel near Disney World. The film would go on to premiere at the 2017 Cannes Film Festival to rave reviews. But what followed was beyond any of Vinaite's expectations. Willem Dafoe, playing the motel's compassionate manager, was nominated for an Oscar, and Vinaite became a fashion show and industry party regular, hanging out with the likes of Angelina Jolie and Donatella Versace. Alfre Woodard, gliding through a sea of people to embrace her, told her that she was "meant to tell stories".
Films to watch before you die

Show all 35
"I think it's just this weird thing that you learn how to navigate as you go," she says. "I think any time I'm nervous I just pretend that I'm not, and that's how I deal with it. I don't come from this world, and I never grew up aspiring to be an actress, so I feel like it's even weirder for me because it happened so fast and I didn't even have a minute to think about it or to understand what was happening."
But while those months in the spotlight were surreal, it also turned out to be the easy part, and nowhere near as difficult as when it all came to an end – when the party was officially over, the phone stopped ringing, and the only person invested in giving Vinaite a second act was Vinaite herself. "I got home after four months on the press tour and I was so depressed," she confides. "I was like, 'Oh, I don't have a hundred people taking my picture anymore? No one's telling me I'm beautiful? This is so f**ked up!' I didn't know what to do with myself."
She knew that she wanted to continue acting, but it was only when she was sat alone quietly in her New York apartment that she realised she had no idea what to do about that. "I definitely wish that I had someone to talk to before the movie came out, who was more in the stratosphere," she says. "Because obviously I would talk to Sean and I would talk to Willem and everyone, but I didn't really have anyone my own age who I knew at that point, who I could just be like, 'Wait bitch, this is crazy!' It was like me and children and then Willem Dafoe. So I just felt very lonely. But it was good because I feel like I learnt how to deal with these situations and not be all dependent on anybody to help me. You just have to f**king do it."
It's helped her become pragmatic about her career, too, and aware of the kinds of roles she doesn't want to play. Typecasting is a problem, she says. "People only see me as Halley, and I almost feel like now I'm at a point where I have to prove to everyone that that's not all I can do. People assume that I'm this trashy motel girl, and that those are the only roles I can play, but I really take it seriously, and I know that I can do more. I want to do comedy, I want to do horror, I want to do all these other things. But that's why I think it's super important for me to create things rather than just act. I'm like the pilot on this plane and I'm figuring out where I want to land."
It appears to be working so far. In the pipeline is an animated series she has co-created with a friend ("a comedy about mental health") that she is pitching to studios in the coming weeks. As an actor, she hopes to return to The OA, the surreal Netflix sci-fi series in which she appeared earlier this year, and has a cameo in a forthcoming addiction drama called Lost Transmissions starring Simon Pegg.
Access unlimited streaming of movies and TV shows with Amazon Prime Video Sign up now for a 30-day free trial
Sign up
She's also in London to promote her latest film: Balance, Not Symmetry, a Glasgow-set drama about a Scottish-American art student (played by BlacKkKlansman's Laura Harrier) struggling to find her artistic voice in the wake of her father's death. Vinaite plays her best friend. Co-written by Simon Neil, the frontman of Scottish indie band Biffy Clyro, who also provide the film's music, it is a curious movie – part coming-of-age tale, part neon-lit music video. But Vinaite is spellbinding, retaining the anarchic energy that she brought to The Florida Project, but buoyed by a confidence and a sense of hope that Halley was lacking.
She describes her relationship with Harrier on set as a "codependent" one – they were two young Americans amid a sea of Scottish cast and crew, who bonded over their lack of preparation when it came to the weather. "I packed very incorrectly," Vinaite recalls. "We had to go buy sweaters because it was September but I was like, 'We'll just be wearing T-shirts!' And then I go there and it's literally freezing. But it's really beautiful. We went to this little countryside town called Ayr, and I hung out with cows one day and was, like, talking with them. But they weren't talking back and I got really sad."
Animals make up the bulk of Vinaite's conversation. She gushes over her new dog Penelope, who she brings to nail salons and business meetings, but hasn't yet been able to take overseas. And she hopes to one day live on a farm. But while it sounds like an expensive dream, she explains that she has so far been very responsible with the money she has earned since The Florida Project.
"It's the first time in my life where I've been financially independent, and all I've ever wanted is to fully take care of myself, so I don't buy myself anything," she says. "I pay my rent and my bills and I buy food and toys for my dog and that's it. I'm being smart. I want to invest and buy stocks and s**t." She says that she has bought some bitcoin. As in every real-world mention of bitcoin, it is unclear whether it is meant as a joke. "I'm trying to pay for my farm with my bitcoin money," she adds, before recognising the absurdity of such a sentence and letting out a cackle.
It's easy to laugh, but Vinaite insists that she has experience in manifesting her own good fortune. Though admitting that it sounds "so corny", she says that she has always been superstitious about the number 23, and repeatedly told friends while growing up that something life-altering would happen to her when she turned 23. It was her destiny, she would say. And it did happen: she was offered The Florida Project shortly after her 23rd birthday, the film began shooting on 23 June 2016, and Halley and Moonee both lived in Room 223 of the Magic Castle motel. "I put it out into the world when I was young and it just mapped itself out in front of me," she beams.
If she could manifest the next few years, what would they look like? "I want to have the number one animated show in the world," she laughs. "I would love to work with Pendleton Ward who created Adventure Time, and I'm dying to work with Ryan Murphy. I'm obsessed with American Horror Story and everything he does. He just kills it."
She looks up at the sky above the courtyard and yells. "I'm manifesting that, Ryan!" The universe, in that specific moment, doesn't answer. But as the bemused waiter brings Vinaite another glass of water, his face still wearing an expression of discomfort and awe, it springs to mind that it doesn't truly matter. The universe will eventually turn and stare at her, whether it wants to or not.
Balance, Not Symmetry is released in selected cinemas on Friday 2 August. For more info click here
Register for free to continue reading
Registration is a free and easy way to support our truly independent journalism
By registering, you will also enjoy limited access to Premium articles, exclusive newsletters, commenting, and virtual events with our leading journalists
Already have an account? sign in
Register for free to continue reading
Registration is a free and easy way to support our truly independent journalism
By registering, you will also enjoy limited access to Premium articles, exclusive newsletters, commenting, and virtual events with our leading journalists
Already have an account? sign in
Join our new commenting forum
Join thought-provoking conversations, follow other Independent readers and see their replies