How Bridesmaids paved the way for female-fronted comedy
As new comedy 'Like a Boss' opens in cinemas, Alexandra Pollard examines how the success and profundity of 'Bridesmaids' provided a springboard for a new generation of smart, female-centric films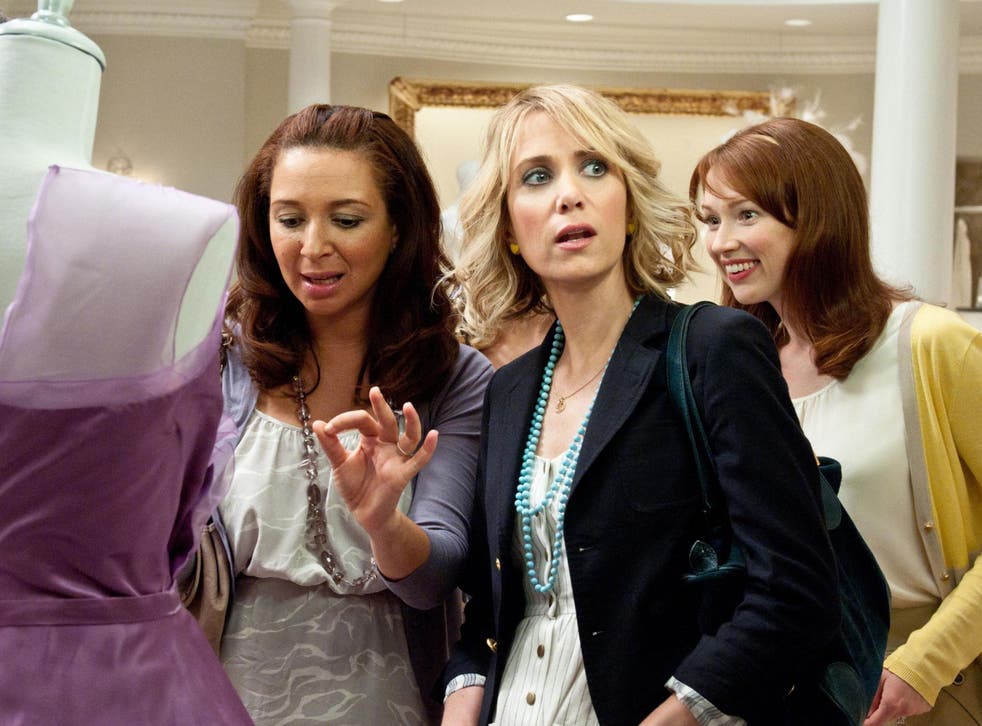 Calling Bridesmaids the female equivalent of The Hangover is like calling Meryl Streep the female equivalent of Tommy Wiseau. That is to say, Bridesmaids is far better.
And yet, when the romantic comedy came out in 2011, critics fell over themselves to make the comparison. True, there were plot similarities: someone's getting married, and a pre-wedding bachelor/ette trip to Las Vegas goes terribly wrong. But where 2009's The Hangover involved misogyny, racial stereotypes, Rohypnol-led set-pieces and the repeated use of the word "faggot", Bridesmaids was funny, warm and inventive. It actually liked women. And it was game-changing.
The resulting turning of the tides was so easily traced back to one film that it was dubbed "The Bridesmaids effect". Many more funny women – of increasingly diverse races and sexualities – began to hit the screens. Booksmart, Blockers, Girls Trip, The Heat – all owe a debt to Bridesmaids' success. Like a Boss, a new comedy starring Tiffany Haddish, Salma Hayek and Rose Byrne, opens in UK cinemas this week. It's not exactly been getting rave reviews, but thanks to Bridesmaids, that's OK. One flop is no longer held up as evidence that female-fronted comedies are bad for business.
Starring SNL alumna Kristen Wiig, who also co-wrote the screenplay with Annie Mumolo, Bridesmaids centres around Annie, a single thirty-something with a failed cake shop and a lack of self-worth. Her best friend Lillian (fellow SNL star Maya Rudolph) has just got engaged. To whom? I think his name is Dougie, but it doesn't much matter; Bridesmaids sidelines the men who'd usually be front and centre, focusing instead on Annie, Lillian, and Lillian's shiny new friend Helen (Rose Byrne, deliciously prim and insecure). Annie and Lillian are childhood pals, and Helen's arrival complicates things.
The 30 best romantic comedy movies, ranked

Show all 30
There are other bridesmaids thrown into the mix – eccentric, hard-as-nails Megan (Melissa McCarthy, nominated for an Oscar for her role), sickly sweet Becca (Ellie Kemper) and jaded mother Rita (Wendi McLendon-Covey). All are electric, but Wiig is exceptional. A master of physical comedy, she has a face so scrunchy and elastic it would seem almost computer-animated if it weren't also so human.
Much of Bridesmaids' humour is understated – a passive-aggressive remark here, the slightest quiver of Wiig's sweaty lip there – but at times it swings big. There is a xanax-induced aeroplane meltdown that deserves a whole appreciation piece of its own, not to mention physical fights, the perfectly placed deployment of the c-word, and that bathroom scene.
Wiig wasn't too thrilled when it was put to her that she should write a little vomiting and diarrhoea into the script. "When people say, 'Oh, we're gonna give more female-centred movies a chance,' you're not reading the fine print," she said in 2017, "which is, 'Oh, but, they have to be like this.' They want to see women acting like guys. The scene was not our idea and it was not in the original script and we didn't love it. It was strongly suggested for us to put that in there. I didn't want to see people s***ting and puking."
Wiig shouldn't have been pressured to ape a certain kind of male comedy, but women can be as rude and crude as men, and before Bridesmaids, they weren't allowed to be. More important, though, was the innately female rapport on display – one that had rarely been afforded the spotlight in a mainstream comedy, and which made a mockery of the now-infamous 2007 Vanity Fair article, "Why Women Aren't Funny".
Written by Christopher Hitchens, that article was even worse than its headline suggests. At one point, the author and journalist concedes that there are a few "impressive ladies" out there, but "most of them, when you come to review the situation, are hefty or dykey or Jewish, or some combo of the three".
Access unlimited streaming of movies and TV shows with Amazon Prime Video Sign up now for a 30-day free trial
Sign up
It was deeply offensive, but it was a sentiment that prevailed four years later. Even the film's own marketing team subscribed to the concept, emblazoning the posters with, "Chick flicks don't have to suck!". And it's still around in certain corners today.
Saoirse Ronan considers Bridesmaids to be "the best film in the world". But when the four-time Oscar nominee recommended it to a male friend, he said: "It's just a film about girls, isn't it? Just a bunch of girls." Ronan knew the implication that lurked beneath his dismissal. "I was so upset that there is this perception of a female film being something lesser," she told Vulture in 2017. "Bridesmaids at its core is about friendship. It's about a girl, a person, building herself up from the bottom and taking what she has left and making something of it."
To dismiss Bridesmaids as "just a film about girls" is to rob yourself of both its humour and its profundity. At the film's heart is the fear of losing the platonic love of your life. Annie may be funny, but she is also self-destructive and deeply afraid of intimacy. Try-hard Helen is anxious and desperate for friendship. Megan was horribly bullied at school. Rita is stuck in a loveless marriage. "It's the men that I've spoken to, of all ages," continued Ronan, "who seem to have the perception of what an all-female film is – that it's wishy-washy or doesn't really have any substance to it."
Clearly, Bridesmaids put its head above the patriarchal parapet. Ahead of the film's release, actor and screenwriter Jamie Denbo said, "I don't know a female screenwriter, TV writer, actor or comedienne who hasn't heard this statement in the past few months with regards to future projects: 'Well, we'll see how Bridesmaids does…'"
Thank goodness, then, that it made $288m at the box office from a $32.5m budget, and paved the way for a boon in a less testosterone-driven kind of comedy.
According to Lynda Obst, producer of Sleepless in Seattle (1993) and How to Lose a Guy in Ten Days (2003), Bridesmaids "had the biggest impact of any women's movie that I can remember in my career". Speaking to Salon just a few months after the film's release, Obst said: "It came at a moment when women's comedies, women's thrillers, were going to get put by the wayside forever. Women's projects were dying everywhere. That's why the opening of Bridesmaids was so critical for every woman in features, why its success was attended with such profound interest by every woman writer, producer and director in town."
"Bridesmaids broke the mould," said Universal Pictures chair Donna Langley. "It took a familiar paradigm – the wedding comedy – and turned it on its ear. It created very honest, very contemporary characters that women around the world related to … and it emboldened talent to start writing more of those parts and emboldened studios to go for it a bit more, knowing there is a hungry demographic out there."
Of course, being a trailblazer meant that Bridesmaids was expected to stand for much more than Wiig necessarily intended it to. What should have been allowed to be a wonderful, whipsmart comedy became the subject of debates over whether it was feminist, post-feminist or quasi-feminist. Whether it played too much into the hands of male sensibilities. Whether it accurately represented the female experience (as if that is one monolithic thing). Whether it relied too heavily on traditional femininity as its protagonist's saving grace. It seems women can't win.
Still, there can be no arguing about Bridesmaids' culture importance. Amy Schumer credits the film with kickstarting her career. "It was women being portrayed as human beings, not like these caricatures we've seen," she said. "Bridesmaids made [all this] feel possible." She is not the only one who feels that way.
Bridesmaids is a masterpiece. I hope Saoirse Ronan's friend watches it and offers her an apology.
Join our new commenting forum
Join thought-provoking conversations, follow other Independent readers and see their replies