Bushwick's Brittany Snow on Pitch Perfect 3, recovering from self-harm and her new action film
The actress steps out of her comfort zone in post-apocalyptic thriller 'Bushwick' as action heroine Lucy – a far cry from playing the ditzy Chloe in 'Pitch Perfect'
Kaleem Aftab
Friday 25 August 2017 15:12 Comments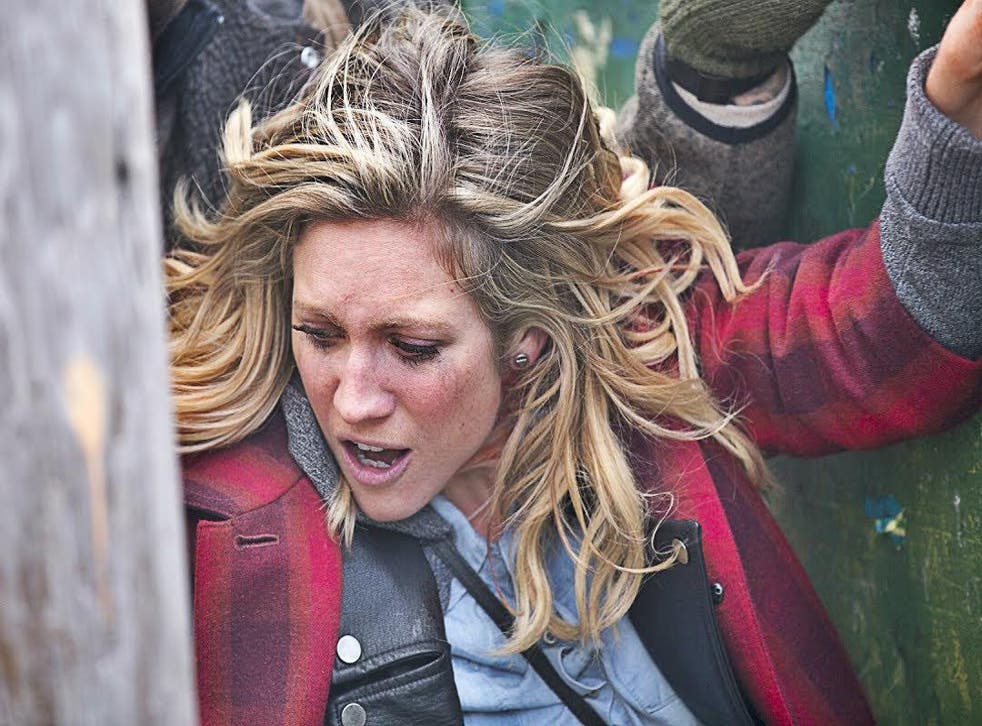 Those who only know Brittany Snow as the ditzy Chloe Beale, one of the Barden Bellas in Pitch Perfect, are in for a surprise when they see post-apocalyptic thriller Bushwick, which sees the actress play a college student turned action heroine after the hipster Brooklyn neighbourhood comes under military attack.
Whereas in Pitch Perfect Snow has to play dumb as her character doesn't want to graduate, in Bushwick playing college student Lucy she is faced with a stark dilemma when she exits a subway station and discovers that New York is under attack from Texans want to secede from the United States.
"Lucy is a girl who has to utilise her intelligence and adjust to her surroundings in order to survive," says Snow. "It poses the question, what would you do in that situation if you had no prior experience of being in a violent atmosphere? Would you stand up and try to save others and yourself or would you just lay down? I don't know what I would do."
In Bushwick, Lucy does what anyone would want to do when under attack: she teams up with Stupe, played by muscle man Dave Bautista, best known for playing Drax in Guardians of the Galaxy.
As she ventures through Bushwick, she gets attacked by all sorts of people, including locals complaining about gentrification. For the actress, the leading role offered a departure from the type of characters she's been playing ever since she became a child star appearing in shows such as Guiding Light, American Dreams and later on Nip / Tuck.
"The things that people know me for are more light and fun, I guess, I sing in a lot of things," says Snow. "But this movie is definitely different to what people have seen before, because I'm shooting guns."
It forced the 31-year-old to get out of her performing comfort zone, something she admits that she struggled with at first. She says she butted heads with directors Cary Murnion and John Milott over the kitschy tone of the action sequences. "I wanted to gear towards it being grounded [in realism]. They knew that this needed a heightened element to the action, where it's also sort of funny, and maintaining that tone and – I hate to call it a B-movie, I can't because I'm in it – but that sort of genre of film was planned and very specific."
But we shall soon be seeing her singing again as the third instalment of Pitch Perfect reaches cinemas in time for Christmas. She reveals that Chloe will be even stranger this time around. "I can tell you that I have a love interest this time," she says tantalisingly. "I think, weirdly enough, that Chloe is even more weird in this movie. They let me do a lot of improvisation and let me do what I really wanted to do, so I just ran with it."
Just as Bushwick has seemed to hit the zeitgeist with its look at the divisions of society in Trump's America, Snow argues that Pitch Perfect was the perfect film to tap into the desire for more female empowerment in the movies. "It was definitely lightning in a bottle of so many things that happened simultaneously that had the right synergy with the cast actually getting along rather well and also Pitch Perfect being about letting your differences bring you together."
Access unlimited streaming of movies and TV shows with Amazon Prime Video Sign up now for a 30-day free trial
Sign up
She waxes lyrical about the franchise; "It's about a bunch of misfits and I think us girls work well together because we are so different and people really like to see different types of women, different sizes, different comedy styles and different appearances. It's refreshing because that's how the world is, and you don't get to see that enough in film."
Born in Tampa, Florida, the actress had her first modelling job at the age of three. Yet she admits that, despite the successful start to her career, she always felt like an outcast. "I was definitely not a popular person and didn't go to school," she says in stark contrast to Chloe who tries everything to stay in school.
"I only went to one year of high school before I moved to LA to do American Dreams, so I was definitely not with a group of friends and I felt like I had to make my own quirky habits and things like that. So I definitely related to Pitch Perfect and I think a lot of girls do, even if they are part of the cool group."
She was schooled on set, of which she says: "It got very confusing shooting at the same time as doing chemistry. Am I acting, or am I blowing something up in chemistry class?"
Through her teenage years Snow battled with anorexia, depression and self-mutilation. At the age of 12 she began following fad diets. After an intervention by the Guiding Light producers, she began eating again, but this led to depression and, after she went to work on American Dreams, she began cutting herself.
She says of overcoming her anxiety and illness: "I know this is going to sound really cheesy but probably being an example for my nieces and for my friends and for people that have gone through similar things that I have gone through and trying to be strong for them, even though shit gets tough. I think that is maybe some of the most fearless things I've done."
More recently, she's been inspired by Pitch Perfect director and producer Elizabeth Banks; "I started a production company a couple of years ago and directed a couple music videos and she's helped me a lot, actually, and we have been talking about working together."
They have already collaborated on a web series called Temporary, which is written by fellow Pitch Perfect star Chrissie Fit. "So Elizabeth is definitely an inspiration for me when it comes to knowing it can be done and that it can be done with intelligence and in the right way."
'Bushwick' is in cinemas from 25 August and available on digital download from 28 August
Register for free to continue reading
Registration is a free and easy way to support our truly independent journalism
By registering, you will also enjoy limited access to Premium articles, exclusive newsletters, commenting, and virtual events with our leading journalists
Already have an account? sign in
Join our new commenting forum
Join thought-provoking conversations, follow other Independent readers and see their replies