Call Me By Your Name director Luca Guadagnino on the film everyone is talking about
Tipped as one of the favourites to win Best Picture Oscar, the Italian director's new film stars Armie Hammer and Timothée Chalamet, as two boys who fall in love in Italy over the summer
Kaleem Aftab
Thursday 26 October 2017 13:59 Comments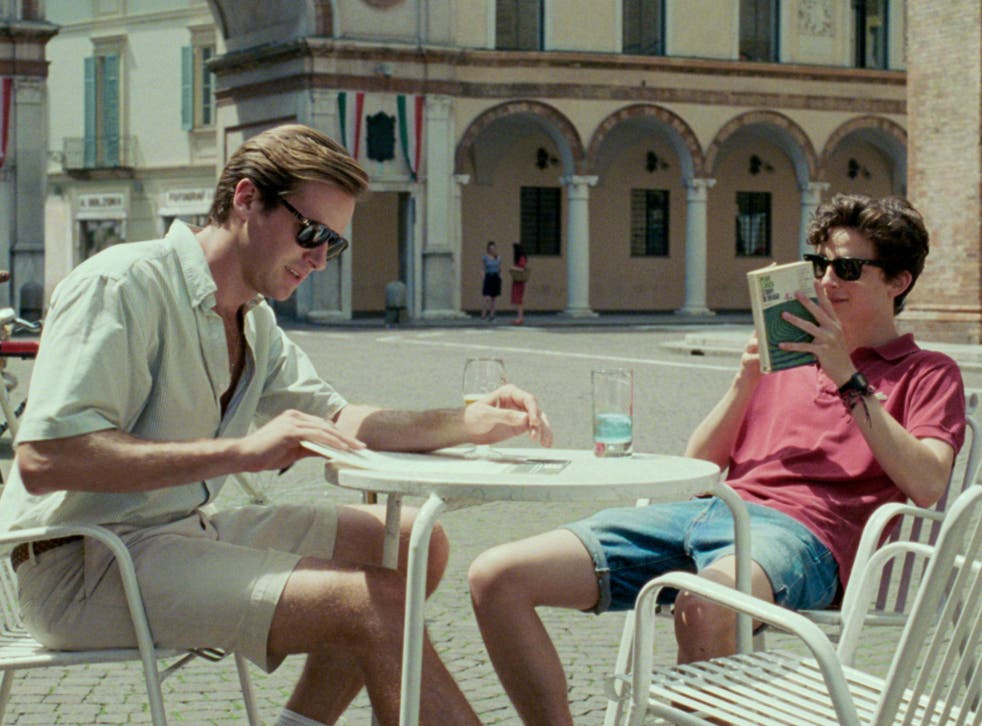 Sometimes you never know where the voice of dissent will come from. Call Me By Your Name has been receiving rave reviews since it debuted at the Sundance Film Festival and is now one of the favourites to win the Best Picture Oscar.
So it was somewhat of a surprise when on the day before I meet with director Luca Guadagnino that James Ivory of Merchant and Ivory fame, and the scriptwriter of Call Me by Your Name, questioned why the Italian director didn't show male genitalia in his adaptation of American author André Aciman's novel about the sexual awakening of a 17-year-old in 1980s Italy.
It's a position that has left Guadagnino baffled. "I am the least prudish director you can meet," argues the 46-year-old. "I've been very precise in using the female and male body on screen to convey all kind of emotions. I thought that the display of nudity in this specific movie was absolutely irrelevant and I understand that for James it would have been relevant but that is his vision, what is clear is that we had no limitations on what we wanted to do."
When Guadagnino asks, "Did you miss penises in this movie?", the preposterousness of the whole debate is brought home. Ivory's problem seems a hangover from the long production history of the film, that saw Ivory attached as director, then co-director with Guadagnino, who was first brought on as a locations manager before eventually taking on the director's chair, as otherwise the film would not have been made.
But Guadagnino wants to make clear that it's not the criticism of his film that bothers him, just the argument raised by the critic; "I'm happy to hear any kind of criticism if it comes from a place of intelligence and listening."
Guadagnino is much happier when conversation reverts to the breakout performance of Timothée Chalamet as Elio, or how Armie Hammer, playing an American student who comes to Italy for a summer, delivers the performance that finally cements the promise he showed in The Social Network playing both Winklevoss twins, or Michael Stuhlbarg's beguiling turn as an academic.
When I say Stuhlbarg reminded me of a Robin Williams character, the Palermo-born director chips in, "That's lovely. Dead Poet's Society." Guadagnino says he wasn't thinking about Williams when making Call Me By Your Name, but that "it clearly worked its way in". He argues that this type of unknowing homage is the secret to his movies; "I think that movies are made from the unconscious of the filmmakers, not out of their ego. A good movie comes unconsciously to me."
The film is shot in Crema, a city 40 minutes from Milan where Guadagnino works out of a 17th-century palazzo. And he says that as he made the film, he came to realise that he chose the location because unconsciously it fed into memories he had as a young man in the Sicilian capital: "It was like the echo from my dreaming of becoming an individual that was independent from the oppressiveness I felt in Sicily."
But when I ask if there are elements of his own biography in Call Me By Your Name, he insists that there is not, everything is from the book. "I grew up in Ethiopia for a bit, and when we came back to Sicily I lived in an apartment in the centre of town, I never had a garden. I didn't have the life you see in the film."
Access unlimited streaming of movies and TV shows with Amazon Prime Video Sign up now for a 30-day free trial
Sign up
His unconscious is clearly full of imagination. The Italian has made his mark in cinema, opera and fashion. As a filmmaker he garnered international acclaim for his extraordinary depiction of a bourgeois Milanese family in Io Sono Amore (I Am Love), made in 2009, starring his muse, the Scottish actress Tilda Swinton. She also starred as a voiceless rock star in A Bigger Splash (2015). In the high-end fashion world, he has been celebrated for his work making fashion films to go with collections in the luxury sector, starting with Fendi in 2005. Always looking to surprise, and reinvent himself, in December 2011 he made his debut as an opera director with Falstaff at the Teatro Filarmonico in Verona.
He has a motto for his work: 'You always have to dare yourself, to do things that can sound impossible'. "I say this to all the young filmmakers that want to start their career: otherwise you are not going to hit the mark that you set yourself. Also greatness, it's not just because of fame, and recognition, it's greatness of soul. Tilda is a great person because she is open, she listens and she is curious."
Another big influence on his career and work is Italian director Bernardo Bertolucci. Gaudagnino co-directed a documentary, Bertolucci on Bertolucci, in 2013 and he says that 1900 (1976) was a big influence on Call Me By Your Name. The five-hour-plus movie also features an unlikely and at times sexual relationship between two men, played by Gerard Depardieu and Robert De Niro, but it's the scenes of the characters as children growing up in fascist Italy that particularly enamoured Guadagnino. The two directors have a strong friendship and when Guadagnino is editing a film, he always sends an early cut of the work to Bertolucci – who he describes as a hard taskmaster – to make comments on.
As for his own career, Guadagnino makes the strange assertion that he has not had success: "I'm 46 and I don't know if I've ever had success. I've had recognition which is a balm, it's nice, you know when you feel sick and you drink something and it makes you feel better, but success, I don't know. 'Success has made a failure of our home', it's a great song, I'm always wary of that song and I always hear that song playing in my ear." And he starts to sing a line from the song as if it is playing right at that moment as we are chatting.
He's wary also of being overpraised. A student of cinema, he says that he knows that the career of a director is a seesaw, sometimes up and other times down. He doesn't want to make his decisions through a desire to get glory, rather to make films that would be fun, so that he can say something. He also wants "complete control over my work".
So that seems to rule out the chances of him making a movie in Hollywood, but he adds: "If Toby Emmerich of Warner Bros would call me and say, 'Luca, we want you to make a DC character movie and you can do whatever you want, you would have complete control' – then of course I would be responsible and share ideas with them, but I would need complete control of what is made because then I can perform better."
His next film, a remake of Dario Argento's Suspiria, will see him reunite with Swinton for the sixth time, and her A Bigger Splash co-star Dakota Fanning. When he made Call Me By Your Name, he said he was thinking about how French auteurs like Jacques Rivette, Eric Rohmer and Maurice Pialat, would make the movie, but for Suspiria he is diving off the deep end, "I was thinking how would Rainer Fassbinder make Suspiria...?"
'Call Me By Your Name' is out 27 October
Register for free to continue reading
Registration is a free and easy way to support our truly independent journalism
By registering, you will also enjoy limited access to Premium articles, exclusive newsletters, commenting, and virtual events with our leading journalists
Already have an account? sign in
Join our new commenting forum
Join thought-provoking conversations, follow other Independent readers and see their replies