Cannes 2015: From high heels to Carol, how women featured in this year's film festival
Everywhere you went there were talks organised to promote female directors but they were still under represented
Kaleem Aftab Comments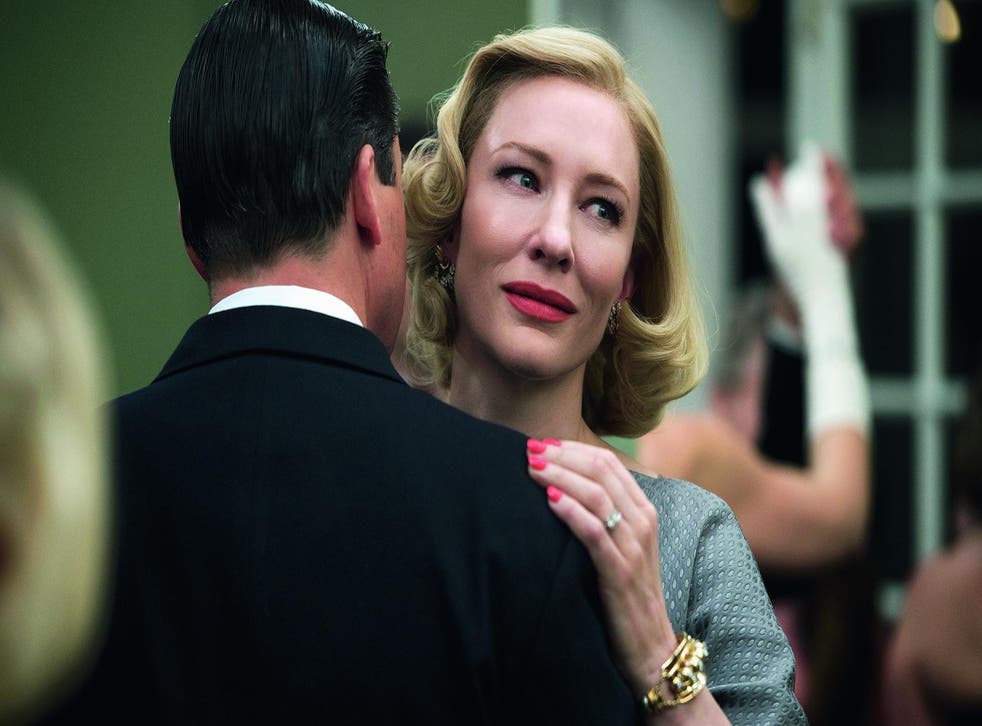 The head of the Cannes Film Festival Thierry Frémaux has been trying to woo women. Although from what's been happening at the festival, it's clear that he's not quite as good at it as Vincent Cassel in his latest film.
Frémaux made a big statement of intent by selecting Standing Tall, a social drama directed by Emmanuelle Bercot, as the opening-night film of the festival, eschewing the recent tradition of opening the festival with a starry big-budget film such as The Great Gatsby or last year's dismal Grace of Monaco. He selected two films directed by female directors in competition, both from France, romantic drama Mon Roi (My King) by Maïwenn, and Marguerite & Julien, a drama about incest by Valérie Donzelli.
That's still small when compared to the 17 men, but it's better than the zero female directors who were selected in 2012 or the one, Italian Valeria Bruni Tedeschi in 2013, and matched the two, Japan's Naomi Kawase and Italian Alice Rohrwacher, who were selected last year. Only one woman has ever won the Palme d'Or, New Zealander Jane Campion, in 1993 for The Piano.
Frémaux has always argued that the industry doesn't support female directors. So this year everywhere you went there were talks organised to promote female directors. Fashion house Kering put on a series of talks under the moniker of Women in Motion, featuring the likes of actress Isabella Rossellini, whose mother Ingrid Bergman appears on this year's official Cannes poster, Carol producer Christine Vachon, Claire Denis, and Leslee Udwin, the director, producer and actress who caused a stir with India's Daughter.
Cannes Film Festival 2015: Red carpet roundup

Show all 77
Kering is owned by billionaire François-Henri Pinault, whose wife, actress Salma Hayek, argued at a UN women's panel on gender equality, "the only value that women bring to the movies is being seen as a sex object".
That didn't seem to be borne out on the screens at Cannes, although there were plenty of examples of objectification. If there was one remarkable connecting feature about the films in competition it was the number of females in meaty principal roles. Although that's a good sign, it also demonstrates that, in the film industry, it's male directors who have the ability to respond better to the call for more female stories, and there has to be something very wrong with that.
At the time of writing, the festival darling was Carol, Todd Haynes's 1950s drama about a lesbian romance, which is based upon Patricia Highsmith's novel The Price of Salt. The production values are superb, as are the performances from Cate Blanchett and Rooney Mara. There was much talk of this being Todd Haynes's masterpiece, yet I found the story didn't have the nuance or style of Haynes's homage to Douglas Sirk, Far From Heaven, nor was it as radical as when he asked Blanchett to play a version of Bob Dylan in I'm Not There.
An embarrassment to Cannes was the furore created when several women in their fifties were turned away from the premiere of Carol for wearing flat-soled shoes instead of high heels. At the press conference for Sicario, a competition entry starring Emily Blunt, the actress asked that everyone wear flat heels to her premiere, while director Denis Villeneuve and co-star Josh Brolin said they would wear heels. Sicario sees Blunt play an FBI agent who is coaxed into an elite government task force, and Villeneuve revealed that there was pressure on screenwriter Taylor Sheridan to rewrite her part for a man. It's good that they didn't as the film is an audacious attempt to subvert the thriller genre, and the casting is part of that. Blunt excels, but it's most notable for a belated return to form by Benicio del Toro.
The Film4-backed The Lobster is set in a futuristic Ireland where singletons can go to The Hotel in an effort to find a partner – failure to do so within 45 days means they will be turned into an animal of their choice. The most bizarre plot in Cannes sees a broken-hearted Colin Farrell ask to be a lobster. There is a heavy female presence too; Rachel Weisz narrates the story and appears as a character named Short-Sighted Woman (using that term would have got you whacked by a baguette on the Croisette).
Access unlimited streaming of movies and TV shows with Amazon Prime Video Sign up now for a 30-day free trial
Sign up
Another film playing with narrative convention is Joachim Trier's Louder than Bombs, which revolves around the death of a war photographer (Isabelle Huppert), but runs out of steam when it reveals itself to be a coming-of-age tale about an American high-school teen.
Japan's Hirokazu Koreeda's film Our Little Sister is about three sisters who are introduced to their half-sister at the funeral of the father who abandoned them. They are women who run their own lives and create a new family between themselves – at times this becomes slightly saccharine. Another family tale, but far more impressive, is Nanni Moretti's Mia Madre, which features an excellent performance from Italian actress Margherita Buy, who plays a director making a movie about striking workers in a factory while, away from set, her mother is dying.
Salma Hayek also stars in Italian Matteo Garrone's wacky drama Tale of Tales, playing the Queen of Selvascura, who will do anything to have a child. Vincent Cassel is a cad, in this Cyrano de Bergerac-type tale, who falls in love with a woman he believes to be beautiful but hasn't seen. Any potential sexual subversion is lost by the fact that she transforms into the beautiful British actress Stacy Martin. Yawn.
Vincent Cassel also plays a cad in the film directed by Maïwenn. Her film stars Emmanuelle Bercot, who directed the opening-night film, as a lawyer blindsided by her love for Cassel's chef. The drama starts off amusingly, but loses form once the lawyer repeatedly returns to her man no matter how imbecilic his behaviour. Maïwenn was one of several actresses bored by the gender conversations. Bercot argued after her opening film: "What's important is not that I'm a woman, but that I'm a director." There is the side to the argument that this problem is as old as Mary, and should have been sorted out a long time ago.
The other female-directed film in Palme d'Or running is Valérie Donzelli's Marguerite & Julien, a misconceived attempt to rejuvenate the costume drama by putting the true story of incestuous runaways into an mish-mash of different eras, that at one moment sees them living by candlelight in a château and the next moment being swept away in a helicopter.
At the time of writing the main competition to Carol for the Palme d'Or seemed to be Son of Saul, by the only first-time director in the line up, Hungarian Laszlo Nemes. His film is about a member of the Sonderkommando, which was a group of Jews forced to assist in implementing the gas chambers. The drama follows Saul, who seeks a rabbi to help bury his son. It would be par for the course if a film by a man with a male protagonist won the top prize.
Away from the main competition, films from a female perspective were also prominent. Pixar's new film Inside Out gets inside the head of an 11-year-old girl, while Miguel Gomes's brilliant Arabian Nights is about how Portugal suffered under austerity measures imposed in 2013. The fictional narrator is Xerazade, the queen from the ancient fables, who tells stories to stop her husband killing her. It's a stamina test, if only because Gomes has split the story into three films each more than two hours long, but every minute is sensational. Another film that impressed was the Croatian drama The High Sun, by Dalibor Matanic, which features three pairs of lovers in 1991, 2001, and 2011 as they fight to be together despite ethnic tensions between Serbs and Croats.
Register for free to continue reading
Registration is a free and easy way to support our truly independent journalism
By registering, you will also enjoy limited access to Premium articles, exclusive newsletters, commenting, and virtual events with our leading journalists
Already have an account? sign in
Join our new commenting forum
Join thought-provoking conversations, follow other Independent readers and see their replies