Cannes 2016 preview: Steven Spielberg, Woody Allen, Jim Jarmusch and Oliver Stone all showing at film festival
For cinephiles, the festival is one of the few places in which cinema is still regarded as an art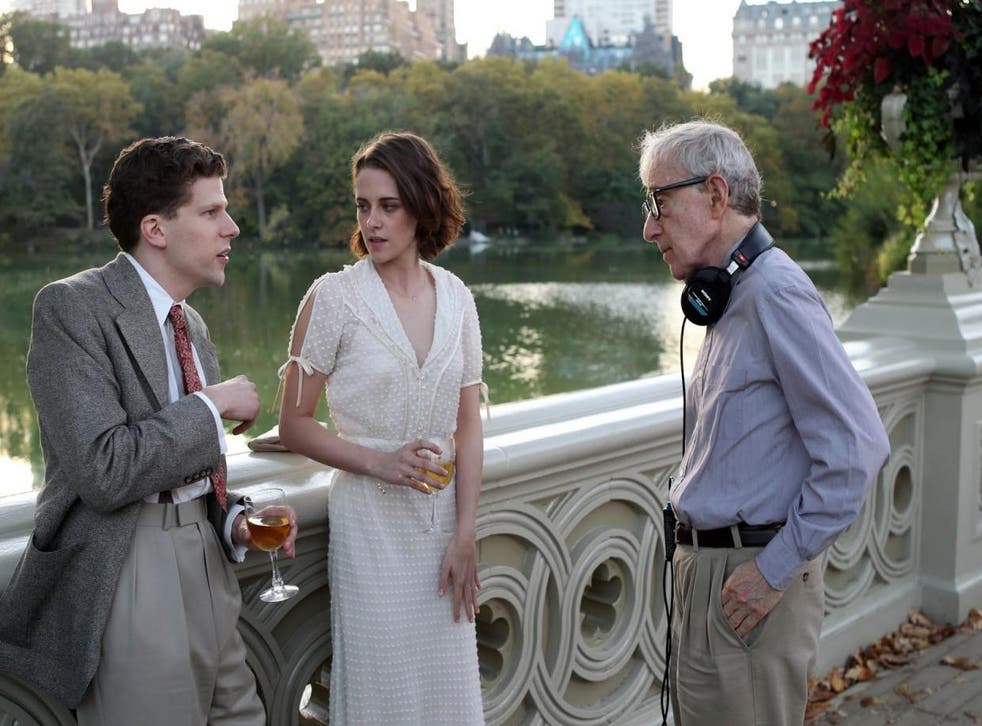 The trick for Cannes festival director Thierry Frémaux is balancing hardcore arthouse movies with films that provide glamour, escapism and red-carpet opportunities for the legions of paparazzi who continue to descend on the world's most famous film festival.
Read more of our Cannes 2016 coverage
Opening the festival with yet another Woody Allen film, romantic comedy Café Society starring Kristen Stewart and Jesse Eisenberg, is a safe if slightly dull choice. Allen is so revered in France that there is little danger of the film (which is not in competition) being savaged by the critics in the same manner as Grace Of Monaco two years ago.
It is also a considerable coup for Cannes to have landed Steven Spielberg's The BFG, starring Mark Rylance as Roald Dahl's Big Friendly Giant. Huge budget studio movies don't need Cannes. However, Spielberg's relationship with the festival stretches back to the early 1970s (The Sugarland Express won the festival's Best Screenplay award in 1974). Spielberg is a former Cannes jury president and clearly likes coming back.
As ever, there are certain films that haven't made the cut. Oliver Stone's Edward Snowden biopic Snowden was widely tipped as a Cannes contender but either isn't ready or the festival has decided it isn't worth the fuss that showing it would entail.
This year's press conferences are bound to be lively. Danish maverick Lars Von Trier won't be in attendance, but there are plenty of other outspoken directors who share his ability to put their feet in their mouths. Fresh from his very controversial Rolling Stone article about Mexican drug dealer Joaquin "El Chapo" Guzman, Sean Penn will be unveiling his new feature, The Last Face, starring Charlize Theron and Javier Bardem. Penn is a very talented filmmaker whose films as a director tend to be in a similar vein to those made by the likes of Bob Rafelson and Hal Ashby in the 1970s. It is just a pity that he hasn't made more of them and gets so sidetracked with other projects.
It may be a little late for Dutch director Paul Verhoeven to try to re-invent himself as a feminist nearly 25 years after Basic Instinct but he is in competition with what looks like one of his most intriguing and unusual films. Elle, Verhoeven's first film in French, stars Isabelle Huppert as a rape victim who stalks her assailant.
The films to know about at Cannes 2016

Show all 14
Meanwhile, out of competition, Jodie Foster is presenting her thriller Money Monster. The film stars George Clooney as a Wall Street financier and TV personality "The wizard of Wall St" held hostage by a disgruntled investor (Jack O'Connell).
Jim Jarmusch actually has two films in the festival. One, Gimme Danger, is a documentary about Iggy Pop, while the other, Paterson, in competition, stars Adam Driver as a blue-collar New Jersey bus driver. Danish provocateur Nicolas Winding Refn is back in Cannes with his latest US feature, Neon Demon, an LA-set horror movie starring Elle Fanning, Jena Malone and Keanu Reeves.
The real question about this year's Cannes competition selection is just how many of the movies competing for the Palme D'Or (the festival's main prize) will be turning up at cinemas near you.
Access unlimited streaming of movies and TV shows with Amazon Prime Video Sign up now for a 30-day free trial
Sign up
These are very turbulent times for what might loosely be called auteur-driven filmmaking. The Cannes competition represents the very best of such filmmaking. Once the festival is over, though, if a movie isn't in English and doesn't boast stars, it is increasingly shunted to the margins. British cinemas, like those elsewhere, much prefer showing blockbusters. Films that you have to barge and fight your way into in Cannes may not even surface in the UK or will end up being seen not in cinemas but on Netflix and Amazon.
The 2016 line up is full of familiar faces. Pedro Almodovar is in competition for the umpteenth time with his new feature Julieta, which he has adapted from short stories by Nobel prize-winner, Alice Munro. Belgium's best known filmmakers the Dardenne brothers are also back, vying for their third Palme D'Or with The Unknown Girl, about a doctor's quest to discover the identity of woman who died after being refused surgery.
Defying the rumours that he was on the verge of retirement, venerable British director Ken Loach returns with I, Daniel Blake, the story of a joiner in his late fifties who needs help from the state for the first time after falling ill.
There aren't that many women directors in competition – a lack that the festival continually promises to address but never actually does so.
British director Andrea Arnold (whose debut feature Red Road was a prize-winner 10 years ago) is back in competition with her first US film, American Honey. This is bound to stir up plenty of media interest if only because it co-stars Shia LaBoeuf – and he always trails controversy in his wake. The film is about a teenager from a troubled home who runs away with a sales crew that roams across America, hawking magazine subscriptions.
German director Maren Ade is also in competition with her new film Toni Erdmann, about a bizarre father/daughter relationship, and veteran French director Nicole Garcia returns to competition with her latest feature From The Land Of The Moon, a love story set just after the Second World War and starring Marion Cotillard.
The Dardennes and Loach are masters of politically engaged, social realist filmmaking. Their movies invariably tug at the consciences of festivalgoers who realise just how superficial and mercenary the rest of Cannes can seem. "Whores everywhere," one of the characters in Irwin Shaw's novel Evening In Byzantium says of the festival. "In the audience, on the screen, on the streets, in the jury room... this is the living and eternal capital of whoredom for two weeks every year."
Paradoxically, at least as far as cinephiles are concerned, the festival's competition is actually an oasis – one of the few places in which cinema is still regarded as an art and not just as a business. For a few days at least in Cannes every year, the mind-numbing dominance of Hollywood blockbusters is forgotten.
Cannes Festival runs 11-22 May.
Join our new commenting forum
Join thought-provoking conversations, follow other Independent readers and see their replies