The Saturday Interview
Carey Mulligan and Emerald Fennell: 'The experience of so many victims is that everyone wants you to let it go'
The star and director of 'Promising Young Woman' tell Clarisse Loughrey how their film 'weaponises femininity', ask why the stuff that girls traditionally like isn't treated seriously, and discuss how women respond differently when something happens to someone they love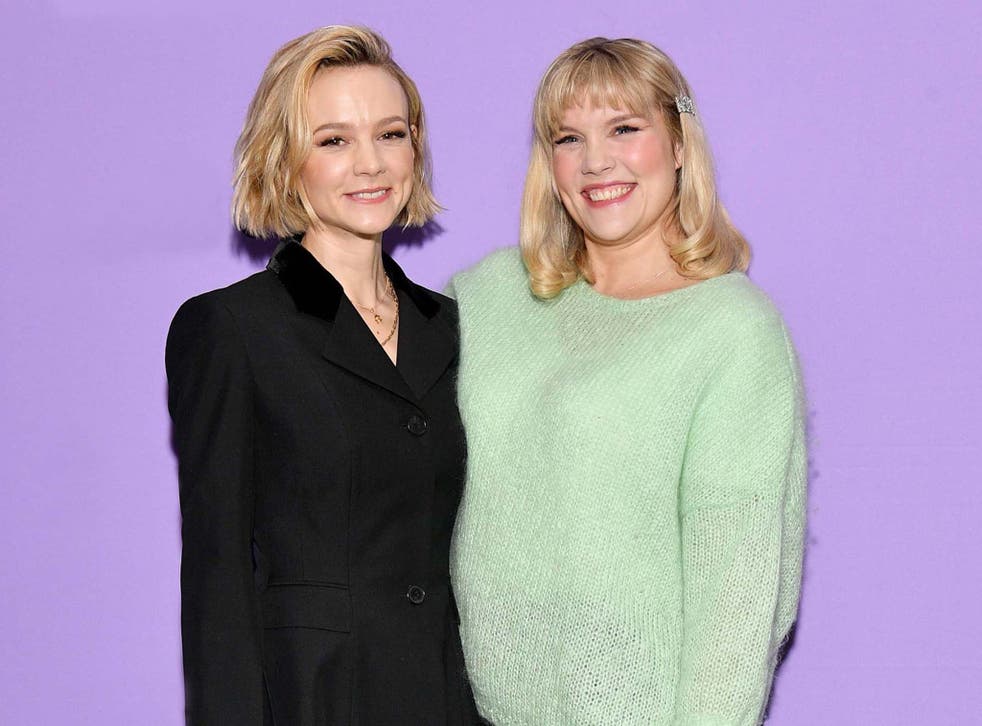 I remember that feeling of being loyal to your friend and defending your friend as a teenager and how important that was and how shocking betrayal felt," says Carey Mulligan. We're chatting – the actor, director Emerald Fennell and me – about one of the most talked-about films of recent times, Promising Young Woman. A fierce #MeToo thriller with a surrealist edge, it has become both a critical and awards darling, with six nominations at this weekend's Baftas and five at the Oscars. Out on Sky Cinema on 16 April, it's a needle in the arm pumping you full of neon, pastels, and portentous covers of pop hits.
The emotions Mulligan is describing, though, are key to understanding the actions of her character in the film. Cassie has a night-time routine. She'll dress up and go out, only to sit somewhere in the corner of a bar, looking drunk and vulnerable. A man eventually takes interest – they always do. She never tells him "yes". She never reciprocates. And when he tries to take advantage of her – they always do – she'll suddenly snap out of her stupor and confront him with his own sins.
The film's posters, covered in images of smeared lipstick and the tagline "take her home and take your chances", hint at something pulpy and provocative – as if Cassie were about to trace a line of blood and penance straight to the heart of the patriarchy. That isn't quite what Promising Young Woman is. Fennell has crafted something far darker, thornier, and emotionally raw. Cassie isn't just driven by a vengeful impulse, it's an addiction that's crawled out of an old wound: years ago, at medical school, her best friend Nina was sexually assaulted. The man responsible, those who enabled him, and those who protected him never faced consequences. "She is, in her mind, doing this out of loyalty and doing this because she won't let things lie," Mulligan says. "It's also somebody who's looking for forgiveness for the guilt that they feel for what transpired."
Its blaze of nominations are all part of a record-breaking year for women, with Fennell and Nomadland's Chloé Zhao becoming the sixth and seventh women ever to be nominated for the Best Director Oscar and the first two to be nominated together in one year – in a statement, the director praised the "beautiful, inspiring, challenging, varied work" of her fellow nominees. A Variety review, meanwhile, sparked a widespread discussion of misogyny in film criticism, when a male writer suggested that Margot Robbie would somehow more naturally pull off Cassie's nightly deception.
"I took issue with it," Mulligan told The New York Times in December. "It felt like it was basically saying that I wasn't hot enough to pull off this kind of ruse." Later, she readdressed the review in a video interview with Zendaya, after Variety had publicly apologised, "I think it's important that we are looking at the right things when it comes to work, and we're looking at the art and we're looking at the performance," she said. "And I don't think that goes to the appearance of the actor or your personal preference for what an actor does or doesn't look like – which it felt that that article did."
It seems the most interesting conversations about Promising Young Woman have also been the most divisive – particularly when it comes to the film's final stretch. Cassie's pursuit of cosmic justice, at any cost, reaches an end. It's just not what we might consider a victorious one. "The only focus she has is this focus on some sense of justice on behalf of a friend. It's sort of all-consuming," Mulligan says. This isn't The Bride, from Quentin Tarantino's Kill Bill, standing bloody and fulfilled over the corpses of those who wronged her. "There's a catharsis – a kind of empathy catharsis – that could easily have been attained in this film," she says. "There's an obvious ending that everyone would have gotten behind, but I don't think it would have felt as true to so many people."
Fennell's original script, in fact, was far bleaker, though financiers still balked at what would eventually be brought to screen. "It couldn't be so easy," she says. "You can look at any statistic, you can look at any story – and there's a way something goes." Her film may look and move in fantastical ways, but it's emotionally rooted in the politics of today and so forces audiences to reckon with the brutal reality that lies behind the fantasy. In a world this cruel, how do the victimised find peace? And how do the guilty pay for their actions?
Though Fennell is an experienced screen actor, most notably playing Camilla Parker Bowles in Netflix's The Crown, Promising Young Woman forms part of a larger transition behind the camera. It sits alongside her work as a showrunner on the BBC spy series Killing Eve and her upcoming screenplay for a new DC Comics film, focused on the magic-wielding character of Zatanna. But Promising Young Woman was always a risky vision – one that was able to blossom thanks, in part, to the faith Margot Robbie's production company LuckyChap Entertainment showed in Fennell. It was the first project they took on that wasn't specifically a vehicle for the actor, though it still carried on the spirit of Birds of Prey and I, Tonya – complex female stories that dared to look beyond the purely aspirational.
Promising Young Woman, as a whole, is less about its protagonist's actions than the mindset that drives them. The smartest choice Mulligan makes with her Oscar-nominated role – one where she fuses vulnerability with single-mindedness – is that she never lets Cassie show any sense of satisfaction. If she acts cool or confident, it's with a sense of total, emotional detachment that's almost frightening to watch. "How much of this is her choice? And how much of this is her addiction trying to alleviate the pain that she feels?" Mulligan asks. "How much of it can she, at this stage, control?" Fennell likes to describe Cassie's desire for revenge as the "monster that needs feeding". One that grows and grows, until it breaks free of its cage.
Access unlimited streaming of movies and TV shows with Amazon Prime Video Sign up now for a 30-day free trial
Sign up
Promising Young Woman deals not just with direct trauma, but with its radial effects. "Women, in general, are very, very good at dealing with their own trauma," Fennell says. "But when something happens to somebody they love…" She leaves the thought half-finished, knowing that these emotions are all too familiar for women. "She can't let go because she feels like she could have done more." Cassie is looking for forgiveness as much as she's looking for retribution, knowing that she's the only one who still carries the burden of regret. "All Cassie wants to do is find one person to say: 'You're right. This was terrible,'" Fennell says. "But nobody does. And that is, I think, the experience of so many victims. Nobody wants to talk about it. Everyone wants you to let it go. That's what the culture has made it easier to do."
And so Cassie has been left in a state of emotional stasis. "I think there's a part of her that's still slightly stuck in that adolescent mindset in terms of her own relationship with Nina," Fennell adds. "It always felt like, by refusing to move on, she's kind of stuck in that moment. She's very much frozen in time." She still lives with her parents, refuses to harbour any kind of career ambitions, and seems to wrap her reality in a kind of candy-coloured delusion. "It's almost like no one else is allowed in. It's the two of them against the world," she continues. "And no one else is allowed into that. You see that in the way, you know, her bedroom still looks like a teenager's bedroom and in the way that she dresses. This is someone who can't move on."
Promising Young Woman's visual look – all flowers, and pop dreaminess – forms a key part of its identity. "It weaponises femininity," Fennell says. "Cassie hides in plain sight. She knows that if she dresses a certain way and paints her nails a certain colour, that not only will people not see her coming, but people who are close to her in her life won't ask too many questions." But there's a deeper truth here. A woman's appearance is often thought of as her shield and, as Fennell adds, "There's nothing that society is more concerned about than a woman who's not wearing any make-up and wearing stained clothes – like, that is a threat."
But, at the same time, when Cassie and Ryan (Bo Burnham), the one man she tries to open herself up to, start dancing in a convenience store to Paris Hilton's "Stars Are Blind", the pleasures of the moment are sincere. Promising Young Woman celebrates all things girly while recognising Cassie's more cynical deployment of them. "I don't know why the stuff that girls traditionally like isn't treated seriously. Britney Spears and Paris Hilton and clothes and make-up and all that stuff – they don't make me any less of a serious person," Fennell says.
Promising Young Woman's legacy will lie in the discussions it starts and the conventions it challenges. Fennell's aware that her choices might be considered bold, or even controversial – but it was important for her, above all, to stay true to her vision of the world. "Just because you don't like a film doesn't make it bad or morally wrong," she adds. "That's the really interesting new part of this kind of dialogue. There are so many things you can make that people will kind of vaguely enjoy. But I just wanted to make the film that felt really true to me. You can't please everyone. Of course not. And that's been really cathartic for me to kind of not mind."
'Promising Young Woman' is on Sky Cinema from 16 April
Register for free to continue reading
Registration is a free and easy way to support our truly independent journalism
By registering, you will also enjoy limited access to Premium articles, exclusive newsletters, commenting, and virtual events with our leading journalists
Already have an account? sign in
Register for free to continue reading
Registration is a free and easy way to support our truly independent journalism
By registering, you will also enjoy limited access to Premium articles, exclusive newsletters, commenting, and virtual events with our leading journalists
Already have an account? sign in
Join our new commenting forum
Join thought-provoking conversations, follow other Independent readers and see their replies