Catherine Deneuve interview: 'Women seem to be younger than they were 50 years ago'
At 71, the iconic actress is working as hard as ever and says she's not ready for lifetime achievement awards yet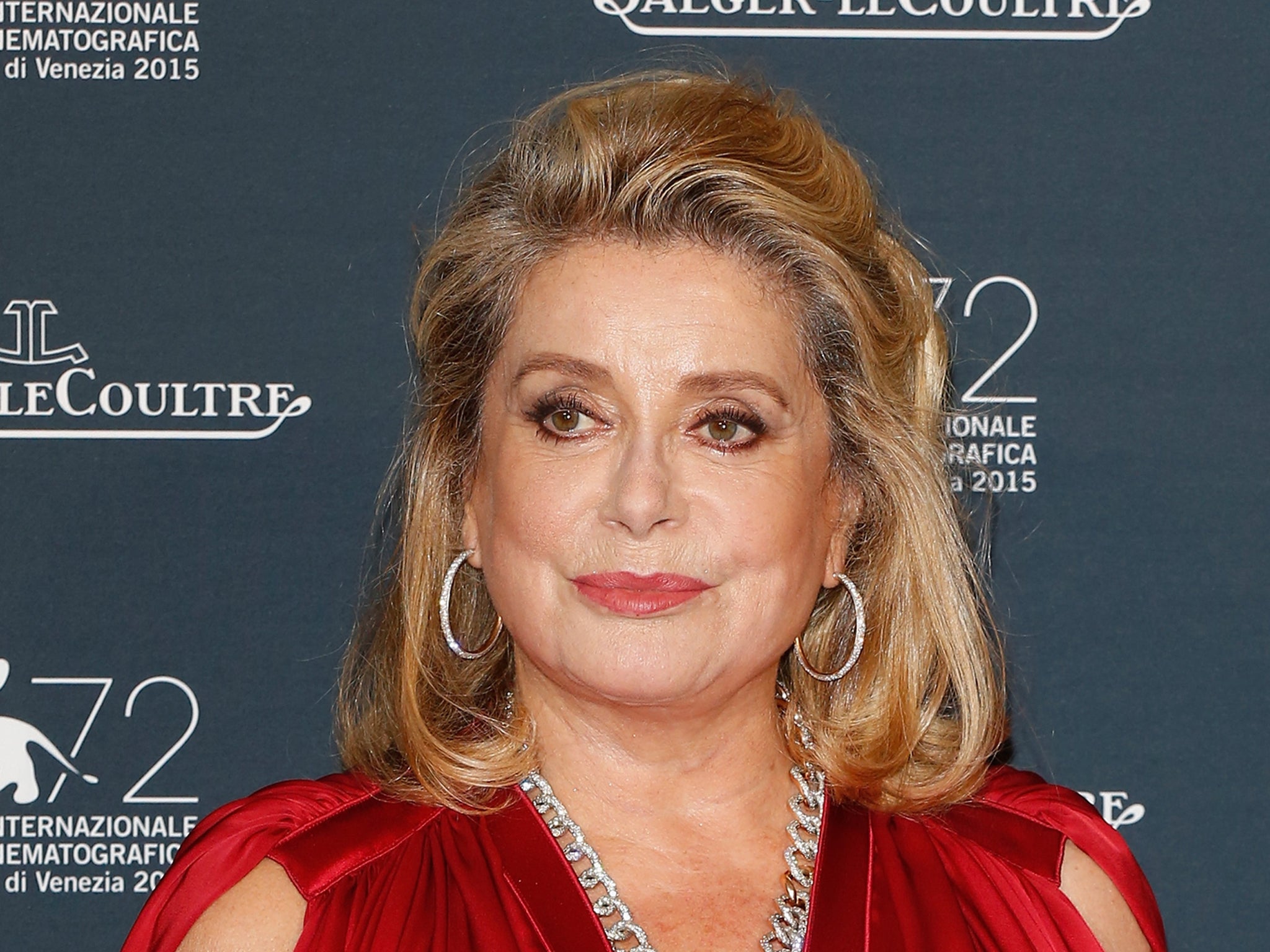 The best way to describe Catherine Deneuve is to use the sporting refrain: form is temporary, but class is permanent. Deneuve is the star who never lost her mojo, as glamorous and feisty at the age of 71 as she was when she danced under The Umbrellas of Cherbourg.
It's easy to fall under her spell. She commands every room she walks into. She is treated like royalty, especially in Cannes, where this year she was in two of the most talked-about films. She played a judge in the opening-night film Standing Tall, only the second time in the festival's history that a woman had directed the opening-night film. She was also in the sleeper hit of the festival, the deliciously funny The Brand New Testament, in which she tells a gospel story that sees her take a gorilla home to bed.
Throw in her turn as the mother of Charlotte Gainsbourg and her real-life daughter Chiara Mastroianni in the family drama 3 Hearts, and Deneuve is having one of her finest runs of form for a long time.
She always seems to have a cigarette in her hand. When one cigarette is finished, another is sparked. Perhaps that's why the interview is taking place on a terrace, despite the winds blowing heavily. "I don't inhale anymore, it's bad for your health," she declares when questioned about her habit. She doesn't like doing sport either, and keeps healthy by gardening and surrounding herself with her grandchildren. "I try to do what is right with my health, but that is the only thing I haven't managed to give up yet. People say I should give up, which of course I should, but that's not what I'd call advice. That's a fact! Give me advice to stop smoking without suffering, now that would be interesting."
Deneuve was a muse of Yves Saint Laurent, having met the designer when he dressed her for Belle de Jour in 1966, so it's difficult to imagine her in overalls pulling out the weeds. "It's funny because some people will say to me, 'I can't imagine you wearing jeans on the weekend', and I say, 'why not?'. It's not that I wear jeans easily because on the weekend I'm in the garden and I need a certain facility to move. Jeans are not the best clothes for gardening."
She has had legendary status for such a long time that it almost seems strange that it's only now that she has reached the age when actors are normally bestowed with lifetime-achievement awards. She picked one up in 2013 from the European Film Academy, but she is trying her best to avoid them. "Tributes, they start at the time when things seem to be slowing down." Is that why she seems to be working as hard as ever? "No, I'm not speeding up. But you have to be careful with what they call 'homage', 'tribute', because it becomes something very final."
But there is another reason she thinks it's important to keep working, "I think if you are busy doing something you like doing much, like doing films or writing, it helps you, of course, to stay much more in shape, even if you are very tired."
Deneuve is reticent to make any definite comments on the lot of women in the industry. Rather wisely, she's waiting for more proof than a film opening the festival or a couple of women directing films in competition before she starts singing from the rafters. "I hope there is a difference between men and women. You don't think of it when you work. A man is supposed to be stronger, to be more tough, than a woman, but in the case of [Standing Tall director] Emmanuelle Bercot, it's not that at all. I cannot say that I see a difference in the number of films. The difference in Cannes this year could simply be that the films were ready at the right moment."
Last year Deneuve received a lot of negative publicity in her homeland with the publication of her book A l'ombre de moi-même (In my own shadow), a collection of diary notes taken on the set of six films including The April Fools, Dancer in the Dark (a film beset by tales of bust-ups between director Lars von Trier and his star, the singer Björk) and Indochine, a film written for her by the director Régis Wargnier.
Access unlimited streaming of movies and TV shows with Amazon Prime Video
Sign up now for a 30-day free trial
Sign up
Access unlimited streaming of movies and TV shows with Amazon Prime Video
Sign up now for a 30-day free trial
Sign up
Those expecting explosive stories of her relationships with Marcello Mastroianni, Serge Gainsbourg and her seven-year marriage to photographer David Bailey were heavily disappointed with a book that contained a lot of lists about what she was going to eat, and flights, and so on.Deneuve doesn't care about the bad notices. She reveals that this was a book that was created to appease a publisher who had been expecting a memoir. "I had a project to do a book with someone, and the editor, you know, reminded me one time that I hadn't seemed to have been moving forward. And he said: 'You have not written anything.' I said: 'Yes, I took notes on certain films.' They are notes that I took in certain circumstances when I was in foreign countries, or living in hotels. It's not literature; it's just memories. He decided that the book should be that. And I don't write anymore."
The experience seems to have left a more bitter taste than she wants to admit. She says there will be no biography and, about her decision not to write anything anymore: 'Now that it has been published, it's different. I don't feel the same about it. I have less time as well. I see more films, more series. There is more everything and less time for myself. I'm not interested in giving more of myself than I've done. I've no desire to be more public. I'm not interested in talking about the past, because if you are still working, doing things, you have to look forward. You have to look for things, read things. Of course in my private life, I do look at the past."
In 3 Hearts she acts opposite her daughter Chiara Mastroianni, whom she had with the Italian actor Marcello Mastroianni in May 1972 (she also has a son with director Roger Vadim). "I don't see her as a mother, I see her as a dear friend, and I don't give her acting advice."
Part of the reason she doesn't give advice is, because she sees the world has changed from her heyday. "Women seem to be younger than they were 50 years ago. Forty years ago, when you saw a woman of 50 years, she looks like a woman of a certain age. Today, much less."
But on screen, and even off, Deneuve can remain forever young.
'The Brand New Testament' plays the London Film Festival on October 16 and 15 (bfi.org.uk/lff); '3 Hearts' is scheduled for release in October
Join our commenting forum
Join thought-provoking conversations, follow other Independent readers and see their replies