Interview
Portrait of a Lady on Fire director Céline Sciamma: 'Ninety per cent of what we look at is the male gaze'
The film-maker talks to Alexandra Pollard about growing up gay at a time before the internet, male privilege in cinema, and why Wonder Woman changed her life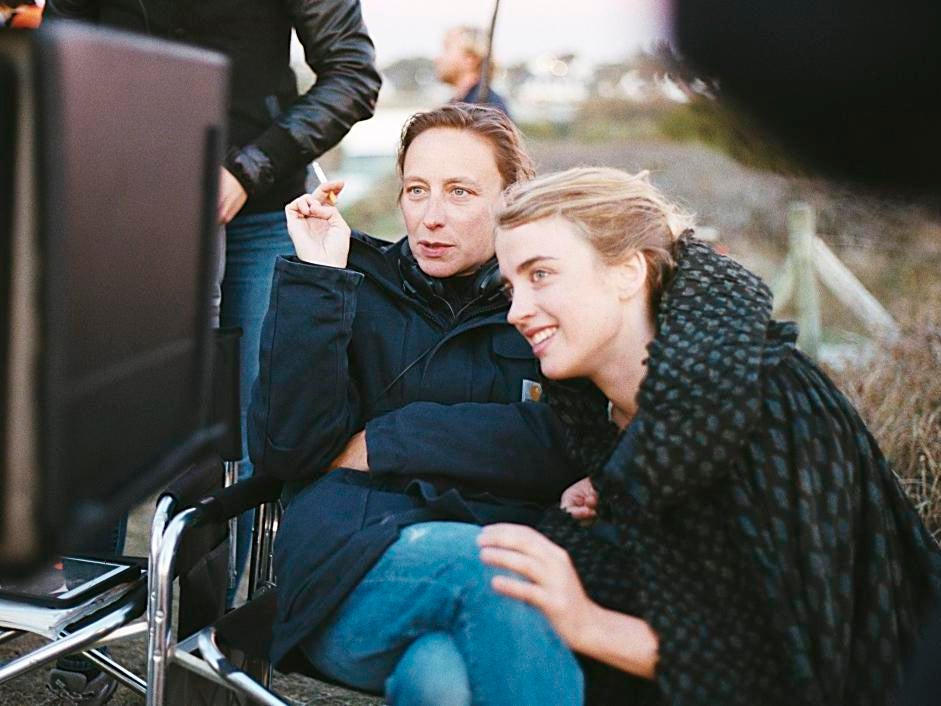 Céline Sciamma always knew she was gay. She just didn't know what to do about it. "Without the internet, lesbianism didn't exist," explains the French director, who came of age in the Nineties. "I mean, it did exist, but we were our own island, and we had to learn everything by ourselves. Imagine being 14 years old and going to the public library looking for lesbian romance, and just not knowing where to start. It's like, 'A, B, C, D…'" Is that how she learnt? "Yeah," she says, with a laugh. "And cinema. And you have to make your own."
So she did. For over a decade, the 41-year-old's films have explored the kinds of identities and desires that those public libraries were missing. Her coming-of-age debut Water Lilies (2007) – filmed in the middle-class suburb just north of Paris in which she grew up, and written when she was still at film school – focused on a teenage girl's infatuation with her synchronised swimming teammate.
The swimming, she said when it premiered at Cannes, was a metaphor for "the job of being a girl" – beauty and serenity above the surface, struggle and sacrifice below it. Tomboy (2011), released when society had an even more rudimentary understanding of gender fluidity than it does now, centred around a 10-year-old who adopts a masculine moniker on summer holiday. Girlhood (2014) followed a group of black schoolgirls in a poor suburb of Paris.
Through her work, Sciamma has earned a reputation not only as a harbinger of social progress but as a gifted auteur – one whose work is known for its sparse dialogue and tender, empathetic gaze. But her latest – the ravishing, slow-burning Portrait of a Lady on Fire – has ramped things up a notch. Since competing for the Palme d'Or at last year's Cannes, the film has been gaining momentum around the world, and Sciamma has found herself much in demand. Having visited 20 French cities, 20 more across Europe and attended 14 premieres, she's now sitting upstairs in a London members club, strong of spirit and of accent.
The 10 Best European films
Show all 10
Dressed in a bomber jacket, her blue eyes making unwavering contact, Sciamma has a gentle kind of intensity about her. She speaks swiftly, her English imperfect but poetic. "I decided to look at this love, and all its possibility, rather than doing the impossible love story narrative," she says of Portrait of a Lady on Fire. "Which is a way to give back their presence and their present and their desire to these women, because you can't run like you want to. I really wanted to show how a love story that is fulfilling is a love story that emancipates you."
Set in 18th-century Brittany, the film stars Adèle Haenel – who worked with Sciamma on Water Lilies, and with whom the director was in a relationship for a number of years – as Héloïse. Mysterious and obstinate, she is soon to be married off to a Milanese nobleman, a prospect she dreads. Noémie Merlant is Marianne, a young artist hired to paint Héloïse for said nobleman ahead of the wedding. The bride-to-be refused to sit for the other (male) painters, so Marianne must attempt to do the portrait under the guise of being her chaperone, snatching glances as they walk along the clifftops.
They're awkward at first, Héloïse stiff with suspicion, Marianne struggling to keep up the ruse. But gradually, that stiffness gives way to intrigue, then attraction. As the film progresses – at its own, teasing pace – their interactions become so heavy with desire that it's almost unbearable. When they finally act on it, the consummation is as fiery as it is respectful. "Consent," says Sciamma, "is sexy."
The first time the two women sleep together, Héloïse asks, "Do all lovers feel they're inventing something?" It's a knock-out line. "A relationship is about inventing your own language," says Sciamma. "You've got the jokes, you've got the songs, you have this anecdote that's going to make you laugh three years later. It's this language that you build. That's what you mourn for when you're losing someone you love. This language you're not going to speak with anybody else."
We know from the first scene that the two women don't end up together. Was that to avoid giving the audience false hope? "Yes, and also because I wanted to question what a happy ending is," says Sciamma. "We have the romantic-comedy philosophy – a frozen image of two people being together – and we also have the tragic ending. And I wanted neither. Why do we believe that eternal possession of somebody means a happy ending? Love educates us about art. Art consoles us from lost love. Our great loves are a condition of our future love. The film is the memory of a love story; it's sad but also full of hope."
Access unlimited streaming of movies and TV shows with Amazon Prime Video
Sign up now for a 30-day free trial
Sign up
Access unlimited streaming of movies and TV shows with Amazon Prime Video
Sign up now for a 30-day free trial
Sign up
By design, there are almost no men in the film – though the impending heterosexual nuptials loom like a cloud over every passionate embrace. "I wanted to use the tools of cinema so you would feel patriarchy without actually having to embody it with an antagonist," says Sciamma. Free from the gaze of men, Marianne, Héloïse, and the servant Sophie (Luàna Bajrami) are in a sort of utopia. There, the women and their love can briefly flourish. "When a man comes back in the frame," smiles Sciamma, "it's a jump scare."
Earlier this month, Natalie Portman walked the Oscars red carpet with "Sciamma" sewn in gold stitching on the trim of her Dior cape. There, too, were the names of several other female directors snubbed by the Academy. Sciamma is a founding member of Le Collectif, a French movement aiming to correct the gender imbalance in international film-making. The fact that men are almost always front and centre of cinema, she says, leaves them "unaware of their privilege. Ninety per cent of what we look at is the male gaze. They don't see themselves anymore."
She recalls recording the DVD commentary for Portrait with a male recording engineer, who watched the film alongside her. When – two hours in – a man's hand appeared in the frame, the engineer looked down at his own. "He said, 'I looked at my hand, because that's the hand of a man.' That's what I wanted to do – there's no man in the film, not as some kind of punishment, but as a way for them to go through someone else's journey. You've been looking only at women and suddenly it feels different, weird." She laughs. "And that's cinema, you know?"
It's not just arthouse cinema that can do this. Sciamma says that Wonder Woman, the 2017 superhero blockbuster directed by Patty Jenkins, changed her life. "It's about feeling seen as a viewer," she says. "Wonder Woman is thinking about me. It's thinking about my pleasure, about my sisters, about the history of cinema and women's representation. It gives us joy but also rage. Like, 'Why do I not get this more often?' Now, we get it more and more, because there's new writing for women, but it's an addictive feeling. Once you know it, you want it."
Portrait of a Lady on Fire is the first of Sciamma's films to centre women in adulthood. The rest of them have been, in one way or another, coming-of-age stories. I bring up something she said once – that for women, losing the androgyny of childhood is a "tragedy, because you lose your freedom". Did that happen to her? "Wow," she says. There's a 10-second pause. "I was such a gay child. I played by these rules, of course, but knowing that it was a performance. And I suffered from the fact that it was a performance. You have to be patient. You have to just wait for your life to start."
That's one of the reasons she makes films. So that young people don't have to wait quite as long as she did. "We're losing time, wasting time, because our culture is not being transmitted," she says. "But we keep reinventing it. Discovering it. And that's also the beauty of it."
Join our commenting forum
Join thought-provoking conversations, follow other Independent readers and see their replies