Chadwick Boseman exuded a searing intensity – and reinvented what a cinematic superhero could be
Many actors refuse to grapple seriously with what their super-powered character represents – not Chadwick Boseman. Ed Power remembers the actor, who has died aged 43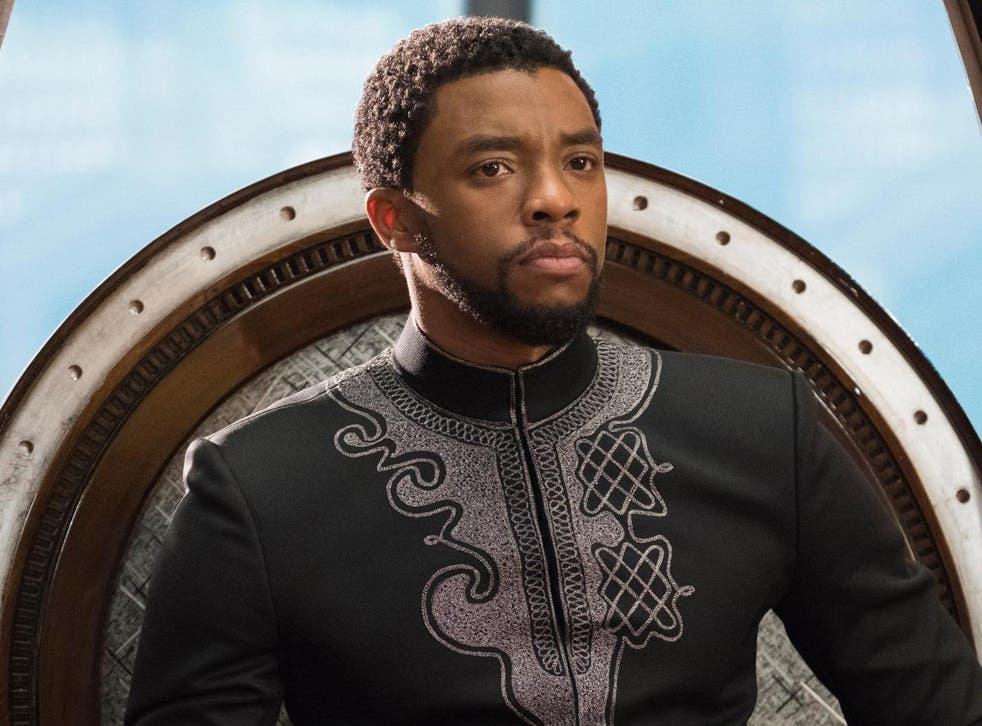 As Black Panther, Chadwick Boseman was that rarest of things: a superhero with a soul. He brought to the iconic role of cinema's first African superhero a quiet, simmering dignity that marked him out in the deafening universe of comic book movies. His portrayal of the first black figure to front his own Marvel Cinematic Universe film was a triumph of interiority amid acres of brawn. He made you believe in Black Panther, and his alter ego of T'challa, as more than just an over-stuffed grab-bag of caped crusader clichés.
Boseman, who has died aged 43 after a battle with colon cancer, drilled into the core of T'challa, reluctant ruler of the fictional nation of Wakanda, rather than, as many actors would have, playing the character as a Nietzschean hunk. In the four romping and flashy Marvel outings in which he starred, Boseman was always the most mysterious and charismatic presence. Along the way, he reinvented what a cinematic superhero could be.
In Captain America: Civil War, Black Panther, Avengers: Infinity War and Avengers: Endgame, the stars around him often lurched about as if in a live-action cartoon. Boseman did something different and daring. He gave us Black Panther as a Shakespearean anti-hero – a king struggling beneath the weight of a heavy crown. In the bright world of the MCU, he was a shimmering shade of grey.
He came to Black Panther and Marvel after a well-reviewed run in a number of biopics. He had shone as James Brown in 2014's otherwise undercooked Get On Up. This glib hagiography glossed over Brown's unsavoury side in favour of jukebox musical stereotypes. But, as in Black Panther, Boseman exuded a searing intensity. You didn't believe in Get On Up. But you believed in Boseman as James Brown.
Boseman had already glittered as another historical figure, baseball great Jackie Robinson in 42 (2013). Robinson was the first African-American to play Major League Baseball and, in so doing, faced down the entrenched forces of American racism. Taking on the mantle of an athlete practically engraved in marble in the American consciousness was an obvious challenge. Yet, chiming with his Black Panther, Boseman somehow found a way to breathe life into an icon.
His background was in theatre and, prior to his casting in 42, he had considered giving up acting to direct full time for the stage. Boseman had grown up in Anderson, South Carolina, the son of a mother who was a nurse, and a father who managed a textile factory. He attended Howard University in Washington DC, where he was mentored by former Cosby show star Phylicia Rashad (she raised funds so he and several classmates could participate in a summer programme at the British American Drama Academy in London).
One of his final roles was as a Vietnam soldier in Spike Lee's Da 5 Bloods. In Lee's meditation on death, memory and the ghosts we can never leave behind, Boseman is heartbreaking as Squad Leader Stormin' Norm" Holloway, killed in action 50 years before the story takes up. His former squad – all old men now – are haunted by the memory of their old commander. And now the audience will share that introspection every time the camera cuts to Boseman, so imperious and charismatic taking his final bows.
Black Panther was not a perfect movie and, amid the occasionally wonky special effects and over-stuffed storyline, some of us initially failed to recognise the majesty of Boseman's performance. We felt he looked merely glum when, in fact, he was doing what so many actors refuse to and grappling seriously with this super-powered character and what he represented.
In the case of T'Challa, what he represented was difficult to overstate. Here was the first portrayal on screen of an African superhero. So a lot riding was riding on the results. And yet, Boseman never gave any sense of performing under pressure. And with Black Panther having taken up his place in the Marvel pantheon, it has become clear just how special his take was. Marvel may or may not recast the role – it's probably too early to say (a Black Panther 2 was greenlit straight after the original in 2018). But one thing is indisputable: no matter what happens, there will only ever truly be one true Black Panther just as there will only ever be one Chadwick Boseman.
Register for free to continue reading
Registration is a free and easy way to support our truly independent journalism
By registering, you will also enjoy limited access to Premium articles, exclusive newsletters, commenting, and virtual events with our leading journalists
Already have an account? sign in
Register for free to continue reading
Registration is a free and easy way to support our truly independent journalism
By registering, you will also enjoy limited access to Premium articles, exclusive newsletters, commenting, and virtual events with our leading journalists
Already have an account? sign in
Join our new commenting forum
Join thought-provoking conversations, follow other Independent readers and see their replies