Channing Tatum on Foxcatcher, Jupiter Ascending, and fatherhood
Channing Tatum has gone from beefcake to credible A-list star. But he still doesn't know how to act, he tells James Mottram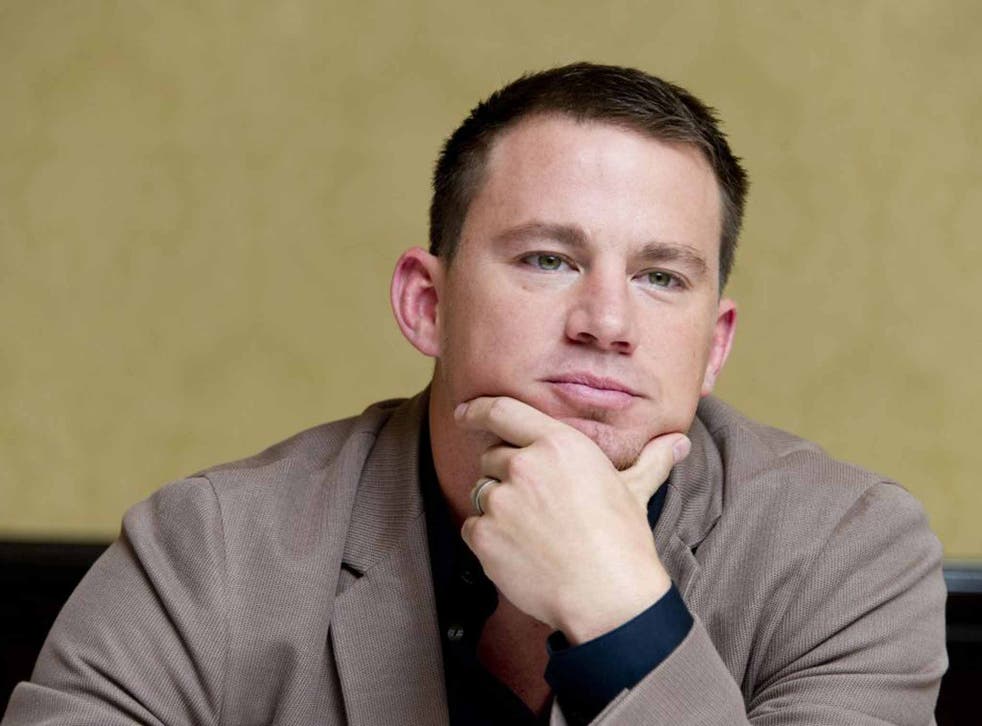 It's shortly after lunch when Channing Tatum saunters into the room. Practically glowing, his frame heavy-set and muscular, he's dressed in a beige suit and white shirt, with a small goatee and hair neatly clipped and combed. It's far removed from his movie attire: the baggy shorts and muscle T-shirts of 21 Jump Street, the military fatigues of Dear John or the G-string of Magic Mike. This is the clobber of a man flush with success.
So far, Tatum's story is the sort of life-trajectory tailored for the American Dream – from stripping to stardom. While most actors might try and hide that little nugget on the CV – he spent a year after high school at a Florida club, dancing under the name "Chan Crawford" – Tatum turned it into pure cinematic gold. Magic Mike, based on his own experiences, was made for $7m and took $167m around the globe.
"We made that in a different way than most people do movies," explains Tatum, who teamed up with Steven Soderbergh, his director on Haywire. "We talked about Magic Mike and we talked about my past and how I'd like to make it into a movie… He was like, 'I want to do it. I have this time slot available. But we're going to finance it, your buddy [Reid Carolin] is going to write it – and that's how it has to happen.' And I was like, 'Done!' I had no idea what that even meant! We just did it."
Produced by Tatum, the film reportedly netted him $40m (something he denies) and a sequel, Magic Mike XXL, will hit the screens this coming summer. More importantly, it turned Tatum into a major player. He'd already had hits – action vehicle G.I. Joe: The Rise of the Cobra and Dear John were both huge. But Magic Mike – one of three $100m-grossing films, alongside The Vow and 21 Jump Street, that came in the space of six months – was a phenomenon. "It was pretty special," he smiles.
Now Tatum is riding high on the crest of the A-list: People magazine dubbed him their Sexiest Man Alive, Vanity Fair put him on the cover and he got to voice Superman in The Lego Movie. Ever humble, he puts his success down to luck, determination and hard work. "I don't know how to do this," he says at one point, noting how all his training has come on-the-job. "Every single part is something different, and hopefully you're doing something different so it's not derivative of something you've done."
His latest role is in Foxcatcher, one of this season's prestige titles. It's already won Bennett Miller a Best Director trophy when it bowed in Cannes, while both of Tatum's co-stars, Steve Carell and Mark Ruffalo, have been nominated for Golden Globes. Tatum can arguably feel a tad unlucky not to be alongside them, though perhaps it's simply that short-sighted voters are more taken by the immediate transformations of his fellow actors – particularly Carell, who hides behind a prosthetic nose.
Based on a true story, Foxcatcher sees Tatum play Olympic wrestler Mark Schultz, whose twisted and tragic relationship with Carell's eccentric benefactor John E du Pont forms the heart of the film. Tatum grew up practising sports in high school – football, boxing, martial arts – but he never tried anything as gruelling as getting in the ring. "Wrestling is different," he says. "It's a culture more than it's a sport."
While the film is set in that world, it's not about sporting triumph, gold medals or a shot at glory. It's about power, wealth and privilege as Du Pont becomes increasingly controlling of the life of Schultz and his older brother Dave (Ruffalo), also an Olympic wrestler. "Mark will tell you that he always knew that Du Pont was evil in real life," says Tatum. "He has a little bit of discomfort with the story that we tell, but I don't know if we'll ever know the [full] truth."
Tatum spent time with Mark, studying everything from his gait to his underbite. It may not be as showstopping as Carell's turn – perhaps Tatum's physical prowess means some think playing a wrestler is no stretch – but it's a performance just as immersive in its own way. He can't even remember a scene where he walked naked through the set. "I just remember being on the scale," he shrugs. This was clearly no studio throwaway flick. "We weren't making a movie for the movie industry."
Access unlimited streaming of movies and TV shows with Amazon Prime Video Sign up now for a 30-day free trial
Sign up
After Foxcatcher comes the bizarre-looking Jupiter Ascending, the new sci-fi from the Wachowski siblings (The Matrix trilogy, Cloud Atlas). The plot is barmy – pure space opera, involving alien royal dynasties, youth serums and more camp clothing than a glam rock gig. Tatum plays Caine Wise, a pointy-eared, fang-toothed interplanetary warrior with a mix of wolf and human DNA whose job it is to inform Mila Kunis' earthling that her destiny lies beyond the stars.
With Caine charged with protecting Kunis' character Jupiter, Tatum spent most of the shoot listening to Kanye West's "Late Registration" to get into the right head space. He dug the Wachowskis, whose work seems to be getting more unhinged with every film. "They're artists' artists. And it's hard to be artists on that scale of a movie. You have to kowtow a little bit to what the masses want and they don't – they make movies for themselves and it's hard to do that."
Since completing both, Tatum has just wrapped Hail, Caesar! for the Coen Brothers, a 1950s-set comedy about a Hollywood fixer featuring Tatum's Jump Street co-star Jonah Hill among others. He also looks set to join the cast of Quentin Tarantino's post-Civil War Western, The Hateful Eight, alongside Tim Roth, Michael Madsen and Samuel L Jackson. Then there's the little matter of playing X-Men character Gambit in a stand-alone "origins" movie before joining the ensemble in a future instalment of the Marvel Comics' mutant blockbuster.
Somehow, though all this, Tatum hasn't gone off the rails. It helps that he doesn't take himself too seriously. In This Is the End, the Seth Rogen-scripted comedy that saw half of Young Hollywood play themselves, Tatum spent his cameo wearing a wrestling mask, on a leash and humping Danny McBride's leg. Meanwhile, he and his White House Down co-star Jamie Foxx conjured up a song and video for "(I Wanna) Channing All Over Your Tatum" – a sexually suggestive ditty that had its origins in an appearance on the Jimmy Fallon chat-show in the US.
Yet he's also, at 34, married and a young father. His wife is actress Jenna Dewan; they met on 2006 dance movie Step Up and have been inseparable ever since. "We wore 'promise' rings within the first year," he says. "We were already married in our heads and our hearts." Officially, they wed three years later, in Malibu. "I like saying 'my wife'. It feels good to me. I feel grown up." Tatum became a father to their baby daughter, Everly when he was filming Jupiter Ascending in May 2013 in London. "I don't want to be a controlling father," he says. "I know that's a dangerous weapon, in a way, to give children too much freedom. You have to let them live, you have to let them grow."
Sensitive and soulful, Tatum puts that down to his own upbringing, in Cullman, Alabama. It was from his mother Kay, an airline worker, and sister Paige, that he learned "what a man is through a woman's eyes". His parents split for a time and Tatum was raised by the two women in his life. "My sister was a huge part of my life. How she would see men was really clear to me. I got to see it through her eyes and understand what was expected from me, even from my sister."
As for his father Glenn, he was "a guy's guy" – a roofer who later sold building products. "I had an idea of what a man was from my father." Tatum was voted "most athletic" at high school, and later went to Glenville State College on a football scholarship – but dropped out. It was at this point he got the job stripping; his father only found out when Tatum told the story on Ellen DeGeneres' chat-show. Naturally, he blamed himself – a heartbreaker for Tatum. "I told him it had nothing to do with him."
Still, he must be fiercely proud of his son now – not least for his grass-roots attitude to work and life. For an actor who didn't even start until he was 25, making his first appearance in a Ricky Martin video, he is ready to do due diligence to his craft. "You just want to say words casually and not make it feel like words on a page," he says. It may be a simple philosophy – but so far it's worked rather well. µ
'Foxcatcher' opens on Friday. 'Jupiter Ascending' is released on 6 February
Register for free to continue reading
Registration is a free and easy way to support our truly independent journalism
By registering, you will also enjoy limited access to Premium articles, exclusive newsletters, commenting, and virtual events with our leading journalists
Already have an account? sign in
Register for free to continue reading
Registration is a free and easy way to support our truly independent journalism
By registering, you will also enjoy limited access to Premium articles, exclusive newsletters, commenting, and virtual events with our leading journalists
Already have an account? sign in
Join our new commenting forum
Join thought-provoking conversations, follow other Independent readers and see their replies