Chiwetel Ejiofor interview: 'I'm still not sure I feel like a movie star'
Acclaimed for '12 Years a Slave', Bafta winner, and mooted as the next Bond villain, Chiwetel Ejiofor is big box-office. But it's not going to his head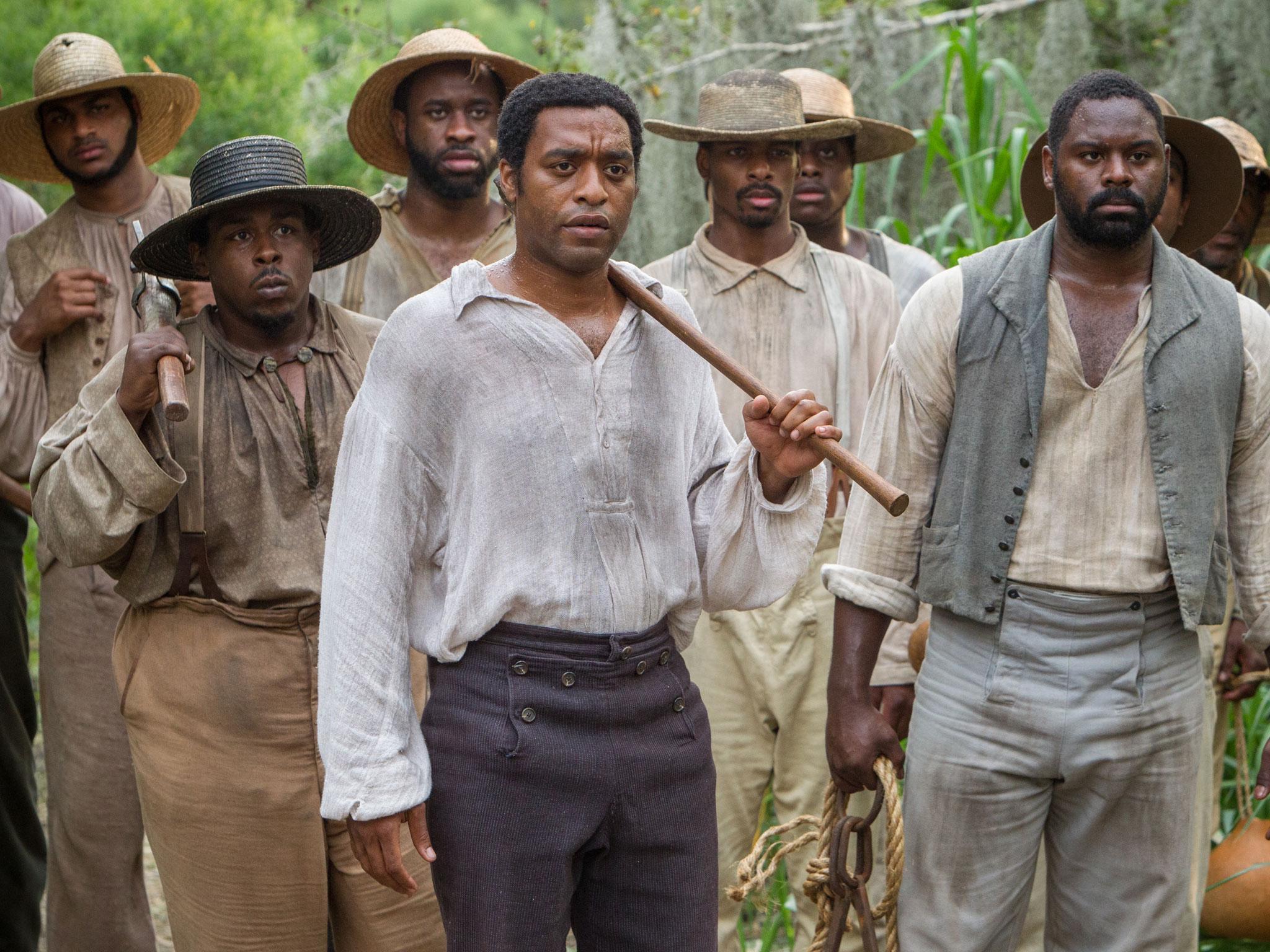 The man catapulted to Hollywood superstardom on the back of this year's Best Picture Oscar-winner 12 Years a Slave is a master of inscrutability.
An actor known for his extraordinary ability to convey endless layers of emotion in a single, quiet glance, off-screen he is peculiarly indecipherable, controlled, his face a closed book.
Unless he is talking about the Nigerian Civil War – the subject of his latest film, Half of a Yellow Sun, and a subject close to his heart – he answers with a determined politeness, segueing neatly wherever possible away from the emotional or anecdotal and into the professional.
"As a child, I was just never that interested in the lives of my favourite actors, like Cary Grant. I do wonder whether knowing too much about someone's personal life interrupts an audience's ability to suspend disbelief, to really invest in the characters. My preference would always be that people engage with the work."
He steadfastly refuses to talk about the Bond rumours too (Variety reported this week that he is in line to play the villain in the next Bond film, to be directed by Sam Mendes), though he is so very adamant about not discussing it, that it seems there must be something not to discuss.
"I don't want to talk about that." Does he have a favourite Bond villain? "I can't talk about that." That's not a denial then? A stern gaze.
12 Years A Slave film stills
Show all 10
Who can blame him? After steadily, solidly, building a very respectable career in Hollywood for years, and an even more acclaimed one back home in London's West End, this last year has seen a serious gear-shift for the 36-year-old.
There has been a surge of interest in his professional and personal life, including paparazzi snaps of him and his long-term girlfriend, the Canadian model, Sari Mercer, doing ordinary things like shopping, something he had not really experienced before (although he was "not surprised").
The moment Steve McQueen's brutal slavery epic 12 Years a Slave premiered at the Telluride and Toronto Film Festivals last year, Ejiofor was considered a shoo-in for the Best Actor Oscar nomination, and, by many, for the Oscar itself.
Access unlimited streaming of movies and TV shows with Amazon Prime Video
Sign up now for a 30-day free trial
Sign up
Access unlimited streaming of movies and TV shows with Amazon Prime Video
Sign up now for a 30-day free trial
Sign up
He lost, of course, to Matthew McConaughey for his portrayal of an entrepreneurial Aids victim in Dallas Buyers Club – an admirable performance, though for many still inferior to Ejiofor's towering embodiment of Solomon Northup, the kidnapped freeman sold into slavery.
"The Oscars night was great because Matthew and I hadn't seen each other since then, so we got to chat and catch up." Did they say anything about the award? "Well, yes, I said congratulations to him."
What did he say? "Oh, you know, I think he said something similar to me. Congratulations. It was a great performance he put in in Dallas Buyers Club, it really was. And it's not a competition..."
It is a competition, though, isn't it? I mean, someone has to win. "Well, it all depends on how  you look at it." He did, however, walk away with the Bafta several weeks earlier, of which he is  enormously proud.
It's strange, given how reluctant Ejiofor seems to talk about himself, that his next project relates so strongly to his family background and the major events that have shaped his life.
Half of a Yellow Sun, a beautifully shot romantic drama with the quiet elegance of a Merchant Ivory film, is based on the book by Nigerian author Chimamanda Ngozi Adichie, which won the Orange Prize for Fiction in 2007.
It is set during the Nigerian Civil War, or Biafran War, which took place during 1967 and 1970, seven years after the end of British colonial rule, as south-eastern Nigerian provinces tried to break off to form the Republic of Biafra.
Ejiofor plays a revolutionary professor, Odenigbo, who is caught up in the war along with English-educated twin sisters, idealistic Olanna (Thandie Newton) and business-minded Kainene (Anika Noni Rose). They are Igbo, one of the largest ethnic groups in Africa, millions of whom were massacred in the conflict.
Ejiofor's own family hails from Nigeria, although he grew up in London after his parents fled Africa in the Sixties.
"My grandparents were about the same age as the characters in the book and film during the war. My grandfather is very similar in some ways to Odenigbo. He was an Igbo accountant, they were both professionals, both fleeing from village to village when the Nigerian forces tried to crush Biafra."
He talked to his grandfather for hours about his experiences. "He hadn't talked about it for years before that, which might be because it felt so traumatic. Then again, it's sort of normalised because everyone of a certain age there went through a similar thing. At the time [C. Odumegwu] Ojukwu, the leader of the Biafran military forces, lived down the road from my grandfather. I met him. They had all lost people. But they are trying to move on."
When the Nigerian-born playwright and novelist Biyi Bandele, a friend of Ejiofor, decided to adapt and direct Half of a Yellow Sun, Ejiofor jumped at the chance to be involved.
The film has "connective tissue" with 12 Years, he adds. "The last day on set in Nigeria I went to the slavery museum in Calabar, the port city where lots of slaves left the African continent. The next day I headed off to New Orleans for pre-production on 12 Years. It was pretty strange, that juxtaposition, and fascinating, in a horrible way, to think that that was the journey many of Solomon's peers took."
Ejiofor has a complicated relationship with his homeland: beyond historic tragedy, there is a personal one too. When he was young his family returned regularly to Nigeria on holiday. "Friends at school were always quite shocked that we holidayed in Nigeria, but it was all pretty middle-class really." It was there, when back for a family wedding, that his father, Arinze, died suddenly in a car accident, aged 39.
Ejiofor was just 11 and in the car when it happened. He was in a coma for 10 weeks. When he came to he was informed that his father was dead. "It was all a blur. After that I didn't visit Nigeria again for four years. I think I came to associate it with dad's death. But then when I was 19, I travelled round from Accra to Lagos, on my own, and my perception of the country changed again."
He hesitates when talking about his father, a musician who retrained in medicine when the family relocated to the UK, though he "knew that doing the film would mean talking about the family."
He beams with pride at the mention of a comment his mother made saying that he is the most similar of her four children to their father, independent and artistic. Indeed, recent activity seems to suggest Ejiofor is keener than ever to explore his heritage.
Months before he agreed to do Half of a Yellow Sun he spent time in Nigeria, talking to family members and friends of his father, trying to piece together memories of his father's life "I have an evolving relationship with my father, and his memory, especially the older I get. I know that some of the things that interested him are things that interest me. I think... I think he'd be proud of the work that I do."
Ejiofor's own childhood was spent in Crystal Palace, south-east London.
Arinze, before his death, and his wife, Obiajulu, a pharmacist, worked all hours to send the children to private school. "Chiwe" joined his brother at the prestigious Dulwich College.
It was after the accident that he threw himself into acting, reading Shakespeare sonnets (his father's favourites) at home in the evenings and playing Angelo in Measure for Measure. The National Youth Theatre followed at 17, and then a scholarship to London Academy of Music and Dramatic Art, which he left after three months for Amistad.
He might only just have become a household name – "I'm still not sure I feel like a movie star" – but his awards cabinet is already chock-a-block, even without the Oscar.
He won Best Actor at the British Independent Film Awards playing a Nigerian doctor opposite Audrey Tautou in Stephen Frears's 2002 thriller Dirty Pretty Things (Frears called him "phenomenal") and a Laurence Olivier Award for his praised lead in Michael Grandage's Othello at the Donmar Warehouse in 2008.
An OBE followed shortly after. He also has five Golden Globe nominations, one as a drag queen in Kinky Boots, and countless others on stage and screen. Indeed, once you start looking you find him everywhere.
He has been married to Keira Knightley in Love Actually, been an immigrants' rights activist in Children of Men, and an American geologist in the blockbuster disaster movie 2012.
He has rubbed shoulders with Angelina Jolie in Salt, and his performances in thrillers Inside Man and American Gangster were so good they led Denzel Washington, who was in both, to joke that he'd like to have him assassinated.
Next up is Z for Zachariah, a dystopian piece starring Chris Pine and Wolf of Wall Street star Margot Robbie, in which Ejiofor plays Loomis, a cold, calculating scientist.
It is this that 007 fans may look to to try and predict what kind of Bond baddie he might make. He certainly has the capacity for the sort of icy cool that would give Daniel Craig's Bond a run for his money, as evidenced by his great turn in Joss Whedon's 2005 sci-fi flick Serenity, as a black-ops agent so dispassionate he forces his victims to commit suicide by falling on their swords, quite literally.
Ejiofor's greatest strength, one of his former directors, Stephen Poliakoff, once said of him, is in his capacity for "stillness".
"I think nearly all great leading actors are still," Poliakoff, who directed Ejiofor in last year's BBC drama Dancing on the Edge, once commented. 'They don't fidget, they don't over-emote. Chiwetel has that to a  wonderful degree."
These days he has mostly decamped to Los Angeles with Sari, although he still keeps a flat in London, and a houseboat.
Along with his brother, who works in fashion, he has one sister who lives in the US, and is a reporter for CNN (she broke down in tears live on TV back when his Oscar nomination was announced) and another, a doctor.
He doesn't really mind the paparazzi intrusion he insists. "Although I should probably chat to my sister more about how the media works!" And anyway, it's more than outweighed by the benefits: "The biggest change since 12 Years has been work-wise really. I feel that I don't have to wait around for good scripts anymore, that I can get things moving more quickly. I can ring up directors I like and say I'm keen to work with them, which is pretty great."
Like Sam Mendes? "I couldn't say."
'Half of a Yellow Sun' is on nationwide release
Join our commenting forum
Join thought-provoking conversations, follow other Independent readers and see their replies