Cillian Murphy: 'My foot's in the door... I hang out with musicians
Cillian Murphy menaces in a new drama, but has plans... Holly Williams met him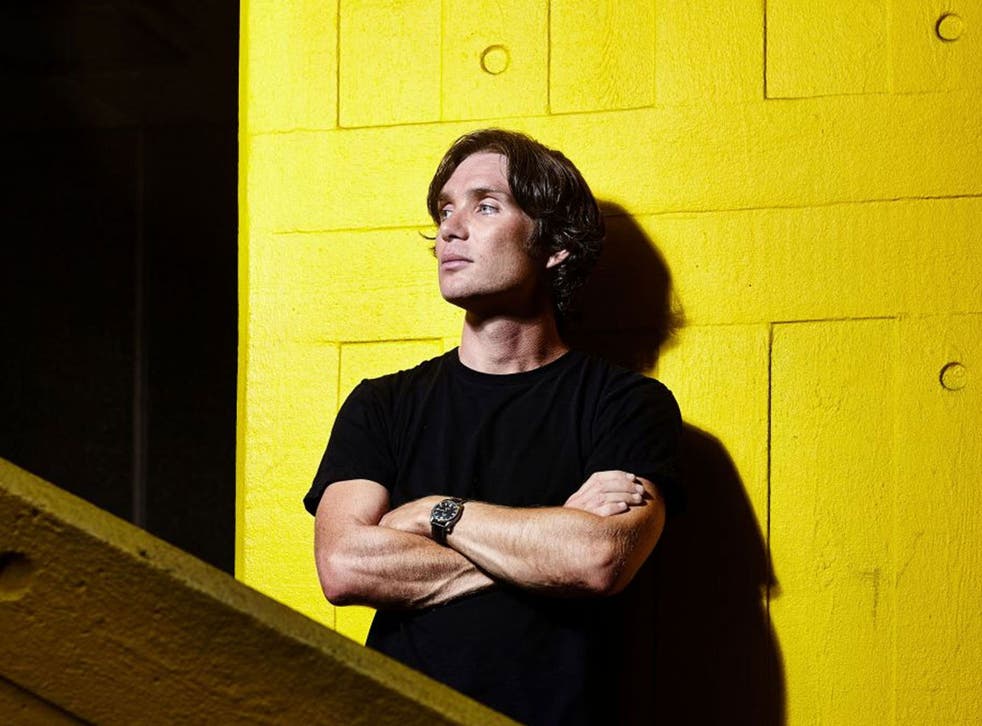 We are living – so the story goes – in a golden age of television: long-form narratives sprawl and stretch over six, 12, 20 episodes, allowing ambiguity, nuance, subtle character development. Bigger budgets mean better production values, and hip soundtracks are de rigueur. From HBO big hitters to Scandi noir to British grime drama, television is the medium of the moment.
So mused Cillian Murphy to himself one day. His next thought was, "Why don't I ever get sent any [television] scripts?" Good question: after all, at 37 he's lit up the big screen in smart science-fictions such as Christopher Nolan's Batman movies and Inception, and Danny Boyle's Sunshine and 28 Days Later. He's done his time on indie movies, playing everything from a charming trans woman in Breakfast on Pluto to a 1920s IRA fighter in Ken Loach's The Wind That Shakes the Barley. Then there's the stage career – a lucky break in Enda Walsh's 1996 hit play Disco Pigs kick-started not only his career, but also another fertile, frequent collaboration; Murphy performed Walsh's one-man show Misterman recently, and will star in his new play, Ballyturk, next year.
But television never came a-knockin'. Fortunately, he has "a very good agent", and the next day two episodes of Peaky Blinders landed on the mat. Now we're meeting, many months later, to discuss the six-part BBC2 show. "The title made no sense to me whatsoever," – us neither, Cillian – "but [the scripts] were so compelling and confident, and the character was so rich and complex, layered and contradictory. I was like, 'I have to do this.'"
The Peaky Blinders are a family of gangsters. Murphy plays their smart, scheming, if troubled, young leader – running black markets on the mean streets of Birmingham in 1919. The name is one a real gang went by, sewing razor blades into their caps – all the better to slash your foes with – and the drama is based on accounts from Brummie screenwriter Steven Knight's extended family. Making his television debut too (after scripting the films Eastern Promises and Dirty Pretty Things), Knight puts his home town on the small screen with élan.
From the opening scene, Murphy riding into town on horseback, the show nods its peaked caps to classic Western and gangster movies. The soundtrack's by Nick Cave and The White Stripes (sounds token; totally works). As Murphy suggests, Peaky Blinders makes an inter-war, period drama about working-class Birmingham "cool and sophisticated and stylish". But there are also thorny issues in the mix: Birmingham is a seething stew of sharp-dressing gangsters, communist revolutionaries, and IRA sympathisers, all grappling with the legacies of the First World War – the brutalised and traumatised returning men, and the emancipation of women. "It was an explosive time," insists Murphy.
Acting alongside Helen McCrory and Sam Neill, Murphy is all simmering menace, a gleeful violent streak barely concealed beneath a chilly surface. He often plays the bad guy, although rarely your straightforward villain. Murphy's more interested in anti-heroes: "Damaged people that have weaknesses and secrets and problems and jealousy and spite and love and hate – that's humanity." Usually a coolly measured speaker, he's rattling away now. "Ambiguity is the thing that appeals to me."
As he crosses television, theatre and film, each "informs" the other, he observes. Murphy talks warmly of the "vitality" of live theatre, although he confesses that Misterman was also exhausting: "I was a broke man by the end of it, I was. It was an hour and a half of lepping around!" He slips into dialect; hailing from Cork, Murphy still considers himself Irish, despite having lived in London for over a decade with his wife, Yvonne, an artist, and now their two sons. He adds that, in theatre, you get to act with your body, whereas "film acting is a lot about the eyes". Ah yes, Cillian Murphy's eyes … well, no more ink need be spilled on those famous baby-blues; there are whole websites devoted to that sort of thing, and dwelling risks descent into swoony incoherence ....
Back to the movies: coming up are Ron Howard's In the Heart of the Sea – "basically the true story that Melville based Moby Dick on, this ship sunk by an angry whale" – and Transcendence, the directorial debut of cinematographer Wally Pfister. Co-starring Johnny Depp, it's another artificial-intelligence, sci-fi story. "I like conceptual films. You go, wow – I'd like to get involved in that big idea. They don't always succeed," – micro-pause, as we both perhaps contemplate In Time – "but I'm curious about them."
Even in futuristic or fantastical worlds, Murphy has a skill in making his characters flawed and human. He deflects the credit: "That's what Chris Nolan did. Those comic book worlds – he dragged them back down to reality, gave the characters real issues." But even as a fan, on the subject of reinvented super-heroes, Murphy is lightly sardonic: "I'm afraid now, we must be running out. Surely…."
Access unlimited streaming of movies and TV shows with Amazon Prime Video Sign up now for a 30-day free trial
Sign up
Murphy also stepped behind the camera recently, directing a music video for the band Money. Having previously fronted bands himself, he's still into his music: "Simon Raymonde who runs the label [Bella Union] would send me stuff, and this song ["Hold Me Forever"] just really hit me." The video features English National Ballet dancers performing at the Old Vic theatre to Mancunian rock: how's that for cross-curricular?
He has vague plans to direct a feature film – if he ever found the right material – but for now Murphy wouldn't mind doing a few more music vids, in that spirit of collaboration. "It's a way to keep my foot in the door and hang out with musicians …. There's no monetary gain, it's just, 'I like what you do and you like what I do – so let's make something.'"
'Peaky Blinders' begins on Thursday at 9pm, BBC2
Register for free to continue reading
Registration is a free and easy way to support our truly independent journalism
By registering, you will also enjoy limited access to Premium articles, exclusive newsletters, commenting, and virtual events with our leading journalists
Already have an account? sign in
Register for free to continue reading
Registration is a free and easy way to support our truly independent journalism
By registering, you will also enjoy limited access to Premium articles, exclusive newsletters, commenting, and virtual events with our leading journalists
Already have an account? sign in
Join our new commenting forum
Join thought-provoking conversations, follow other Independent readers and see their replies