Creed and the secrets of a male tear-jerker: From Field of Dreams to Good Will Hunting
'Rocky' spin-off 'Creed' has grown men weeping in the aisles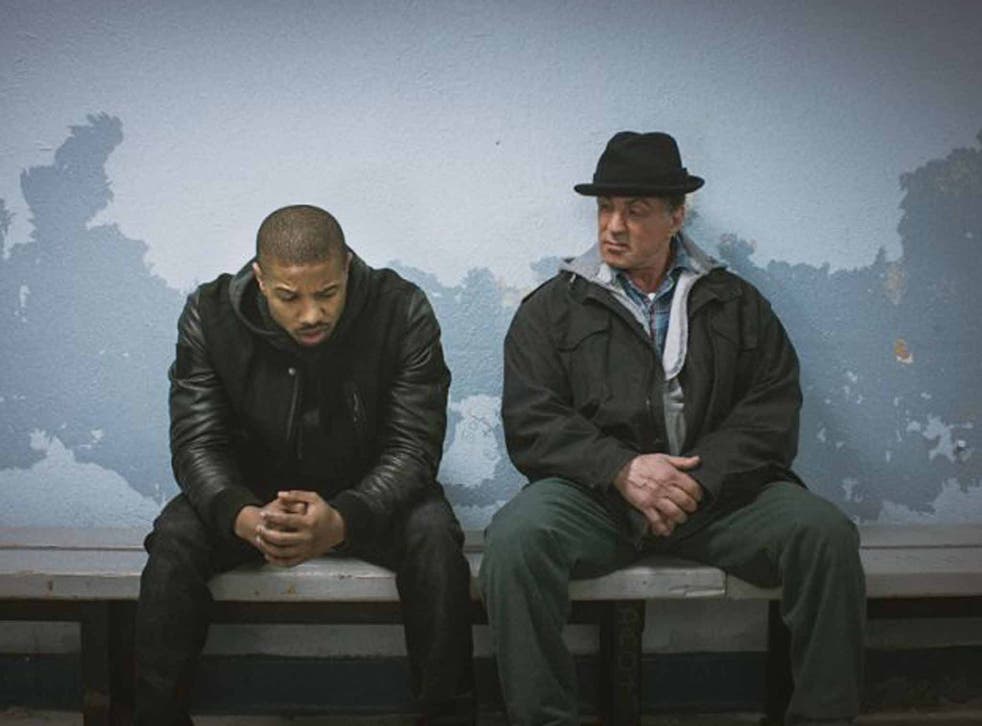 There is a moment towards the end of the new Rocky movie, Creed, when the film's young hero, Adonis, the illegitimate son of Rocky Balboa's greatest ring opponent, Apollo Creed, explains to his older mentor why he's in the ring.
Haltingly he tells Rocky, the former icon turned melancholy old-timer who has given everything to get the kid to this point, that this is more than just another boxing match, more than a chance to make his name or step out from the long shadow cast by his famous father. Adonis Creed. Raised in foster homes in Los Angeles he is fighting, he tells Rocky, to prove that he "wasn't a mistake".
It's a moment that has been devastating audiences across America, where the film has been hailed as a cathartic tour de force. And no wonder – Creed is both a smart, fresh take on an old story and a genuine male weepie.
That's more rare than you might think. When we think of weepies – those expertly judged heartstring-tuggers, aimed at making you bawl in the quiet darkness of the cinema and, come the credits, a hasty trip to the bathroom to wipe away all traces of suffering – it tends to be female-friendly films.
They are the stories of friendships torn apart by sickness in which reconciliation comes late on a deathbed – the plotline of films from Bette Midler's 1988 classic Beaches to last year's Miss You Already, in which Drew Barrymore and Toni Collette play best friends whose lives are torn apart when one of them is diagnosed with cancer; the three-hanky melodramas about love longed for and lost, such as Douglas Sirk's 1955 classic All That Heaven Allows (itself the inspiration for Todd Haynes' magnificent 2002 homage, Far from Heaven); and the love stories that span continents and lifetimes, from David Lean's swoon-inducing Dr Zhivago (1965) to the 2004 heart-breaker The Notebook, in which an elderly man tells his dementia-suffering wife the story of their passionate romance.
Yet the male weepie, or "guy-cry" as it is sometimes known in the US, is a genre in its own right. These are the tales of triumph in the face of adversity, of sporting everymen granted a day of glory, of friendships forged in the most unlikely of places, lonely sons searching for their lost fathers and grizzled mentors coming through for initially ungrateful protégés.
They are often – but not always – sports movies: think of the first two Rocky films with their focus on the underdog and the impossible comeback; Kevin Costner's emotional baseball tale, 1989's Field of Dreams (memorably, if somewhat unfairly, described by Time magazine's critic as "the male weepie at its wussiest") or 1971's Brian's Song which hews closest to the traditional weepie format, being the story of two friends (James Caan and Billy Dee Williams) who have to cope when one is diagnosed with cancer. Being a male weepie, the cancer sufferer is also a professional football player (the story is based on the real life experiences of Chicago Bears players Brian Piccolo and Gale Sayers).
Male weepies are often hyper masculine films in which a man has to do what a man has to do, usually while uttering as few words as possible. Thus Gladiator (2000) is as much about the grief driving Maximus Decimus Meridius as it is about his desire for vengeance. The film's most emotional scene comes as Djimon Hounsou's fellow gladiator Juba visits the Colosseum to bury the dead Maximus's figurines of his wife and child in the spot where he fell.
Similarly much of Clint Eastwood's directing career could be described as a homage to the male weepie, from 1993's A Perfect World – in which Kevin Costner (whose combination of rugged masculinity and suppressed sensitivity makes him the ultimate male weepie star) befriends his young kidnap victim while on the run from the Texas police – to 2004's boxing picture Million Dollar Baby, which, as critic Tania Modleski argued, is "not really about [Hilary Swank's] female boxer… but about [Eastwood's grizzled trainer] Frankie and the losses he has incurred in his life". We mustn't forget recent emotive war movies Flags of Our Fathers and Letters from Two Jima (both 2006), 2009's Invictus which turned the tale of South Africa's 1995 Rugby World Cup win into an exercise in tugged heart-strings, and the upcoming Sully, which charts the quiet heroism of Chesley Sullenberger, the pilot who made headlines in 2009 after he successfully landed a plane on New York's Hudson River.
Eastwood is particularly good at the mentor-versus-protégé component of the male weepie, a theme that also drives much of the most emotional moments of Creed, where Michael B Jordan's young, raw Adonis learns from Sylvester Stallone's initially tired and disillusioned Rocky in a relationship that deliberately echoes that between the young, brash Rocky and Burgess Meredith's Mickey in the earlier films.
A similar narrative underpins both 1997's sobfest Good Will Hunting, in which Matt Damon's troubled maths prodigy makes peace with his demons, thanks to his relationship with an equally troubled therapist (Robin Williams) and 2002's Antwone Fisher, in which Derek Luke's angry young seaman learns how to move on from his past, thanks to psychiatrist Denzel Washington. Even 1995's Babe, in which our pig out of water finally learns to herd sheep and earns the praise of Farmer Hoggett in the process, can be seen as a classic male weepie: trust me, James Cromwell's pitch-perfect delivery of the phrase "That'll do, pig" is capable of turning the strongest of men into blubbering wrecks.
Not every male weepie is about overcoming impossible odds. Toy Story 3 (2010) hits the mark because it's a story about putting away childish things, while rare is the man who remains unmoved by the climax of 1989's Dead Poets Society, in which the film's lost boys stand on their desks and chant "Oh Captain, My Captain" to departing mentor (Williams again).
Boyz n the Hood (1991), meanwhile, tackles themes of masculinity, friendship and identity in late-Eighties South Central LA and remains notorious for its devastating closing moments when Ice Cube's Doughboy asks why America "don't know, don't show, or don't care about what's going on in the Hood".
Then there's Alexander Payne, who like Eastwood is something of a master at the genre. From 2004's Sideways to 2013's Nebraska, Payne is the great chronicler of the middle-aged man in crisis, whether it's George Clooney's character's sad acknowledgment of his failures as a father in The Descendants (2011) or Warren Schmidt's (Jack Nicholson) raging against the dying day in About Schmidt (2002). Payne's films might be funny but they're ultimately aiming to put that lump in your throat.
It's that combination that Creed's talented director and writer, Ryan Coogler, understands so well. A good weepie makes you smile through the tears, regardless of gender, genre or generation. Creed is the best male weepie in years because it plays fair: it sets out to tell a tale of redemption against the odds and it delivers. No wonder it's causing oceans of tears to be shed.
'Creed' opens in UK cinemas on 15 January.
Join our new commenting forum
Join thought-provoking conversations, follow other Independent readers and see their replies