Deadpan but alive to the future: Buster Keaton the revolutionary
Buster Keaton wasn't just a born star – he was a revolutionary film-maker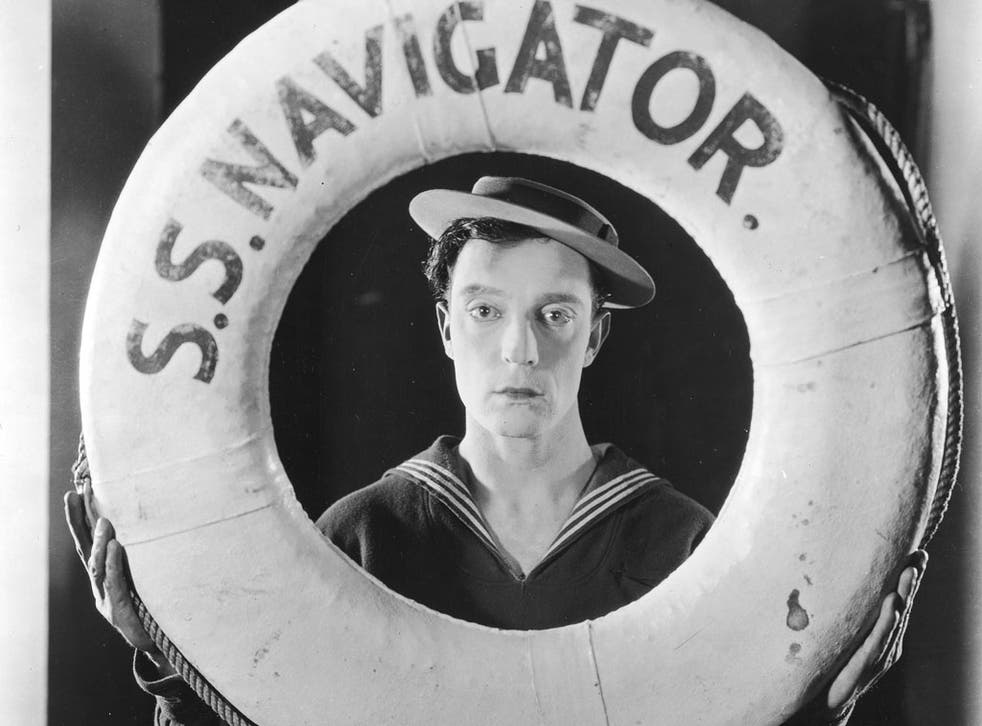 Joseph "Buster" Keaton was a born performer – almost literally. His parents were in a touring vaudeville show with Harry Houdini when he came into the world in 1895, and he joined the family's act at the age of three. When he made the leap to the movies as a 21-year-old veteran, he could have stuck with the acrobatic pratfalls and deadpan glances he'd already mastered, and would still have been remembered as one of silent cinema's supreme talents.
But what marks him out from his two great rivals, Charlie Chaplin and Harold Lloyd, is what he did instead. Refusing to rely on his rubber body and stony face to conquer Hollywood, Keaton pushed back the boundaries of film-making itself. As Kevin Brownlow writes in his history of the silent era, The Parade's Gone By, "Buster Keaton was probably the best comedy director in the business. Chaplin's use of film was pedestrian by comparison."
Go along to the BFI's Keaton season, running for the next two months, and you'll see what Brownlow means. In 1924's Sherlock Jr., for instance, Keaton stars as a cinema projectionist who dreams that he's stepping into the action on screen. The scene keeps changing, from a garden to a city street to a cliff-edge to a jungle, but the bemused Buster is always in the middle of it – and all without recourse to a green screen or CGI. Keaton shot each snippet on location, using surveyors' instruments to ensure that he was precisely the same distance from the camera each time, before editing the snippets into one seamless set-piece. He may have been a peerless stage entertainer, but his most brilliant and experimental work was pure cinema, and could only have been achieved on celluloid.
Keaton was brought into the film industry by Roscoe "Fatty" Arbuckle, a star comedian he met on moving to New York in 1917. His job description was co-star and joke-writer, but Keaton wasn't going to stop there. "First thing I did was ask a thousand questions about the camera, then I went into the projection room to see things cut. It just fascinated me," he recalled. As a boy, Keaton had hoped to become a civil engineer. As a middle-aged man, he had a toy train set deliver sandwiches to picnicking guests at his California home. And a film studio, as Orson Welles observed, was the biggest electric train set a boy could ever hope to play with.
When Keaton moved on to making his own films, they fizzed with ambition and a cartoonish surrealism that contrasted with the more naturalistic antics of Chaplin and Lloyd. Consider, for example, the house that spins on its axis in One Week (1920), the stop-motion dinosaur in Three Ages (1923), and the sword-fight with a swordfish in The Navigator (1924). Incidentally, Keaton himself wore the deep-sea diver's outfit during this astounding underwater sequence, even though, with his face obscured by the helmet, he could easily have hired someone else to take the plunge.
You can find more evidence of his cinematic thinking in the sheer scale of his films. In the climax of Seven Chances (1925), Buster is chased through the streets of Los Angeles by 500 would-be brides, then down a hillside by 1,500 rocks and boulders. In The General, in 1926, he topples a real steam train from a burning bridge into a river – the most expensive shot of the entire silent era.
Disastrously, Keaton signed to MGM the following year, surrendering his independence at a stroke. Suddenly, he was being told what to do by the studio's producers, directors and writers. What's more, he was no longer allowed to perform his own stunts. Aged 32, his days as a groundbreaking director were over.
Depression and alcoholism followed, and at 37, Keaton was fired by MGM, only to be rehired on a meagre salary to devise gags for the Marx Brothers and Abbott and Costello – stars indifferent to anything in their films beyond their own performance. "That used to get my goat," Keaton grumbled later, "because, by God, when we made pictures, we ate, slept and dreamt 'em".
Eventually, his oeuvre was re-evaluated. Orson Welles called The General "perhaps the greatest film ever made", and in 1958 Keaton was awarded an honorary Oscar. He also enjoyed a long and happy third marriage, and a semi-retirement made comfortable by television adverts and variety-show appearances. All the same, it's hard not to wince at the thought of what else this astonishing innovator might have achieved had he been permitted. As well as featuring Keaton's films, the BFI season includes a number of later cinema classics that reflect his sensibility, from Woody Allen's Zelig to Aki Kaurismaki's Take Care of Your Scarf, Tatiana. Maybe in these we can glimpse a few faint reflections of the masterpieces that could and should have been.
'Buster Keaton and the Cinema of Today' runs at the BFI Southbank until 26 Feb. 'The General' is re-issued nationwide on 24 Jan
Join our new commenting forum
Join thought-provoking conversations, follow other Independent readers and see their replies