Dial 'D' for disaster: The fall of New Line Cinema
From 'Nightmare on Elm Street' to 'Lord of the Rings', New Line Cinema created some of Hollywood's most influential blockbusters. But now its 40-year history is in tatters following a string of big-budget box-office flops. Andrew Gumbel charts the unlikely rise and fall of a Tinseltown institution, while Tim Walker identifies the films that did the damage
Wednesday 16 April 2008 00:00 BST
Comments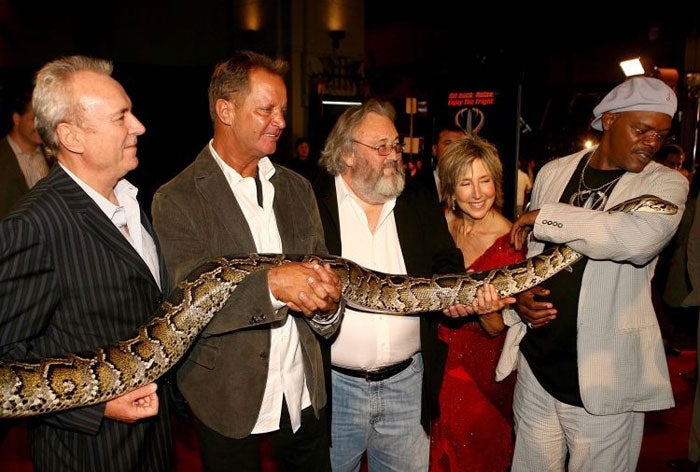 Bob Shaye may well be the last of the old-style Hollywood studio chiefs, the kind of guy who got into movies because he loved them in all their stinking imperfection and glory, not just because he saw them as a pathway to glamour or profit.
If nothing else, he'll go down in movie history as the man who was crazy enough to gamble $200m and green-light all three Lord of the Rings movies in one go – a decision that looked like a stroke of genius when all was said and done, but might also have hinted at the dangerous gambler's streak that has now finished him off for good.
Nothing in Hollywood lasts for ever, of course, but the tale of his studio New Line's dramatic rise and fall is one of those chronicles of folly, inspiration, luck, hubris and occasional genius that only a business as crazy as the movies could generate.
It has been barely four years since The Return of the King, the final part of the Lord of the Rings saga, walked off with 11 Oscars, the biggest success story in Hollywood since Titanic. Now, though, New Line has effectively been shuttered and readied for the wrecking ball. Back in February, Warner Brothers announced that it was absorbing New Line into its big-studio fold and kicking out Shaye and the man who co-founded the company with him, Michael Lynne. Yesterday, the demolition began in earnest as 450 of New Line's 600 staff were told they would lose their jobs by June. Only 40 or 50 of the rest were offered new positions within the Time Warner empire.
It's not quite all over. New Line still holds the rights to one sure-fire winner, if such a thing can exist in the movies – JRR Tolkien's The Hobbit, which is likely to be made into at least one film, perhaps two, with Peter Jackson, director of the Lord of the Rings trilogy, supervising the production, if not necessarily directing himself.
What is dead and gone, however, is the spirit of independence and countercultural rebellion Shaye fostered, whether he was developing low-budget horror movies like The Evil Dead or Nightmare on Elm Street, or taking the profits from those and ploughing them into bold, cutting-edge art films like Robert Altman's Short Cuts or Paul Thomas Anderson's Boogie Nights.
Some of that spirit has been snuffed out by the growing corporatisation of Hollywood and the hijacking of the movies by mega-corporations interested chiefly in marketable product they can pump through multiple distribution channels, from pay-per-view cable to McDonald's Happy Meals. Some of that spirit, though, was lost because Shaye and his closest collaborators became too rich and comfortable, and because of a string of fatefully bad decisions and needless conflicts.
The beginning of the end arguably came in the summer of 2005, when Shaye caught a near-fatal infection and spent six weeks in a coma. His company was at a crossroads – again. Plans to get The Hobbit up and running were stalled by a nasty financial dispute that prompted Jackson to sue New Line for access to the accounting records of the Lord of the Rings films. Shaye had also been fighting with Brett Ratner, the director of the lucrative Rush Hour movies, over profit-sharing from the third instalment of that series.
Emboldened by the success of the Harry Potter films (nurtured by its parent, Warner Brothers) New Line was also charging ahead with the first film adaptation of Philip Pullman's His Dark Materials trilogy. The company was toying with other blockbuster ideas, too, among them a mega-budget thriller featuring a prehistoric shark re-emerging out of the deep on which it was spending millions in development.
Access unlimited streaming of movies and TV shows with Amazon Prime Video
Sign up now for a 30-day free trial
Sign up
Access unlimited streaming of movies and TV shows with Amazon Prime Video
Sign up now for a 30-day free trial
Sign up
New Line had scored big with a couple of modestly budgeted comedies, the Will Ferrell children's vehicle Elf and the adult-slacker sex comedy Wedding Crashers, but the pressure was clearly on to come up with another blockbuster success.
When Shaye recovered, he could have turned his attention to any one of these issues, or kept a close eye on the slate of lower-profile new titles being prepared by his production chief, Toby Emmerich. But he had entirely another idea in mind. Emmerich, who had started in Hollywood as a screenwriter, had adapted a children's book called The Last Mimzy, and Shaye decided he fancied a chance to direct.
It was the ultimate vanity project, reminiscent of David O Selznick's self-scripted folly The Paradine Case in the 1940s (but Selznick had the sense to hire Ben Hecht as rewrite man and Alfred Hitchcock as director). The studio showed none of its usual budgeting restraint and then, when it became clear that it might be a hard sell, spent tens of millions of dollars on marketing to try to rescue the pride of its makers on opening weekend. The whole thing was an unmitigated disaster, and the film sank almost without trace.
Further disasters followed, none more so than the release of the first Pullman adaptation, The Golden Compass, which could – and perhaps should – have been the cherry on the cake to celebrate New Line's 40th anniversary in business.
The Golden Compass seemed such a certain winner that New Line spent more than $200m on it, more than it had spent on all three Lord of the Rings films; more, indeed, than it had ever spent on any project. At an anniversary celebration for New Line at the New York Film Festival last September, Nicole Kidman, the star of The Golden Compass, glided down the red carpet at the Lincoln Center as a gospel choir broke into a number from another New Line blockbuster that wasn't, the musical adaptation of John Waters's Hairspray.
Anyone looking for clues to the looming screw-up might have noted ominous signs, including the absence at the celebration of either Jackson or anybody from the Rings cast. But when The Golden Compass hit American screens a couple of months later, the nightmare began in earnest.
The Catholic League complained that it was hostile to religion. Fans of the book, meanwhile, complained that too much of its antireligious tone had been excised. The upshot was a dismal US box-office performance for a film of its size and visibility – just $70m. New Line might have been bailed out by receipts outside the US, where the film performed well enough, but it made the fateful decision to pre-sell the foreign rights, in part to offset the monstrous production costs, and lost any chance of turning a profit to overseas distributors who kept their tidy earnings all to themselves.
The rest of New Line, meanwhile, was manifestly losing its way and arguably had been ever since the departure of its talented young production chief Mike DeLuca, who joined Dreamworks in 2003. Emmerich, who took over from DeLuca, did not command anywhere near the same respect and did not have the same feel for comedy (DeLuca had shepherded Austin Powers, among other successes) or for New Line's tradition of low-budget horror. A Samuel L Jackson vehicle greenlighted by Emmerich, Snakes on a Plane, was a flop, as was the Jack Black musical comedy Tenacious D. Hard on the heels of the Compass fiasco came a Will Ferrell basketball movie called Semi-Pro, which curled up and died.
Shaye knew the writing was on the wall. He knew that his contract, now at the discretion of his Time Warner overlords, was up for renewal or cancellation in 2008. He knew he didn't have a lot of cards left to play. He did what he could – rushing his dispute with Peter Jackson to a hasty conclusion last December, for a settlement figure neither party has disclosed, and opening at least the possibility of a Hobbit movie some time in the next three years.
That, though, was not nearly enough. In the past, when he'd run right up against the wall, Shaye had always managed some struck of luck or another. In the mid-1990s, when the company lost more than a $100m in a single quarter thanks to the failure of such titles as The Long Kiss Goodnight, Last Man Standing and The Island of Dr Moreau, it was Mike Myers and Austin Powers who came to the rescue (thanks initially to home video sales, not cinema box-office). In 2001, the opening of the Lord of the Rings trilogy came in the nick of time to erase memories of the Warren Beatty flop Town and Country and Adam Sandler's hardly less calamitous Little Nicky.
Just because Shaye's luck has now run out doesn't mean he won't go down as one of the true pioneers of contemporary Hollywood. Most histories of the movies point to Miramax and the Weinstein brothers as the most significant embodiment of independent film-making in the 1980s and 1990s, not least because of their streetwise hustle and ability to move between lucrative commercial fare and prestige Oscar material. But the Weinsteins would not have been possible without the trail already blazed by Shaye and Lynne, who started out as role models and then, inevitably, became bitter business rivals embracing remarkably intertwined histories.
When he co-founded New Line Cinema 41 years ago, Shaye was a hippie caught up in the French New Wave who dreamt of bringing Jean-Luc Godard to American audiences and, perhaps more important, bringing Godard's restless, inquisitive, taboo-breaking spirit to American film-making. He and Lynne operated, at first, from a fifth-floor walk-up apartment above a bar in New York's Greenwich Village, promoting the 1930s exploitation classic Reefer Madness on college campuses and distributing Godard's documentary on the Rolling Stones, Sympathy for the Devil.
In 1971, Shaye took a risk on an obscure underground film-maker from Baltimore called John Waters and threw money at a project about the filthiest people alive, including a notorious dog excrement-eating scene featuring Waters's transvestite friend Divine. The film, Pink Flamingos, garnered a bucketful of attention and launched the careers of both men.
Low-budget horror saw him through much of the next decade or so: first The Texas Chain Saw Massacre, then Night of the Living Dead and the dizzyingly successful Nightmare on Elm Street series. Many people, to this day, refer to New Line as the house Freddy Krueger built.
By the early 1990s, New Line – and its artsy offshoot Fine Line – were regarded as one place in Hollywood where anything might happen. Shaye helped to make Johnny Depp a star and made a hit of My Own Private Idaho. He helped to revive Robert Altman's career with The Player and Short Cuts (though the two men feuded and fell out over the latter film's running time). He launched Paul Thomas Anderson.
The Weinstein brothers were, of course, spinning their own magic at the same time, with sex, lies, and videotape, My Left Foot and The Grifters. And, taking a leaf out of Shaye's book (and vowing to put him out of business), Bob Weinstein soon launched Dimension Films, focusing on low-budget horror including the Scream and Scary Movie series.
Shaye then upstaged them. He took New Line public in 1993, then sold his company to Ted Turner the next year for more than $500m. The Weinsteins sold Miramax to Disney at about that time, but for only $70m – a source of some resentment on their part. Shaye cashed in again when Turner sold his company to Time Warner in 1996. Whatever his company's fortunes, his own future was secured.
Did that make him soft? Or imperious? Not immediately: when he snapped up The Lord of the Rings, he was taking it off Miramax's hands at terms that obliged him to cut the Weinsteins into the profits. It was the biggest gamble of his life, and it paid off. Like so many gamblers, though, Shaye kept on playing, and sooner or later his streak had to come to an end.
Bears, snakes and turkeys: more reasons for New Line's troubles
Cellular (2004)
You know those Orange ads that come before the film every time you go to the cinema nowadays? Where the mobile-phone executives try to shoehorn their product into any frame they can, regardless of genre, plot or historical accuracy? Well, Cellular is the film those guys would make if they could: a thriller all about a mobile phone. Jason Statham is in it. Enough said.
Pride and Glory (2008)
This promising-looking police drama starring Ed Norton, Colin Farrell and Jon Voight was trailed before screenings of No Country for Old Men, and its writer-director, Gavin O'Connor, was expecting it to be released last month. Instead, New Line decided to push back the release until 2009, a decision that the studio blamed on clashes with the stars' other 2008 pictures, In Bruges (Farrell) and The Incredible Hulk (Norton). The irate O'Connor decided to withhold his next promised script until he had a decent explanation. New Line's demise may not have been quite the answer he was looking for.
Harold & Kumar Escape from Guantanamo Bay (2008)
Yes, that really is the title. And no, you shouldn't be surprised that the studio that gave it the green light is going under. No doubt the marketing push will focus on the sensitivity of the film-makers towards the victims of the "war on terror". But seriously, this is a comedy about a pair of stoners who manage to escape from the world's most notorious detention facility. It is unlikely to amuse the real-life inmates – none of whom have escaped, by the way.
Rendition (2007)
One of the first surge of anti-Iraq War films that assaulted cinemas last year, Rendition, like many of its peers, failed to make an impression on either the White House or the box office. Jake Gyllenhaal is a troubled CIA agent. Reese Witherspoon is a concerned wife. Meryl Streep is... Bored already? Thought so. The film has admirable intentions, but unlike the wonderful Syriana or In the Valley of Elah, even its two-minute trailer gets dull towards the third act.
Semi-Pro (2008)
Anyone who still thought Will Ferrell was an infallible comedy genius was proved wrong by last month's Semi-Pro, in which a guy uses the profits from a hit single to buy a basketball team and tries to take it all the way to the NBA. And, get this: it's the 1970s! So they all have stupid haircuts! Hilarious! Ferrell's last two films, Talladega Nights and Blades of Glory, made $47m and $33m respectively in their opening weekends. Semi-Pro made $15m. Is a pattern emerging?
Monster-in-Law (2005)
The words "Jennifer" and "Lopez" above a title (especially one as godawful as Monster-in-Law) ought to sound about as appetising to film audiences as broccoli does to a five-year-old. Lopez hasn't made a decent picture since Out of Sight in 1998. Matching her up with Jane Fonda and having them throw food at one another wasn't going to buck the trend. Yet, somehow, the film was a modest box-office success.
The Hobbit (2010)
New Line's biggest hit, The Lord of the Rings, became a behind-the-scenes nightmare for studio founder Bob Shaye, who has been embroiled ever since in a troublesome legal dispute with the director Peter Jackson over merchandising money. Shaye said last year that Jackson would never again work for New Line, which sunk the tantalising prospect of a Jackson-directed version of The Hobbit. Since then, Guillermo del Toro has been attached to the project and Shaye has rebuilt bridges with Jackson. The film is slated for 2010, under Warner Bros, not New Line, colours.
The Golden Compass (2007)
Philip Pullman's His Dark Materials trilogy was the franchise everybody wanted to make; with its epic themes and fantastical tales of talking polar bears, it ought to have been the next Lord of the Rings. The casting decisions sounded promising (Daniel Craig, Nicole Kidman, Sam Elliott), but the choice of director – Chris Weitz, who made American Pie – was baffling. Meanwhile, the book's antireligious overtones were muted. The result was, by all accounts, a load of tosh.
The New World (2005)
The director Terrence Malick, who made Badlands, Days of Heaven and The Thin Red Line, is notorious for his long, drawn-out shoots and even longer, even more drawn-out editing processes. The New World was postponed because he was still cutting it, and when it finally appeared it was (surprise, surprise) long and drawn-out. Not enough people fancied two and a half hours of Colin Farrell's furrowed brow, and the film barely covered its budget.
Snakes On A Plane (2006)
Snakes on a Plane sounded so hilariously awful that it became an internet phenomenon. New Line picked up the original script in 1999, after 30 Hollywood studios turned it down. When the internet buzz started about the film and Samuel L Jackson's "motherfuckin'" performance, it poured cash into reshoots. Unfortunately for the studio, the finished product isn't "so bad it's good", it's "so bad, it's bad". And nobody went to see it.
Little Children (2006)
Little Children was one of New Line's best films of the decade, a nuanced tale of smalltown frustration (with a touch of paedophilia thrown in) starring Kate Winslet, Patrick Wilson and Jennifer Connelly. Despite glowing reviews and a slew of award nominations, it failed to make a dent at the box office, losing more than $10m owing to a half-hearted marketing campaign and an unsuccessful Oscars push.
Join our commenting forum
Join thought-provoking conversations, follow other Independent readers and see their replies