Diane Keaton: She wears the trousers
She became a star 30 years ago in Woody Allen's Annie Hall. Lesley O'Toole meets the resolutely kooky actress
Friday 09 February 2007 01:00 Comments
Diane Keaton: She wears the trousers

Show all 2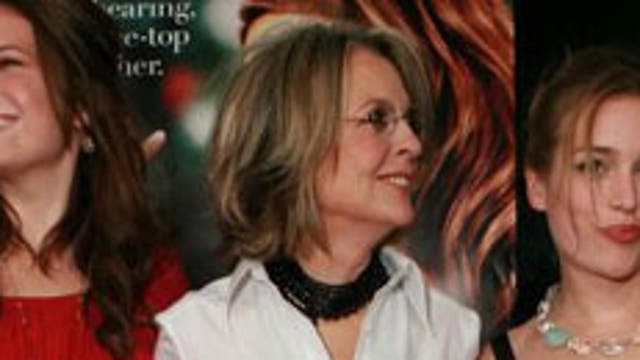 Diane Keaton is famous for many things: for her eclectic work as an often comedic actress; for her relationships with high-profile men (Woody Allen, Warren Beatty, Al Pacino); for adopting a baby as a single mother at the age of 50, and then, at 55, another; and perhaps, most notoriously, for her dress sense. It was Keaton's Oscar-winning turn in 1977's Annie Hall that turned the trouser-suit into a high fashion item. Since then she has often found herself on "worst-dressed" lists.
Her appearance, then, today, in Beverly Hills, the day after her 61st birthday, is a revelation. She is a vision in a tight-fitting white Gucci trouser-suit, her legs long and very skinny, with strings of clear crystal beads stacked around her habitually covered neck. Keaton's new glamour-puss image is surely a holdover from easily the best film she has made this decade, Something's Gotta Give (2003), with Jack Nicholson. It is surely no coincidence that she is on American television as the older face of L'Oréal.
"I don't know if that means society is changing, but I'm so happy to be a part of it," she says. "People my age do buy products. Give me some lipstick! Give me some powder!" L'Oréal revelled in her being famously anti-cosmetic-surgery. "I need to be authentic. My face needs to look the way I feel."
She says that she signed on for her new movie, Because I Said So, because it was "full of fun situations" that she doesn't often get to play. "I loved being able to play someone drawn from all the great wacky comedy characters like Lucille Ball, constantly interfering with everyone and destroying their lives with wonderful intentions."
Unsurprisingly, given the industry's ongoing allergy to women over 40, Keaton says that she receives hardly any scripts. "But then I don't think anyone does. I don't think there are that many films being made, so it seems that even if you're at the height of your career - if you're Will Smith - you still maybe have only five or six options."
Yet with two children at home (11-year-old "Dexter the girl" and Duke, six), Keaton apparently needs the work, and is unusually frank about what it takes to hire her for your film: "Financing."
Her children do not see her films, even perfectly suitable family fare like 1987's Baby Boom. "I don't want to have that infringe on their lives." She would rather have the family play Scrabble, Old Maid and Monopoly. "And I do like reading with them. I think that's been the most fun for me in a way, just guiding them and watching how they learn to read."
There is a certain irony to Keaton's Because I Said So character meddling in her unmarried youngest daughter's love-life. Daphne, apparently, doesn't want Milly to end up alone, like her, yet Keaton has spent much of her life solo. And if she has not always loved it, she appears fully functioning and undeniably happy without a man.
"Oh, falling in love feels much better, less frightening in the movies," she laughs, deflecting the subject. "I loved kissing Jack. And I loved telling him how upset I was that he didn't love me as much as I loved him." Keaton insists that Nicholson invented the widely-reported tale of their real-life fling as a ticket-selling scam, though she patently adores him. "I fell in love with him when we were making Reds. No. Not in that way. [Keaton was dating the director and star Warren Beatty when she made the film]. But I have always loved him. Look at him. Oi! He's the greatest. That smile!"
Access unlimited streaming of movies and TV shows with Amazon Prime Video Sign up now for a 30-day free trial
Sign up
Since she's not a touchy-feely person, do movies also provide her with a bit of human touch? "Yeah, maybe I'm getting my fix in the movies." She is at it again in Because I Said So."
The particularly grating Dorothy is, mercifully, far removed from her own mother. Keaton was born in Los Angeles to Dorothy (a housewife and amateur photographer - Keaton's own photos have been published many times) and Jack, a civil engineer. She knew early on what she would be when she grew up. "I wanted to be a performer on so many levels, but I failed so often. No one was interested in my talent when I was 12. I was constantly heartbroken because, even at school, I couldn't accomplish what I wanted. But my mother was my co-conspirator. She enabled me all my life. She would always step back and let me find my way. I think you have to have some failure in your life. It makes you stronger."
At high school, she played Blanche in A Streetcar Named Desire and later studied acting at two California colleges before dropping out to try her luck on stage in Manhattan. "It wasn't that I loved cinema right away. It started with certain pictures. I can remember loving To Kill A Mockingbird as a teenager. And when I got older I started liking foreign films because that was really exciting. I liked actresses: Jeanne Moreau, Anna Magnani and people like that. I identified with and cared about them. I loved Vanessa Redgrave. I thought, and think, she's great. There were certain actresses I clung to because I thought they had such powerful emotional lives and they were such compelling people. Such humanity."
She spent her New York nights singing for her supper in nightclubs. In 1968 she performed as an understudy in the Broadway musical Hair and caused something of a ruckus by refusing to get naked (despite the offer of a $50 bonus if she did). And then she got the job which changed her life, in the theatre production of Play It Again, Sam opposite its writer and star, Woody Allen.
On film, she appeared in The Godfather 35 years ago. Annie Hall, meanwhile, is 30 years old. "La-de-dah," coos the real Annie, as she does in the film. "The passing of time is mysterious. But I think that's what life is. There's nothing you can hold on to."
Keaton says she has never been proposed to by any boyfriend, famous or not. I ask if having dated some pretty spectacular talents means that she has high standards now when it comes to lovers. "I have no standards at all. It's just about what anyone needs, a connection. " She is still in touch with Allen and Beatty but can't quite put a finger on why she is resolutely single. "My mother never really gave me any direction about men, which has made it interesting. So I think I picked people I admired. And it's too hard to manage people like that."
'Because I Said So' opens on 16 February
Register for free to continue reading
Registration is a free and easy way to support our truly independent journalism
By registering, you will also enjoy limited access to Premium articles, exclusive newsletters, commenting, and virtual events with our leading journalists
Already have an account? sign in
Join our new commenting forum
Join thought-provoking conversations, follow other Independent readers and see their replies