Domhnall Gleeson does not compromise
Peter Rabbit, Mother!, Star Wars, The Revenant — the 34-year-old has been described as the quintessential 'one for me, one for them' actor. Sitting down with The Independent, Gleeson explains why that's certainly not the case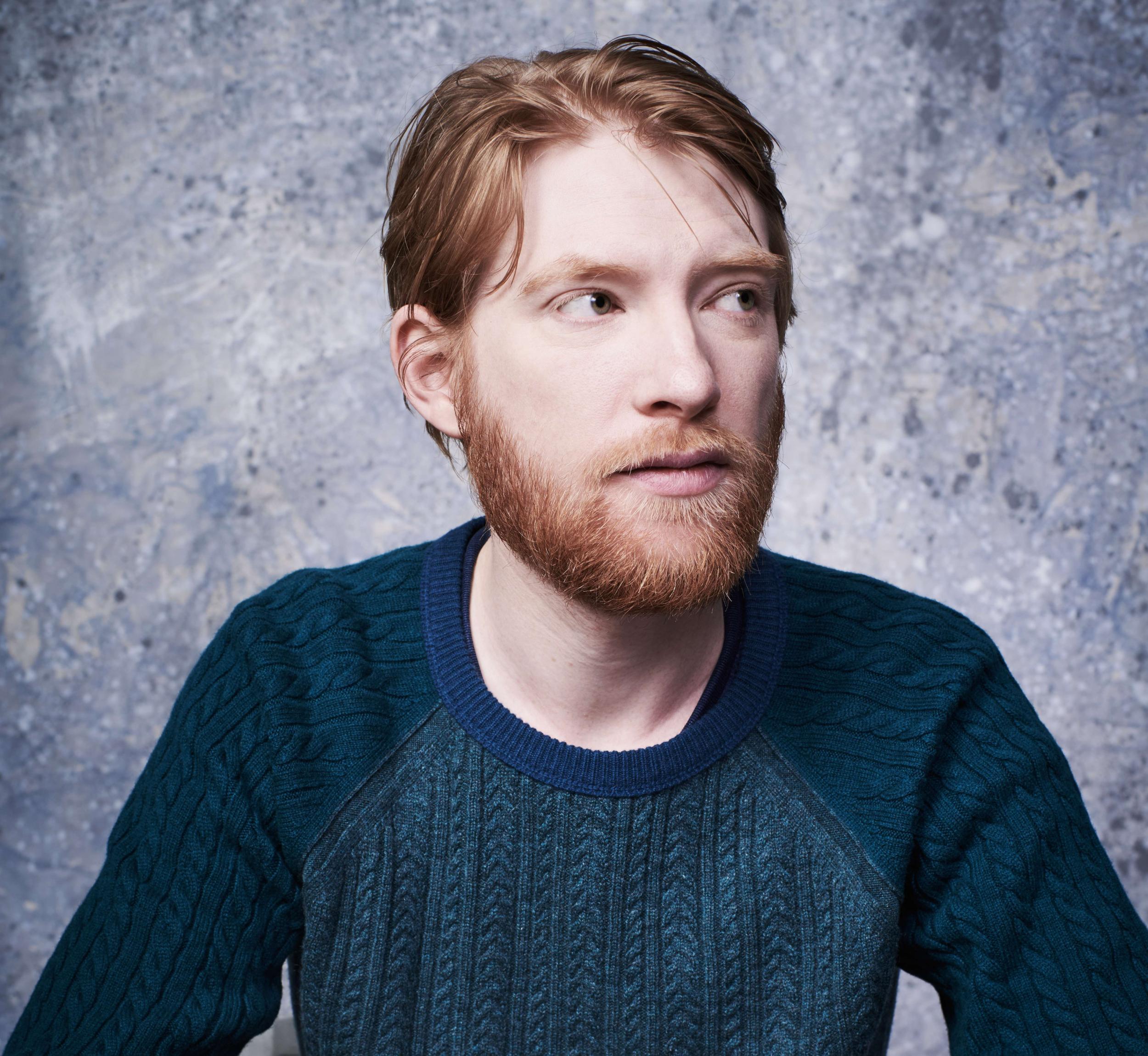 "I have this SodaStream-type thing and I absolutely love it. I have a litre and a half each morning."
Domhnall Gleeson has just offered me a glass of sparkling water, arguably one of the blandest drinks on the entire planet. The actor, though, can't stop talking about the stuff, basically jumping out of his chair with excitement.
"It makes me feel so old," he says with a strong Irish accent, "because when I was younger my parents would be drinking sparkling water and give me some to taste. I always thought, 'God, you're so old, drinking sparkling water. Where's the fun in that?'"
There's no fun in sparkling water, I reply.
"You're missing out man, you're missing out! When it's really cold, nothing beats sparkling water. I'm aware of how that sounds, but just chill out and have a sparkling water, man."
During our conversations, there's basically not a moment where Gleeson's not bouncing, the actor speaking positively about almost any subject. After all, there's absolutely no reason the 34-year-old should not be excited. Last year alone saw him play pivotal roles in Star Wars: The Last Jedi, Mother!, American Made and Goodbye Christopher Robin, while 2018 has got off to a good start – portraying the clumsy Thomas McGregor in Peter Rabbit.
However, our conversation does not immediately focus on any of these projects, instead starting where Gleeson's movie career began: with the 2004 Oscar-winning short Six Shooter, directed by Three Billboards' Martin McDonagh. "Such a good short," the actor infuses. "Rúaidhrí Conroy is amazing in it. And so's my dad. They're very good."
27 films to look out for in the first half of 2018
Show all 27
In the film, Gleeson plays a scruffy cashier who has a feisty conversation with the main character, played by the actor's famous father, Brendan. Working opposite his father was not the difficult part of the production: the producers initially wanted McDonagh to cut the younger Gleeson's part completely because there was no time for filming.
"Getting cut in the edit is OK because maybe they realise that's just not the way the film went," he says. "Getting cut because they don't have time to shoot it – so they don't even have time to try it – that would terrible." Not exactly a vote of confidence in the part. "Exactly! Of course, I was thrilled it wasn't cut because it won the Academy Award for best short. Obviously, I was not invited to the Oscars. Even for a short film, I'm in there for a very short amount of time."
While Six Shooter may have been filmed during Gleeson's college years – a time when he sported an eye-covering mop of red hair and apparently "detested" sparkling water – the role was hardly his first rodeo. Gleeson's first acting experience came years before, in McDonagh's award-winning play The Lieutenant of Inishmore. Becoming an actor, though, was not something the young Gleeson had ever planned on ("That thing [McDonagh's play] almost made me want to be an actor all by itself just because it was so funny") and would never have been a career option had Gleeson Snr not blazed that trail.
Access unlimited streaming of movies and TV shows with Amazon Prime Video
Sign up now for a 30-day free trial
Sign up
Access unlimited streaming of movies and TV shows with Amazon Prime Video
Sign up now for a 30-day free trial
Sign up
"The advantage of being my father's son – apart from him being a great father – was that there was always someone to give me advice," Gleeson says. "And perhaps most importantly there was someone in my family who had done it before, so I knew it was a possibility. All these discussions about diversity, showing people what's possible, giving them something to aspire to. In my life, I was very, very lucky to have someone that close. Here's someone from my background, literally from my family, who was able to do it."
From there, Gleeson wrote and directed a few shorts himself ("The first short I directed we did for £200, I think we all put in £50") having gone to university with aspirations to become a director. Following a part in Irish TV series The Last Furlong, plus some small movie roles, acting eventually took over, culminating in an incredibly busy 2010. That year, Gleeson starred in the romance Never Let Me Go, the Coen Brothers' True Grit, and what would become one of his best known roles, Bill Weasley in Harry Potter and the Deathly Hallows.
With such a wide array of projects, there's little wonder as to why one recent profile of Gleeson called him the quintessential "one for me and one for them" actor. "Perhaps that's how it appears," he says, "but that's not how I perceive it. There's something compromised about that – it sounds like you're compromising on one of the films. But Star Wars for me is not a compromise, that's a treat. I get to be in Star Wars! Harry Potter was not a compromise. I get to be in Harry Potter! That's a privilege. That's not one for them; that's also one for me."
Perhaps with something like Peter Rabbit, the movie we're here to talk about, you can understand why a journalist would write something along those line. "I absolutely understand why that may be the case, but I was as excited for this as something like Mother!. The notion of being able to get beaten up by an animated rabbit and make kids laugh – to do some physical comedy – that's a totally amazing opportunity to try something
"A movie does not have to be serious to mean something, or to matter to people. Home Alone means as much to me as some really serious dramas. It's very similar to The Godfather, if I'm honest. I'm just as happy doing a movie that's trying to be as good as Home Alone as a movie trying to be as good as The Godfather. Both are probably beyond reach. But it's worth trying."
Home Alone and The Godfather are certainly interesting movies to compare. "I would find it very hard to keep both Home Alone and Dumb and Dumber out of my top ten. Very, very tricky. Maybe I would change that to appear clever. But if I arrive home tired and there's a movie on TV… If there's an amazing masterpiece or Home Alone? Home Alone's also kind of an amazing masterpiece. I don't say that with a raised eyebrow, that's how I totally feel about it."
One good example, I can't help but offer up, is Paddington 2. "Now, when I found out my dad was doing Paddington 2 I was so excited – so jealous! When he told me he was doing someone called Knuckles McGinty, I was like 'Goddammit! I wish I was playing a character called Knuckles McGinty!' To work with Paul King. He's amazing. My dad is amazing in that film. And Hugh Grant is so unbelievably funny in it. I would give anything to be in a Paddington movie.
"And I watched that in a full cinema, and my friend was there with his young son, and his son was laughing helplessly at some of it. I went home after it happier than I had been from any cinema experience in a long time. The sound of him laughing behind me put me in such good humour, as well as the film in front of me. It was like surround sound brilliance."
Peter Rabbit Featurette - Bringing The World Of Peter Rabbit To The Big Screen
That's not to say Gleeson does not enjoy the more serious movies. Last year, Mother! was a big movie for the actor – playing "oldest son" alongside his brother Brian. While the Darren Aronofsky flick was touted to be an awards contender, no such fate awaited as the Oscars and Golden Globes completely ignored the controversial movie.
"I've never judged a film by what it was nominated for," Gleeson says. "Lots of my favourite films were never nominated for a thing. I love Mother!, I think it's really brilliant and unusual. Some people really did not like that movie. Loads of people did not. Then loads of people did. I'm sure it sounds like a lie, or you're just trying to sound positive about stuff, but the privilege of being able to be in something like that was just unbelievable. I'm a very lucky person at the moment."
Despite all these successes, only a few of which we've had time to touch on, Gleeson does seem remarkably grounded – an easy talking man, open about discussing family, films and fame. "It's almost impossible to speak about being grounded objectively," he says when asked how he stays on the rails whereas many actors, particularly those who grow up with fame, do not. "You could leave here, roll your eyes, and say, 'He was drinking sparkling water, what is wrong with that man?' Whereas I think I'm absolutely grounded."
"I've just been through a period where I haven't worked for five months and I've loved it," he adds. "Just having some time off at home, being around friends and family. Being able to have that, and then work with your heroes. If you can do both, you would always do both."
Peter Rabbit is in cinemas now
Join our commenting forum
Join thought-provoking conversations, follow other Independent readers and see their replies