What happened to the writer-director of Donnie Darko? We caught up with him
Donnie Darko was a cult hit 15 years ago. But Richard Kelly is far from a household name
Christopher Hooton
Monday 19 December 2016 17:02 Comments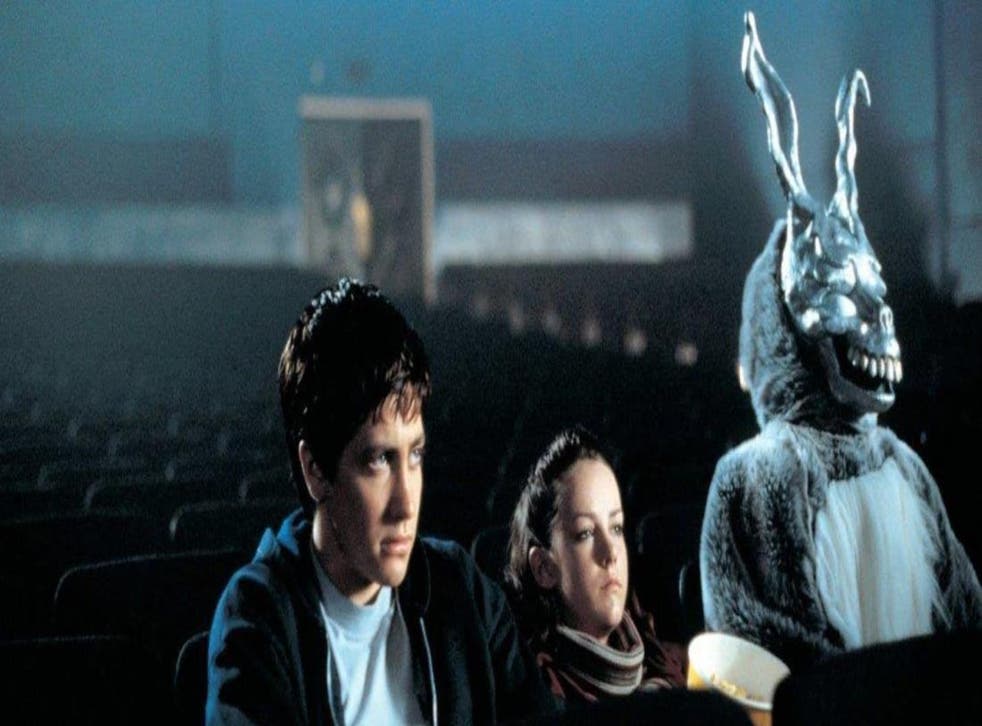 In one of those overflowing racks of DVDs that your dad has since forced you to remove from his house, you could always find a slightly scratched copy of Donnie Darko.
The film struggled at the box office (partly due to it releasing shortly after 9/11 and its plot involving a jet engine crash) but found a huge audience through word of mouth and MySpace, where myriad profiles listed it as their top film and were plastered with stills of Jake Gyllenhaal staring deep into your soul and finding nothing. It scooped a handful of awards and endured as a sort of cult film trinket, and, much like Damien Chazelle post-Whiplash, everyone was excited for what this bold new writer-director would do next.
15 years have passed since Donnie Darko opened in cinemas, however, and Richard Kelly is far from a household name. During that time period he has made just two feature films: Southland Tales (2006), an incredibly dense satire on the military-industrial complex and the infotainment industry starring Dwayne 'Will never escape his epithet' Johnson, which received the unfortunate accolade of being one of the most booed films ever at Cannes, and The Box (2009), a thriller with an intriguing, mainstream audience-friendly premise (a couple receive a box containing a button: push it and they get one million dollars, but someone, somewhere will die) that gets too tangled and metaphysical to maintain that popcorn-annihilating audience's interest.
Kelly is as skittish as his movies in real life, and has an analogous aura of calm with mild fear just under the surface. Seemingly not a fan of eye contact and staring intently at the floor, he starts at the beginning: graduating from USC and, at the age of 25, making Donnie Darko, a film with a $7.3 million budget starring Jake Gyllenhaal, Jena Malone, Drew Barrymore and Maggie Gyllenhaal. I ask him if he had any (completely understandable) 'Holy shit, I have no idea what I'm doing' moments on the set of such a big film at such a young age.
"I felt like I knew what I was doing and was confident in that, but yeah, it was very stressful because we only had 28 days [to shoot] and you're under a lot of pressure," he confides. "There's a lot of people who are looking at a 25-year-old behind the camera and are thinking 'this kid does not deserve the opportunity', so you have to overcome a lot of skepticism and a lot of doubt."
The film nearly went straight to home video, but the screenplay landed on Drew Barrymore's desk and she fought for it.
"It would probably be impossible to get Donnie Darko made today, unless it was a big established director," Kelly says. "For a first-time director? No way. We were very fortunate that we were at the right time and that Drew Barrymore signed on to play the supporting role - it got us just barely enough money to pull it off."
Director's Cuts are usually bonus features that only the hardcore fans actually see, but Donnie Darko is one of the rare cases where the Director's Cut is so popular it has overtaken the theatrical one in popularity and frequency. It offers a lot more explanation than the opaque theatrical cut, delving into the time travel book that Donnie finds. I ask if the Director's Cut was prompted by a dislike for the edit that went to theatres.
"Ultimately I'm not completely satisfied with either cut," he admits, "there's still things that I wish I could do with this film that we were never allowed to do because there was never enough money. But I like both cuts of the movie and I see virtues and strengths in both of them. I believe that they can kind of coexist and people can gravitate in whichever direction they want, be it something somewhat opaque, or something more novelistic and detail-orientated."
Access unlimited streaming of movies and TV shows with Amazon Prime Video Sign up now for a 30-day free trial
Sign up
In 2009, Donnie Darko got a "sequel" - S. Darko - and I can barely get a question out about it before Kelly, angered by its mere mention, jumps in.
"I had no involvement. I never authorised it. I had no legal recourse to prevent them from making it. I've never seen it."
It's not difficult to see why it's a touchy subject - even though a quick IMDb search will tell you he wasn't involved in the project, many will assume he sanctioned it.
"It's been a nightmare for me," he continues, "because people assume that I either authorised it or I endorsed it or I allowed it to happen and none of that is true. They wanted me to be involved, I refused and asked them to not make the film and they basically told me to go fuck myself, went and made it and made a bunch of money - and I think they're horrible."
Southland Tales, Kelly's next film after Darko, had a real rough ride (review snippets include: 'Two hours and twenty-four minutes of abstract crap'), probably unjustifiably so, and it's only now the world's political situation is hitting a nadir for this millennium that the film and its themes are being looked upon slightly more favourably.
Regardless, how the hell do you bounce back from your work getting "deafening" boos?
"You just gotta keep fighting the fight, that's the business. None of the films have been easy, I've had to struggle with all of them, but that's part of the nature of making films that aren't easy to categorise.
"I'm proud of all my films and am grateful they've endured and found bigger audiences in the home environment, on Netflix, iTunes etc.
"Southland Tales was designed to be this complex tapestry of an alternate political reality. We created it as something that was meant to be cathartic to people, it was meant to be this pop expression of the Book of Revelations and was this big kaleidoscope of ideas - maybe it was a bit ahead of the game."
Kelly's filmography is considerably shorter than his filmography of never-quite-made-its. He's written unproduced adaptations of Kurt Vonnegut's Cat's Cradle and Lous Sachar's Holes, had a movie called Corpus Christi which he describes to me as a "Texas future noir" that turned out to be simply too expensive to make and was poised to go into production on true crime thriller Amicus when star James Gandolfini died. He still hopes to make some of these films happen, but at the moment is focusing on fresh ideas.
I point out that in the era of Westworld, Inception and Reddit plot dissections, the kind of films he likes to make might fare better.
"Yeah, I think that's great," he says of the new form of fandom. "The internet can be a nightmare for a lot of reasons but it can be good for complex, cerebral storytelling, to create a dialogue around those stories."
An episodic format might actually suit him.
"I've been working on a lot of things and I do eventually plan in working on long-form episodic content," he agrees. "I only want to be involved in things where I'm really involved though, I tend to need to have my fingerprints on everything… so yeah we'll get there."
Right now he's just intent on making a film that really lands with the audience, as Darko did.
"There's a lot in the works, I've been writing a lot of stuff," he says, unable to talk specifics. "We've been very strategic to make sure that the next one has all the elements in place that make sure the next one is successful in theatres, because we don't want to come stumbling out of the gate and fall on our face; that's happened before and we want to make sure the next one really works. I've not been resting on my laurels, that's for sure."
DONNIE DARKO 15th Anniversary 4K Restoration will screen at the BFI from 17th December and in cinemas nationwide from 23rd December. BFI Tickets are on sale now.
Register for free to continue reading
Registration is a free and easy way to support our truly independent journalism
By registering, you will also enjoy limited access to Premium articles, exclusive newsletters, commenting, and virtual events with our leading journalists
Already have an account? sign in
Register for free to continue reading
Registration is a free and easy way to support our truly independent journalism
By registering, you will also enjoy limited access to Premium articles, exclusive newsletters, commenting, and virtual events with our leading journalists
Already have an account? sign in
Join our new commenting forum
Join thought-provoking conversations, follow other Independent readers and see their replies