Dunkirk: How Christopher Nolan's film found real war ships for epic battle scenes
Despite working on the 'Pirates of the Caribbean' franchise, 'Castaway' and 'Captain Phillips', nothing could have prepared marine coordinator Neil Andrea for the scale of the 'Dunkirk' shoot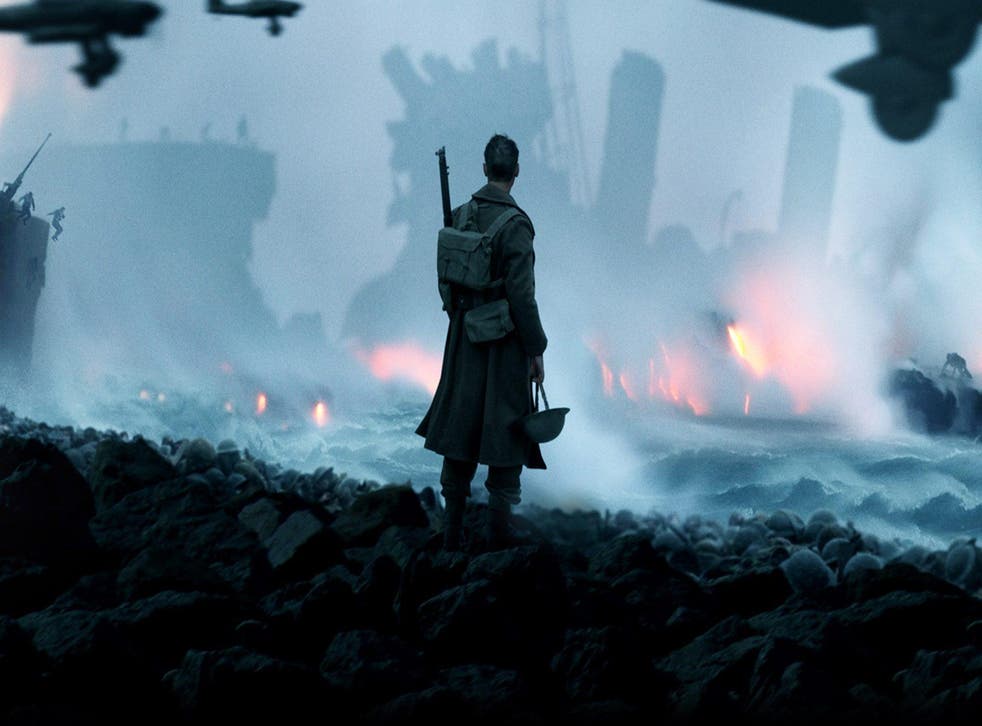 "We had Messerschmitts flying overhead, thousands of extras on the beach, minesweepers in the background, a 350ft destroyer and torpedo boats all in the same shot."
This is what Neil Andrea, marine coordinator on forthcoming epic movie Dunkirk, was standing alongside director Christopher Nolan on a single-camera boat with a crane and Imax in the middle of the action last year.
Andrea is convinced this was the biggest naval film shoot ever. Where most films use the magic of CGI to fill in backdrops, Nolan and his team actually filmed on location in Dunkirk with real war ships and fighter planes.
"On certain days, there were up to 60 ships in the water," enthuses Andrea, veteran marine coordinator of major movies including the Pirates of the Caribbean franchise, Captain Phillips and National Treasure.
"It didn't matter what the crew had worked on before; when we headed to such scenes, with explosions going off, we were all blown away like never before. It was basically a re-enactment of the real events."
As most will know, Dunkirk was a famous Second World War evacuation effort of Allied troops from the beaches in and around the Northern French commune, which took place over 10 days in 1940.
A quickly assembled fleet of more than 800 boats – including motor yachts, pleasure steamers and fishing boats – rushed to Dunkirk and rescued nearly 340,000 British, Belgian and French soldiers from the shore.
The then-Prime Minister Winston Churchill described the evacuation as a "miracle of deliverance". And that is an apt way of describing what Nolan and his team have achieved with their re-enactment.
Andrea had been briefed before the film began shooting and had read the script, which caused a number of expletives to leave his mouth in awe, but nothing could prepare him for the true scale of what he was to work on from January to September 2016.
Access unlimited streaming of movies and TV shows with Amazon Prime Video Sign up now for a 30-day free trial
Sign up
"I was within four feet of Chris [Nolan] from start to finish of the shoot. He is a brilliant director, but demands perfection and was insistent the film had to look real, not using visual effects in front of a screen above a tank somewhere.
"This meant the experience wasn't a bed of roses and proved hugely challenging for all concerned, but everyone mucked in to do whatever needed to be done."
For Andrea, this meant finding and coordinating 60 ships from nine different countries over 5 months. No easy task.
"Finding a WWII ship is actually not that hard, but finding ones that actually work and are able to manoeuvre on a daily basis is tough," he explains.
The biggest find was the 350-foot long French destroyer, the Maille-Brez: a museum piece from Nantes that had to be towed using a pair of 200 foot tugs.
"We moved the destroyer around manually, and were able to hide the tug boats from shot because the ship was so big," explains Andrea. "It took a lot of work and we had to be so careful, especially in bad weather, as the ship was being forced to do things it's not used to."
The same went for the little boats, which were actual originals used in the real Dunkirk evacuation. They were piloted by the owners who had little filming experience and so had to be briefed beforehand. "It was like herding cats," laughs Andrea.
The centrepiece of these little boats is the Moonstone, on which Mark Rylance and Cillian Murphy's characters are based throughout most of the movie.
"It was such an intimate environment on that boat, which is just 43ft long," says Andrea. "Aside from the actors, there was just myself, Chris, the first assistant director, DoP and the two camera assistants above deck, the sound, prop and hair and make-up guys below deck."
There were some pretty hairy days heading to the set in this wooden 1930s boat, which would shake violently when struck by the waves. "Chris would turn to me and say 'What do you think? Should we turn back?'", remembers Andrea. Much like the original guys 76 years before, they chose to carry on and complete the mission.
But safety was the watchword. As a Warner Bros Studio led project, there had to be checks and balances, and safety boats on hand at all times. All the departments (stunts, special effects, marine etc) worked closely together to make sure the process was as smooth as possible.
Andrea had to draw on all his experience in and around the water. Fortunately, this was plentiful. Having grown up near Miami Beach, the sea was always close by. Fishing and diving have always been passions. Indeed, Andrea has his own dive suit company: Neptunic Sharksuits.
Testing them has proved a dangerous challenge, however. Andrea has actually stuck his arm in the mouths of sharks. "Their teeth have caused residual cutting. The risk is if a shark grabs your arm and then twists and roles. We had someone who had their arm removed from the shoulder while feeding a shark. The good news is he was able to keep hold of it and had it sowed back on," says Andrea.
Another passion is photography, which led to camera work back in the 1990s. He started doing documentaries and commercials, before making the natural transition to movies with his business partners, Dan Malone and Bruce Ross of Marine Crew: a full service marine and underwater production outfit.
His first big project was Castaway with Tom Hanks. But he was second unit and had little involvement. Then it was Oliver Stone's Any Given Sunday. "That was a crazy experience. Working with Al Pacino on Miami Beach in the 1990s. There were politics with the actors and Stone was pretty intense, but he also knows how to get things done."
However, it was working on the Pirates films where he got a real flavour of dedicated marine work on a large project, as he was involved in shooting every day.
"To be a part of those films has been incredible," admits Andrea. "They also involve big boats, but there are only four or five at a time, and they're built over steel ship structures – some of them half ships, others fake ships. By contrast, for 'Dunkirk' the scale of actual working boats being operated by people was much larger."
Typically, in most films you would have a ship that creates a wake, then visual effects would come in and take that boat out and put in the real boat featured in the movie. Not for Dunkirk. Everything happens in real life in real time.
"Everyone on set was permanently aware and alert – no one was looking at their cell phones or sitting around. They were all completely absorbed in the action… as we hope the audience will be when they see this spectacular film," concludes Andrea.
'Dunkirk' is on nationwide release from 21 July
Register for free to continue reading
Registration is a free and easy way to support our truly independent journalism
By registering, you will also enjoy limited access to Premium articles, exclusive newsletters, commenting, and virtual events with our leading journalists
Already have an account? sign in
Register for free to continue reading
Registration is a free and easy way to support our truly independent journalism
By registering, you will also enjoy limited access to Premium articles, exclusive newsletters, commenting, and virtual events with our leading journalists
Already have an account? sign in
Join our new commenting forum
Join thought-provoking conversations, follow other Independent readers and see their replies