Literally just 3 minutes with Dwayne 'The Rock' Johnson, the biggest movie star on the planet
Christopher Hooton
Tuesday 17 April 2018 15:43 Comments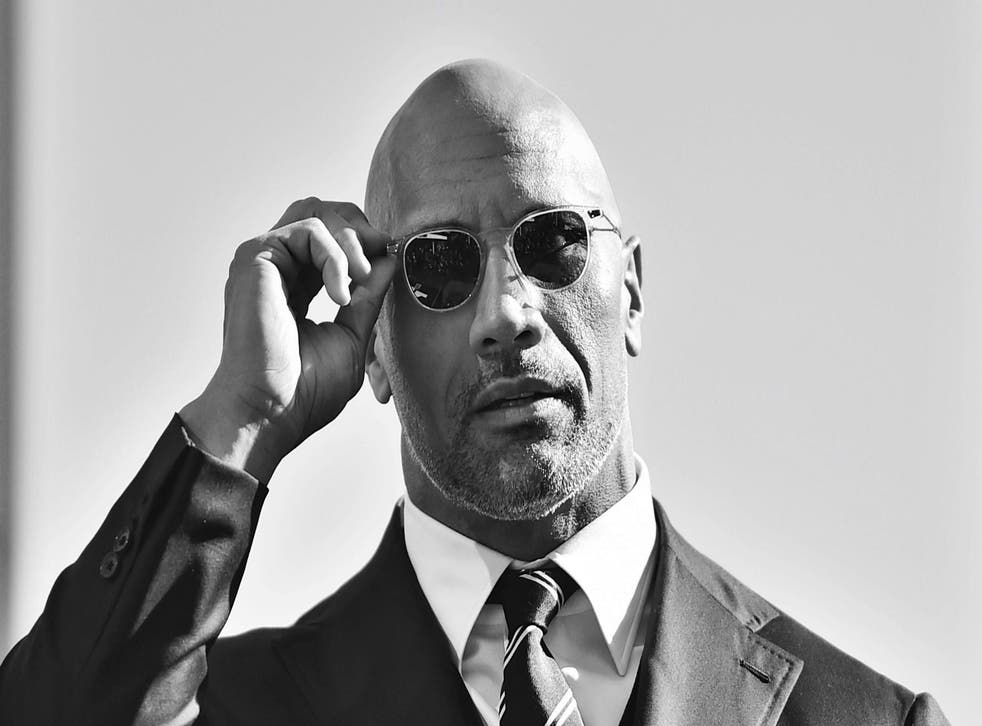 The Rock is an unstoppable cinematic force. The Rock is doing to the box office whatever the Large Hadron Collider would do to a jelly. Forget whatever monster franchise epic you're writing a treatment for, The Rock is already starring in it and playing every character. The Rock, at the time of writing, has 12 movies listed on IMDb as either announced or in pre or post-production, but I stress 'the time of writing' as I can't type as fast as The Rock movies can get green-lit.
The Rock's time is very valuable and may one day be an official currency when cryptos die out, transactions being made in units of The Rock's time, trading made possible when The Rock inevitably punches a hole in the space-time continuum.
Warner Bros initially offered me just eight minutes with The Rock ahead of the release of the succinctly, supertextually-named Rampage. This was cut to four on the day, and then three, another journalist savoring but two-and-a-half-minutes of Rock wisdom. The Rock. The Rock 2020. The Rock 3020 for that matter.
Dwayne! Hey man. You're on my list of very favourite humans that I've still yet to meet so this is a great pleasure.
Awh thank you man, thank you very much.
You're such an in-demand guy that I only have three minutes with you.
But it's gonna be the best three minutes.
Oh I don't doubt that. So you've made so many films lately, you've answered so many questions, you've done so much promo work, I wondered, what would The Rock like to talk about today?
Awh, this might be my favourite interview! Um let's talk about, let's see, let's talk about how you get through your day. How about that. Like, what do you do? What's your thing in the morning that you have to do?
Um(1), I like to practice a little mindfulness to calm down. Later some Rock DVDs(2) to get pumped.
I watch them too! Yes. I watch them naked.
And how do you get through the day, Dwayne?
Well, you talk about being mindful – I meditate in the morning, I have my centering, I need that. I always make sure I have good people around me too, I think that's really important. I have a rule I don't wanna work with any assholes, I wanna work with good people. And then I always try to find time to laugh as well.
You never seem to tire. You're just always go.
No I get tired man! I get tired, but here's the thing, I just don't wanna show that I'm tired, I feel like if I'm on camera doing something I don't wanna be really fatigued and run down.
Shit, I'm almost out of time already. So. When are we going to see The Rock pivot to drama(3)?
It's happening, we're developing now [laughs].
Is that the next step?
Well, yes, but also I think the next step – that's a really good question – there has to be a movie coming that's infusing some drama but also there are just qualities I think that audiences inherently want to see from me, and I always feel like I want to take care of the audience first(4), so to do a complete pivot and all of a sudden I'm doing something where audiences are going 'What? Wow, ok, sure?'... But there has to be a combination, so I think in time, for sure.
Access unlimited streaming of movies and TV shows with Amazon Prime Video Sign up now for a 30-day free trial
Sign up
Well, I'm excited to see that. One last thing, can you make my dreams come true and lift me above your head?
That's impossible [laughs](5).
1 Momentarily rendered mute due to The Rock's immense physical size and metaphysical aura. 2 Specifically 'WWE – The Epic Journey Of Dwayne "The Rock" Johnson', which has a runtime of 354 minutes. 3 As opposed to stopping kaiju, infernos, the aging process etc. 4 Awh! 5 This is certainly a healthy & safety thing due to expensive lighting/equipment in the vicinity. To be clear, The Rock could hurl me into The Sun.
Correction: This article initially misspelled the Large Hadron Collider as the 'Large Hardon Collider', not that this wasn't in keeping with its tone.
-----
Rampage is in cinemas now.
Register for free to continue reading
Registration is a free and easy way to support our truly independent journalism
By registering, you will also enjoy limited access to Premium articles, exclusive newsletters, commenting, and virtual events with our leading journalists
Already have an account? sign in
Join our new commenting forum
Join thought-provoking conversations, follow other Independent readers and see their replies