Ed Norton - A dark star with plenty of fight left in him
Marvel may have dumped him as Hulk but now Ed Norton is back to his best, slugging it out opposite Robert De Niro, finds Matt Mueller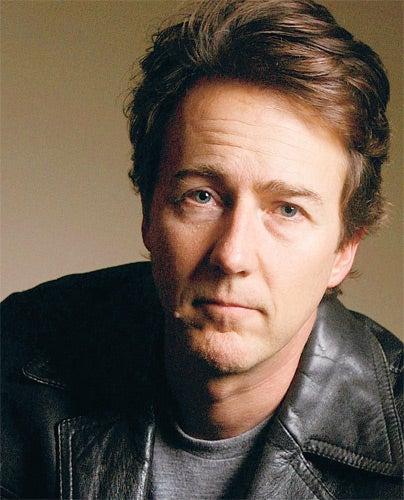 Few actors bolt out of the gate with as much bolshie career promise as Ed Norton. Earning an Oscar nomination for his debut role as a psychopathic choirboy in Primal Fear, he followed up with a string of riveting turns in the dark, fascinating likes of American History X and Fight Club. Critics declared him America's next great actor and he put his newfound cachet to industrious use, directing 2000's Keeping the Faith, salvaging then girlfriend Salma Hayek's passion project Frida with an uncredited script rewrite and racking up screen gigs with Spike Lee (25th Hour), Milos Forman (The People vs Larry Flynt) and Ridley Scott (as Kingdom of Heaven's leprous, masked king).
If that early, seemingly charmed ride has encountered a few obstacles in recent years, Norton's skill for delivering remarkable, arresting turns remains intact, as his latest film, Stone, proves. The actor has created a fascinating, one-of-a-kind character for John Curran's complex psychological drama: Gerald "Stone" Creeson, a misguided and manipulative convict who pits his wits against Robert De Niro's passive-aggressive, avidly Christian parole officer Jack Mabry and gains a peculiar faith while Mabry loses his. Norton wasn't all that keen when Curran, who also directed him in 2006's The Painted Veil, came calling, but the director won him over with his thematic take on the story.
"For me, it's not just character, it's what the thing is about that matters," says Norton. "In this case, the character was so thinly sketched but John said to me, 'This is about spiritual authenticity and the consequences of not being authentic.' He didn't care how I approached the character as long as he seemed like the least likely candidate for spiritual transformation. He told me to take it way out there."
Which Norton does, adopting an impressive set of corn rows and a voice that sounds like Creeson's being slowly strangled. It's a commanding performance (De Niro's great too), so it's startling that Stone's UK distributor Lionsgate have bypassed cinemas and released the film straight onto DVD. Adding insult to injury, it's the second star turn from Norton this year to suffer that fate, following Leaves of Grass. Both films embody the kind of challenging independent fare that increasingly struggles for air, so you can't pin the blame for an overall trend on Norton – but it's not stretching matters to say that these are wobbly times for the actor's career. If sparring with De Niro isn't deemed worthy of getting Norton back on to UK cinema screens, what is?
At 41, the actor finds himself at a crossroads. His name can bring an independent project like Stone to fruition, but he's not the film industry force he was – and his relationship with Hollywood has always been a complicated one anyway. Of his most broadly commercial outings, he took The Italian Job to fulfil a contractual commitment (he owed Paramount a film) after Primal Fear; The Score and Red Dragon offered the opportunity to work with other pre-eminent acting talents; and The Incredible Hulk allowed him to shape an effects-based Hollywood blockbuster from the ground up. "A lot of why I do something is just the novelty of the experience," he states, "though I would say the things that I'm drawn to most personally are things that I feel have some sort of finger on the pulse of the zeitgeist or that are grappling with complex issues. Those are the films that always meant the most to me growing up."
Early on, he got that balance of zeitgeist and complexity right with risky projects like American History X and Fight Club, and he agrees that the start-up years threw up a world of endless opportunity. But, he hastens to add, "You have these chapters in your life and I was never trying to have a masterplan. I believe that you have to follow the stream. You can't control everything that comes to you. You have choices but I don't see how I could have done it differently."
Although relationships with Hayek and Courtney Love plastered his name in gossip columns for years, celebrity has never held much interest for Norton, and he still refuses to discuss his private life. For the past few years, he's been seeing Shauna Robertson, a producer at Judd Apatow's production company, although it's a bicoastal romance – she's in LA, he lives in New York, his long-time residence. But even dating a Hollywood power producer, he's arguably less engaged with films than he once was, turning his focus towards personal issues by becoming a celebrity eco-warrior for conservation and sustainable development (he was appointed a UN Goodwill Ambassador for biodiversity last summer).
From an outsider's perspective, it seems that some of the assertive brio that's propelled him through much of his career has been lost. And maybe that's not surprising after he was publicly dragged through the mud last summer by Marvel Studios, whose CEO Kevin Feige ejected Norton from the role of the Hulk in Joss Whedon's The Avengers and rubbed salt in the wound by declaring the company wanted an actor "who embodies the creativity and collaborative spirit of our other talented cast members".
I found it a cheap and unnecessary representation that it was about things other than money," sighs Norton. "They came to me avidly to talk about it and then at the end of the day it was just flat out a business decision." Further branding Marvel's dirty-laundry exhibition "low, unprofessional and very dishonest", Norton nonetheless says it hasn't been keeping him up at night, fretting about his tarnished reputation. "I would say that blew back on them much worse than it blew back on me," he avers. "I couldn't have been happier with the experience that I had making the film, but nor do I feel any kind of intensity about doing it again. A really good friend of mine's going to do it now [Mark Ruffalo] and he's awesome! Marvel's going to have to deal with their own karma – they've got bigger problems than me."
Access unlimited streaming of movies and TV shows with Amazon Prime Video
Sign up now for a 30-day free trial
Sign up
Access unlimited streaming of movies and TV shows with Amazon Prime Video
Sign up now for a 30-day free trial
Sign up
"And how could I get anxious over something like that?" he continues. "I couldn't ask for a more blessed position. The way that the work I've done has found its way into people's lives, it's everything that I got into the business to achieve so I just don't feel this relentless intensity about climbing higher anymore. I've got plenty of other things in my life to be getting on with."
That could be the crux of the dilemma for anyone hoping to see Norton mount a triumphant comeback to UK cinemas: the fire that drives brilliant actors to seek out colossal challenges doesn't burn as brightly as it once did. That's not to say that he's planning to quit (although he's planted that seed in other interviews). Norton still wants to direct and star in an adaptation of Motherless Brooklyn, Jonathan Lethem's novel about a detective living with Tourette's ("One day...!"), he recently signed for Wes Anderson's Moonrise Kingdom and he's co-producing the HBO mini-series Undaunted Courage, about the 19th-century expedition of American explorers Lewis and Clark, with his Fight Club partner-in-destruction Brad Pitt. There's even discussion of the pair reuniting on screen. "It's a possibility," he says. "We've talked about it but me and Brad being in something together is a complicated thing to put together."
It will only take one stellar success story to propel an actor of Norton's calibre back into the wider equation. But as busy as he's keeping these days, it might not always be in front of the camera . "I try not to work when I don't feel it," he vouches. "I don't have anything to prove to anybody, which is a lovely place to be."
'Stone' is out now on DVD
Join our commenting forum
Join thought-provoking conversations, follow other Independent readers and see their replies