How Edgar Wright's Oscar-nominated go-to sound man was integral to 'Baby Driver'
The 'Baby Driver' sound engineer Julian Slater has been nominated for two Oscars for Best Sound Editing and Best Sound Mixing, for a film that its director Edgar Wright himself has described as 'a car-chase film powered by music'
Chris Mugan
Tuesday 27 February 2018 14:28 Comments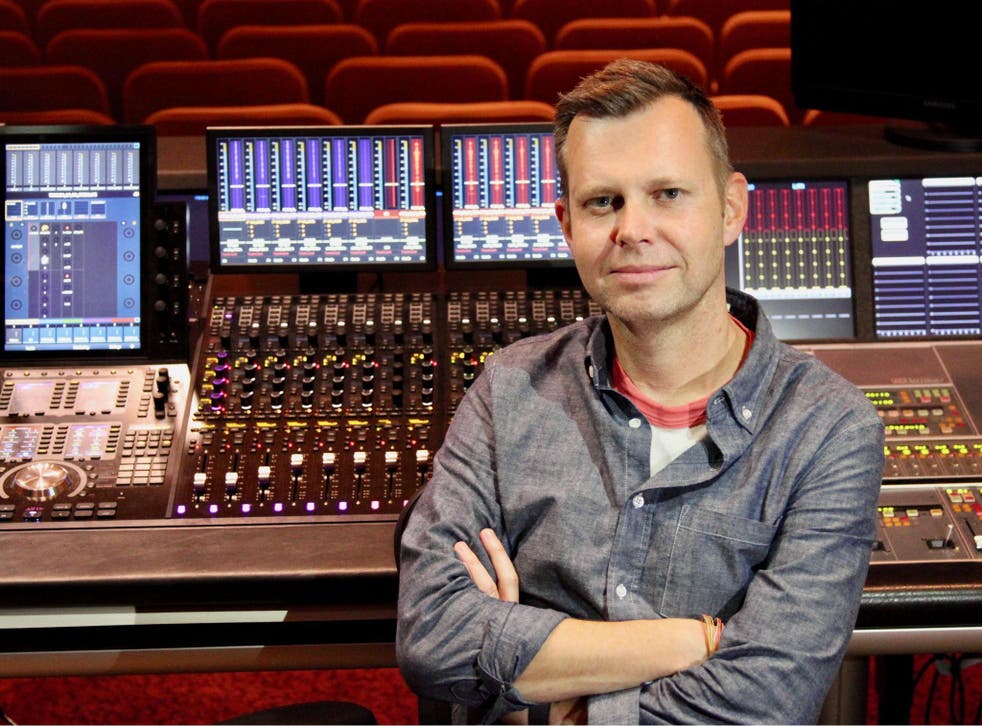 Sat in a London hotel bar, Julian Slater looks surprisingly chipper for someone that only the same morning arrived from Los Angeles, but then the Hollywood sound designer is in the midst of that adrenalin-fuelled ride of a debut Oscar nomination for work on one of last year's hit movies: Baby Driver.
Such is his excitement, Slater has forsworn alcohol until after the ceremony on 4 March, so he can properly appreciate all the experience entails. "It's such a crazy, magical time," he explains, thinking back to the Oscars nominees' lunch where he rubbed shoulders with Meryl Streep, Gary Oldman and Steven Spielberg. "The great thing about it is everyone is treated equally. There is no hierarchy, so I was sat with Amy Pascal, the ex-head of Sony, and the guy who directed Call Me By My Name [Luca Guadagnino]."
For Baby Driver, the heist flick featuring Jamie Foxx and Kevin Spacey, Slater is actually up for two awards: sound editing ("gathering and making sounds and laying them in-synch," he explains) and mixing ("balancing the sound effects together and against the dialogue and music"), recognition of his key role on the film, or rather roles (sound designer, supervising sound editor and re-recording mixer). It is also testament to the key role audio plays in this high-octane thriller that follows a fresh-faced getaway-car driver, the most successful project to date from fellow Brit Edgar Wright.
Having made his name as creator of cult sitcom Spaced, the director moved into film with the much-loved Cornetto Trilogy: Shaun of the Dead, Hot Fuzz and The World's End. Baby Driver follows the director's Hollywood debut Scott Pilgrim vs The World, though is based on an idea he had been nurturing for around two decades, what Wright himself has described as "a car-chase film powered by music".
It is these tunes, mainly selected by Wright himself, listened to constantly by the title character (performed by Ansel Elgort) to ease his tinnitus, that run through almost the whole film, from Jon Spencer Blues Explosion's testifying "Bellbottoms" to Simon & Garfunkel's sweetly playful "Baby Driver", sometimes in musical set-pieces, such as choreographed street-walks and fight scenes, to background noise.
Melding the soundtrack with the dialogue and the action formed a considerable challenge for Slater, despite his own impressive CV that also begins with TV, notably on Chris Morris projects The Day Today, Brass Eye and the surreal Jam, which brought him to Wright's attention. "He was a fan of Chris Morris, heard the sound and was interested in speaking to the person responsible, which led to Shaun of the Dead."
Slater has gone onto enjoy a varied career in the film industry, with highlights ranging from Mad Max: Fury Road, through The Danish Girl to Jumanji: Welcome to the Jungle. All the while, Slater has been a constant member of Wright's core filmmaking team, moving to America to take part in Ant-Man, until the director walked out at the last minute. Still, that has not dented an easy working relationship. "Edgar surrounds himself with long-term collaborators: picture editors, production designer, DOP (director of photography).
"That means you know exactly how he works – and he has a very particular way of working – so I can synch into that and there's no fear about my ideas being rejected. I can suggest anything that's crazy, stupid or possibly isn't going to work. He's great at creating an infrastructure then handing it over and saying now off you go."
Slater had known about Baby Driver's concept for five years and saw an early script two years later, in a unique form: Wright sent colleagues an iPad app that played relevant music as the pages turned, so his go-to sound man knew from the off this was going to be special. "To work on a movie that is about sound and where sound is a plot point because [Baby] has tinnitus and sound has been written into the DNA of the script, that is the holy grail for me, it just doesn't happen that often."
Access unlimited streaming of movies and TV shows with Amazon Prime Video Sign up now for a 30-day free trial
Sign up
Rather than the soundtrack coming to the fore at regular intervals, the mix of hip hop and rock, funk and soul, is seamlessly melded with the dialogue and sound effects, from gunshots and police sirens, to the humdrum sounds of a 24-hour diner. Much of this work was done on-set, with actors listening to tracks as they performed, yet that still left Slater with much to do. He is especially proud of a gun fight set to a version of "Tequila", a chaotic scene with shots and ricochets all in time with the Latino rhythm.
"To figure out the technicalities of doing that was pretty tough, but then to present it in a way that was covert as much as overt was tricky, because we didn't want the audience to get tired of it as a device after half an hour or detract from the action." Perhaps the most effective moment is late on in the film when Baby loses his hearing due to two shots fired by Buddy (John Hamm), as the action is entirely from his perspective. "It wasn't until the last days of the mix that we cracked it, because you want to hear it through his ears, but we still has to hear what people are saying."
Slater claims to have been surprised as anyone about his nominations, though there were early intimations that the reaction to Baby Driver would be different to anything he had experienced before. In March of last year, when Wright premiered the finished film at South by Southwest,, early reviews referred to the sound – "which is very rare. That was the first time I remembered thinking that was something special." After that, the director pointed out that in his first draft of the script, he wrote the movie was all about sound and should be Oscar-nominated for mixing or editing, he didn't care which.
Now Slater finds himself up against the same formidable shortlist in both mixing and editing: Blade Runner 2049, Star Wars: The Last Jedi, The Shape of Water and Dunkirk, winner now of the Bafta best sound award, for which Slater was also nominated. The lad from Suffolk is obviously a long shot, though Slater is happy just be on the shortlist. Baby Driver has been a fantastic calling card for someone that works, as they say in the industry, below the line, with multi-Oscar-winning mixers contacting him to say how much they have enjoyed the film.
"It's nice to have worked on something that everyone knows about. Oscar winners are chosen by the academy, but the nominees are selected by peers in our particular fields – that means I've been chosen by people who know what they are doing. I feel like a winner already."
The 90th Academy Awards Ceremony takes place on 4 March. 'Baby Driver' is out now on DVD and soundtrack is available via 30th Century Records
Other top sound experts
Jay Jennings
Respected within the industry, Jennings has won Golden Reel awards for work on Road To Perdition, Letters From Iwo Jima and Rolling Stones documentary Crossfire Hurricane.
Jimmy Boyle
One of the top UK sound designers, Boyle has worked on Bond movies Casino Royale and Quantum of Solace, winning an Emmy for WWII miniseries Band of Brothers.
Onnalee Blank
In a male-dominated sector, Blank has made her name as sound mixer for Game of Thrones, winning two Emmys for her contribution to the creation of its involving fantasy world.
Ben Burtt
He has worked on everything from ET to Wall-E, but Burtt is best known for devising many of the iconic sounds from the Star Wars franchise, including R2-D2's chirpping, the lightsaber's hum and the shriek of the TIE fighter.
Register for free to continue reading
Registration is a free and easy way to support our truly independent journalism
By registering, you will also enjoy limited access to Premium articles, exclusive newsletters, commenting, and virtual events with our leading journalists
Already have an account? sign in
Join our new commenting forum
Join thought-provoking conversations, follow other Independent readers and see their replies