Eighth Grade: How Hollywood is finally getting the female teenage experience right
Alexandra Pollard looks at why it has taken so long for a film like Bo Burnham's directorial debut – which depicts the daily micro-embarrassments of being a teenage girl – to reach the big screen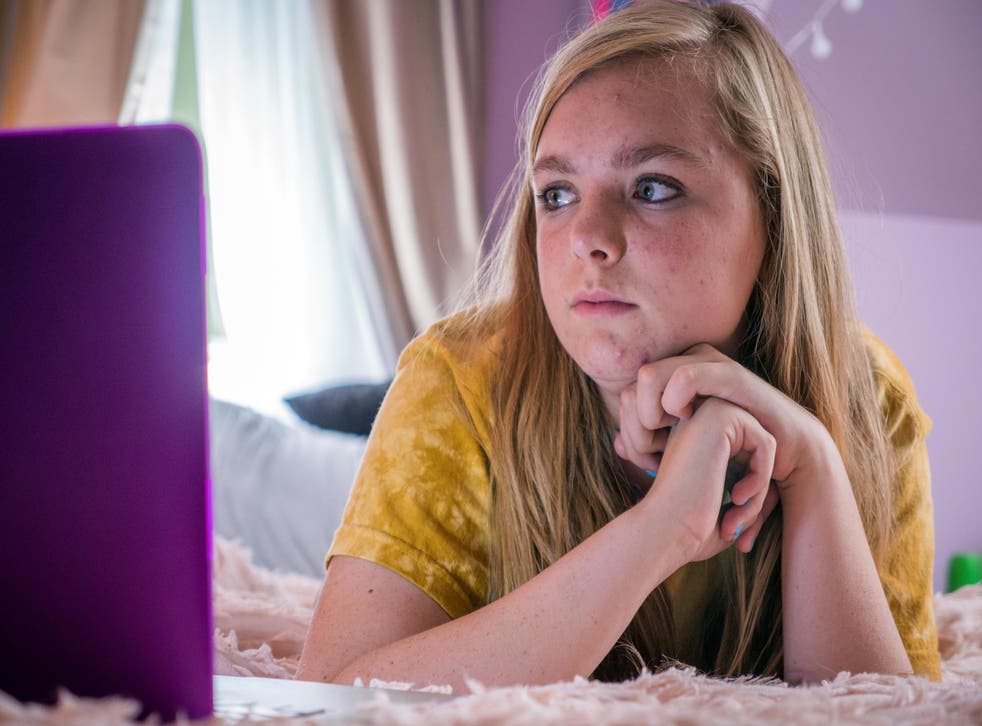 Thirteen-year-old Kayla – the awkward, anxious protagonist of Eighth Grade – is lying on her bed trying to take a perfect selfie. As she's mid-pose, an Instagram message pops up from her cooler classmate, Kennedy. "Hi, so my mom said to invite you to my thing tomorrow," reads the message, "so this is me doing that."
This is me doing that. A lesser film than this would have made more explicit the casual cruelty of Kennedy's message. Perhaps she would have warned Kayla (Elsie Fisher) not to threaten her social ranking by showing up to the pool party. Or berated her mother for suggesting she invite her. But Eighth Grade, the feature debut from comedian and former YouTube star Bo Burnham, has a different mission: to capture the thoroughly uncinematic, daily micro-embarrassments of being a teenage girl.
I grew up in a different world to Kayla. An introvert-in-denial, she spends her time scrolling passively through Instagram, Buzzfeed, and Tumblr, and uploading painfully earnest videos to YouTube on topics she knows very little about, like "Being Yourself". When I was her age, social media was present but embryonic (ranking friends on Bebo was the craze du jour), YouTube was just a few months old, and smart phones were a few years off. But the film resonated with me.
Most teenage girls, just like Kayla, feel constantly on the brink of humiliation. And although few of us actually end up covered in pig's blood, á la Carrie, the reality can be far more horrifying. It is – as Eighth Grade so excruciatingly depicts – a bored, disparaging glance up from a phone. It's a loaded silence after the opening of a misjudged birthday gift. It's mangling your words when a crush walks into the room, or being forced to the front of a group photo nobody really wants you in. Mean girls are more often passively dismissive than malevolent. In short, being a teenage girl is far worse, better, sadder, funnier, uglier and more beautiful than Hollywood has made out.
Best films of 2019 (so far)

Show all 49
Until recently, mainstream cinema has been failing them. They have been depicted as either sullen, stroppy caricatures, impossibly beautiful ingénues, or blank slates onto which the male protagonist scribbles his own hormonal maelstrom. Having voiced Agnes in the Despicable Me films, Fisher had stopped acting before Eighth Grade, "because I was a teenager with a lot of acne", she told Rookie, an online magazine for teens. "Roles for teenagers are disingenuous a lot of the time, and if they want to hire an actor to play a teenager, they're not gonna hire a teenager with a lot of acne."
Before Greta Gerwig made 2017's Lady Bird, which offers another nuanced insight into the (older) female teenage experience, she asked herself, "What is Boyhood, but for a girl? What is The 400 Blows, but for a girl?" She was unsure of the answer. In films about teenage girls, she observed, "so many of them are waiting to be looked at. You have to be asked for the dance, you can't do the asking".
Even John Hughes – who finally forced audiences to take teenage narratives seriously in the Eighties – objectified his female characters to sometimes startling degrees. At one point in The Breakfast Club (1985), bad boy John Bender (Judd Nelson) goes under a table, looks up Claire's (Molly Ringwald) skirt, and then touches her inappropriately. "As I can see now," wrote Ringwald in a piece for The New Yorker last year, "Bender sexually harasses Claire throughout the film … Nevertheless, he gets the girl in the end." After watching Eighth Grade, the actor – who appeared in three of Hughes's films – declared it "the best film about adolescence I've seen in a long time. Maybe ever."
Eighth Grade is the latest addition to a burgeoning trend of films that reframe the narrative: Mustang, The Edge of Seventeen, The Diary of a Teenage Girl, Girlhood, American Honey and Princess Cyd all deftly chronicled the tumult of female adolescence without a hint of derision. Jessie Pinnick, who starred in the brilliant Netflix drama Princess Cyd, was drawn to a film that didn't tie up its protagonist's fate in a neat bow. "Of course there's a transformation within this young girl," she tells me, "but I think she's still, at the end of the movie, evolving and learning and growing."
In that respect, Kayla isn't too dissimilar. Burnham made a conscious effort, he told The Independent last year, "to take the character very seriously. And to take her experience seriously. To ask: can I portray a real eighth-grader's experience on her terms and not elevate the plot beyond anything she'd actually experience? And not to look at her nostalgically or like an adult would, not to go: 'Oh, just wait until you have to pay taxes kid, it gets way worse.' It's, like, no – the actual experience of it is relative. You can recognise that without falsifying it. You can find the laughter in it, without dismissing it."
Access unlimited streaming of movies and TV shows with Amazon Prime Video Sign up now for a 30-day free trial
Sign up
Perhaps most moving is Kayla's subtle, strained relationship with her father Mark, played with goofy warmth by Josh Hamilton. Her mother left when she was a baby, though this is mentioned only in passing. "In hindsight, it really naturally just happened because there was not an older female presence when Kayla was being written," Burnham told Rookie. "So the dad was a way for me to voice my own limitations as a man that has no idea really what she's going through."
Mark is desperate to help Kayla, and clueless as to how to do so. Both to his amusement and his chagrin, his daughter is deeply irritated by him. Their conversations are strained and stilted, and any misguided attempt by Mark to reassure his daughter is met with exasperation. "Kennedy doesn't like me," says Kayla, explaining why she doesn't want to go to the pool party. "That can't be true!" he protests sincerely, artlessly. "Cool," she says. There is no point explaining. She puts her headphones back in.
Support free-thinking journalism and attend Independent events
Later, though – having finally admitted to her scant YouTube followers that she is "really, like, nervous, all the time" – Kayla is ready to receive her father's comfort. "Do I make you sad?" she asks, as they burn the contents of her sixth-grade time capsule. "Sometimes I think that, like, when I grow up, maybe I'll have a daughter. And then, like, I was thinking, if she was like me, I think that would make me really sad all the time." As Burnham's beautifully written script puts it, her father's response "may be the only thing that he is absolutely, one hundred thousand per cent certain of": "You're wrong," he tells her firmly. "It's so easy to love you. It's so easy to be proud of you."
It is a touching moment in a kind-hearted film that finds poetry in the prosaic. It is so easy to love Eighth Grade: I urge you to watch it.
Eighth Grade is out in UK cinemas now
Join our new commenting forum
Join thought-provoking conversations, follow other Independent readers and see their replies