Rising Stars
Eliza Scanlen: 'I'm tired of making excuses for young male actors – everyone should know what it means to be professional'
The 'Little Women' and 'Sharp Objects' star talks to Ellie Harrison about playing psychopaths, being on the cusp of fame and why she's fed up with the 'boys will be boys' defence being used on set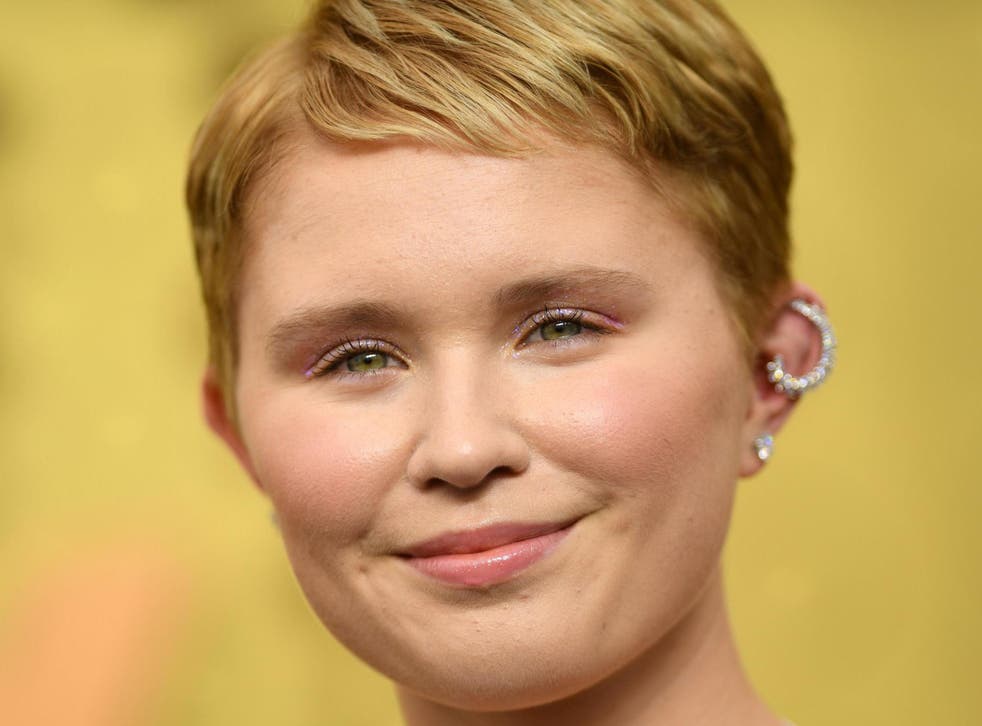 Eliza Scanlen has the face of a psychopath. At least, that's what casting directors seem to think. The 20-year-old Australian actor played a stalker in Home and Away and a rollerskating killer in Sharp Objects, and will soon crawl inside the mind of a severely troubled young woman in The Devil All the Time, a film adaptation of Donald Ray Pollock's violence-soaked novel.
"My friends were all teasing me like, 'Is this gonna be a pattern, Eliza? Are you gonna be typecast as the psychopath now?'" laughs Scanlen over the phone from New York, where she is currently starring as the unhinged antagonist in Aaron Sorkin's To Kill a Mockingbird on Broadway.
But Scanlen's latest role couldn't be further from the twisted characters she cut her teeth playing. As Beth in Little Women, adapted by Greta Gerwig from Louisa May Alcott's novel, Scanlen is the antithesis of evil. She is so pure, in fact, that she struggles to survive in the tough world of 1860s New England.
While Scanlen's dialogue is scant compared to the other March sisters – played by Saoirse Ronan, Emma Watson and the pitch-perfect Florence Pugh – she inhabits the role of sickly Beth with a quiet ferocity, longing and fragility writ large on her cherubic face.
The 40 best films of the decade

Show all 40
The new film shows the March sisters as fiercely loving, giddy young women who arrive in a chorus of chatter, wrapping each other up in chaotic embraces, all mittens and laughter. The real-life friendship between the actors is no different. "Yesterday was the first time I had seen Florence or Saoirse in a year," says Scanlen, "and we were like little girls, screaming and hugging. We couldn't keep our hands off each other. That was very lovely."
During filming, they all lived in the same apartment complex in Boston. "We knitted together during setups," says Scanlen. "We had a lot of dinner parties. Florence is the queen of mulled wine, so she made a lot of that for us."
While Scanlen is the youngest, and least well known, of Little Women's four leads, she more than holds her own alongside the others. Her talent has been evident since her intense break-out role in the HBO miniseries Sharp Objects, in which she played the depraved younger sister of Amy Adams's Camille, a journalist who returns to her childhood hometown to report on a series of horrific killings.
Scanlen had just celebrated "schoolies" – when Australian high school graduates mark final exams with a week-long break – when she auditioned for the part. "I spent a week just getting all that teenage delinquency out," she says. She had barely recovered from laryngitis when she rocked up to the screen test. "It was very much like any audition... except that Amy Adams was in the room." A few days later, she was offered the part, and the following year, aged 18, she left Sydney and headed to Los Angeles for the six-month shoot.
"On a personal level, being away from home was hard," says Scanlen. "I had only just graduated high school and at that point my friends were my life, my school was my life, and to leave all that so suddenly was daunting. There were many bouts of homesickness. Looking back at it now, it was a huge transition."
Access unlimited streaming of movies and TV shows with Amazon Prime Video Sign up now for a 30-day free trial
Sign up
She pauses, processing the fact she's had three years of non-stop auditions, travelling and shoots. "I'm only beginning now to realise how insane that was."
Both Sharp Objects and Little Women were written and directed by women and led by a female cast. Scanlen knows how unusual that still is, but she feels she's entered the industry at "an incredibly fortunate time. I haven't had to face the hardships that so many women have had to face," she says. "It's important for us young women to honour how much some women have had to fight to be a part of an industry in which they should inherently belong."
Then again, since Sharp Objects, "there have been moments where my place has been tested, and that's when I realise the picture is so much bigger than the microcosm of my experience".
What does she mean by that? "It's about navigating a self-righteousness that some men seem to have," she says. "I'm a particularly relaxed person. I don't get too worked up about people who I don't gel with or who I disagree with. But, to be honest, I'm just tired of making excuses for young male actors by saying that they're just boys and they'll get over it. The 'boys will be boys' thing, I think that's really the crux of it. Everyone should know what it means to be professional."
Scanlen speaks with a mix of caution and confidence, particularly when trying to find the humanity in controversial characters. She feels the weight of her current role – as Mayella Ewell, the woman who falsely accuses local black sharecropper Tom Robinson of rape in To Kill a Mockingbird – in the context of Trump's America.
"This version has been so imbued by the political environment of the United States," says Scanlen. "[Director Bart Sher] was really pushing Mayella as less of a victim and more of a wildly aggressive conservative that acts out of fear. She and her father are the outcasts and have the same social standing as the African-American people in the community and, at the time, that was deeply humiliating for white people. So it's about tapping back into that inherent humiliation and the need to prove their power."
Between performances, Scanlen navigates the streets of New York largely unrecognised. "There will be people on the subway who may stare at me for a little too long," she says, "but they still don't make the connection, which is nice." Is she ready for Little Women to change that? "It's something I've been thinking about a lot recently. I am a particularly private person, but something Saoirse told me is, I just have to let it happen. There's no way I can prepare for it. I'm trying to enjoy the anonymity as long as I can."
Little Women is out in cinemas now
Read the rest of our Rising Stars interviews here.
Join our new commenting forum
Join thought-provoking conversations, follow other Independent readers and see their replies