Ellen Barkin - Still a natural blonde thriller
Ellen Barkin is back in Hollywood, playing a washed-up actress. Happily, it's not a case of art imitating life, she tells Kaleem Aftab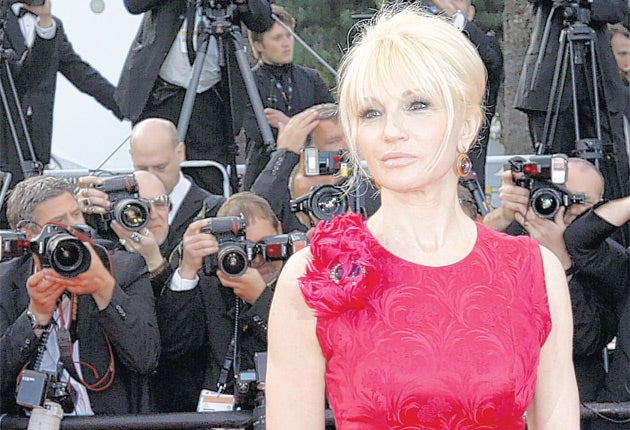 Right off the bat it's easy to like Ellen Barkin. The 56-year-old actress has a dry sense of humour, is self-deprecating in a good way and no question is left unanswered. If she were anymore relaxed she'd be asleep.
She kicks off by stating that her latest role, in Cam Archer's Shit Year, was one for which she didn't really have to prepare: "She's an actress who can't get work – I don't think she voluntarily goes into retirement. She heads to the countryside because she can't get work anymore and wants to get out before it's obvious, so it could look like it was her decision. Obviously, that's very easy for me to relate to. But I don't have to think that, I live that everyday!"
Well, not quite. The Sea of Love star has been pretty busy recently. She's more likely referring to the six years she spent hardly making a movie around the turn of the century. The dates of this screen absence pretty much coincide with her marriage to businessman Ronald Perelman in 2000 and subsequent divorce from him six years later. Her divorce settlement saw her receive a cool $40 million. Nonetheless, it was a marriage she says she'd rather forget ever happened. "Wasn't that part of my hallucination?" she jokes, referring to her character in Shit Year who dreams that she's had a relationship with a young twentysomething. In the movie, it's a failed relationship that pushes her into retirement. In real life, it seems like she's never been busier.
In addition to the vulnerable actress part in Shit Year – a heady mix of Giulietta Masina in La Strada and Gloria Swanson in Sunset Boulevard – Barkin has recently appeared as a bitchy, deal-making cop in Brooklyn's Finest and will soon be seen in Jean-Paul Salomé's The Chameleon, playing a down-at-her heel mother who is addicted to drugs, and in Joel Schumacher's unintentionally hilarious adaptation of Nick McDonell's teen angst novel Twelve.
Of her mid-career break she says: "I think it's cyclical, sometimes you work and sometimes you don't, and then sometimes it's also part of your own willingness to engage. Doing a movie like Shit Year, honestly, I found it extremely inspiring, very fulfilling artistically, and I really wanted to work. I still think I had things to say."
She says "honestly" in a way that suggests she's occasionally economical with the truth when speaking to journalists, yet she comes across as forthright and open. Although it's too easy, and not true, to suggest that the struggling actor who cannot move on with her life is a doppelgänger of the real Ellen Barkin, the actress states that there is only one other part where she just played herself: "I'd say the first movie I ever did was the most like myself I've ever been – until I did this movie. And the first movie I did was Diner. I think that was really me just being me."
In Barry Levinson's Fifties-era coming-of-age drama, Barkin played the smouldering yet sweet-natured Beth Schreiber whose husband has begun to wonder why he ever married her. In some ways, it's easy to see the similarities: Barkin has always looked great (she says that yoga has been replaced by going to the gym four or five times a week) and is very amenable. She also knows all about a relationship turning sour. It's also not hard to imagine that Barkin could be incredibly feisty. After all, she's pulled off that role effortlessly in a number of movies such as Sea of Love and The Big Easy, which also features one of the most sizzling sex scenes ever put on screen.
Barkin has two children from her first marriage to the In Treatment star Gabriel Byrne – a son Jack Daniel, 21, and daughter Romy Marion, 18. Her children are poised to leave home but Barkin says that she's not feeling a sense of loss now that they are flying the nest: "I'm not terribly protective as a mother. I mean, obviously, it's very emotional, but I don't feel that devastation. I think that's your job as a parent, to get your child out of the house, and teach them to live on their own. So I feel like, wow, I guess I did that part well. One will go and then the other will go, and I will have succeeded."
In contrast to the aftermath of her second marriage, she has a brilliant relationship with Byrne. The relationship continues to be strong, she says, because, "We worked really hard at it. It wasn't easy. It didn't just flow into 'let's be best friends', but we worked hard at it and I think we both have an enormous amount of respect for each other. I was at Gabriel's 60th birthday and he, the kids, my brother and sister-in-law and I just went out for dinner, it was very good."
Access unlimited streaming of movies and TV shows with Amazon Prime Video
Sign up now for a 30-day free trial
Sign up
Access unlimited streaming of movies and TV shows with Amazon Prime Video
Sign up now for a 30-day free trial
Sign up
The couple have grown used to compromise, especially with regards to raising their children: "When they were young, Gabriel, being a lapsed Catholic, would say to me that they need some kind of religious training. I said, 'Forget it, they're not going to Hebrew school' and he said, 'Well, they're not going to the Jesuits for God's sake.' So I think they're just kind of open and neutral." She says her children are almost embarrassed by having parents who are in the public eye. She's never seen any of her own films with them, which is probably a good thing given some of her more sensual and sensational performances. Barkin isn't, though, one of these actors who claims to be unable to watch themselves.
"I find that I can watch myself on screen, very easily," she affirms. "Once I get over how crazy my nose is. It's like when you hear the sound of your voice for the first time, 'is that what I sound like?'" She adds , preposterously: "I still wish I had a nose job. I still say it. Am I too old? Would anyone notice?" The only reason she didn't go under the knife was because "my mother wanted me to. Yeah, I have a little rebellious streak"
Despite this streak, she says that her life is pretty mundane in most respects: "I'm a real homebody. I don't leave my house, almost to the point of being a little bit of a shut-in."
I ponder whether this might be because her house, situated in New York, is so nice that she doesn't ever feel the need to go out. She responds: "Someone said that before, that I have a nice house. I like it, but I don't think that matters. I've been like this my whole life. I'm very comfortable alone. That's just my character. I know that when I leave the house, I have a really good time, it's just getting me out. I'd rather just be stuck at home watching Turner Classic Movies. I'm stuck with a book and old movies, that's pretty much the beginning and end of my life."
Sounds just like Sunset Boulevard. Rolling with the theme, Barkin adds: "Totally! Only there's no band and Erich von Stroheim is not taking care of me. That is a tragedy and William Holden is not in my bedroom, or at least, not that I've noticed."
Her friends occasionally get her out of the house. "Someone from out of town, always. My New York friends, we only talk on the phone. My best girlfriend is actress Julianne Moore, she lives three blocks from me. We hardly ever see each other and we're best friends."
Barkin has also branched out and started to work as a producer. The recently released Letters to Juliet, starring Amanda Seyfried was one of her films. She sent the production team barmy as she didn't own a computer or start using email until very recently, after the production had finished.
Barkin doesn't envy her young star Seyfried. She's clear about one thing, that she wouldn't want to be starting out as an actress right now. "They have a shorter shelf life," she explains. "Their careers are over in a blink. So I think it's harder for them to feel motivated to exhibit a real professionalism because they must wonder how long they are really going to be around for. It's really bad. There are exceptions obviously. There's no slow build anymore where you get a little part, then you get a little better part, then a better part until one day your agent calls you us and says 'guess what you're a movie star' and you say 'thank you!'"
'Shit Year' and 'Twelve' are released later this year
Join our commenting forum
Join thought-provoking conversations, follow other Independent readers and see their replies