Emad Burnat: The Oscar-nominated Palestinian farmer who survived bullets, arrests and being held at LAX airport
He endured a difficult journey making his film – and then getting to the Oscars unscathed, he tells Alistair Dawber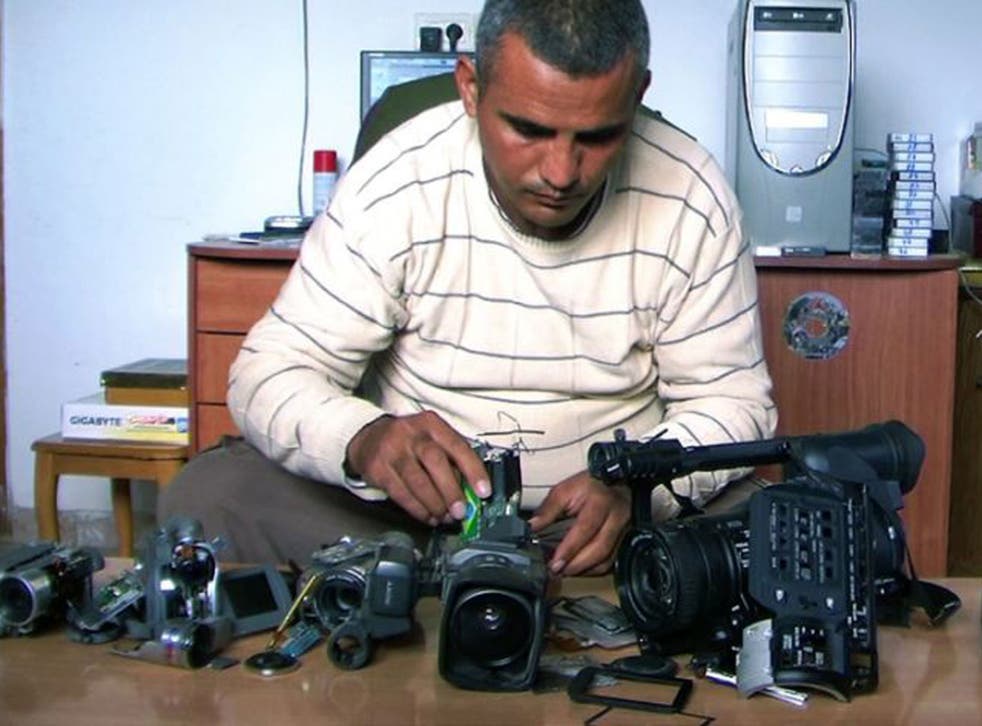 There is a buzz about Emad Burnat's house on the morning we meet him. That afternoon, he would travel to Jordan, catch a flight to Istanbul, and then on to Los Angeles for the Oscars ceremony on Sunday where his film, 5 Broken Cameras, will be up for an award in the documentary category. All rather glamorous for a Palestinian farmer, you might say.
But the journey was not smooth. On Wednesday, when Burnat, his wife, and their eight-year-old son Gibreel – who stars in the film – finally arrived at Los Angeles international airport after a 16 hour trip, they were detained at the airport. US immigration officials claimed Burnat did not have a proper invitation to the ceremony.
"After 40 minutes of questions and answers, Gibreel asked me why we were still waiting in that small room," Burnat said. "I simply told him the truth: 'Maybe we'll have to go back.' I could see his heart sink. Although this was an unpleasant experience, this is a daily occurrence for Palestinians throughout the West Bank."
On this occasion, they were let through. But Burnat had similar experiences – and worse – over the eight years he spent filming the weekly protests in his village of Bil'in, against the construction of Israel's security barrier. The fence, as it is in Bil'in, cut the villagers' land in half, blocking off access to Burnat's and other's olive trees, and, as the film shows, setting up many violent confrontations between the villagers and the Israeli army.
The film's title refers to the number of Burnat's cameras that have been broken during the course of making the documentary, which was cut back from more than 700 hours of footage. Some of them have been shot with bullets and tear gas canisters, others have been damaged beyond repair during fist fights with soldiers and settlers in the nearby outpost of Modi'in Illit.
Burnat's sixth camera, thankfully unscathed, is on a sofa in his sitting room. On a table are the five famous cameras in various states of disrepair. "The lens of this one was hit when I was holding it up and filming," he says, pointing to a bullet lodged in the fifth of his cameras. "It probably saved my life." Recording Bil'in's struggle was dangerous work. Along with others, Burnat was arrested and injured in clashes between villagers and the Israeli security forces. One of his closest friends was shot dead in 2009.
"I think the camera can offer you some protection. The footage can be used as evidence, and also, perhaps, the soldiers use less violence when they see the camera. But it is also a reason to kill you. I have been shot at many times, and had five cameras broken by bullets, and gas canisters."
The idea to film the protests in Bil'in coincided with the birth of Gibreel. Burnat says that he wanted to document his son's early life and how it would be affected by the struggle.
"I didn't set out with the intention of making a film, but I thought recording what happened here was important. I wanted to show a personal story; how the occupation affected my village, my family and friends," he says.
Access unlimited streaming of movies and TV shows with Amazon Prime Video Sign up now for a 30-day free trial
Sign up
The film cost $350,000 (£229,000) to produce, a job that was helped by bringing in Guy Davidi, an Israeli co-producer. Burnat says it hasn't brought in much money for himself and his family, though he has toured the US, Latin America, Europe and Israel, where he says it has had a positive reception. It has changed his life.
The people of Bil'in have also benefitted. The barrier – built through the village's precious olive groves – was pushed back after a decision by the Israeli courts. Though it still cuts through occupied land, it is one of the few legal victories the Palestinians can claim against the construction of the barrier. Burnat won't claim direct credit for the decision but discloses his film was used by Bil'in's lawyers.
It is Gibreel, who shows the most excitement for Sunday's awards ceremony. He's been given permission by his school to take time off to attend the Oscars, and according to his father, "he thinks he's now a movie star". The fact is, along with other villagers in Bil'in, some of whom were killed or injured during the making of the film, Gibreel is a movie star. But whether the film wins or not, the family will return to reality – Bil'in, their olive trees, and the occupation – when it's over.
Register for free to continue reading
Registration is a free and easy way to support our truly independent journalism
By registering, you will also enjoy limited access to Premium articles, exclusive newsletters, commenting, and virtual events with our leading journalists
Already have an account? sign in
Register for free to continue reading
Registration is a free and easy way to support our truly independent journalism
By registering, you will also enjoy limited access to Premium articles, exclusive newsletters, commenting, and virtual events with our leading journalists
Already have an account? sign in
Join our new commenting forum
Join thought-provoking conversations, follow other Independent readers and see their replies