Emily Berrington and The Inbetweeners 2 movie: Women behaving badly
The star of 'The Inbetweeners 2' used to work for the Labour Party. For her next campaign, Emily Berrington tells Stephen Applebaum, how about an all-female version of the comedy franchise?
Stephen Applebaum
Wednesday 06 August 2014 16:56 Comments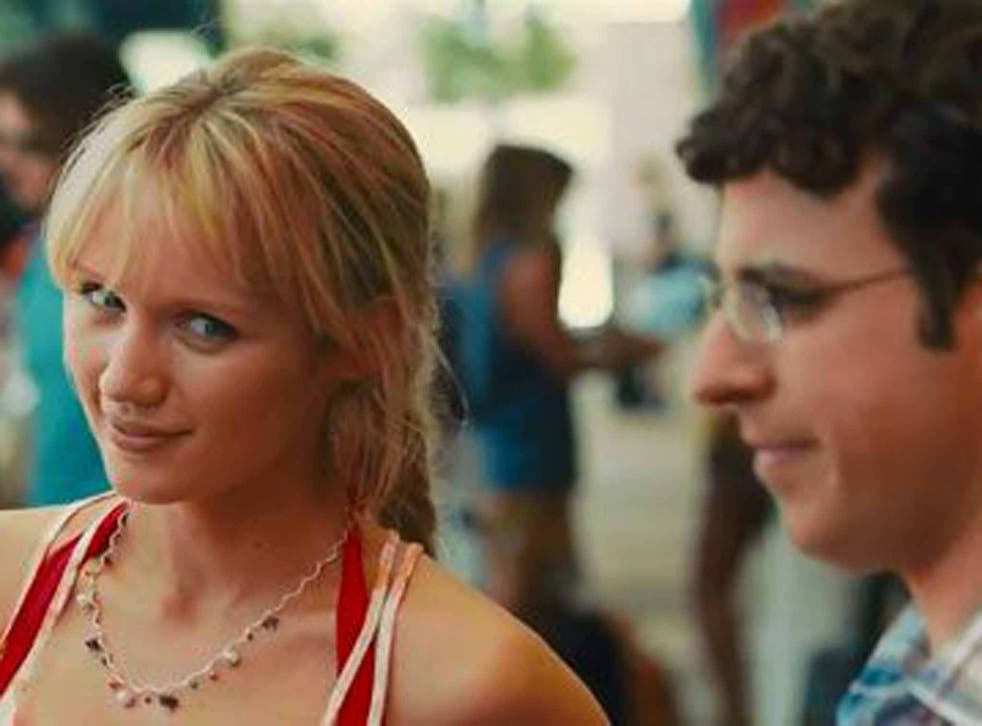 The first time I saw Emily Berrington she was knifing somebody in a pub toilet as Simone Al-Harazi, the radicalised daughter of a fanatical terrorist, in 24: Live Another Day. Today, in a bar on London's Southbank, she has nothing sharper on her than a plastic straw. Like Simone, though, she is not quite an open book – at least not where specific details about her new movie, The Inbetweeners 2, are concerned.
From the beginning, the Australia-set sequel to the record-breaking The Inbetweeners Movie (2011) has been cloaked in secrecy. This means that it would take more than the iced coffee I've bought Berrington to loosen her lips completely.
"I wasn't even allowed to tell anyone I was in it for quite a long time," the engaging 27-year-old tells me. "So I had to be, like, 'I'm going to Australia. Don't worry about me.'"
There was intense media interest Down Under. On the Gold Coast, paparazzi chased Berrington and Inbetweeners regulars Simon Bird, James Buckley, Blake Harrison and Joe Thomas as they drove home from work, and popped up uninvited during filming at a water park. "[The crew] were having to shield what was going on because they didn't want it to be given away," recalls Berrington.
Lifting the veil a little, she tells me that her character – the film's lead female, Katie – encounters Simon, Will, Jay and Neil, who have all left school, while on a gap year.
"She's gone to Australia to have the experience of a lifetime," Berrington says. "So every friendship she makes, it's like, 'We're going to be best friends forever! You're my soul mate!'" She laughs. "When I read it, I thought, 'Oh my God, I met this girl on my gap year. Maybe I was this girl."
This kind of recognition is what appealed to Berrington about The Inbetweeners on TV. Berrington says she found the awkwardness of the characters reassuring at a time when she also felt "awkward and teenagery".
"I remember watching and thinking, 'Maybe to boys I actually am like this glamorous, really sorted goddess, because they're dealing with far worse stuff, potentially. So maybe through their eyes I am actually all right; even though through my eyes, I'm this awkward, greasy teenage girl.'"
On The Inbetweeners, she could easily have felt like an outsider. However the "boys" made her feel included by always explaining their in-jokes, accrued over years of working together. "So something would come up and they'd say, 'Oh, Emily, this is referring to six years ago when Joe ate a cockroach.'" Such is their trust in each other, she adds, that they "have a rule that no joke is off limits, as long as it's hilarious. So they take things quite far in terms of piss-taking and tricks they play on each other. Sometimes, I'd think, 'My God, surely they've taken it too far this time.' There were no limits."
Access unlimited streaming of movies and TV shows with Amazon Prime Video Sign up now for a 30-day free trial
Sign up
Inbetweeners 2 film stills

Show all 7
Often, it was Damon Beesley and Iain Morris, writers of the TV series and The Inbetweeners Movie, who'd find themselves the butt of their humour. The Inbetweeners 2 was their first time in the director's chair and the actors were "mercilessly horrible" to them about their directing, giggles Berrington.
"They were brilliant directors, but if they took one second to decide what a shot was going to be, the boys would be on them instantly. I remember Joe finding a lizard on the floor and going up to Damon and Iain and saying, 'This lizard actually has some really good ideas. I think he knows more about what's going on than you guys do.' I thought, 'One day they're going to explode and just say, 'Let us do our job!' But it never happened. They took it every time."
Berrington discovered that while as individuals the actors were now grown-up and quite different from their characters, the dynamic between them was similar to on screen. "Every time 'Action' was called, James Buckley [who plays insecure sex-obsessive Jay] managed to fart at the exact moment, just so you'd end up having to do a scene trying not to laugh but also trying not gag. So I was glad to see they weren't completely grown-ups. They were lads at heart."
We discuss whether it would be possible to do a female version of The Inbetweeners. After all, recent footage coming out of Magaluf shows that girls are as out of control abroad as lads. However, the outrage poured on the young women involved in alcohol-fuelled sex games at bars barely touched the men in the videos, suggesting a double standard that could make such a show difficult to pull off.
"Little girls as children, I think, are expected to behave better," says Berrington, who'd love to see a distaff Inbetweeners. "If a boy's naughty at school he's a little bit cheeky and mischievous. If a girl's naughty, she's trouble. And I wonder if the same could potentially apply if it was a female Inbetweeners series, that people could think maybe they should know better or maybe they were being slutty? Particularly if there was a female version of Jay. I'm not sure if people would warm to her particularly, which is sad in a way. Because I feel like girls go through the same things."
She is keenly attuned to the different demands placed on men and women. Raised in a politically aware family by social-worker parents, Berrington worked as an intern for Margaret Hodge, in Barking, for three months, and then as a case worker for the Labour MP Siobhain McDonagh at the House of Commons, for a year, before seriously pursuing acting.
While in the latter post, she noticed how the long, unsociable hours made balancing work and family life difficult. "I remember thinking, 'Where are all the women who are in their late thirties and early forties? Are they by any chance having children, a lot of them... Maybe it's changed since I was there but I thought at the time how difficult it must be for women to stay. So I think a lot drop out of the system at some point."
In her own work, she is conscious of the disproportionate number of scripts containing nudity that come her way. She went fully naked in her first West End play, Children's Children, at the Almeida, in the knowledge that there would be no record of it. But appearing topless as Jane Shore in last year's TV costume drama, The White Queen, has made her think more about the way images can find their way onto the internet.
"With The White Queen, I thought about it incredibly hard at the time," she says. "But until you've done it you have no idea what it will feel like afterwards. I have no regrets about doing it, but it's definitely informed further choices. Maybe made me slightly cautious about it since. But of course it limits the parts. And unfairly it is girls that get asked to do it. Boys who I know who are actors very rarely get asked for nudity and it is something you really have to fight against."
While she has turned down auditions over the issue, Berrington, who will soon be seen in the horror film The Last Showing, and is about to start work on a new American historical drama series, Sons of Liberty, says that negotiation is often possible.
"Not everybody is forcing you to try and take your top off," she laughs, as we pack up to leave. "There are a lot of guys out there that are very happy for you to keep your clothes on."
Tell that to Jay.
'The Inbetweeners 2' is released this week
Register for free to continue reading
Registration is a free and easy way to support our truly independent journalism
By registering, you will also enjoy limited access to Premium articles, exclusive newsletters, commenting, and virtual events with our leading journalists
Already have an account? sign in
Join our new commenting forum
Join thought-provoking conversations, follow other Independent readers and see their replies