Emily Blunt interview: Sicario actress talks women in action films, not being pigeonholed and Hollywood elitism
'There is this new wave of action roles for women and audiences are loving it'
Jack Shepherd
Tuesday 06 October 2015 16:29 Comments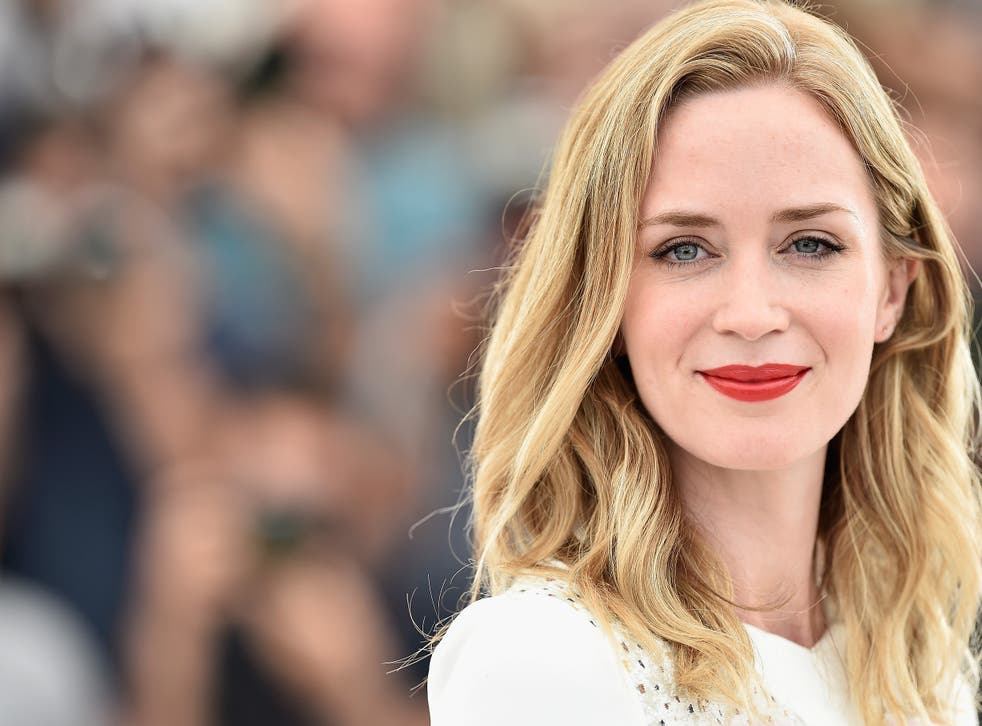 Emily Blunt's latest film - the action-packed narco-thriller Sicario - sees the actress take centre stage as an idealistic FBI agent chasing down a Mexican drug cartel. It has been a hit with both fans and critics alike but is one of very few action films to star a female actress as the lead.
"There is this new wave of action roles for women and audiences are loving it - loving it! Seeing chicks in that sort of role," she tells The Independent.
Blunt cites Scarlett Johansson in Lucy, Rebecca Ferguson in Mission Impossible, Charlize Theron in Mad Max and Jennifer Lawrence in The Hunger Games as examples of women heading up blockbuster movies: "I think things will keep shifting in that direction."
The 32-year-old is no stranger to the the action genre, having previously starred alongside Tom Cuise in Edge of Tomorrow and Joseph Gordon-Levitt in Looper. She has also been linked to the role of Captain Marvel in the upcoming superhero movie, as have the aforementioned four women
Previously, Blunt has said that the reason she is so often asked about the Marvel role is because the "list is very short" for women who play these types of characters.
Sicario Exclusive Interview With Benicio Del Toro
"The parts are kind of limited," she continues. "Very often you're seeing women as the damsels in distress in action films. Where a woman is at the forefront of the action, that's a rare breed, a rare thing to see. More of an anomaly.
"So, that's why I said the list is quite short, because those are the types of roles that are out there, they're quite limited usually for action films."
While Blunt may be one of the leading female faces in action films, she has taken on comedies, dramas and even voice work: "I've always strived, whether a movie is small or big movie, to play diverse roles. Try not to be pigeonholed.
"I think the business likes to categories people and compartmentalise you and I'm happy not to be in that position."
Access unlimited streaming of movies and TV shows with Amazon Prime Video Sign up now for a 30-day free trial
Sign up
Numerous critics have pointed out how Hollywood has swept up many 'posh' British actors, such as Benedict Cumberbatch and Eddie Redmayne. Blunt herself was privately schooled and speaks with an eloquent British accent. But does she think Hollywood only favours the upper-class?
"I don't know, I've never really thought about it," she begins. "I feel like there are a lot of people not from that neck of the woods who have been exported as well. I think the British culture is interesting to America, I don't think it's limited to just private schooling."
One show that has done extraordinarily well in the US is Downton Abbey, proving the country's fondness for the privileged Brit: "Can't everyone do a posh accent though? They don't necessarily have to be from that neck of the woods."
Blunt is rumoured to be in contention to play Mary Poppins in the upcoming sequel, but she won't budge, dismissing it as merely a rumour. When asked if there are any upcoming franchises she may wish to be part of, she adds: "Not particularly, no."
She's gotten this far without being in a mega-franchise, why start now.
Sicario is in UK cinemas from 8 October.
Register for free to continue reading
Registration is a free and easy way to support our truly independent journalism
By registering, you will also enjoy limited access to Premium articles, exclusive newsletters, commenting, and virtual events with our leading journalists
Already have an account? sign in
Join our new commenting forum
Join thought-provoking conversations, follow other Independent readers and see their replies