Emma Stone: 'Dating Andrew Garfield makes living in LA a lot less fun'
The actress talks to Stephen Applebaum about her first animated feature
Stephen Applebaum
Monday 09 December 2013 16:12 Comments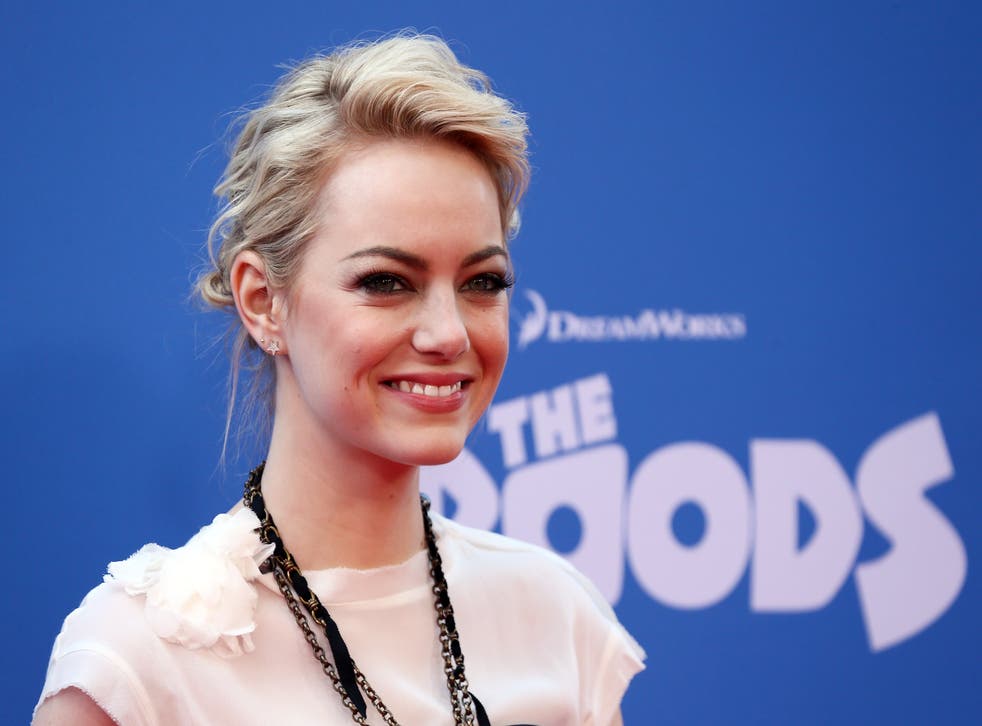 After a rocky start, Emma Stone broke through with her first film role in the Judd Apatow-produced comedy Superbad. Now one of the Hollywood's brightest rising stars, she talks about her performance as the feisty cave girl Eep, in her first animated feature The Croods, and reveals why she tries not to read about herself online.
This was your first animated feature. Was it what you were expecting?
"The experience was a lot more like traditional acting than I expected. The first year of the project I would go in and I would voice Eep in this higher cartoonish register. And then once I saw some of the animation and I saw her build, it felt like she should have a lower register. So I ended up having to make it a lot truer to life."
Did you have to record it again?
"Yeah, but they kept elements. And that's part of the difference in animation, too, that you do want to have that range of character in your voice and not necessarily just because you can't express everything physically, even though the animator is incredible and is animating to your facial expressions, a lot of the time."
Eep's athletic, brave, curious and independent – did you relate?
"Am I athletic? No. Brave? I hope so. You know, I've never been incredibly physically strong. I'm a bit more willowy in build. But I like to think I'm strong in character and in spirit."
And curious?
"Yes, I've always been curious about what the world has to offer and what makes people tick."
Is that part of the appeal of acting?
"Definitely. I always was very interested in journalism, and still am. I love to write and a friend of mine who is a journalist said, 'You talk to people like a journalist.' I like to know why people are the way they are."
Do you ever find out anything about yourself when putting a character together?
"Yes, and I have another friend who says, 'Roles choose you at the time you need them most.' You have to believe, as an actor, that if you didn't get a certain role you really wanted and it went to someone else, it was because it was theirs to begin with."
You were turned down for a lot of roles early on. Losing out on Heroes was especially tough, wasn't it?
"Oh yeah. Heroes was tough was because I could hear them through the wall telling Hayden Panettiere, 'You got the part. You're the best.' And then I went in right after her. I was like, 'F***, man! Is it never going to be my time?' And then two weeks later I got Superbad, my first movie, and that changed my entire life."
Did you ever consider quitting?
"No, that was the weird thing. It was tough for about three years, when I was auditioning and doing little guest parts on TV shows but not really getting a steady job. And I was missing High School for all those three years. But I never actually felt like I was supposed to give up. There was something in my gut that kept telling me to keep going."
Access unlimited streaming of movies and TV shows with Amazon Prime Video Sign up now for a 30-day free trial
Sign up
Does your philosophy of winning the parts that you're meant to get mean that you don't have any regrets when you look back over your career to date?
"When I look back I don't have regrets. In the moment I am really, really hard on myself and can be my own worst enemy. And I am trying not to be that because it's so s****y having a voice in your head that's saying mean stuff to you."
Now you're a star, do you ever think about how it happened?
"No. When I think about it for too long, which I sometimes let myself do, it really screws with my head. I don't always expect to be lucky like this. The life of an actress, it ebbs and flows. And, unfortunately, it's different between men and women, too. So I'm trying to remain unattached to whatever position I am in externally in the world."
When you were 15, you used a PowerPoint demonstration to explain to your parents why you should move from your home in Arizona to LA. Were you surprised when it worked?
"Yeah, my dad instantly said yes. It was weird. And my mum was like, 'We're going to talk about this. Why did you say yes?' And they talked about it for about a month. I was very lucky because my parents didn't really see me as an extension of themselves. They saw me as an individual. And they understood that I wanted to act, even though they aren't actors."
Who was your role model when you were 15?
"When I was 15 I was comedy focused. I loved Gilda Radnor, Molly Shannon, Lucille Ball. Those were the women that I grew up watching. And then, like, Steve Martin and John Candy. But then as time went on it expanded a little bit and my love of comedy grew into watching Woody Allen movies or Hal Ashby movies, and I started to understand the comedy-drama relationship, which is really my vein of gold. That's my favourite type of story, one that makes you laugh and cry. But every great comedienne does that. You can feel pain behind the comedy and that's what makes them truly great."
Has the attention you're now getting because of your rising profile and relationship with your Spider-Man co-star, Andrew Garfield, changed the way you live?
"It makes being in Los Angeles a lot less fun, because a lot of photographers live there. So that's a little different. And if I look at blogs or comments - which I have made the mistake of doing, and it's the dumbest thing you can do - the cynic in me just goes nuts. So if I don't look at it, and I just keep focused on myself internally, it's alright. Nothing is different because I know my truth, and that's what matters."
The Croods is out on DVD and Blu-ray on 9 December
Register for free to continue reading
Registration is a free and easy way to support our truly independent journalism
By registering, you will also enjoy limited access to Premium articles, exclusive newsletters, commenting, and virtual events with our leading journalists
Already have an account? sign in
Join our new commenting forum
Join thought-provoking conversations, follow other Independent readers and see their replies