Emma Watson is a brilliant actor – let's stop pretending she isn't
Despite speculation to the contrary, Emma Watson is very good in 'Little Women', just as she was in 'The Bling Ring' and a number of other movies. So why don't we take her seriously as an actor, asks Adam White
Monday 23 December 2019 08:01 GMT
Comments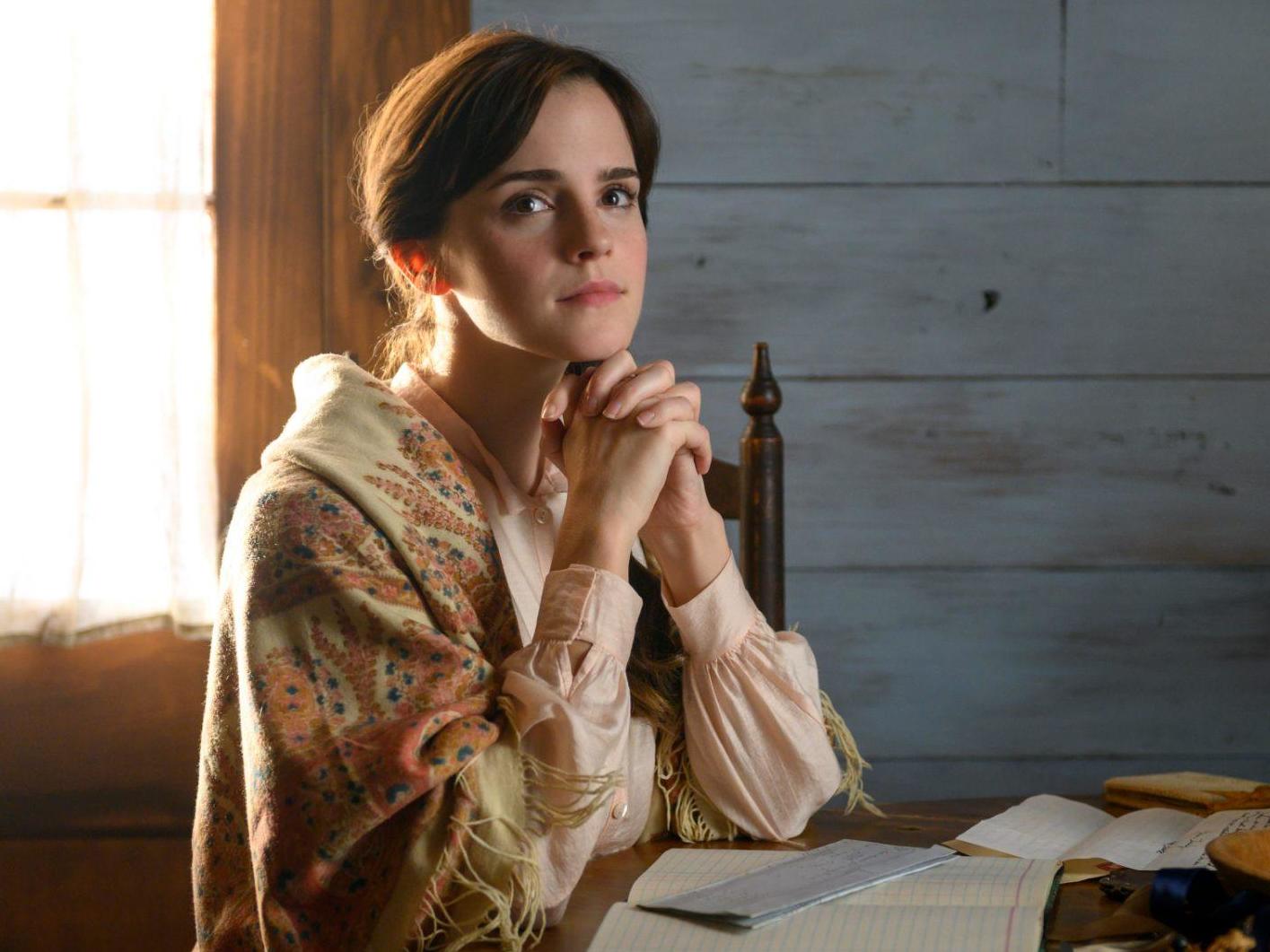 In the months building up to Little Women's release, rumours circulated, on Twitter and within Hermione Granger fan circles, that Emma Watson wasn't very good in it. It was said that some of her scenes had been cut, that test audiences had disliked her American accent, and that she was only in the film in the first place as a last-minute favour to Sony head Amy Pascal. (Emma Stone, director Greta Gerwig's first choice for the character of Meg March, dropped out.)
Watson's relative absence on the Little Women press tour has given further weight to the speculation – specifically a day in the middle of December that saw the majority of the cast speak to press in a London hotel, while Watson was off darting around the city on her own, leaving free copies of Louisa May Alcott's book near certain London landmarks.
A source told Page Six that Watson had informed Sony Pictures that she would only attend the film's New York premiere and not commit to any further promotion for the film, leading to (potentially misogynist) speculation that there was a cast feud – or that Watson was unhappy with the film, or her performance in it.
In truth, however, Watson is brilliant in Little Women – just as she has been in a number of films in recent years. But praising her as an actor is often met with cynicism – as if you're either blinded by residual Hermione love, or you're generally delusional.
Watson's reputation as a not-very-good actor is partly Harry Potter's fault, with an entire generation growing up watching her, Daniel Radcliffe and Rupert Grint stutter and shriek their way through the halls of Hogwarts. The fact that none of them were particularly good in the early entries of the franchise – chosen less for their acting abilities than for their physical similarities to JK Rowling's source material – has also stuck around in the cultural consciousness. It's meant that, even as adults, all three have been unfairly labelled as bad actors – despite having demonstrated their individual range in the nine years since the series ended.
The 40 best films of the decade
Show all 40
Which isn't to say that Watson is universally excellent. By nature of her name recognition and subsequent ability to get films financed, she's sometimes miscast – slightly wooden in Beauty and the Beast (2017), and visibly struggling through a dismal script in the high-profile Dave Eggers flop The Circle (2017). But when she's cast well, she's marvellous – alternately soft and warm, or foul and narcissistic.
Sofia Coppola's The Bling Ring (2013) provided Watson with her most interesting role to date. Transitioning from magical bookworm to vapid Los Angeles cat burglar might seem a stretch, but she proved remarkable. As one of a real-life gang of wealthy teenagers who began robbing the homes of Paris Hilton, Lindsay Lohan and cast members of The Hills in the late-2000s – only for it all to end in tears and a short-lived E! reality show – Watson oozes casual disdain. Her sticky American vocal fry is clipped and monotone, as if she's swallowed a Kardashian for breakfast. Endlessly wrapped in Juicy Couture sweats, she is ruthless, pithy and cruel, hungry for fame but settling for infamy.
The Bling Ring remains Watson's loudest work, but she is similarly compelling in 2012's The Perks of Being a Wallflower and Darren Aronofsky's Noah (2014). In both, she plays traditional love-interest roles, but instils in her respective characters a very human sensitivity and quiet strength. Her work in Noah is particularly harrowing – a scene in which she begs Russell Crowe's Noah not to kill her newborn children is a testament to how powerful she can be when directed well.
Even if she had initially envisaged Emma Stone as Meg, Gerwig brings Watson's strongest qualities to the fore. Meg March, by nature of her wants and desires, is the least dramatic of the sisters in Alcott's book. While Amy is tempestuous and complex, Jo has drive and verve and Beth is consumed by tragedy, Meg… aspires to be traditional. Her wants are just as moving, but never exactly exciting.
Access unlimited streaming of movies and TV shows with Amazon Prime Video
Sign up now for a 30-day free trial
Sign up
Access unlimited streaming of movies and TV shows with Amazon Prime Video
Sign up now for a 30-day free trial
Sign up
But it's Meg who quietly embodies the feminism of Gerwig's take on Little Women. Meg seeks marriage, comfort and family – all the things that Jo determinedly rebels against, and Gerwig refuses to judge her for it. Nor does the director judge Jo, of course, though she condemns Jo's stubborn insistence that Meg's choices are somehow less special than hers. Whether that choice involves art, creativity and breaking down the barriers set up to hold you back, or having children and making a home, neither is invalid or diminishing.
Watson sells it all beautifully. There is a scene early on in Little Women in which she attends a debutante ball, providing her with a much-desired glimpse into a rarefied world she wishes to inhabit. There, she is passive-aggressively dubbed "Daisy" by the other girls, and is later embarrassed when fellow party guest Laurie (Timothée Chalamet) criticises her for feeling the need to assume an identity that isn't her own.
Watson flickers through shame and regret as well as wilful defiance, embodying the emotional weight of wishing you were somebody else, even when you're taught that such a desire isn't good for the soul. She explores that push and pull brilliantly, if more quietly than Saoirse Ronan and Florence Pugh, who have far more scenes in which to play and emote.
It isn't inherently sinister that Watson hasn't participated in Little Women's promotion. The film is her first bit of acting work since 2017, and she has no additional projects in the pipeline. Instead, she appears far more passionate about her political work, with acting (something she's done since she was 10) today a less fulfilling endeavour.
You can understand why: she has been immersed in activism since 2014, launching feminist campaigns, collaborating with Time's Up on projects to combat workplace harassment and creating her own feminist book club with Goodreads. And when she was criticised for promoting a brand of feminism that centred white women rather than intersectionality, she listened, went away and educated herself.
"I saw the 'white feminism' coming up again and again," she recently told Vogue, "and I was like, this is clearly something that I have to meaningfully engage with. I have to understand this better. I want to understand this better."
She has additionally been vocal in her support for transgender rights (unlike, based on a viral tweet last week, JK Rowling), and advocated in her Vogue interview for a radical reworking of how the UK education system teaches its own history – one that specifically recognises the horrors of colonialism and how we benefited from the slave trade.
Watson's philanthropy has often been used as a stick to beat her with, right-wing tabloids frequently reporting on her as though she is a self-serious know-it-all (her identification as "self-partnered" rather than "single" was written about incredibly seriously by the press last month, as if she were a Goop-style loon rather than a woman being sweetly sincere about her relationships).
But this speaks more to a sense of fear – that a former child star grew up, didn't embody any of the more common narratives that surround child stars transitioning to adulthood, and continues to challenge misogyny, whiteness and the expectations placed upon her. It's tricky for the Piers Morgans of the world to rationalise.
That Watson is also a wonderful actor almost feels besides the point when placed alongside her non-acting work. But it is the clearest reflection of how often she has been underappreciated, and the performances that have been frustratingly overlooked. She may not be a major presence in the Little Women press tour, but she is the film's beating heart and its most pleasurable surprise.
Join our commenting forum
Join thought-provoking conversations, follow other Independent readers and see their replies