Ethan Hawke and Patricia Arquette interview: Growing up in public
The two stars discuss 'Boyhood', and how life imitated art throughout its 12-year shoot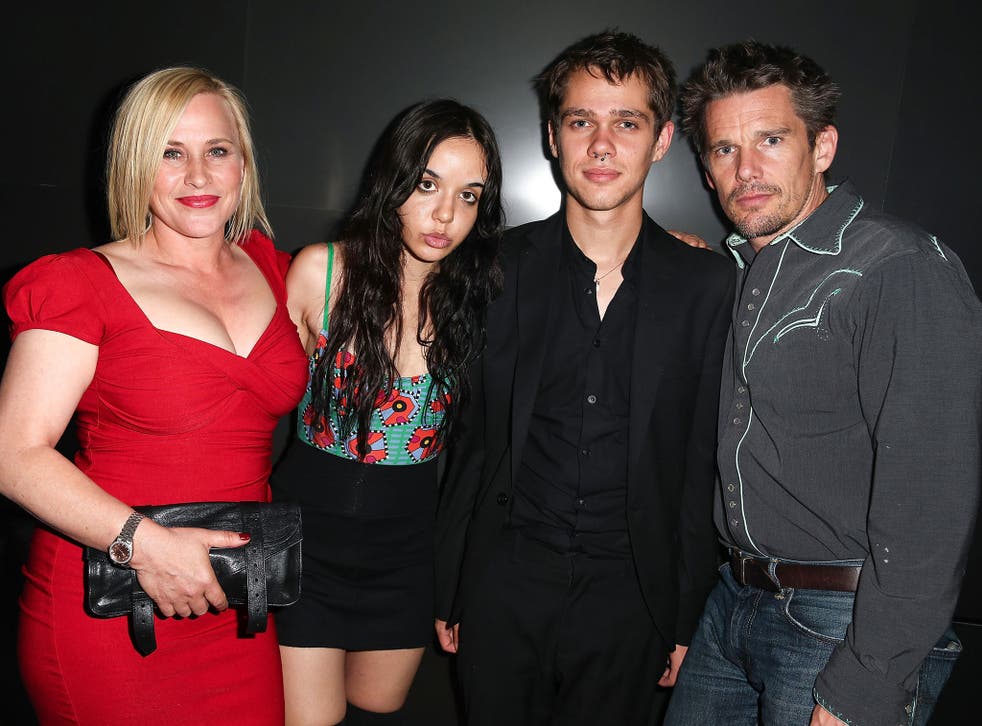 Any actor will tell you that it's tough to witness themselves growing old on screen, especially with today's high-definition technology highlighting every wrinkle and pore. But how about watching yourself age 12 years over the space of two and a half hours? Which is what Patricia Arquette, 46, and Ethan Hawke, 43, signed up for with Boyhood, Richard Linklater's film about growing up, as seen through the eyes of a boy.
Every year for 12 years, the two actors would assemble in Linklater's home town of Austin, Texas, and reunite with their screen children – Mason, portrayed by Ellar Coltrane, and his sister Samantha, played by director's daughter, Lorelei Linklater.
Gathered at Sundance earlier this year to view for the first time the end results of their 12-year labour of love, the anxiety was palpable.
"It was brutal," recalls Arquette today when we meet in Los Angeles.
"It was pretty intense," adds Hawke. "When the movie started, I was like 'Man, I still look good!' But by the end…" He trails off, shaking his head.
"Everybody acts like it's surprising [that we get old], but it's happening all the time to everyone. We act freaked out about it but it's just the reality. The second you buy a car, it's a used car. That's the way we are; this machine is in action. I tried to be proud of it. I don't know why we support the idea that the best time of your life is when your skin is great, because that's only one short time of your life."
Arquette agrees, "Most stories are about young men and young women falling in love, and that's an important human dynamic and an important story to tell. But it's not the only story of human experience. I always thought the life of an ingénue was short-lived, and I never wanted to fall for that story. So even when I was of that age, I wanted to get out of it as quick as I possibly could. There was a time when I even wanted to look worse on screen than I really looked in my own life.
"But with Boyhood, I love that human-ness about it. We represent a family, and hopefully you believe what the characters are doing. But you have seen us in movies before – movies in which we were younger – and are familiar with how we looked then. It's as if actors are supposed to freeze in time, but that's inauthentic."
For most of us, parenthood is one of the toughest jobs we will do. We raise children while still struggling to find our own answers to life. Boyhood paints a picture that looks like most people's experiences: divorces, career decisions, and addictions are shown alongside family dinners, birthday parties and graduations.
Arquette and Hawke are no different, having both struggled through divorces and periods of single-parenthood. Hawke was previously wed to Uma Thurman, with whom he has a 16-year-old daughter, Maya, and 12-year-old son, Levon. A little like his character in Boyhood, he wed a second time, to their former nanny, Ryan Hawke, and they are now parents to daughters Clementine, six, and Indiana, three.
Access unlimited streaming of movies and TV shows with Amazon Prime Video Sign up now for a 30-day free trial
Sign up
Arquette's character in Boyhood likewise dips her toe back in the dating game. In real life, she was briefly wed to Nicolas Cage, and later married the actor Thomas Jane, with whom she has a 12-year-old daughter, Harlow. Now divorced, she also has an older son, 26-year-old Enzo, from her relationship with the musician Paul Rossi.
"Rick [Linklater] called me and asked: 'What are you doing for the next 12 years?' Which is really the best sort of come on. There was no script, and it wasn't a movie you could easily categorise. But his idea was so amazing, no one had done it before, so I thought, I will find a way to make this work in my schedule for the next 12 years somehow," says the actress, whose films also include Ed Wood, Flirting With Disaster and True Romance.
Linklater had never worked with Arquette before and had only met her once, but from their first conversation, he knew she was a good match for the role. "I really liked that she had been a mom at a young age because it was so important to the character," says the director, who subsequently cast her again in Fast Food Nation (2006). "Over the phone, we were immediately collaborating, talking about our own moms and what they were like when we were growing up. She had so much to say about parenting."
Boyhood, which resembles a warts-and-all home movie, has a groundbreaking concept. But that sometimes made it tricky to secure funding.
"I would fly in, and we'd do the wardrobe fitting with a bunch of stuff they picked up at [the charity shop] Goodwill," recalls Arquette. "We'd exchange ideas about what the characters might say or experience, and incorporate things. Most nights we'd be up till 2am just talking."
Hawke even found himself having to moonlight. "In the scene when we're at the bowling alley, Lorelei had to hit a strike and it took her only two shots to do it. The look I have on my face in that shot is actually: 'I can't believe I'm gonna make my plane, and not get fired from the other movie I'm working on!' I kept it from another production that I was even in Austin – they thought I was in Toronto prepping for some other movie. We got so lucky," says Hawke, who has a long association with Linklater, having co-starred with Julie Delpy in the director's trilogy Before Sunrise, Before Sunset and Before Midnight – which, like Boyhood, also revisit the same characters at different stages of their lives.
Linklater's always interesting work defies categorisation, including as it does the beloved family comedy School of Rock, the coming-of-age high-school movie Dazed and Confused, an animated adaptation of the Philip K Dick sci-fi drama A Scanner Darkly, the black comedy Bernie, and Fast Food Nation.
The founder of the Austin Film Society, the self-taught writer-director made his film debut with 1987's It's Impossible to Learn to Plow by Reading Books, and three years later received much acclaim for his movie Slacker, in the process popularising the now over-used term to describe America's disaffected youth.
It's impossible for any parent to watch Hawke's awkward sex-education scene in Boyhood without cringing at our own similar experiences. Hawke completely relates. "I'm an actor, I'm a bohemian person, but I still struggle, especially cross-gender," he says. "As parents, we don't have a rule book about how to get the message across. I remember being completely petrified! I put a human sex book in my daughter's room, I just left it in there – it had pictures and diagrams and stuff – just dropped it in there. It's such a fine line of how to speak to a young person about sexuality."
Hawke's own adolescence was captured on screen in his breakout role in Dead Poets Society, which was made when he was 17.
"I don't know why it's easier for young men to just make jokes about it, but the problem is that teenage pregnancy is extremely real, and a lot of young people don't actually understand how their bodies work, or how a pregnancy will impact their whole life."
Arquette agrees. "I think it's important to have that conversation, because kids are getting a lot of misinformation. When some eight-year-old wants to look at boobs today, he goes to the internet and Googles. We are living in this incredibly exposed culture, but the algorithm points in the direction of the most intense or extreme images of sexuality. The sexuality that kids are exposed to on the internet isn't human, beautiful, or necessarily loving or respectful," she says.
Not that she has found providing sex education especially easy herself. "I think there is something natural about that resistance, because really, you don't want to hear about anything to do with sex from your parents! It's just awkward. But we must have that conversation even if it's repellent."
'Boyhood' is released on 11 July
Join our new commenting forum
Join thought-provoking conversations, follow other Independent readers and see their replies