Ethan Hawke interview: Boyhood star on having a midlife crisis
'It seemed kind of arbitrary but I think I went into a mild state of panic'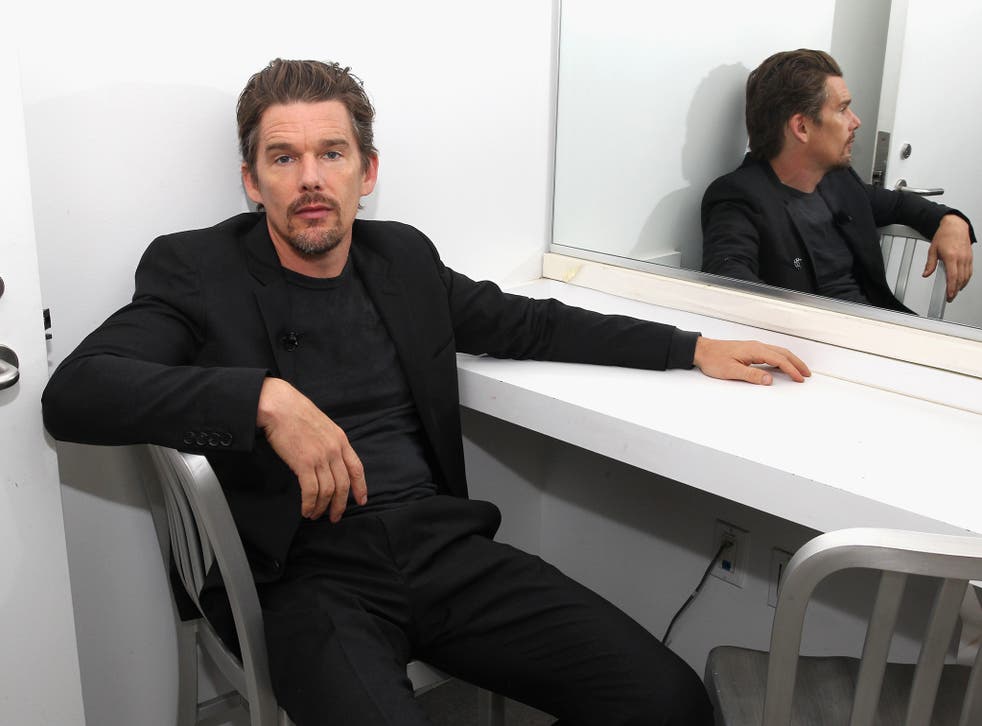 If there's any justice – and there usually isn't – Ethan Hawke will be collecting a Best Supporting Actor Oscar for Boyhood next month.
Both his long-time friend and collaborator Richard Linklater and co-star Patricia Arquette are hot favourites in their respective categories.
And after 12 years working on and off with them on Boyhood, during which time he was twice nominated with Linklater and Julie Delpy for co-writing Before Sunset and Before Midnight, you'd think he'd deserve something – for perseverance, if nothing else.
Shot over a dozen years, Boyhood's sumptuous time-lapse study of the evolution of a young Texan named Mason, from childhood to teenager, has been the front runner for much of this awards season. "It's my favourite movie I've ever been involved in," he notes, and yet – after two decades and eight films with Linklater – Hawke is still a little baffled as to just how it has touched a nerve. "I thought [Linklater's] Waking Life was brilliant, and that didn't really find an audience, and I expected the same thing to happen to Boyhood, so I'm a little in shock about it."
Hawke, who plays Mason Snr, is behind both JK Simmons and Edward Norton in the betting for claiming the Oscar, though he's seemingly unconcerned. While he'd no doubt be delighted to win at the fourth attempt – he has been nominated for acting once before, on 2001's Training Day, when he lost to Jim Broadbent for Iris – he's trying not to get entangled in the hype. Awards are all well and good, but he has never felt the need for such validation. "I really try not to use that as a bar for success."
Indeed, Hawke's career has never been about studio showboating. Alongside penning two novels (and adapting the second, The Hottest State, for the screen), his CV has always been an eclectic mix of genre pictures and provocative indies, from Andrew Niccol's Gattaca to Sidney Lumet's fine swansong Before The Devil Knows You're Dead. For an actor who boasts leading-man looks, Hawke has never played on them. Blockbusters, superheroes, franchises – he doesn't go there.
Oscars 2015 nominations

Show all 28
Strangely, he grew up in the era when Hollywood was pitching its tent-pole movies for the first time. Born in Austin, Texas – his mother was a nurse, his father an insurance actuary – he was acting by the age of 13, in a school production of Shaw's Saint Joan. A year later, he'd won a part in his first movie, Joe Dante's 1985 kids' movie Explorers, opposite a young River Phoenix, but Hawke was wounded when it flopped. When he returned to the film business, notably in 1989's Dead Poet's Society, he largely steered clear of mainstream fare.
This is, arguably, why he's suspect about the hoopla around the Academy Awards. "The thing about the Oscars is that it's not the best movie but the best movie that also made money and had a campaign," he sighs. "Any award in the arts is a dubious honour. I know we don't have any other criteria on which to name something a success – but you know, lots of wonderful movies are made each year, and rarely – 10 years later – are the five movies nominated for Best Picture the same five that people still now think of as the best movies of that year."
Admittedly this season might be different – movies like Birdman and Linklater's Boyhood look set to be around for years to come. But Hawke's point is salient. Why has it taken this long for Linklater to get recognised, he asks? "Take a movie like [his] Dazed and Confused. I thought that was one of the greatest movies of the Nineties when I first saw it. But it didn't get nominated for an Oscars or win any prizes. Rick [Linklater] has never been a very flashy director that way."
Access unlimited streaming of movies and TV shows with Amazon Prime Video Sign up now for a 30-day free trial
Sign up
Hawke isn't being difficult; he's just a little narked that it has taken the industry this long to catch up with someone he first worked with on 1995's Before Sunrise, the first of their melancholic "Before" trilogy.
"He's on his own journey with cinema. It's something he cares really deeply about and I feel the collection of his work is starting to speak for itself and people are starting to notice. Like: 'Wait a second! This guy has slowly been making a lot of great films.' They're all very subtle."
In some ways, Hawke can feel aggrieved that he too hasn't quite gained the recognition he has deserved. Now 44, when he has not been working with Linklater, a lot of his time this past decade has been taken up with genre films. A 2005 remake of John Carpenter's Assault on Precinct 13 was followed by visceral works like Sinister and The Purge – both produced by Blumhouse Productions, a company specialising in making low-budget but well-crafted genre movies that blitz the box office.
"I grew up on them," says Hawke. "A good genre movie has a great punk-rock feeling to it. I always liked early John Carpenter films. My first movie was with Joe Dante, who'd done The Howling. My mentorship was in Roger Corman genre movies. What you can do with a genre movie is similar to what you can do with a comic. It's hard to make movies that people want to see. As much as I love Before Midnight, it's not a physically lucrative project. More people saw Captain America in a tiny town in Montana in one weekend than saw Before Midnight!"
His latest move in this world is Predestination, a time-bending sci-fi thriller from the Spierig brothers. They'd all worked together before, on 2009's vampire tale Daybreakers, which was just as well, as the script – in which he plays a nameless agent travelling back in time to the 20th Century to prevent a serial bomber destroying New York – was tough to digest. "I wasn't sure what was happening," he admits, "but I loved the tone; the mood and the feel of it. It was fun to see something that was so un-formulaic and so wild in its very DNA."
Complementing it, in a strange way, is Hawke's other new film, Good Kill – which swaps the fantasy technology of Predestination for very real military hardware, that of drones. "[It's] a story about these pilots that used to be flying F-16s in Iraq and now they sit in a Winnebago, drinking a diet Coke, picking up their kids from school, while they assassinate people via satellite," says Hawke. "It almost feels like science fiction but it's not."
It reunites Hawke with Andrew Niccol, with whom he made Gattaca and the underrated Lord of War, two other films dealing with the moral complexities behind technology and weaponry. Hawke's character, Major Thomas Egan, is confined to a metal container on a military base in Las Vegas, remotely dropping bombs over Afghanistan as he gradually loses in sanity. "It's so claustrophobic and you see what makes these guys go nuts, sitting in this tiny room with a bunch of other people and all this technology."
A father of four, Hawke has never unravelled in quite the same way. He has a son and a daughter, Levon and Maya, with ex-wife Uma Thurman, whom he met on Gattaca, and two more daughters, Clementine and Indiana, with second wife Ryan Shawhughes, whom he married in 2008. A child of divorce, he always longed for his own family, he says. "I think a lot of young people do. You long for a centre. Something that you can build from. That's why a lot of young people get married too young. That's why I did."
There was a lot of furore when he split from Thurman – not least with accusations that he'd been unfaithful with Canadian model Jennifer Perzow during his time shooting the 2004 thriller Taking Lives with Angelina Jolie. It didn't help when he and Shawhughes went public; she'd been nanny to his and Thurman's children. But Hawke smartly went out of his way to put such speculation to bed. "My [first] marriage disintegrated due to many pressures, none of which were remotely connected to Ryan," he later said.
That's not to say he didn't have a mini midlife crisis when he turned 40. "It seemed kind of arbitrary but I think I went into a mild state of panic," he reflects. "I've always looked at myself as such a student. My self-image was one of a student and a learner, and I felt like I was supposed to be done being a student, and I should now know something. And I went into a panic that I didn't know anything. And I didn't know how to stop being a student. Then I realised I don't have to."
His latest pit-stop for study has been Chet Baker. Alongside a stack of films in the can, including memory thriller Regression with Emma Watson and western In the Valley of Violence, is Born to be Blue, a biopic of the jazz trumpeter. Set in 1969, when Baker was drug addled and minus so many teeth he could no longer play his instrument, it has been a passion project for Hawke for years. Given how much the Academy favours biopics, maybe he'll be back for next year's awards – this time as favourite.
'Predestination' is released on 20 February. 'Good Kill' is released on 10 April
Register for free to continue reading
Registration is a free and easy way to support our truly independent journalism
By registering, you will also enjoy limited access to Premium articles, exclusive newsletters, commenting, and virtual events with our leading journalists
Already have an account? sign in
Register for free to continue reading
Registration is a free and easy way to support our truly independent journalism
By registering, you will also enjoy limited access to Premium articles, exclusive newsletters, commenting, and virtual events with our leading journalists
Already have an account? sign in
Join our new commenting forum
Join thought-provoking conversations, follow other Independent readers and see their replies