Film-maker Roy Andersson interview: 'This movie will make you smarter'
He has directed just five films in 45 years and builds all of his locations from scratch - Kaleem Aftab meets Roy Andersson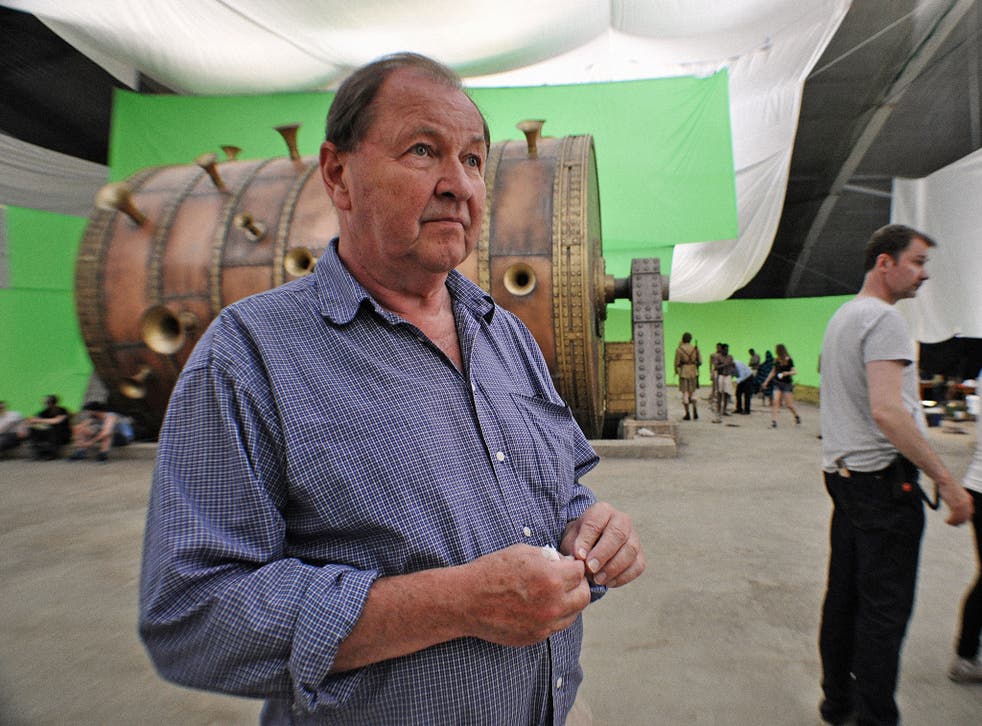 There is a huge smile on Roy Andersson's round face. His new film, A Pigeon Sat on a Branch Reflecting On Existence, won the Golden Lion for best film at the Venice Film Festival and it seems to have given the 72-year-old Swedish film-maker a new lease of life. He is beaming. "I'm so glad how this has ended," he says, reflecting on the disappointment he felt when his fifth film was overlooked at Cannes.
His award-winning Pigeon is the third film in a loose trilogy on existence, following Songs From the Second Floor in 2000 and You, The Living in 2007. To watch a film by Andersson is like no other experience in cinema today. As with his contemporary Michael Haneke, the Gothenburg-born director uses film to comment upon the vagaries of the human condition, but whereas Haneke serves up brutal chastisements, Andersson highlights our foibles, and tells his stories in jest. He prefers to make you laugh rather than cry.
"We are vulnerable creatures and you can look at us with sadness, humour, or fear," he counsels. A Pigeon starts with three humorous scenes about death. A man dies while opening a bottle; an old lady on her deathbed refuses to let go of her handbag full of cash; and a vendor tries to give away a sandwich and beer that a man who has died of a heart attack just bought from him.
Death is clearly on the director's mind. "Yes, I think all of us are a little frightened. But I wanted to joke about it. I have it in the movie too, one of the main characters is afraid to meet his parents in the afterlife. I don't know if I'm perverse or not, but I like to joke about it."
The Golden Lion is the crowning achievement of a film-making career that almost ended before it began. After graduating from film school, Andersson seemed destined for great things when his debut film, A Swedish Love Story (1970), about adolescents falling in love in spite of their wayward parents, was a smash hit. Then came the fall. His second film, Giliap, flopped in 1975. There was a 25-year gap before his third film.
He spent that period making commercials, selling everything from cars to political parties. His talent was obvious, even before Ingrid Bergman described him as "the best commercials director in the world". It's an irony he likes to flag up in his movies – that a man who makes his living selling wares to the public seems to hate materialism. "In my opinion, in our time, we as humans are moving more and more to being creatures without empathy, because you need to make money through business. So you don't look at your neighbour as your friend, or someone to take care of, you look at him as a potential client."
Failing business and broken society are recurring themes of the existence trilogy. The two leading men in A Pigeon wander around trying to sell vampire teeth and horror masks to shopkeepers, demanding payment of debts while they fail to satisfy their own liabilities. In Songs From the Second Floor a businessman has burnt down his business in the hope of claiming on the insurance. In You, the Living, a chief executive dies of a stroke.
When Andersson returned to cinema in 2000 he was more confident and skilled. In a hangover from his commercial directing, his films have no great plot, instead they are vignettes, highlighting the futility of life. "To be honest, I wanted to be an author first and I still have that ambition. That dream – I wanted to make, to write a new L'étranger, as good as Camus, but I make movies instead."
It is aesthetics that set Andersson's trilogy apart in this age of CGI and multiple-camera perspectives. He builds every one of his locations on set: nothing is shot on location, not a seaside resort, nor the road that a horse clops along. The result is something hyper-real – his cafés look like an Edward Hopper painting.
Access unlimited streaming of movies and TV shows with Amazon Prime Video Sign up now for a 30-day free trial
Sign up
"I really want to make something close to abstraction. I want to purify and condense the picture. As Matisse said, 'Take away everything that is not your intention.' And that is what I try to do all the time. But to make that purifying style rich, you have to make it with precision. It seems banal to say it, but you cannot get that precision outdoors."
A Pigeon was touted as Andersson's swansong, yet he tells me: "I've decided to make a new film, a fourth part in the trilogy. I have more things to say. I want to make things clear. I think art has a beauty to make existence clearer."
I ask what qualifies him for the job of explaining existence. "With this movie, I noticed that people are a little more clever when they have seen it. I can see they have reacted, they talk about scenes and relate it to their own lives. You cannot ask for more. It's the same with Waiting for Godot. It's three hours of banal quarrel and discussion, yet it makes me cleverer because at the end I reach some kind of childish point of view."
It's clear why he's such a famed advertiser: "watch this movie: it will make you more intelligent" is some endorsement.
'A Pigeon Sat on A Branch Reflecting on Existence' is released on 24 April
Register for free to continue reading
Registration is a free and easy way to support our truly independent journalism
By registering, you will also enjoy limited access to Premium articles, exclusive newsletters, commenting, and virtual events with our leading journalists
Already have an account? sign in
Register for free to continue reading
Registration is a free and easy way to support our truly independent journalism
By registering, you will also enjoy limited access to Premium articles, exclusive newsletters, commenting, and virtual events with our leading journalists
Already have an account? sign in
Join our new commenting forum
Join thought-provoking conversations, follow other Independent readers and see their replies