Florence Pugh: The movie star who makes 'relatable' look easy
Annie Lord assesses the impact of the Oscar-nominated 24-year-old from Oxfordshire, who performs cactus surgery, gets food on her clothes and even makes Amy in 'Little Women' seem likeable
Friday 07 February 2020 08:24 Comments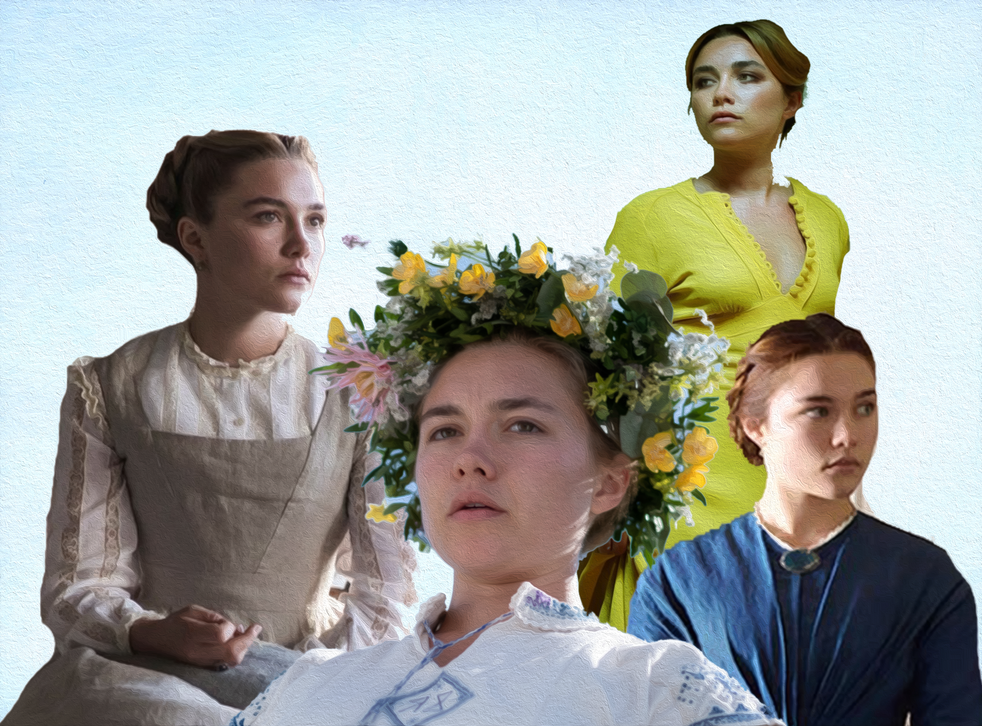 Nobody cries like Florence Pugh. In Midsommar, she replaces the demure, almost sexual wails women actors are normally asked to deliver with guttural moans. They break from her lungs with such fervour that they turn the once sweet Dani into the stuff of nightmares. And as Amy in Little Women, she hobbles around sobbing after getting her foot stuck in a plaster mould; she wanted to make a cast to showcase the best feet in the family.
Seen from a distance, Florence Pugh's career is a meteor, burning, burning as it heads towards the stars. At just 24 years old, she has already been nominated for two Baftas and an Academy Award for her performance in Little Women. And that's just the big screen. Her performance in the BBC's 2018 adaptation of John le Carré's The Little Drummer Girl was so admired by Le Carré himself that he wrote a character named Florence into his next novel.
Yet in real life, Pugh remains immensely relatable for a Hollywood star. Aware of the spotlight but not consumed by it, she appears wholly herself, the sort of woman you could imagine spending hours bonding with in a nightclub toilet. If you need evidence, check out the series of Instagram stories she posted detailing her attempts to save her cactus, Barry. Pugh was getting her roots bleached to blonde when she realised Barry was in trouble. His head was turning black; he had an infection. In an attempt to save him, Pugh filmed herself sawing his pink head off with a butter knife: "It's OK little Barry, mumma's gonna save you," she tells him, before ruthlessly severing the head. "And just like that – I'm a cactus legend." We are yet to hear whether Barry survived the operation.
Then there's the footage of her practising her best James Bond gun barrel sequence with friend Josh O'Connor. Or the time she drank neat vodka and hugged fans while watching Midsommar at the cinema, or the way she tweets about craving ramen and onion bhajis messing up her tooth fillings. Timothée Chalamet shared a picture of her looking happily content while eating Wendy's fries with Meryl Streep. In a mukbang video for Vogue, Pugh manages to smear bubble and squeak on the sleeves of her designer gown and frantically wipes out the stain with a Tide to Go pen she keeps in her bag. You get the sense that Pugh gets food on herself quite a lot. It could be annoying. But she somehow manages to be accessible without drifting into Jennifer Lawrence territory of trying so hard to be normal you want to scream into your screen: "You're wearing Chanel! We are not the same!"
Though popular with the public, Pugh – who is from Oxford – has faced some scrutiny for her decision to date Scrubs star Zach Braff. Not only is there an age gap of 21 years, but you can tell there's one, too. But Pugh's response to criticism has been characteristically cheeky. When someone replied "You're 44 years old" to a comment Braff posted on Pugh's Instagram, the young actor snapped back, "And yet he got it".
Back in 2015, though, Florence Pugh was preparing to play a leading role as an aspiring singer in Studio City, a Fox TV drama set to run for many seasons. Aside from appearing in the UK feature The Falling, Pugh was relatively new to the screen, so she was excited to be working alongside Hollywood stars like Heather Graham and Eric McCormack. "It was where I wanted to be at some point in my career," she told The Guardian. "[And] I was there on my second job."
But Pugh's feelings quickly changed when soon after filming the pilot she was asked to lose weight. It was an experience that woke Pugh up to the need to stick by your principles: "What I've noticed about Hollywood is, if you go out there shouting about who you are, they will love you for it. But if you go out not knowing what it is that you're representing and you are just a canvas, they will make you into the thing they need you to be." Since that moment, Pugh has refused to lose weight for any role. It's the kind of outspoken and uncompromising position that has characterised her career so far.
Studio City didn't get picked up so instead Pugh went on to play the lead as a conniving, unrepentant killer in British indie period drama Lady Macbeth. Look back now and it's interesting to imagine what trajectory Pugh's career would have taken had Studio City gone into production. Would she still be up for an Oscar for best-supporting actress for her role as Amy in Little Women? Would she have been given the opportunity to play such interesting and complex characters? Or would she have been pushed into the background, cast repeatedly as a two-dimensional love interest whose only role is that of catching the eye of the male lead?
The top 20 Oscar-winning performances of the past 20 years

Show all 20
No doubt Pugh would have been disappointed about the cancellation of Studio City, but in retrospect, it might have been the best thing that ever happened to her. From then on she has shown her skill in a number of films, carving out a niche playing difficult characters you know you should hate, but, for whatever reason, end up rooting for.
Access unlimited streaming of movies and TV shows with Amazon Prime Video Sign up now for a 30-day free trial
Sign up
In Lady Macbeth, William Oldroyd's heady chamber thriller, Pugh plays lady of the house, Katherine Lester, who has been married off to the son of a wealthy mine owner. Bought in the same way you might purchase cattle, Katherine enters into a life of domestic drudgery: forced to remain indoors with her prayer book or to sit in silence at dinner parties where the men drink and laugh and grope.
In the film, Pugh is masterful at making the transition into a sphinx-like evil mastermind. At first, Katherine is nervous, biting her lip and facing the wall as she suffers a joyless wedding night, and purring apologies while pouring various men cups of tea. But then Katherine is all wicked grins as she seduces the stable boy and torments her housemaid Anna. Pugh shows a particular talent for delivering simple lines in ways that make your bones shiver. She manages to imbue the word "sir" with so much choked-back revulsion that she's practically spitting it out at the men who work to keep her down. And yet she also finds pathos amid the cruelty; you want her to be free even if she hurts people in order to get there.
In Midsommar, the tremendously unsettling folk-horror tale from Hereditary director Ari Aster, Pugh returned as another good girl gone bad. Starting out as the unappreciated and overlooked girlfriend of an egotistical PhD student, during her time at a Swedish pagan festival, Pugh's Dani progressively becomes more and more unhinged until she's completely lost her mind. At the beginning, Dani is making excuses for her boyfriend, rationalising his non-apologies and unkind words, but after a few too many deaths, suspicious-looking pies, and cups of magic mushroom tea, she's spinning around in a flower crown and smiling at the film's horrific climax (I'm avoiding the spoiler even though Pugh did reveal the ending on her own Twitter account). You know you shouldn't side with anyone who takes particular delight in the pain of others, but Pugh lures you in, her face so tormented and snot-smeared that it's impossible not to feel a sliver of empathy.
And in perhaps her most impressive feat yet, Pugh convinced audiences to feel something for Amy in Little Women. Historically the most hated March sister, Amy is spoilt, demanding, and is mean enough to burn all the pages of Jo's novel down to a crisp. But Pugh shows a different dimension to the character. Yes, Amy wants to marry a rich man, but she narrows her passions only because she knows she must take advantage of the patriarchal system she lives under if she is to provide for her family. After telling Laurie she's going to give up painting in order to be a bride, Amy responds to his criticisms by arguing that as a woman in the Victorian age, financial independence is not an option: "Don't sit there and tell me that marriage isn't an economic proposition, because it is."
During filming, Pugh proved herself to be as tough as she is sweet. In one scene, Amy falls into a frozen pond while ice skating. For a number of days, Pugh jumped into water that was only a few degrees warmer than the December air; it was important that the steam didn't ruin the shot. "I love getting dirty and I love getting cold," Pugh told The Hollywood Reporter. "It only helps your performance, anything that's physical. I can't stand faking things. I love being able to do stuff. Being able is so important. When someone comes up to you and says, 'Hey, can we shoot you getting out of a water tank 15 times while still wearing wet clothes?' you can go, 'Yeah, I can do that. I can do that, because I'm able and I'm strong.'"
In last year's Fighting with My Family, Pugh delivered a brilliantly physical performance as wrestler goth girl Saraya, who's looking to compete in WWE. Flying through the air and bodyslamming her brother, Saraya takes on doubters with eye-rolling sass. When asked how she knows that she doesn't like wrestling if she's never watched it, a snobby blonde replies: "I've never had rectal bleeding before, but I'm pretty sure I'm not a fan of that." Saraya gestures towards the woman's friend and responds with a smirking deadpan: "How about we shove her head up your ass to find out?"
Though Pugh is taking a much-needed break, we will get to see a bit more of her later this year as she stars as Russian assassin Yelena Belova in Marvel comic book adaptation Black Widow. Pugh has told us to expect something different from other superhero films. "Essentially it's about these two girls repairing themselves. These girls have been through a huge amount of hurt, and it's them getting together and trying to fix each other up. If you think about all those films, and you think about all those supposed superheroes, when do you see pain and when do you see what it takes to be that?" The role will see Pugh speaking in a Russian accent, which is a challenge, but judging by her soft Massachusetts twang in Little Women, she will undoubtedly do a good job of it.
It is rare to find an actor who is so talented and yet so likeable. Normally those placed in challenging roles sound high maintenance or have complicated method acting procedures, even when the character is a sociopath who kills people by drilling them in the back of the head with a nail gun. Pugh's only principle is that she doesn't look at the camera monitor when working as it helps her avoid acting for vanity.
Pugh is able to make unlikeable women likeable. Whether bourgeois wife-to-be or grief-stricken girlfriend, Pugh often becomes a cipher for all women who have ever been disappointed by, talked down to or dismissed by a man. It's a position that is just as relatable, if not more, as her taste for chips and dislike of Jacob Rees-Mogg.
It's always exciting to see what Pugh does next, be it cactus surgery or karate-kicking men wearing suits in the crotch. The Oscar would be well deserved in Pugh's hands, even if she does end up falling on the stairs on the way to collect it.
The Oscars will take place on 10 February, follow all of our coverage here.
Register for free to continue reading
Registration is a free and easy way to support our truly independent journalism
By registering, you will also enjoy limited access to Premium articles, exclusive newsletters, commenting, and virtual events with our leading journalists
Already have an account? sign in
Register for free to continue reading
Registration is a free and easy way to support our truly independent journalism
By registering, you will also enjoy limited access to Premium articles, exclusive newsletters, commenting, and virtual events with our leading journalists
Already have an account? sign in
Join our new commenting forum
Join thought-provoking conversations, follow other Independent readers and see their replies