Following in his father's footsteps: why making movies is a family affair for Luke and Ridley Scott
As Luke Scott's directorial debut, Morgan, hits cinemas, he talks science fiction and growing up on film sets with his father Ridley
Gill Pringle
Wednesday 31 August 2016 15:17 Comments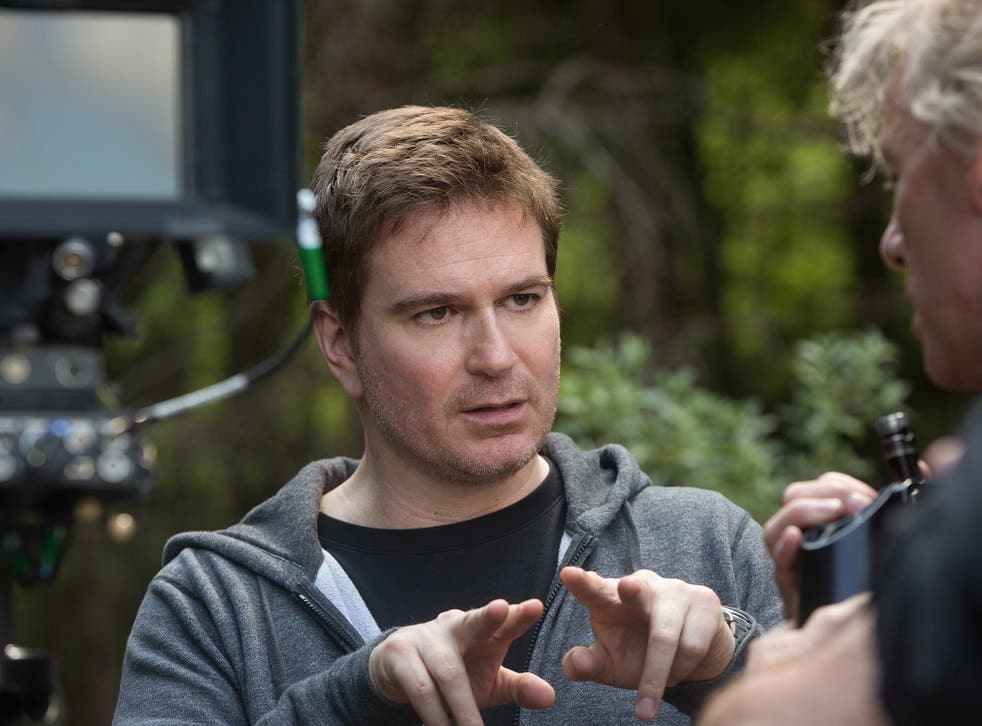 British director Ridley Scott's science fiction films have shaped how the world views the future. Between Alien, Blade Runner, Prometheus and The Martian, 78-year-old Scott has taken audiences into deepest space, exploring alien life, genetic engineering and artificial intelligence.
Therefore it's little surprise that his son, Luke Scott, now makes his directorial debut with sci-fi drama Morgan, set in a future world of bio-engineered humanity.
Co-produced by his father, Morgan boasts an A-list cast that most first-time directors would kill for, including Kate Mara, Paul Giamatti and Jennifer Jason Leigh. The result is a polished, provocative, wholly absorbing vision of a chilling near-future where it's hard to tell robot from human.
But perhaps the biggest surprise of all is that such a talented new visionary has reached the grand age of 47 before making his debut.
"Dad instilled in all of us that you've got to work hard to be able to do this," says Luke when I meet father and son in Los Angeles. "He insisted that we worked as production assistants and make tea, because making tea isn't such a menial task. To make the best cup of tea is all about detail and presentation. But the most important thing is that it teaches you humility; you better make the best fucking cup of tea or else you'll be in deep shit! I love a PG Tips myself although I confess I'm more of a coffee drinker," he concludes with a laugh. More recently, he graduated to working as a second unit director on his father's films Exodus: Gods and Kings and The Martian.
"Ridley was definitely tough but also a very fair dad," says Luke. He and older brother Jake were born from Ridley's first marriage to Felicity Haywood, but primarily raised by his father's second wife, advertising executive Sandy Watson. Ridley had a daughter, Jordan, with her too, and the trio of kids were very much raised on their father's movie sets. They even wore tiny space suits in Alien, enabling Ridley to shoot space sequences which would appear larger by using his sons as doubles for adult-sized astronauts.
Ridley's non-sci-fi films, Thelma & Louise, Gladiator and Black Hawk Down, have all earned Oscar nominations, culminating in a 2003 knighthood for his substantial contribution to the British film industry. Reflecting on his career, Ridley says, "Over the years, you learn to not compromise. I think when you begin, you tend to compromise for all kinds of reasons, usually out of insecurity, because you don't quite know what you're doing.
"In my case, I learned as I was going, there was no formal training. I made mistakes and gradually learned not to compromise. But I try to be fun, don't I?" he asks his son. "When you get really experienced, it can [mean] dullness; when you get really, really experienced, it means you know what the fuck you're doing. And if you're going to do my job, you should know what the hell you're doing when you walk on the floor."
Filmmaking was a family business long before Morgan. Ridley, born in South Shields, formed a successful commercial production company with his younger brother Tony, after graduating from the Royal College of Art and working for the BBC. Tony went on to direct block-busters Top Gun, Beverly Hills Cop II, Enemy of the State and Man on Fire before committing suicide, aged 68, in 2012.
Access unlimited streaming of movies and TV shows with Amazon Prime Video Sign up now for a 30-day free trial
Sign up
"Tony made some of the great action movies of all time," says Luke. "Top Gun and Beverly Hills Cop II were fantastic, visceral experiences with great energy. I really admired his creation of really powerful, exciting films through romance. He was fun and didn't ever really take it too seriously."
The newly-anointed director also initially followed his father and uncle into a commercial career. "I didn't fall too far from the tree," says Luke, and today he credits his uncle Tony's film The Hunger in informing how he shot the fight sequences in Morgan.
If the Scott name opens doors then it also comes with many preconceptions. "If anyone's got a problem with it, then I'm sorry. There's not a lot I can do about it. But I'm at a point in my career and life where I know what I'm doing. The Scott name is something to be respected and cherished; it's been an enormous boon and help to me," says Luke.
Still, Scott Senior is a harsh critic – he doesn't give anyone an easy ride. "You just have to go out and do it and don't pontificate. People say that it's harder to get a film made today than ever before. That's bullshit. You've got so many video devices that you can go out this weekend with your friends and make a goddamn movie and stop whining about it."
Such tough love has done the next generation of Scotts no harm: Luke credits his father's exacting standards for earning him his rightful place in the family legacy.
But it's been a wild ride too: he recalls his awe in joining his father on his debut movie, The Duellists in 1977. "The Duellists is my fondest memory because it was this magical Napoleonic story with all these people walking around in costumes and being a six-year-old kid, looking at this thing and going 'Oh my God, this is incredible'.
"He put me and my brother Jake in that, and then again in Alien – which was a whole new way of looking at science fiction and alien life-forms, a new kind of vision. For me, as this little kid, looking at some seven-foot guy dressed in a big rubber suit looking like a total demon, was quite remarkable," says Luke.
His sister Jordan, also a director, featured in Ridley's film, Legend too. "My father divorced my mother when I was very young, but my step-mother was very capable and raised my brother and I and my sister," says Luke who has not seen his birth mother, Haywood, in many years.
Educated at Kings College in Wimbledon and Stowe in Buckinghamshire, Luke later completed an arts foundation course at Middlesex Polytechnic before moving to Los Angeles, aged 19.
After 10 years in Hollywood, he moved to New York with his dancer wife Kate. "My wife and I were in New York during 9/11, living very close to the World Trade Centre. We were caught in the collapse and couldn't move back into our apartment. We were among those people you saw, covered in dust, walking out of the cloud. The day that changed history," recalls Luke whose wife was, at the time, pregnant with their son, Felix, now 14.
In total shock, they abruptly left the city, moving to a rustic cabin in the Catskills, in upstate New York where they later welcomed a daughter, Ruby, now 13.
A personal family tragedy later dictated that the couple move back to the UK, a decision which wasn't entirely unwelcome. "I wanted to raise my kids, as I was raised, in Great Britain," says Luke.
In common with his father, he predicts a bleak future for mankind, as reflected in Morgan, which showcases newcomer Anya Taylor-Joy as the eponymous genetically-engineered species.
"I think bio-engineered humans is a very real future. They offer the greatest challenge to humanity, simply because it's like once the germ gets into the species, its Goodbye Humans Part 1 and Hello Humans Part 2. We're all going to die!"
Likewise, Ridley suggests, "I think we're so far down the line. Far more, I think, than is published or discussed. It's a little like when you get the very smartest computer you can possibly design, the first thing you're going to do is to get that computer to design another computer which is smarter than they are. Then you get these two computers to commune and, once you do that, you're in real trouble because they're so far ahead of you… and I think they've done it already."
Ask Luke what his father's verdict was after presenting him with Morgan, and he smiles. "'Good job, son. I'm very proud of you,' I think is what he said, before quickly asking, 'now what's your next job?'"
'Morgan' is in cinemas from 2 September
Register for free to continue reading
Registration is a free and easy way to support our truly independent journalism
By registering, you will also enjoy limited access to Premium articles, exclusive newsletters, commenting, and virtual events with our leading journalists
Already have an account? sign in
Join our new commenting forum
Join thought-provoking conversations, follow other Independent readers and see their replies